Married
Part 1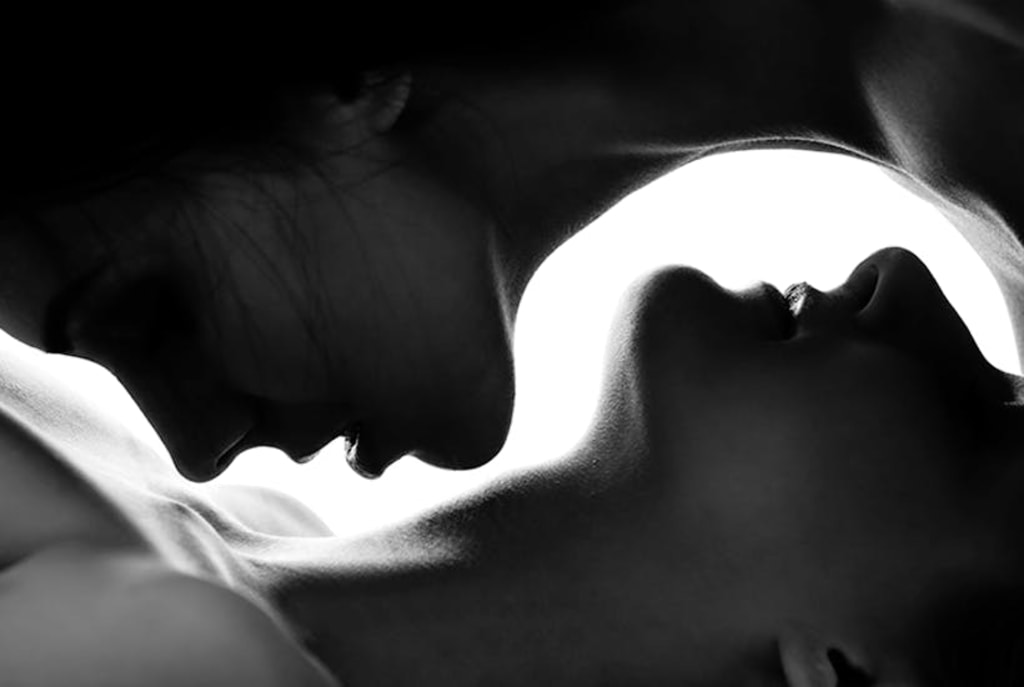 She walked up and gently pushed me into the wall, wrapping her arm around my waist, pulling herself closer to me. She looked me in the eyes, waiting for permission to kiss me. I nodded breathless. Wanting to feel her body, I pulled her closer with my hands, feeling the curves of her body.
It felt like a rush of adrenaline, kissing my wife. I realized in that moment, I had been waiting for her. All this time I had been waiting to be able to connect like this again.
She picked me up, and I wrapped my legs around her waist. She carried me back to my bedroom as I kissed her neck. She placed me down on the bed, and before climbing on top of me, looked at me, waiting for permission again. I pulled her closer, letting her hand slide up my shirt. She knew my body just as well as I knew hers. Every spot that would turn me on, how to kiss me, touch me, lick me.
I took her shirt off, hungry to see what was underneath. I pushed her off of me, gently on to the bed so I could climb on top of her. Straddling her, grinding on her while we kissed. I didn't want to wait, I wanted her inside of me. I wanted to feel all of her. I unbuttoned her jeans, pulling them off of her with haste. I started kissing her again before she flipped me over, taking my pants off in the process. As she kissed up my stomach, she pushed my shirt up over my head until it rested on my wrists.
As she started kissing my lips again, her hand trailed down my body until sliding a finger inside me. I moaned as she started stroking my g-spot. She moaned feeling how wet I was for her, how tight I was from waiting for her. She started going faster and faster, bringing me closer to climax... Then she stopped.
"What why did you stop, I was so close!"
"I want to cum with you, inside of you. Where are the toys?"
"Um, in the closet on the shelf. Pink box."
She grabbed it, looking inside to see all new toys. She looked at me excited, but also curious. I knew what she was thinking.
"I just didn't want to keep the old ones."
"Come here, baby."
I turned on the bed so I was facing her. She started kissing me gently pushing me back onto the bed.
"Are you ready?"
She was rubbing the toy up and down against my clit, looking at me with the look I knew all too well.
"Yes!" I gasped.
She slowly slid inside me, making me moan. It stung a little, feeling myself stretch around this toy, but it felt amazing.
As she started picking up the pace it was getting harder and harder to contain myself.
"I want to hear you."
I opened my eyes to her intent gaze, and that was all it took to let go.
She knew how to read my body, when to speed up, go harder, slow down, go deeper. I could feel myself about to cum, so I looked straight into her eyes, so she would know it too. She started pounding into me harder, and harder until she felt my body tighten, and I felt her body tense as we came together. I could feel my orgasm everywhere, and I needed more.
"I want to ride you," I whispered.
We flipped around and I slowly slid onto the toy. Looking down at her, I could see the pleasure on her face every time I took her into me. Over and over going harder and harder. I could feel that she was about to cum, so I slowed down, taking her deeper into me.
Cumming, finally cumming, felt like fireworks. I could feel my orgasm throughout my entire body. But I couldn't help but think, could we really be like this forever?