Male Masturbation Toys for Ultimate Pleasure
Outouch Airturn Series Male Masturbator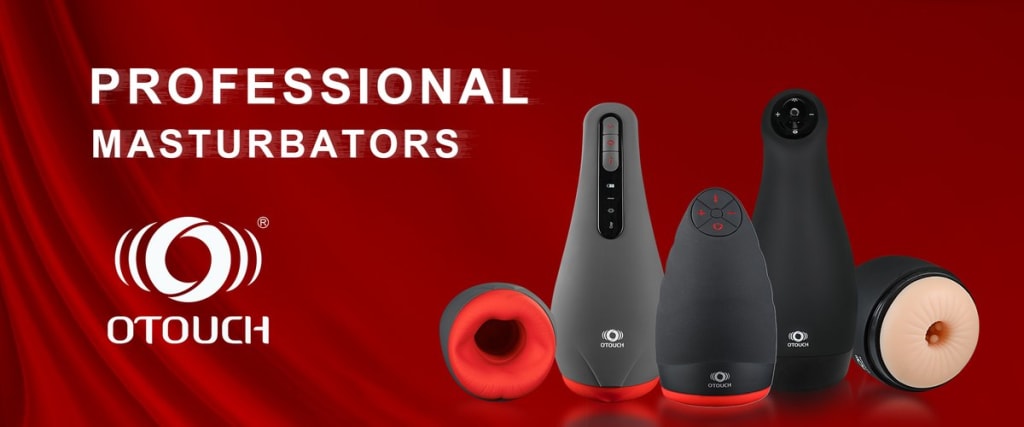 male masturbator
Have you ever heard of Masturbation May? It is the month to celebrate self-pleasure. Many people have their opinions on masturbation. However, the decision you make with masturbation is personal. Apart from religion making masturbation sound so bad, it is healthy for the body and mind.
What is the first thing that comes to mind when you hear of men using sex toys? Most people picture a not very discreet flashlight well hidden in the closet to avoid embarrassment. If this is your idea of sex toys for men, I am afraid you're out of line. Gone are the days when men used to worry about masturbation. Thanks to technology, different toys now exist that men can use for self-pleasure. Masturbation and sex toys in man's world is no longer a taboo topic.
There are different varieties of sex toys available for women, and these are what most people know about. However, there are a lot of sex toys for men today, and men are using them widely. Keep on reading to find out about some of the top sex toys for men and the different sex toy options available for you with a penis.
Do Men Use Sex Toys?
Yes. Men use sex toys as much as women do. Many men are ashamed of using sex toys, but a good 45% of adult men use them either with a partner or alone while this happens.
The first thing to do with sex toys for men is to get past what keeps them from using the toys. There is the hassle of cleaning up the toy, a bit of shame about masturbation, and the look and design of some sex toys too.
One thing about sex toys for men is they're good for boosting self-confidence. Sex toys help you understand your body better. By using sex toys, you know the ins and outs of your body. When it comes to sex, knowing your body is the first thing. With this, you get to enhance your sexual experience. With sex toys, you explore your body in ways you've never thought of or imagined before. You get to know your pleasure points even better with different sensations.
Let's look at some exciting sex toys for men and what makes them unique.
THE OTOUCH AIRTURN 1
The AIRTURN 1 is a male masturbator with a nice discreet design and packaging. This male masturbator is made to mimic having sex. The feeling is even better with the whisper-quiet. If you're a man who enjoys some time alone, this is the sex toy for you. The design and discreet case makes it possible to travel with your toy anywhere.
The toy has a soft silicone interior with ridges and studs. These provide peak stimulation for your penis. Getting a hard-on is no longer an issue with the OTOUCH AIRTURN 1. The toy is rechargeable with a USB cable that comes with the product. The convenient storage bag makes sure it's safe from damage whenever it isn't in use. If you're always worried about making a mess when masturbating, the OTOUCH AIRTURN 1 gives you an easier time. You simply clan the toy using a toy cleaner and lukewarm water after use.
Features
•Heating Function
Some people prefer some warmth when masturbating. This sex toy has a heating function that can be turned on and off. It comes with two heating levels to provide optimal stimulation for your dick. You no longer have to worry about touching yourself with cold hands. Once you're hard, you can set the toy to warm before getting your penis in and enjoying fantastic stimulation.
•Waterproof
The toy might not be 100% waterproof, but it is splash-proof. That means you can use it while enjoying a shower as it is rated IPX6. The feature also makes it easy to wash the toy with warm and soapy water or toy care foam if possible. After washing, dry it with a towel and store it in a convenient storage case for easier use next time.
•Low Noise
The use of sex toys in men comes with a degree of secrecy. If you have a sex toy that you can use privately, the better. On top of this, low noise is essential to help you get in the right mood. The toy has a low vibration noise similar to the mobile phone vibration. Enjoy an orgasm by yourself at any time.
•Rechargeable
One thing with sex toys is the use of power. Most sex toys today come with a USB cable for easier charging. The OTOUCH AIRTURN 1 has a built-in rechargeable large-capacity lithium battery. This enables you to enjoy using the masturbator for a long time.
•Sexy Vibrations
Sex toys for men utilize vibrations to increase sexual stimulation. Even though the toy doesn't strongly vibrate, it has different vibration patterns that can be set separately. You easily choose the vibration pattern you want and enjoy an orgasm.
With the OTOUCH AIRTURN 1, make sure you lubricate your penis. It might not be as tight as other sex toys, but you are sure to enjoy orgasm for long with these combined features. You can also quickly gauge how long it takes you to orgasm with the help of the toy's insertion counter. It is a safe and comfortable toy to use.
OTOUCH AIRTURN 2
As the name suggests, this toy is a variation of the OTOUCH AIRTURN 1. It comes packed with even better features to give you optimal self-stimulation. This is a luxury male masturbator that is easy to use and gives you maximum sexual pleasure. It is a toy for men who want better and enhanced sexual stimulation and orgasms. With the OTOUCH AIRTURN 2, your orgasms are much better, and you enjoy comfort and pleasure anywhere, anytime. Everything with the OTOUCH AIRTURN 2 is better and improved. The toy also has additional features from the OTOUCH AIRTURN 1.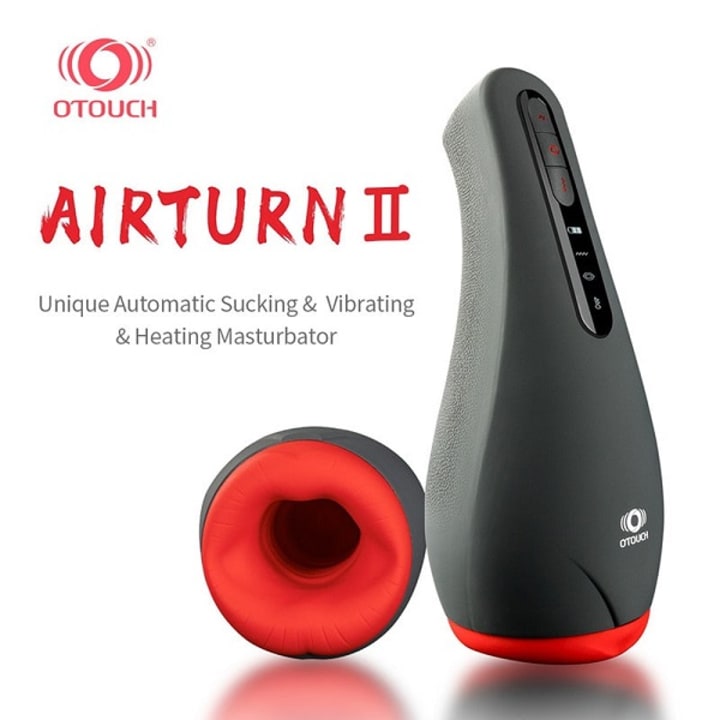 Features
•Suction
This is a new feature with the OTOUCH AIRTURN 2 sex toy. No one hates the feeling of his manhood getting sucked, possibly by a partner. With this toy, you enjoy suction in different ways, and the good thing is you can enjoy it alone. This self-pleasure toy gives you more pleasures in different ways. The suction feature works on all penis sizes. It also works with vibration and heating at the same time. Thanks to this unique feature, this toy gives you pleasure like never before.
•Sleek Design
The sexy shape of the sex toy makes it easier to use. It is comfortable to hold with one or both hands, especially for men. The sleek shape ensures you get a comfortable grip all through your experience until you climax. The design and elegant shape are registered and patented to make it even better. You won't find any other toy shaped like the OUTOUCH AIRTURN 2.
•Low Noise
When enjoying yourself, privacy matters. Unless you want to make it evident that you're masturbating. For this reason, this toy has a low noise vibration when in use. The low noise allows you to simmer and get into the mood to enjoy yourself. The vibration is like the mobile phone one. Quiet and efficient.
This male masturbator also has various vibration patterns which can be set separately. You choose the vibration you want and get the utmost pleasure from the toy. The vibrator buttons are easily accessible even when you sue the toy with one hand. You can set the vibration patterns as you use the toy. That means you can increase the frequency of the vibrations with your hands.
•Warming Function
The male masturbator comes equipped with two different heating functions that can be turned on separately. The warming function mimics the same with the human body. If you want to enjoy better warmth inside the toy, you can increase to a higher warming function. The aim is to help you reach an orgasm the way you want it.
The OUTOUCH AIRTURN 2 suction feature is unique and brutal. The feature helps you enjoy realistic suctions, sensations and warming. The feature mimics real oral sex giving you mind-blowing orgasms. The toy's uniquely engineered ribbed waves and studs generate a tingly and unique feeling on your penis for extra pleasure. Imagine having five suction modes at your disposal. If you enjoy oral sex, this toy will rip you apart in pleasure.
The AIRTURN 2 combines vibration modes, suction, and warming functions to achieve an amazing oral sex sensation. The feature sets the sex toy apart from the rest and other OUTOUCH versions. Once you get a combination of these three functions that best work for you, you use the toy hands-free, and the orgasms are the best. The size to insert your penis is fine and well-designed in thickness and length for that grip.
OTOUCH AIRTURN 3
After kicking it with the same partner for a while, sex can become boring. The sexual relationship can fade, and sex now becomes more of a chore instead of being something fun to engage in with your partner. If you want to reignite the spark in your sexual relationship, the OUTOUCH AIRTURN 3 is the toy for you. This is a male masturbator that can be used by the man alone or with a partner. It is the toy to help you make intimacy something to enjoy once more.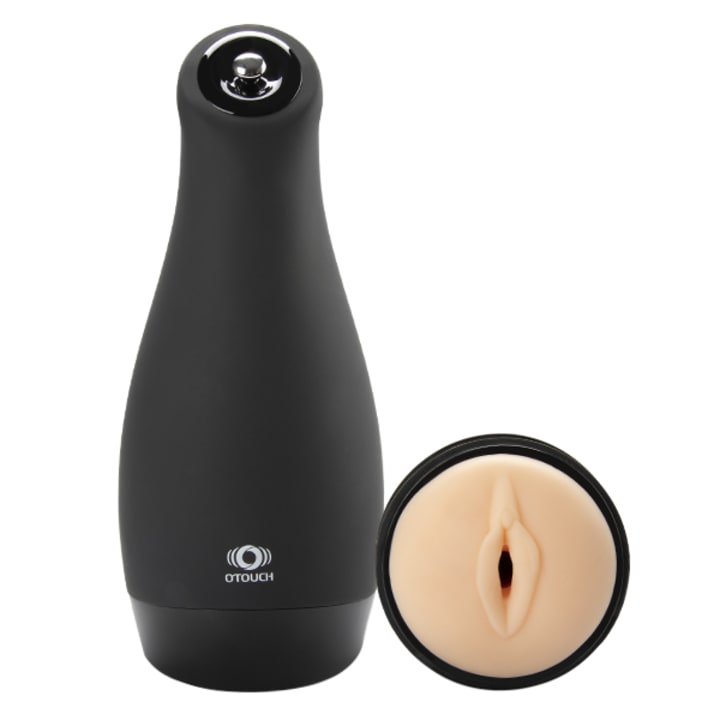 The OUTOUCH AIRTURN 3 is a suction male masturbator. It features a complete silicone exterior making it a comfortable toy to handle. It comes with enhanced features such as different suction patterns and vibration patterns, each with three intensities. It also comes with a 4-Way Joystick, making it easy to switch between other functions. To make it easier to clean, it is splash-proof and has a removable super soft silicone penis sleeve with ridges and studs, providing optimal stimulation for your penis.
Features
•Suction Modes
Have you ever experienced amazing oral sex? This toy has an innovative suction feature that mimics real oral sex. To make it better, it mimics oral and vaginal sex with the penis sleeve combined with the suction technology. This means more pleasure for you.
•Reusable and Rechargeable
The toy comes with a rechargeable built-in lithium battery. The large capacity battery allows you to enjoy a combination of the different features of the masturbator. Thanks to its large capacity, this toy now has better suction technology that can be used with varying modes of vibration and the warming function all at once. It comes with a USB cable for recharging to ensure you use it for a long time.
•Different Vibration Modes
Unlike the previous versions, the AIRTURN 3 has six vibration patterns. Each of the vibration patterns can be used in 3 different intensities. You choose the one you love and the one that gives you maximum pleasure.
•Low Noise
Masturbation is an intensely private matter. The AIRTURN 3 has a low vibration noise which helps you enjoy it anywhere with no interruptions. No one has to know you're using the toy.
•Patented Design
The AIRTURN 3 is a male masturbator with a sexy shape. Thanks to the design, you can use one hand to set different modes and change them as you enjoy the toy all by yourself. The silicone exterior helps you maintain a good grip on the toy to give you amazing orgasms.
Are you looking for the ultimate anal masturbator? Do you fantasize about having oral and anal sex? If so, then the AIRTURN 3 is the sex toy for you. You can use the toy with your partner or enjoy It by yourself. It also comes in a safe storage bag, a masturbation cup to avoid making a mess, and discreet packaging.
The above male masturbation toys take male masturbation to another level. They all come in small but very comfortable sizes. They're portable and have different and unique features in every model for optimal sexual pleasure. Treat yourself to one of these toys this Masturbation month, and you will never regret it.
product review
About the author
I own an online store, visit www.honeysx.com, and I am willing to make friends and share the experience of using sex toys
Reader insights
Be the first to share your insights about this piece.
Add your insights