Lily Lane in Filthy Tryst
More Shenanigans from FILF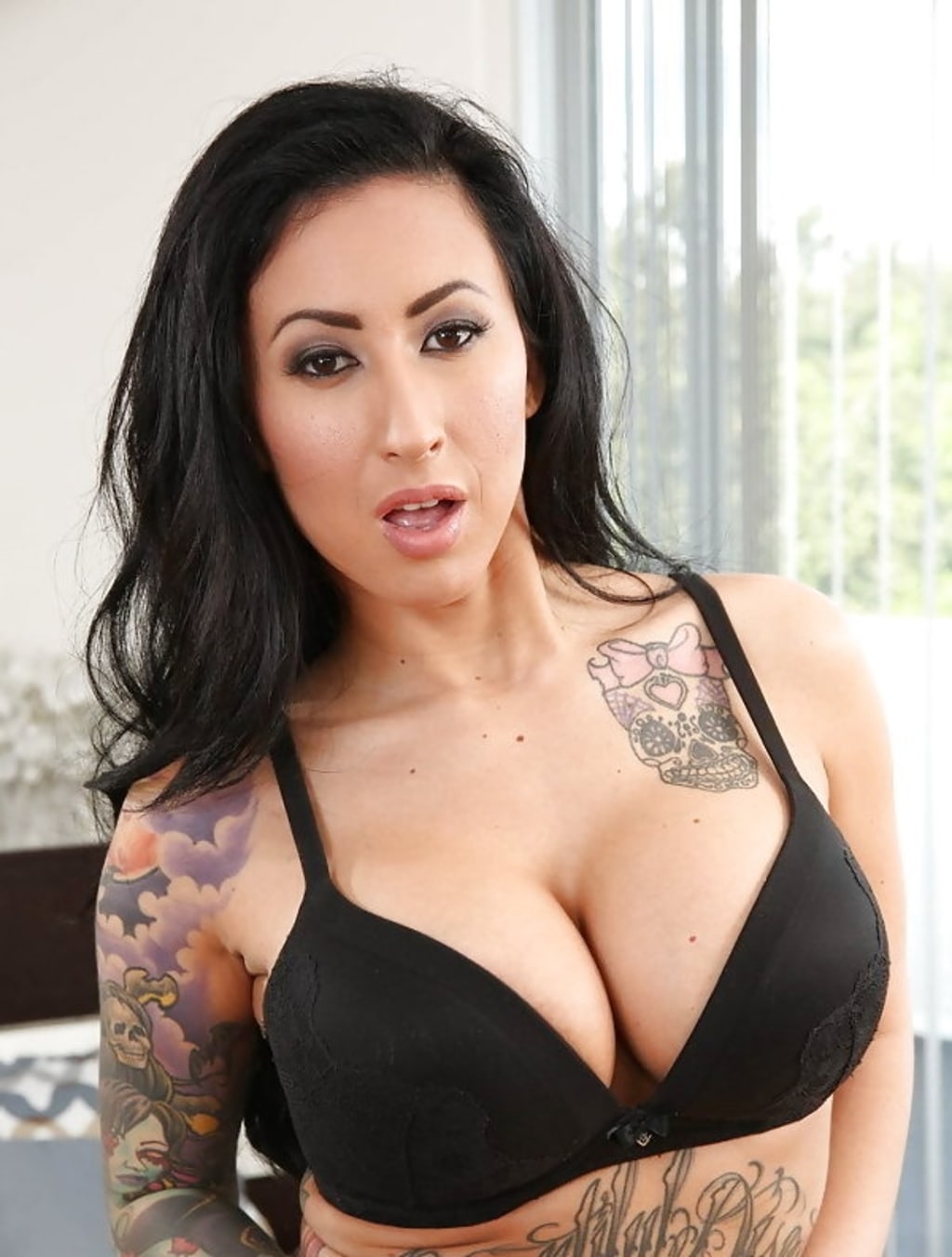 To keep things new, it is always best to use different actors and actresses. Humans have an annoying quibble of having a short attention span; I know when I am trying to learn something that I can only read/listen for around 20 minutes. It appears to be the same with entertainment as well; things get boring if we're constantly watching the same characters over and over again. I recently reviewed a porn scene from FILF starring Alexis Fawx, which was actually of a really high quality. I would have given it a perfect score, but it was a stepmom scene, and any followers of her know she does hundreds if those. So, it's always good when a website uses new porn actresses for their upcoming scenes.
"Oh I wish I was a punk rocker with flowers in my hair..."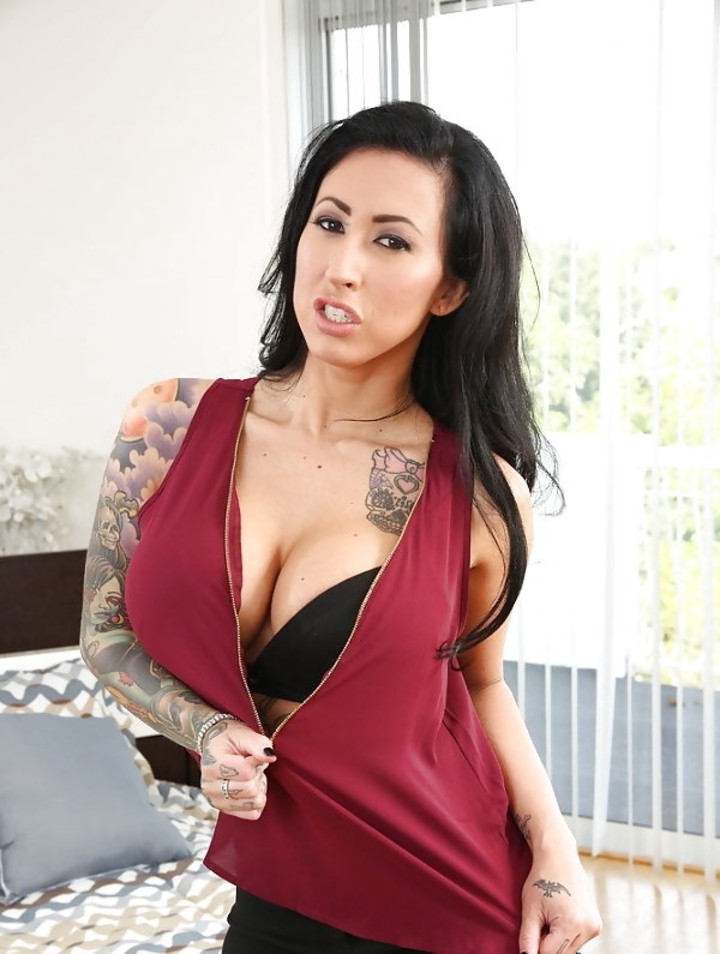 Enter Lily Lane, a 31-year-old MILF from California with enhanced curves of 32E-26-36. I'd never even heard of her, but when I laid eyes on her I was hooked. Personally, I've got a thing for tattooed women with a bad girl persona; the fact that this particular honey was older made it much hotter. The other tattooed girls I like range from Christy Mack to Joslyn James, but Lily seems to have her own unique style. That said, when I saw the Devil's pentagram on the back of her hand I thought it might be a good idea to admire her from a distance. Any woman who's into that sort of stuff must be pretty dangerous. But don't let that detract from what is a very erotic scene from the middle-aged hottie.
"You little Hunt!"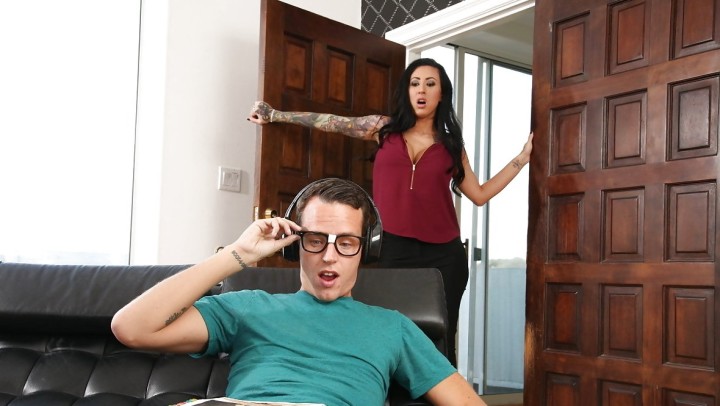 FILF is quickly becoming top contenders in the "step-sibling" niche market and the quality doesn't deteriorate in this scene either. They have a habit of creating realistic scenarios with good actors and actresses to portray them. In this particular scene, stepmom Lily Lane walks in on stepson Justin Hunt who is pleasuring himself to her naked pictures. Justin Hunt is a good porn actor who is kind of type cast as the stepson in many scenes. He's actually a good choice here, as he's a good actor and performer who is quite likable. Justin is 30 years old and also from California. The brother of porn starlet Mia Malkova, Justin has been making waves in the industry since 2013. He's said to have a positive attitude and happy-go-lucky personality.
Lily, the Wild Wife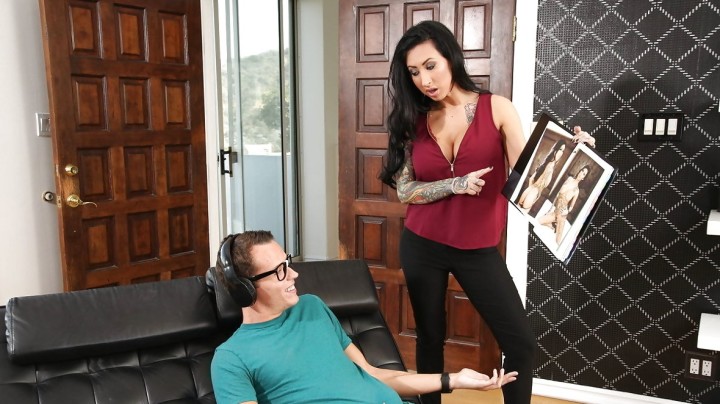 The drama in the scene comes from the fact that Justin is looking at some naked snaps Lily did for his father. Clearly having the afternoon off from college, Justin sees nothing wrong with satisfying himself. Lily curiously spies on him through his bedroom door, clearly having aggressive feelings towards her stepson. Those angry feelings seem to be due to the conflicting sexual desire she feels for her stepson, which is about to manifest badly. Lily angrily confronts him, to which Justin covers his penis with a book, claiming it to be school work. It's an awkward situation, and Lily is furious that he has access to the pictures while Justin is just as keen to cover up the fact. Finally, he has to relinquish the book and gets a real scolding from his stepmom. She's furious and wonders what Justin's father would say if he knew he had the naked shots. It's pretty believable as Lily looks and sounds like a wild girl. You could imagine her doing something like that for her husband and it creates the drama of the ensuing situation. The sexual tension builds as a result of the anger, and before you know it, Lily is sucking her stepson's cock. Lily's giant breasts have massive nipples too, a real spectacle for the eye. My favourite part after Lily has given Justin a blowjob is when she gets in the cowgirl position. You get a nice shot of her giant backside which looks great juxtaposed against her tattoos. This is another terrific scene from FILF and they seem to be getting better. I have to give it five out of five, and recommend you watch it right away. I hope we see more from the tattooed punk Lily Lane as she is particularly gorgeous.
5 out of 5