Lady Godiva - The Nude Who Rode a Horse
[NSFW] 5 sensual interpretations of ancient women by John Collier
Lady Godiva by John Collier. Herbert Art Gallery and Museum. Source — Public Domain
Let me cut the chase - I'm talking about the prominent British painter and writer John Collier. When I explored his oeuvre, I noticed a pattern where he gave a provocative yet sophisticated outlook to mythical women. His works alter the original setting and give an unconventional perspective to folklore and fairy tales.
Let's explore 5 of Collier's provocative artworks showcasing bold and empowering women.
1. Lady Godiva (1898)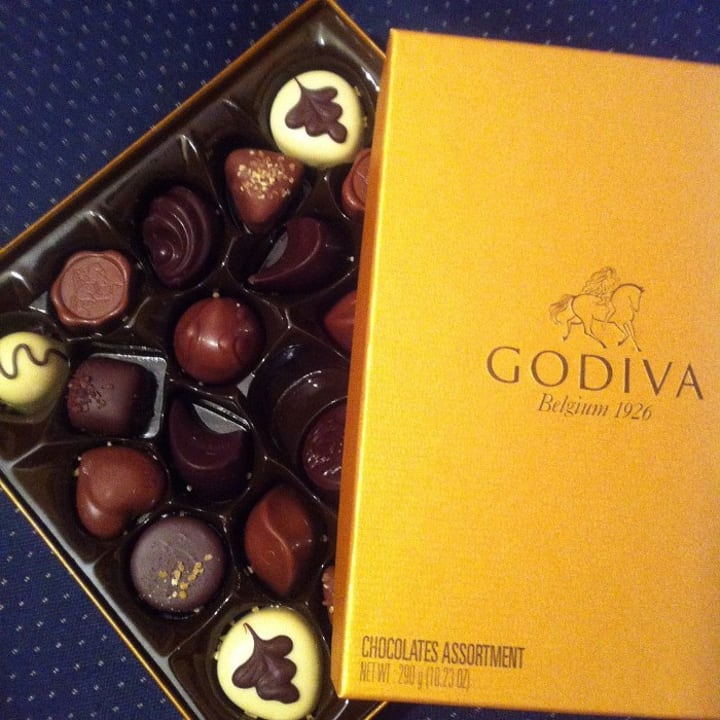 Do you know how Belgian chocolate Godiva derived its name? Have you ever noticed the logo on the chocolate?
Godiva. The logo is a sketch of a bare woman with long voluminous hair riding on a horse. A sketch of a bare woman with long voluminous hair riding on a horse.
Okay. Let's unravel this.
The name and the logo of Godiva are inspired by an iconic painting Lady Godiva created by John Collier.
Who was Lady Godiva? Before we talk about the artist's interpretation, let's discuss the interesting legend of Lady Godiva.
Lady Godiva was an Anglo-Saxon noblewoman. She was the wife of Leofric, an Earl of Mercia. When Godiva's husband imposed heavy taxation on their countrymen, as a way of protest, she rode naked on a horse - covered only in her long hair - through the streets of Coventry. Only a man named "Peeping Tom" watched her ride. The legend goes that he was either struck blind or dead. When Godiva completed her ride, Leofric agreed to make Coventry free from all taxes.
This legend has inspired artists, sculptures and painters for centuries. Collier and his fellow Victorian painters took interest in the subject soon after Alfred Lord Tennyson's poem Coventry Godiva got popularized.
Collier created an exceptionally sensual interpretation of Lady Godiva that certainly made waves around the art world.
A charming naked woman with luscious milky skin. She bows down out of shyness, showing only her side profile to the viewer.
Her golden hair and bareback, both sunkissed.
The right-hand holds her golden hair, covering her breasts. The other hand holds the straps fastened to a red velvet saddle of a beautifully dressed horse.
Was it medieval propaganda, myth or a real historic event, we would never know. But Lady Godiva became a symbol of Coventry and female empowerment.
2. Lilith with a snake (1887)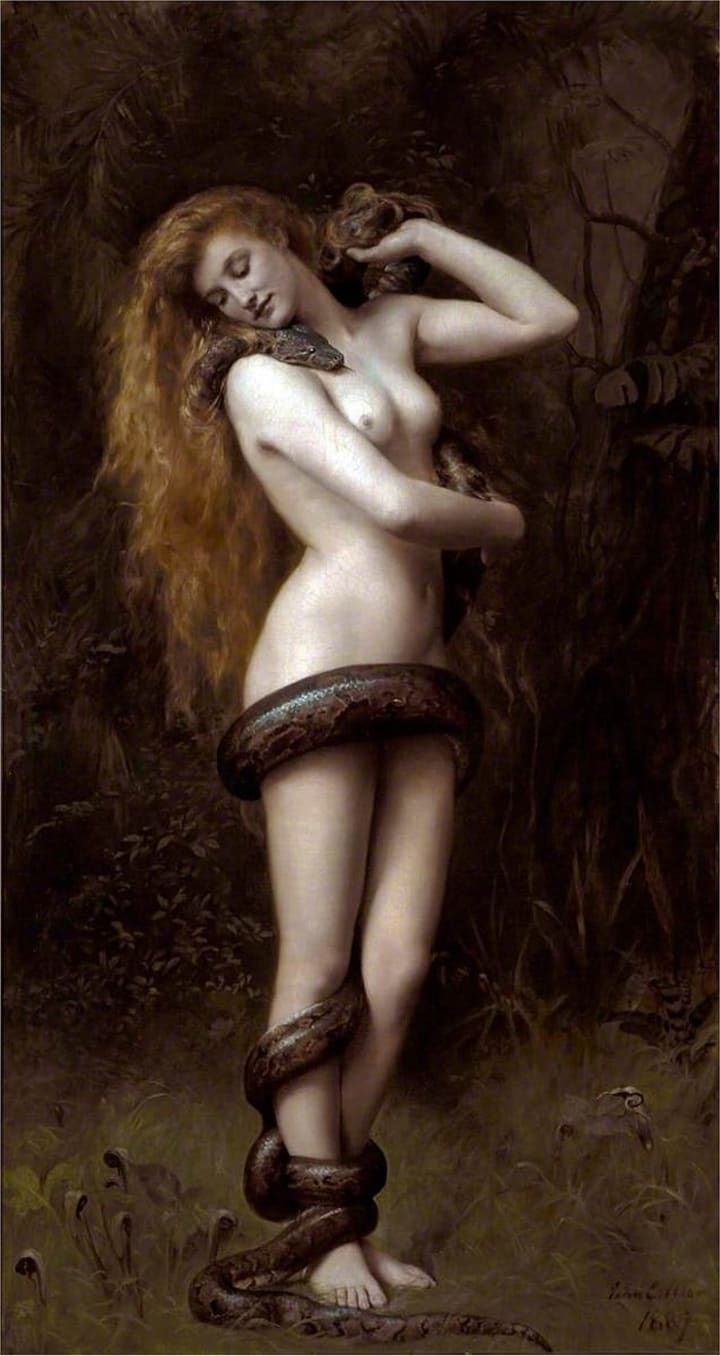 Is she the first ever Femme Fatale?
From being the first wife of Adam to the female demon in Judaic scriptures, the figure of Lilith has gradually evolved from a dangerous woman to a symbol of sensuality and feminism (equal to Adam in all aspects).
While there have been plenty of interpretations, Collier envisioned a more seductive version of this sinful biblical figure.
A naked beautiful woman with long golden hair embraces a snake with the most serene expressions. One highlight of the painting that stood out for me is that even though the painting exudes voluptuousness, it offers a perfect mix of calm and wicked sensuality.
3. In the Venusberg Tannhäuser (1901)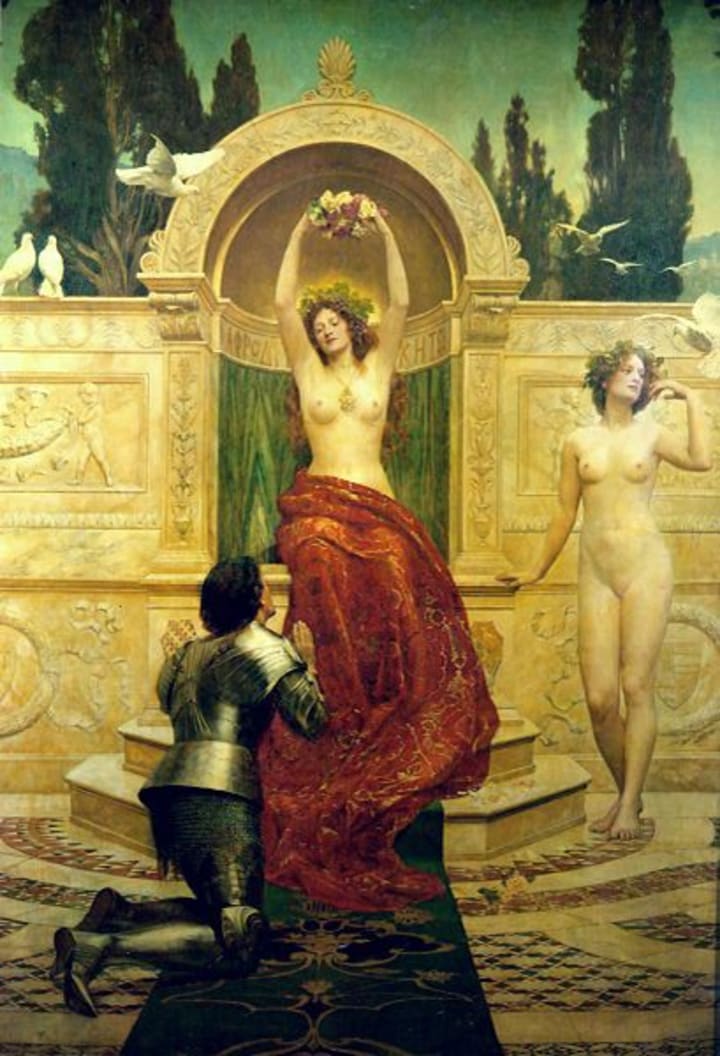 In the Venusberg Tannhäuser. Source - Public DomainThe folklore goes like this - Tannhäuser, a German minstrel, passionately loved Venus in the kingdom of Venusberg. Once Tannhäuser was satisfied by the pleasures in Venusberg, he wished to go to the earthly land and asked for absolution from the pope.
The latter, however, rejected his request. Yet Tannhäuser left. Too late for Tannhäuser, Pope's salvation did not save his soul. He returned to Venus with whom he would remain until he is damned on the day of judgment.
In Collier's setting, Tannhäuser, in shining armor, kneels down in front of semi-naked Venus. She holds a wreath of flowers that symbolize mortality and looks seductively at Tannhäuser.
The pair of pigeons symbolize love while the in-flight ones symbolize peace. The cypress trees in the background convey perpetual mourning and death.
4. Circe (1885)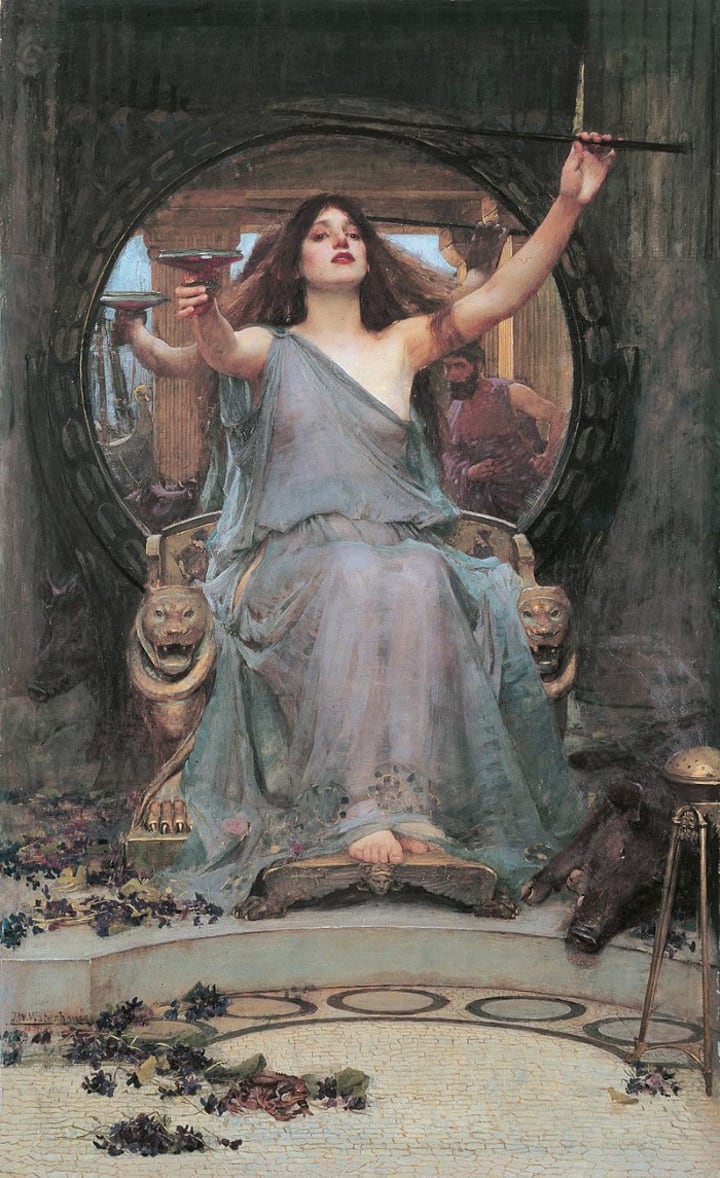 The painting Circe Offering the Cup to Ulysses by John William Waterhouse is considered to be one of the greatest and accurate representations of Circe both in terms of the subject and setting.
Circe Offering the Cup to Odysseus by John William WaterhouseBefore going into Collier's art, let's explore- who was Circe? She was the daughter of Helios, the God of the Sun. Even though she had a divine and noble ancestry, unlike her siblings, she lived on an uninhabited island of Aiaia. In case of unexpected visitors, she transformed them into animals such as wolves, lions, and pigs.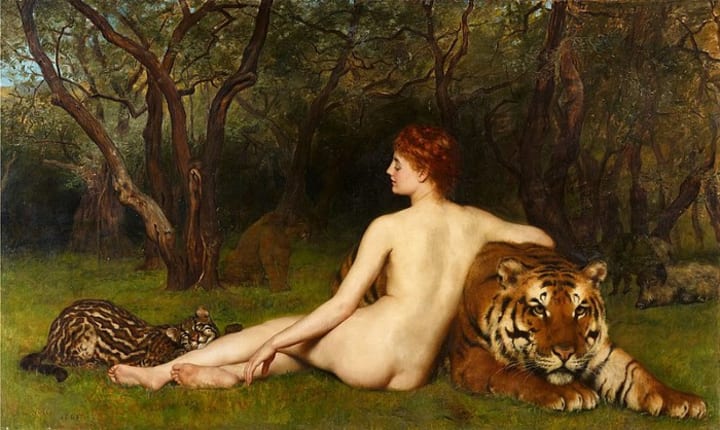 In Collier's artwork, Circe's appearance is as usual as charming and seductive. She lounges on the grass with her bareback, animals around and caressing a leopard and a tiger.
5. The Death of Cleopatra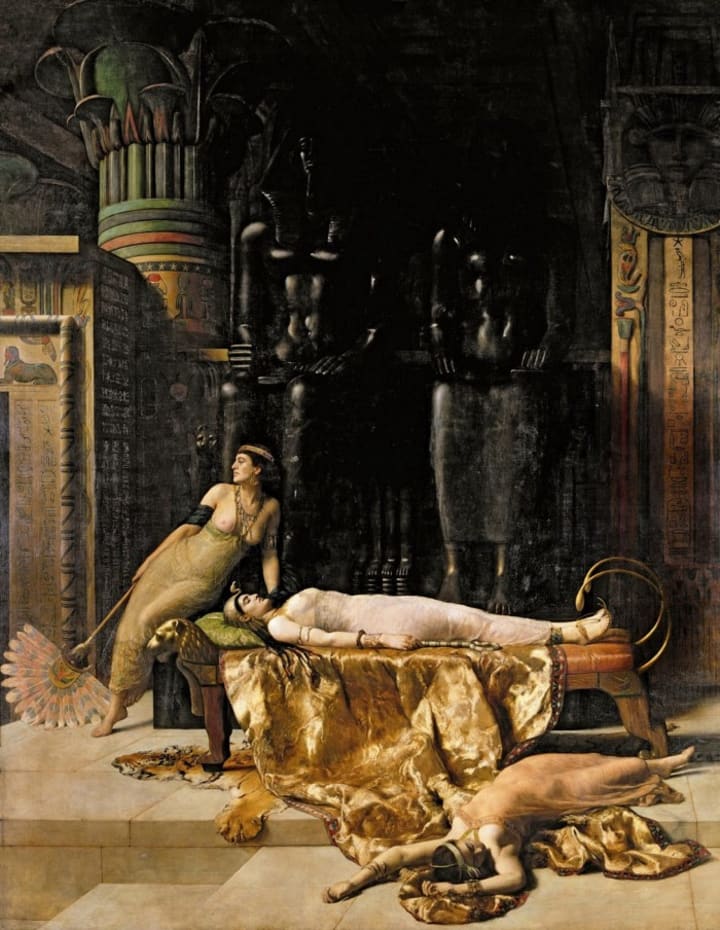 Collier depicted Cleopatra on the divan, already dead after committing suicide by poisoning. Her two maids, Eiras and Charmion, might have taken their lives alongside their queen. One collapsed and the other one leans against the divan.
Giant pharaohs carved in black stone guard over the setting while beautiful hieroglyphs adorn the pillars.
Which is your favorite painting by John Collier? Let me know in the comments.
Here's the video version of this article.
art
About the author
Art enthusiast. I engage with art at a deep level. I also share insights about entrepreneurship, founders & nascent technologies.
https://linktr.ee/kamnakirti