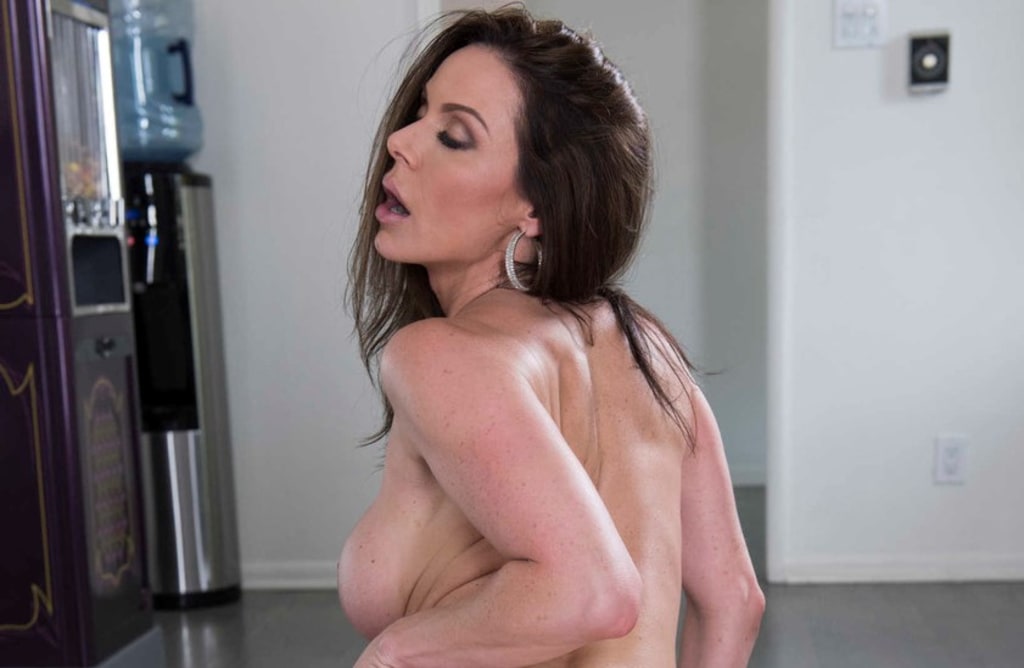 I've been fairly critical about some of Brazzers' scenes as of late; Is it justified though?
Only you as the customer/viewer can answer that question as only you know what you wish to have in a porn product. Which in essence is what is getting review; it's sold, marketed for big profit, all fit for you the consumer. In recent weeks some of the stuff I've looked at I've labelled as 'slap stick' and 'daft.'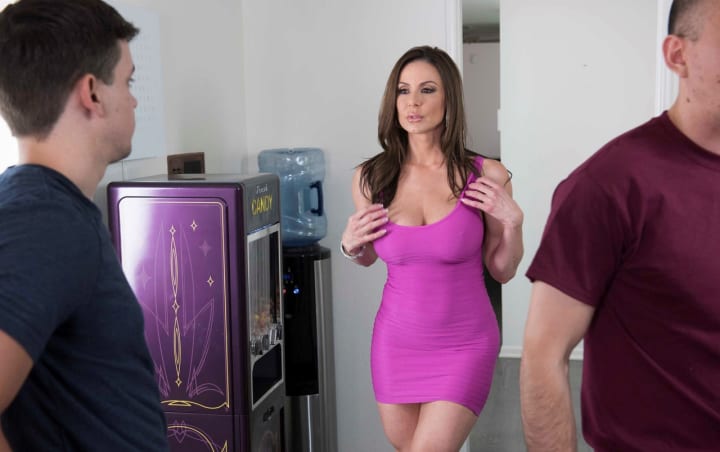 One thing I've realized though is that it's not always the latest product from Brazzers; so maybe I ought to have a look at the latest stuff they've released. I often delve into the archives and review what looks good. As is the case with this review of a scene released around 2016 starring the desirable Kendra Lust. It's a video from the 'Real Wife Stories' website that Brazzers hosts as one of their many options. I've came across quite a few 'Real Wife Story' scenes which have been of a fairly good quality. Their semi-realism I think comes from the fact that they are partly true; the ingenuity of the tales may require extra research on my part.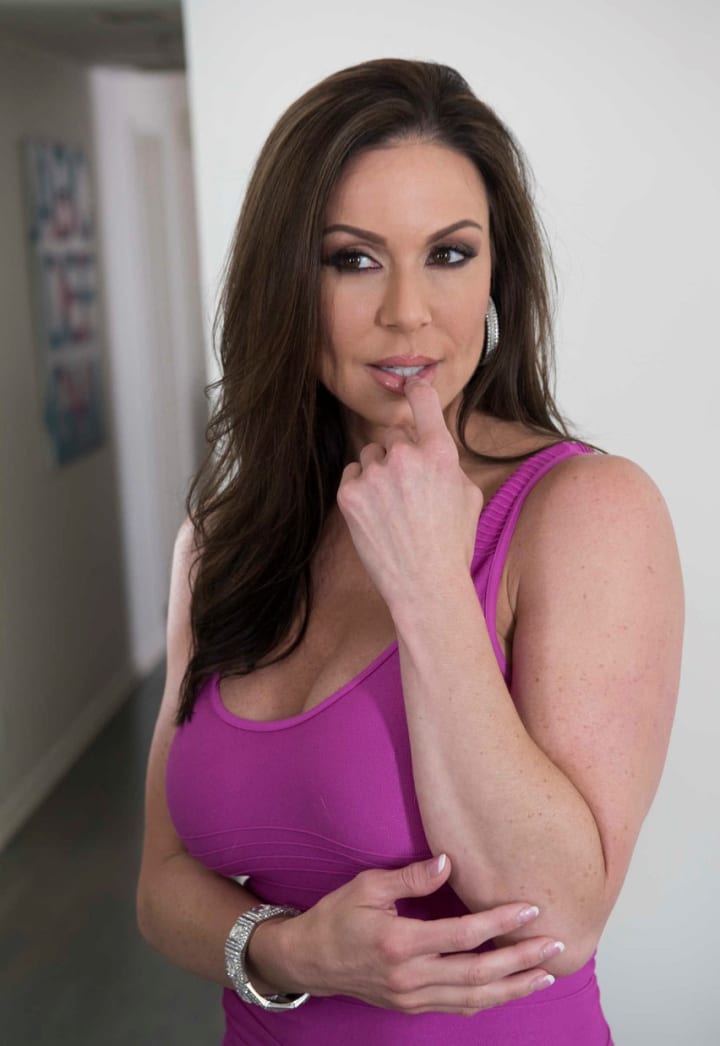 The female star Kendra Lust is 41 years old with enhanced curves of 34D-26-35. A native of Madison Heights, Michigan, Kendra had a normal life growing up. In high school she was an honour student, a homecoming queen and apparently played sports. Yet Kendra's behaviour was apparently always promiscuous which her parents were unaware about when she was growing up. Controversially she won an amateur stripping contest at the age of 16 as no one there asked for her identification. While studying at college she became a stripper for about a year and a half and graduated from 'Nursing school.'
Kendra worked as a registered nurse for around 6 years but at the age of 33 became a webcam model. It was here that viewers recommended she try porn which got her thinking about the concept.
In this scene Kendra is working with a very young looking 30 year old in Alex D. A self-confessed gym rat, women are bound to love him for his boyish good looks and chiselled physique. He plays the role of Kendra's husband's friend. The guy who plays Kendra's husband is unfortunately not credited but he does a good job with his acting. The scene begins with Alex preparing for his friend's arrival so they can watch the big football game together.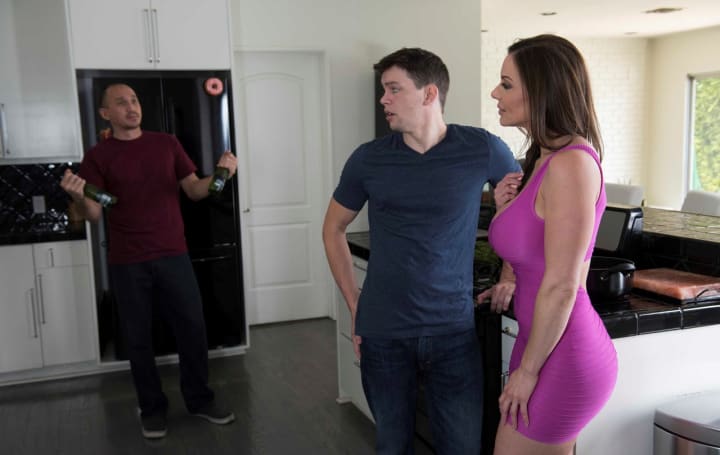 What he doesn't count on is his friend bring his wife Kendra with him. Kendra arrives at the door and Alex is speechless as he gazes upon her in a hot pink dress. It's clear Alex is disgruntled by her presence as it appears that he reluctantly had an affair with Kendra. His buddy arrives clearly unaware of the sexual tension between his wife and his buddy. Alex offers him a beer while Kendra makes lewd gestures at him as he makes small talk with her husband. It's a nice, little setup with some good acting from the trio of performers. It's not the type of quality you would normally expect for a porn scene but it's some good work. After some comedic antics, it's agreed that Kendra is going to prepare some food for them all. Alex agrees to show her where all the cooking utensils are and give her hand getting started. These type of scenes always give me a sense of anxiety while I'm watching them as usually a cheating spouse is having sex only meters away from their partner. I know not really but for some reason they always create that sense of anxiety in me.
Kendra gets started with some absolute dirty talk while rubbing Alex's cock through his trousers. I've only watched a few scenes with her but according to profiles on the internet she's quite known for her 'dirty linguistics.'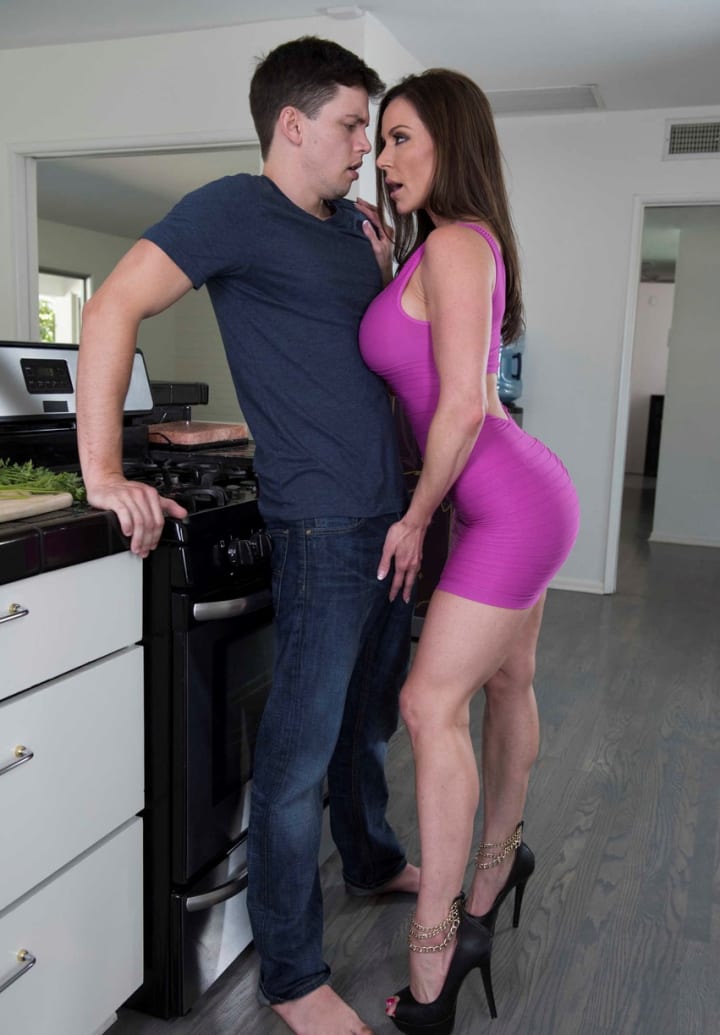 While tonguing, smooching and caressing Alex, Kendra tells him what a 'bad boy he is' screwing his friend's wife. It appears this isn't the first time the pair has had sex and Kendra doesn't intend for it to be the last. She does look absolutely amazing in that pink dress but I'm not sure it's the type of thing you would let your wife wear.
Kendra starts giving Alex one sloppy blowjob and really goes to town on him. In the other room her husband shouts from time to time for the pair to 'hurry up.'
The daft part comes when Kendra is still sucking Alex off from behind the counter and Alex tells her husband she's in the bathroom. It's kind of stupid but if you can get past it this isn't a bad porn scene. Kendra has an absolutely filthy mouth on her and throughout she's muttering dirty stuff. At one point she says 'Are those balls nicely full of cum for me?'
It's just pure smut throughout the 41 minutes that the sex is happening and it seems to be high quality stuff. Kendra gets full naked; we get a nice shot of her muscular, pink rump when she's bent over the kitchen counter. The angles are pretty good, the pair taking the action to the floor to fit the cowgirl positions in. It's a quality scene if a bit stupid in parts; I give it 4 out of 5.
4 out of 5.