It's Just Business as Usual
Mixing Business with Pleasure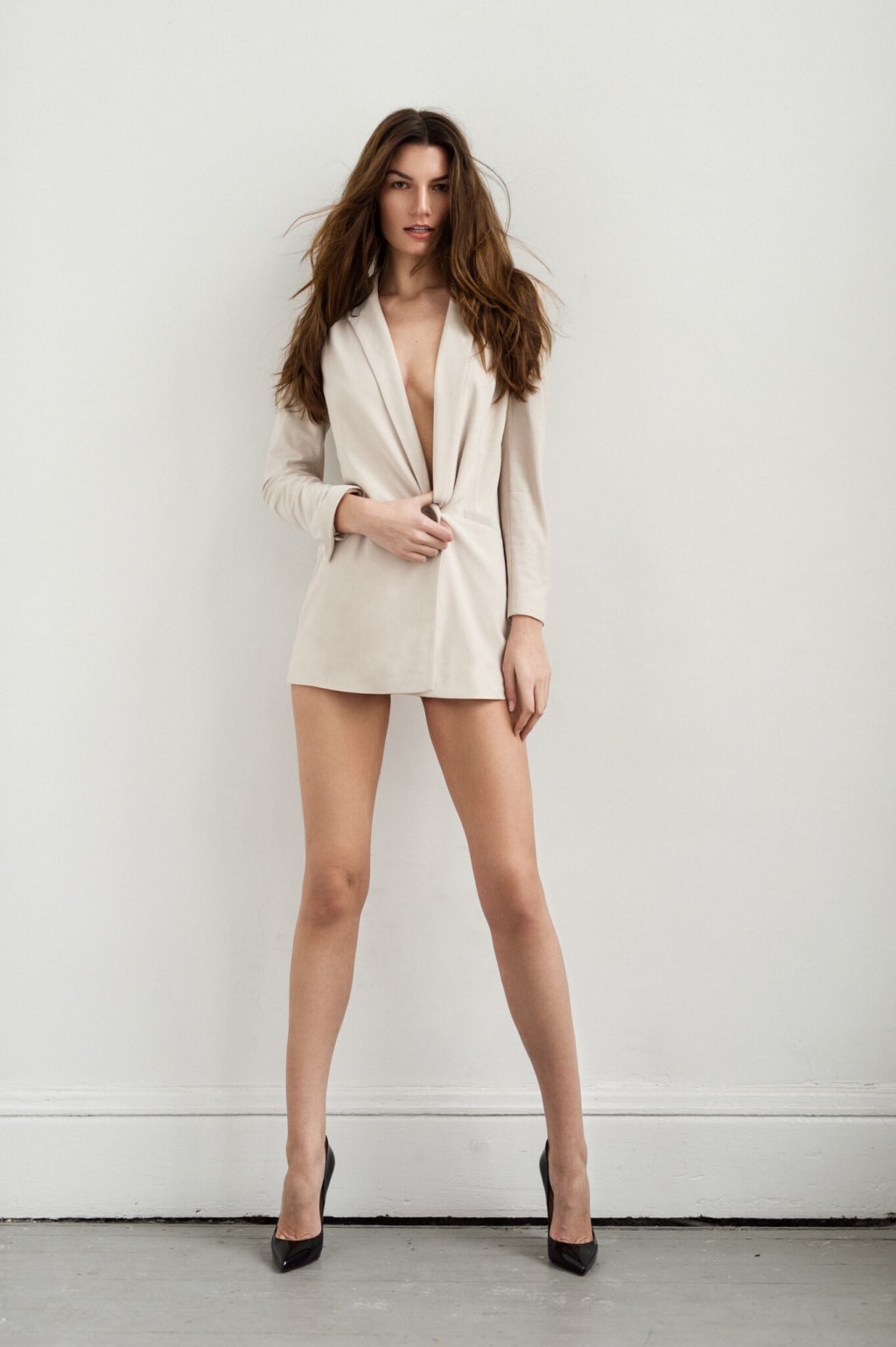 Hannah enjoyed business events because she could meet and network with new people and meet prospective clients. She began a catering business that focused on small to medium-sized business functions, so when she registered to set up a booth at a business show out of town, in a downtown core setting, she was beyond excited about the possibilities. She dressed for the occasion: a short, navy blue, flirty skirt with vintage blouse. Her heels, also navy blue in colour, were close to six inches. Hannah's hair was shoulder length, reddish brown and wavy, while her eyes were a mesmerizing aqua. Setting up for the weekend, she planned on preparing her entire demonstration as a one-woman show, as there was little in the budget to employ an assistant, so she would be careful not to leave anything valuable at her station, in case she needed to skip out for a few minutes during the day.
Early on the Saturday morning, Hannah arrived at the convention center to find parking and ambitiously carried all her props, samples and brochures of her business, Hannah's Homecooking and Catering, into the main gallery, where only a few other exhibitors were present. She flashed her entry badge and proceeded to the designated spot, and began to unfold her table and display items for set up. Only a few minutes passed, when a large, burly man approached her eagerly, thrusting out his hand to shake and introduce himself.
"I'm Bob," he began, smiling widely and confidently. Hannah, her hands full of props and artificial food displays, nodded and smiled.
"Hannah, nice to meet you," she replied, noticing Bob lingering around, as if to continue conversation.
"Do you need some help?" His offer felt insisting, as he leaned into Hannah, who was medium in size and curvy, though smaller in stature. She wasn't a stranger to overbearing advances, and while she didn't want to seem rude, setting up stage on her own was something Hannah took pride in.
"I'm ok, really, I enjoy this work," she responded.
"Really? Do you have anyone working with you to set up?"
"I'm good, thanks." Firm and polite, but definite. He was an attractive man, Hannah thought, but he tried too hard. Maybe they could chat later, she thought. Reluctantly, Bob backed out of her space and returned to his own display for professional photography. During the morning and early afternoon, as potential clients and attendees of the show approached Hannah's kiosk and others, the sea of people didn't detract from Bob's keen attention fixated on her. It made her uncomfortable, but she had little recourse. Two ladies across from her, Penny and Leanna, were happy to keep an eye on her display for coffee and washroom breaks. Much to Bob's disappointment, Hannah wasn't interested in speaking with him, even if she considered it earlier. His constant attention to her every move made Hannah uncomfortable, but she didn't want to cause any problems, and instead, continued showcasing her catering services to many eager attendees who nearly took all of her brochures. It was a promising show, and may result in some sales later this year, she thought.
"I think that gentleman is taking an interest in you," Leanna mentioned. She was a middle-aged, attractive lady who was a florist and wore a fashionable dress. They noticed too?
"It's fine, really, we talked earlier, but I'm just here to meet people and maybe some new clients..."
"Well, if you feel uneasy, just come over to us, ok?" With a wink, Leanne sashayed back to Penny where they giggled and laughed at other people's fashion. They were a bit old fashioned themselves, but funny and kind, and looking out for her. Hannah was grateful, and in just a moment later, her eyes caught him. He must have been only twenty years old, which was about ten years her junior, but perfect in every way. Strong, handsome, perfect bone structure and eyes that smiled when he greeted you. He was young, but smart and genuine, Hannah decided, soon after introducing herself to him at an adjacent booth featuring tailored suits and jackets.
"Nice to meet you, I'm Edwin." His hand lingered a bit in hers, and his eyes kept hold of Hannah's a bit longer than she expected. "This tailor shop is my father's business, but I agreed to help him this weekend. Honestly, I don't have a clue about this stuff..." They both laughed, a bit nervously, and agreed to meet for coffee later, if time permitted. As Hannah returned to her display, she was surprised to see Bob reading one of her brochures and eyeing her items on display.
"Do you mind if I take one of these?" he asked, putting a brochure in his shirt pocket without much consideration for Hannah's response. She only had a few left.
"Um, sure, of course." There was an awkward silence.
"Hey, if you want to get a drink later, I would be happy to go with you." Hannah knew that turning him down may not go well. It was his staring and constant attention to her every move that made Hannah want to avoid him. She had previously been in a toxic relationship for three years, which ended with a restraining order and another year of living in fear, until she moved into a quiet neighbourhood at the other end of town. Life was calm, sometimes boring, but she didn't mind. Bob carried himself similarly to her ex, which wasn't a good impression.
"Thanks for the offer...I'm busy tonight."
"Maybe some other time then?" Hannah smiled and nodded, hoping that would end it, and while Bob slowly left to return to his booth, he kept staring and watching her.
In the meantime, Edwin was busy engaging with many people, showing himself to be a natural with conversation and likely getting a lot of new business for his dad, which was excellent. It was mid-afternoon, and the crowds began to wane, and as Bob kept a close eye on her, Hannah's attention was on Edwin, who entered her thoughts. She fantasized about running into him into on of the venue's many corridors and empty rooms, grabbing her with his strong hands, and thrusting her against a wall as he took her then. In the middle of a corridor, oblivious to anyone entering or seeing them. Hannah grew wet and creamy in between her thighs thinking about it.
Towards the end of the day, which was exhausting though productive, Hannah decided to pack up many of her items early. Bob continued his keen stalker-like glares, and was secretly hoping to "corner" Hannah near the end of the day. Much to both Hannah and Bob's surprise, Edwin offered to help her pack, as he didn't have much to dismantle. She could tell he was attracted to her, though he wasn't too forward to abrasive in his approach. Then, as Bob watched, she leaned in to give Edwin a quick kiss on the lips, shocking herself and him, and making Bob's face redden in embarrassment. Quickly, they scurried into one of the back corridors, dropping the props in their hands immediately, and before they could find a private room, Hannah pulled him in close, thrusting her tongue down Edwin's throat as he eagerly parted his lips.
Sliding his fingers between her skirt and skin, Edwin pushed down Hannah's skirt, letting them fall down to her ankles, along with her panties, twisted around the heels of her shoes. He pulled her hips up, lifting her and pushing Hannah's back against the wall of the corridor, where she wrapped her legs around him as he entered her juicy wet pussy. Pumping her gently, deeply and thrusting stronger, faster, they both kept a keen eye on the end of the hallway, where the vendors hustled to grab a few more leads before ending their exhibit. As Edwin approached ejaculation, light kissing on Hannah's neck and chest, exposed through her open blouse, became nibbles and bites. She screeched slightly in surprise, and quickly muffled by his strong hand and a mischievous grin. Then, as soon as he was ready to explode, Edwin pulled out and sprayed all over the front of Hannah's blouse, reaching up to her mouth, as she stuck out her tongue to take some of his cream. He pressed his body against her then, to enjoy the warm, quivering sensation of Hannah.
"Tomorrow, I'll take care of you...and we'll find somewhere more discreet." With a wink and a final kiss, they quickly adjusted their clothing and reappeared to finish packing their displays to leave for the day, ready to return the next day for business and more. Hannah secretly envisioned someone watching them, and maybe getting off on seeing her get fucked by Edwin, though since most businesses were clearing out, she would have to wait until tomorrow to examine their reactions. Mixing business and pleasure was fun.
erotic
About the author
I began writing erotic fantasy short stories in 2011, which feature BDSM and fetishes. When I'm not writing, I work a regular job, enjoy cycling, travelling, rock concerts and reading.
Reader insights
Be the first to share your insights about this piece.
Add your insights