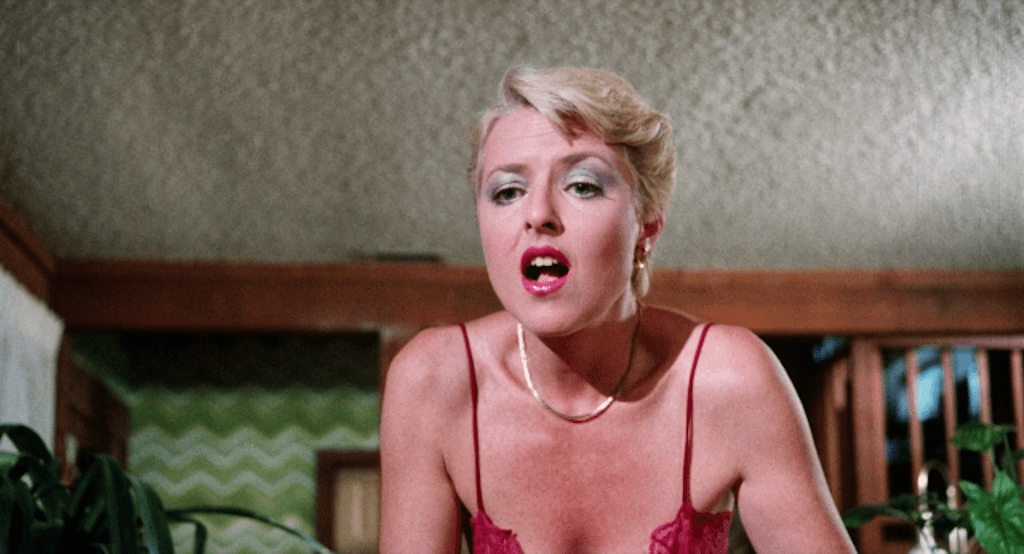 Lusting after someone that is long dead is a little creepy–shades of necrophilia, I suppose. Still, in porno, image is everything, and when the image is all that is left, that's when the good memories of pleasures past begin. And you know, the Erotic Crystalized Inertia (to borrow a phrase from Anton LaVey's Satanic Witch) of an ice-blonde bitch goddess, who brings to mind every naughty little fantasy about a man and his MILF, is something not easily overcome (no pun).
Judith Carr was the T and A queen of senior gang-banging, ginch-gobbling, cock-pleasing good times, an "Aunt Peg" of every horny post-adolescent boys' hairy palmed fever dreams. Her porno name, "Juliette Anderson," had the sort of bourgeois cum regal appeal that promised it to be the boring sobriquet of the woman next door–who became, all of a sudden, not so boring when she invited the gardener into her bedroom, stripped down to her all together, and gobbled twelve massive inches of Manuel's machismo meat.
It could be "Todd's Mom," even. Todd being a guy you pal around with on the football team. Todd's mom being luscious; you picture her bent over a hot stove, her forty-something yet undeniably perfect ass wrapped, like a perfect gift, in her tight pantsuit pants, while she busily turns a fork in the oven. And you can imagine slipping up behind Todd's Mom, and sliding down those pants, seeing the oversized blue panties wrapping that delectable white ass, as if it were a loaf of candy treat. And then, you take out your cock, and rub the brown beaver crack, and maybe you fantasize Todd being forced to watch you fuck his mother, doggie-style...
Or maybe she's her old self, her famous persona, "Aunt Peg" this time. Maybe you all are gathered, Mom and Dad and Jilly and You, all over at Aunt Peg's for a friendly family board game like Monopoly. Yeah. And you keep dropping that pencil on the floor, all the better to get the beaver-shot of Auntie's half-exposed BUSH.
Those legs, those delectable legs. You want a little Peggy pussy, a little Auntie ass. It isn't actually incest, because you're not actually related (this is just a cheap, two-dollar porno videocassette rental, and so NOTHING in here is real. Well, except for the fucking and sucking.)
You could imagine Peg as your teacher. "Class dismissed!" she would say in that supremely icy cunt's high, resonating, suburban soccer mom tone. "But, not you, mister! You, ah, I want to see you after class!" After class, and up Peg's ass, you think, the boner stiffening the crotch of your spunk-stained denim blues.
You can imagine her spread eagle on the desk. Look up that conservative, Reagan-era skirt, to the shapely white thighs, the brown slice of heaven bisecting that luscious piece of derriere. "Come here, baby," Peg would say. "Teacher has a little assignment for you. Stud."
You go up to the edge of the desk, unzip; her foot comes up teasingly to play with your heaving, hairy sack. The one-eyed wonder comes leaping out, an engorged python, ready to be buried in BUSH.
But, I do think we're getting ahead (head?) of ourselves. No pun.
Juliet "Aunt Peg" Anderson had a long and varied career, working as everything from a receptionist, kindergarten teacher, radio journalist, domestic, adult film producer, phone sex entertainer, etc. I find the listing of long and varied careers invariably dull, but it does offer us the background on someone most might think of, otherwise, as simply another in a seemingly interminable succession of forgotten porn queens. Juliet/Judith was born July 23, 1938 in Burbank, California, to a jazz trumpet player father, and her mother, the nurse. Juliet graduated high school in 1951, took off to Japan with a Navy officer who was a lover. Married, then divorced, she came back stateside, but then went back overseas again, we take it. Perhaps for the radio announcer job in Finland.
She was apparently trying to break into documentary films when a porno pit bull named de Renzy discovered she could fuck and suck her way through an army of permed and blow-dried male studs, riding titanic-sized dicks right before nose diving into the bushes for a tuna treat or two. You sabe, effendi?
Fucking her way through a series of Swedish porn loops, the budding young celebrity slut was featured in a movie wherein her slit-slurping fellow ingenue was heard to exclaim, "Oh, Aunt Peg! I'm coming!" Or something along those lines. Of such moments are fuck film legends born.
Peg used a variety of different names during her career, which numbered over 100 films, starring alongside such meteoric, uh, "stars" as Herschel Savage, John Holmes, Seka, Nina Hartley, Samantha Fox, and scores of other semen-swallowing and filth-wallowing starlets, and pussy-pummeling porno... players?
Some of her vast credits include such cinematic classics as Big Boob Babys, Loving Lesbos, and The Erotic World of Angel Cash.
It was the film Educating Nina, starring then-unknown ass-actress Nina Hartley, that Juliet, aspiring to produce, direct, and do all the jobs that, traditionally, belonged to the Old Boy's Club of shady, underworld filth auteurs, that signaled to Juliet that it was time to hang up the fishnets and spike heels. Losing her figurative ass on distribution rights, she lost all of her investors' money, and never saw a nickel. After that, she left the adult biz for an extended hiatus, chastened but wiser.
She returned to porno in 1995, possibly because elder care and housekeeping didn't pay nearly as well. Imagine that. She started producing, directing, and FUCKING her way through a series of new adult films; also, there was the stage shows, much in the manner of Annie Sprinkle, wherein she pontificated and performed passionate playlets about... pussy.
Later credits include an over-fifty porno flick called Ageless Desire, which also starred her life-partner; being featured in the documentary Wadd, about John Holmes, and announcing plans to do more adult videos. She apparently was writing for the sex trade, as well as offering "relationship counseling" with, "Tender Loving Touch." She wrote various chapters for "highfalutin" erotic anthologies. She received numerous lifetime achievement awards from various obscure X-rated critics' groups, as well as the Berkley Free Speech Coalition.
She was one helluva lady, to boot: A "tough-talking, no-nonsense" old bird, a fucking suburban fantasy sex machine. A smut auteur, playing in a world where the behind the scenes action is (or maybe was) all controlled by males.
She had the perfect "ice blonde bombshell" looks of an eighties pop culture diva: sculpted yet sensible hair, and the right amount of class and sophistication, riding right up the leg of gutter whoreish; with an iceberg intonation, and the kind of fantasy sex appeal your female supervisor at work might have for you, if you find you can't take your eyes off of her ass.
Judith/Juliet was found dead in her Berkley home, January 11th, 2010, lying in bed; she seemed to have gone peacefully. Later, it was revealed she had suffered a heart attack. She was 71.
I first saw Aunt Peg on a third-generation porno video bootleg compilation tape (as I remember, the other flicks were called Kiss and Tell, Skin to Skin, and Health Spa). A relative was dating this beer-bellied trucker cum porno addict who lived, as I recall, in the upstairs of this little shit apartment in a house; it smelled like grease and fried potatoes and horseshit. He had a peculiar speech impediment that made him sound like Elmer Fudd.
(Whatever happens to such people? Do they all just fade into the dismal tapestry of yesteryear?)
I first saw Aunt Peg in a movie on that cassette bootleg, called Physical, with Herschel Savage, Jamie Gillis, Dorothy Lemay, and Samantha Fox. Peg's first scene is in an office, going over an advertisement for a porno video contest. Something to do with the "plot," which is always so integral in films and videos such as these.
She's a busy career lady whose trade paper is sent Herschel Savage's add, and all this stress is just killing her shoulders, and so Samantha the Secretary comes around to give her a little massage that quite quickly develops into lesbian foreplay. Peg's top comes off, and she quickly gets up on the table for the shot that is seared, after repeat viewings and an ocean of busted nut over the years, into my subconscious sewer of erotic fixations.
Samantha Fox's delectable, sheer panties-wearing ass and thighs, is framed in a dead-on shot with Juliet's long, slim attractive legs sticking out at perfect angles from either side of her muff-diving face; oh! Can you imagine!
The rest of this fuck flick devolves into a series of clips from various obscure porn loops, most of which were probably produced by Latin American crime bosses.
Physical (1981) is, by the way, available for viewing on one, many tube sites.
And with that, I think we can lay (lay?) the world's original cougar to rest again. There are yet young, testosterone-driven males jacking their puds, I am certain, to the digitized image of the long-dead Judith Carr. But, we don't suppose that really counts as necrophilia.
(Note: For those looking for a filmography, we'd suggest the Internet Movie Database. Aunt Peg was, most obviously, the star of the film Aunt Peg. Also, Physical. But, we find compiling such lists to be tiresome work. C'est la vie!)