I Offered My Landlord 'Free Use' of Me
The apartment was too good not to, and he wasn't so bad himself...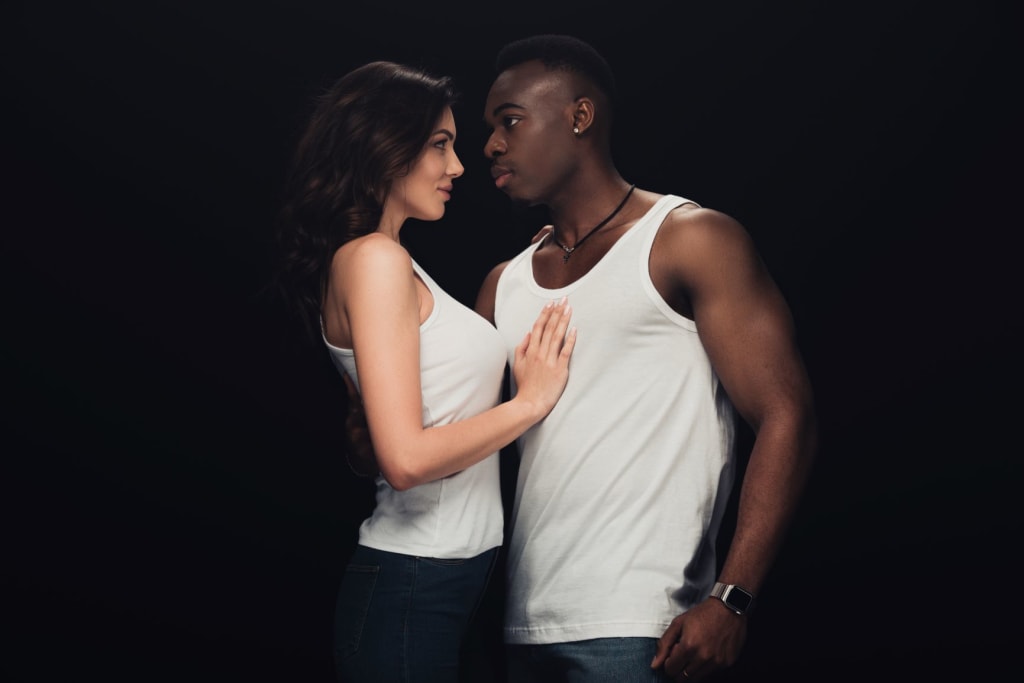 photo credit: https://depositphotos.com/254313580/stock-photo-beautiful-sensual-interracial-couple-white.html
This erotica story is intended for adults 18+.
The landlord, an attractive middle-aged Black man with light eyes and an air of protectiveness, met me on the front porch.
He looked me up and down, initially assessing, I believed, my fitness as a tenant, but that didn't mean his glance didn't linger on my breasts for just a moment too long.
I didn't mind…
But he smiled warmly at me and welcomed me up to the third floor to see the apartment.
It was huge, which was just shocking in this city. It even had two massive skylights to bathe the living room in light throughout the day.
The bedroom was big enough, not just for a bed, but for furniture, if you'll believe it, and it had two windows that looked out not just at the street below but out across a hilly landscape and toward downtown of the city in the distance.
It was perfect, and I knew I had to have it. This was the one — that magical apartment that shows up for me each time just as I'm about to lose hope.
The only issue was that it was about $250 a month more than I was looking to pay…
"So…how set in stone is that price?" I asked the landlord, Kenneth.
He put his hands on his hips and tilted his head to look at me.
"Pretty set," he said. "It's already cheap for the area, and I'd be crazy to take less."
"Right," I said, and sighed. "It's just that it's perfect. The skylights in the living room are just what I would want for working on my paintings. It's exactly what I'm looking for…"
I let it hang in the air for a moment.
"I'm a great tenant. I don't smoke, don't throw parties. I pay rent on time. I don't cause issues."
He smiled. "I'm sure that's true," he said. But he gave no indication of budging.
I took a breath in and then did something crazy.
"I have a proposal," I said.
"Okay…"
"I take the apartment, I pay $250 less than the asking price, but I pay it the day before it's due."
He raised an eyebrow, and I continued.
"You'll have a key to my apartment. I paint in the mornings until about 2pm, but after that, I'm… free to you."
Kenneth looked more than a little concerned.
"It's called 'free-use.' So in that time-frame — any time after 2pm, you would have free use of me. Sexually."
His eyes grew wide, look like they wanted to pop out of his head.
"You don't have to announce yourself," I continued. "You let yourself in, and I make myself available to you. We'd have a safeword, of course, but outside of that, you call the shots. Whatever you want…"
"Shit," he said, rubbing his hand across his forehead.
"You wouldn't be taking advantage of me. It's not like I need this apartment enough that I'd be out on the streets. I want this apartment. Very badly. And I think…you want me."
I took a step toward him, brushing a strand of hair out of my eyes.
"Don't you like what you see?" I asked.
He cleared his throat. "I do."
"What would you do to me if you could?"
"I can't."
"You can — it's after 2pm."
I unbuttoned my blouse, which had already been showing some cleavage, but unbuttoned, showed everything. I wasn't wearing a bra.
He took a labored breath in, and I took a step closer to him.
"Do you want to touch them?"
"Yes." It was barely over a whisper.
"Then touch them."
I took one of his hands and placed it on one of my breasts. Immediately, he squeezed, kneading it, and I felt the smallest of smiles at the edges of my lips.
He lifted his other hand to grab my other breast, massaging both.
"Mmm," he allowed himself.
"Mhm," I said.
He leaned in and put his face between them, breathing in the softness of my breasts touched each of his cheeks. They're large enough to get lost in, as it seemed he was intent on doing.
But then he stood up and backed away a step.
"This was really unacceptable of me," he said.
"Do you think I didn't like it?" I asked.
"I don't know."
"I did like it. I'd like you to go further."
I took a few steps back, toward the bedroom and then sat down on the carpet, leaning back on my hands and spreading my legs for him, my panties visible under my mid-length skirt.
"Would you like to see how wet I am for it?" I asked.
I heard a groan in the back of his throat, and then he approached, coming to kneel on the floor in front of me.
He reached out his hand and slipped it under my skirt, let his fingers touch my panties, feel how damp they were. He slid them to the side and began to caress my pussy.
Finally, without prompting, he leaned his face in between my legs and let his mouth envelope her, his lips first grazing and then kissing the lips of my pussy, his tongue exploring.
I moaned for him. He really did know what he was doing, and that he went straight in with his mouth was a very good sign.
And my, did he get into it! He used every part of his mouth on every bit of my pussy and had me arching, writhing there on the floor.
When he slipped a finger inside me to match his outer work with inner massaging, I knew I was done for.
I came loudly for him, letting him watch as the orgasm took me over, my body leaning into the pleasure of it, my face, I knew, a picture of unabashed bliss.
When I had finished, my breathing heavy, I smiled down at him.
He slipped his finger out of me, his expression, less embarrassed than it had been before.
"I live on the bottom floor," he said quietly. "I'll have to run down to get a condom."
He stood up, but I made no move from my place on the carpeted floor.
"Don't forget to bring the paperwork too," I reminded.
"I'll bring it," he said, now a given, a sort of a second thought. "And then we have other business to take care of."
I smiled and tossed my hair out of my face. "Can't wait."
As he slipped out of my new apartment and rushed downstairs, I wondered what secret wants my new landlord held inside. What could I free for him?
What would he do with me once he realized he could?
---
Want more? Check out my new sexy Patreon and get photos, exclusive stories, videos, and even custom work!
About the Creator
Elle A. Wild is a city girl who loves writing character-centric sexy stories that surprise even herself.
Elle writes from a perspective of female empowerment and pleasure, and if you're not into that, well, she's probably not for you.
Reader insights
Be the first to share your insights about this piece.
Add your insights