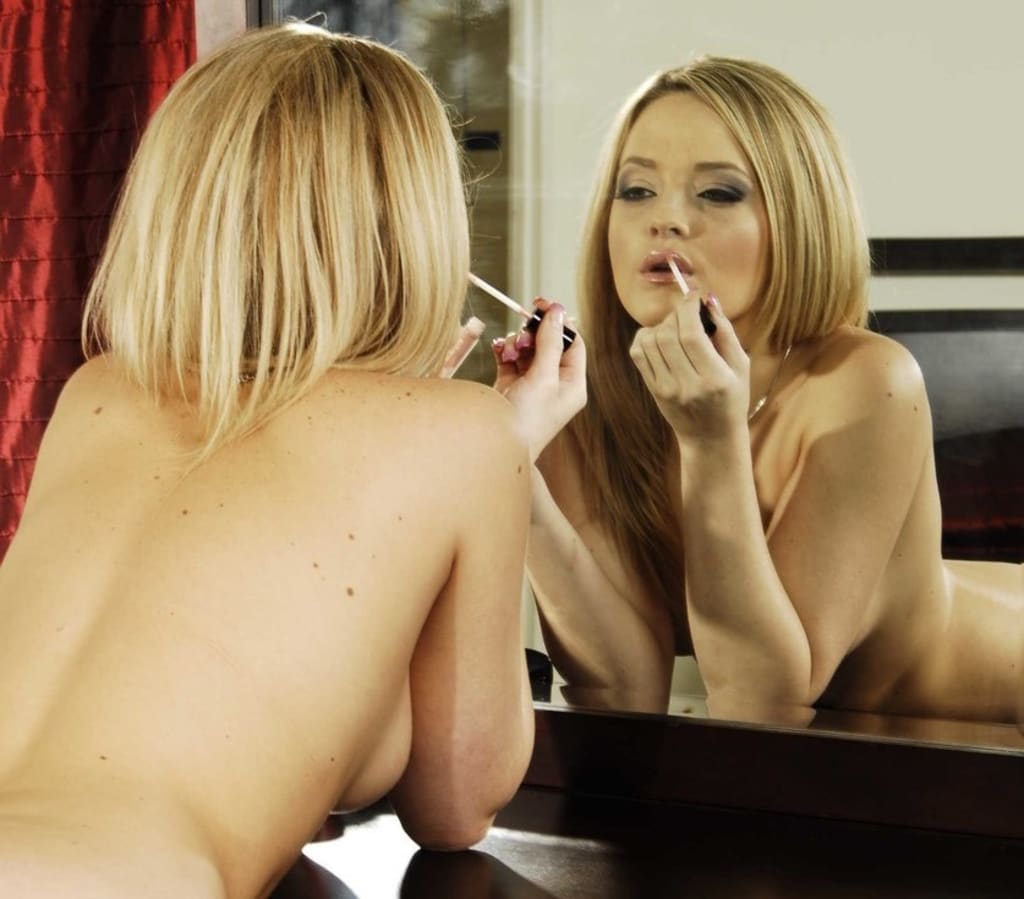 Consistency is key when it comes to a good pornographic series on the internet. The most successful company deliver high quality porn scenes on the regular and definitely reap the financial success from it. One of the companies which has seemed to do this from the beginning I think has to be Naughty America. Even watching their old scenes there was a certain amount of quality to the narrative and ultimately the sex. Yet it was the little things as well like where the camera was positioned and what the actors/actresses would say during the sex. Naughty America access is reasonably priced at the moment; for a one month rolling 'VIP' pass it's $29.95 which is pretty standard across the internet. You'll find most porn website hover around that type of price when it comes to the American currency of dollars. There's a 3 day access price of $1.95 which is pretty good and allows you to have a taste of what they have to offer. If you're feeling extravagant you can purchase a 12 month access which is billed as one payment of $95.40. This works out at about $7.95 a month which is pretty good if you have those types of funds available to you. If you're in the money then you can get the 12 month offer with several bonus sites priced at a whopping $239.40. The bonus sites included are Tonight's Girlfriend, Mrs Creampie, MILF Sugar Babes, College Sugar Babes, Randy's Roadstop, Perfect Fucking Strangers and Real Teens VR.
I've reviewed some of those sites personally and I have to say they're of a high quality but you'll need the coin if you want that package.
Going back to consistency; one pornstar that oozes that is the gorgeous Alexis Texas from Castroville, Texas. Real name Alexis Samper, she's 35 year old and went to Medina Valley High School. The likeable Alexis was well liked amongst the guys as she use to help them how to 'get girls' in High school. She was recruited into porn back in October 2006 while working at a college bar. Porn company 'Shane's World' encouraged her to give it a try after scouting her; since she is known for her bubble butt and distinctive dirty talk. The scenes I've watched of her are absolutely brilliant. She's not super glamorous but she has that nasty, sleazy look which is perfect for what she's doing. I watched this one scene where she decides she's going to fuck her boyfriend and his friend in her bed. Another scene for Naughty America she done was equally as scandalous as she fucks her boyfriend's son Xander Corvus in the kitchen.
In this scene she's starring with ladie's favorite Rocco Reed who has since retired from the porn industry. Ironically at 38 years old he's went the way of Randy Spears, now embarking on a 'Crusade for Jesus.'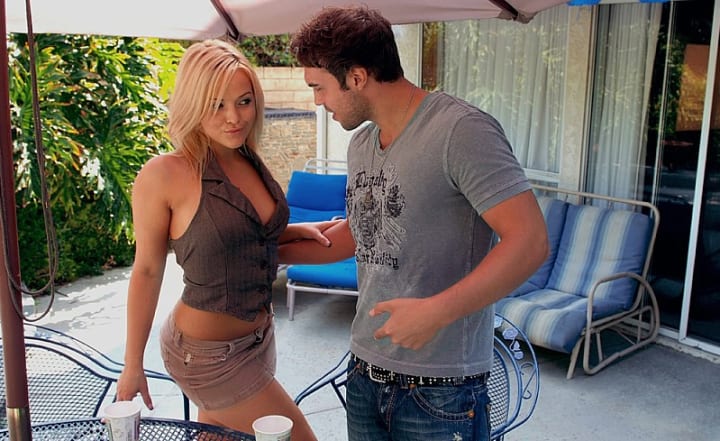 He's a decent actor as I've watched him star with Beverley Hills for the series 'My Dad's Hot Girlfriend' before this. The women seem to love him too as pornstar Angela White recalls getting particularly excited when they started 'banging before a scene.'
In this scene I'm reviewing today for 'I Have A Wife,' Rocco plays a married man who's wife is friends with Alexis Texas. The pair are sat enjoying a drink in Rocco's garden while his wife is elsewhere for the day. They both seem to be enjoying themselves until Alexis makes a pass at Rocco stating she's 'glad his wife isn't there.'
Alexis' remark is ill-received and Rocco panics at what his wife's friend has just said. Alexis does really well with her acting skills here as she plays a convincing 'bad girl.'
'You're really walking away from me!?' Alexis shouts at Rocco arrogantly.
Rocco is equally as good an actor as he plays a convincing 'nice guy' in contrast to Alexis' character.
Alexis threatens Rocco stating that if he doesn't have sex with her she'll just tell his wife they had sex anyway. Rocco is shocked that she would go to such lengths to destroy his marriage but it becomes apparent that she really just wants him sexually to feed her appetite. It's a good use of improvisational acting by the pair who both do well in their respective parts. Rocco actually has a degree is Psychology and studied 'Theatre' in college so it's no surprise he's a good actor. Realizing he's in a 'Catch 22' situation, Rocco submits to Alexis and starts to 'man handle' her. Alexis goads him as he pushes her to the couch stating 'Ooooo you're going to man handle me Rocco?'
It's great stuff from the Texan starlet and it's obvious why so many male performers enjoy working with her. The sex is excellent with a clear chemistry between the pair; despite this the acting doesn't stop as Alexis sexily goads Rocco about his wife throughout. There's some good shots of Alexis' behind and I'm glad to see such a natural beauty hasn't had any surgical enhancements. My particularly favourite bit is when Rocco is banging her in the cowgirl position. Alexis moans of pleasure even seem arrogant at one point which is particularly hot. Personally I love this scene and can't give it any less than a perfect score; 5 out of 5. Good acting by talented performers who in turn have entertaining sex.
5 out of 5.