I AM NEO: A Faux-Fictional Tale of the Adventures of a Porn Photographer
Chapter 1 – Picking up a Babe in Sin City – A Totally True Tale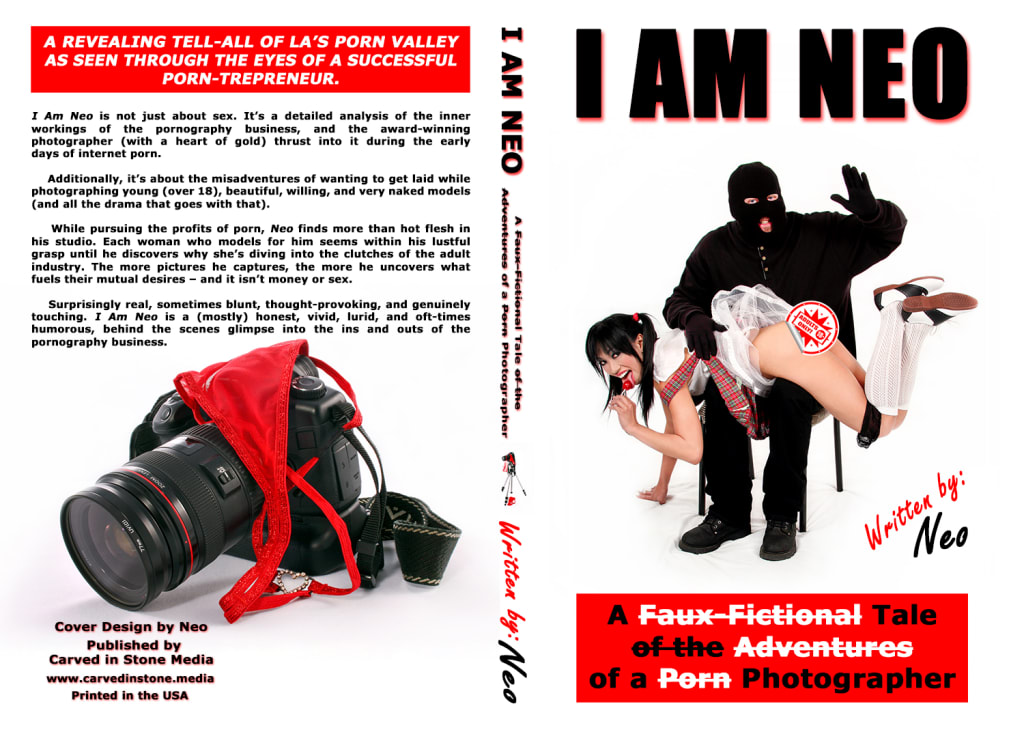 Cover Art by Neo
Chapter 1 – Picking up a Babe in Sin City – A Totally True Tale
My Mum lives in Las Vegas. Picture this… Retired old lady, cruising around the casinos on her little electric scooter, oxygen tank hanging off the back, cigarette hanging out of her mouth, and one arm bigger than the other because she arm-wrestles one-armed bandits all day – you know the type.
Well, that's not her.
My Mum is a petite, little old lady, high moral standards, always prim and proper, would be leading the Temperance Movement if there were one, and always wears her Sunday's best – even if it's Monday. And this charming Christian lady would be none too pleased to learn that her son was a Porn King – actually more like a Porn Jester.
Little did she know that every four to six weeks when I came to visit her in Vegas, I wasn't only coming to see her, but was also coming for work. Porn work to be exact. I was usually there to shoot or scout a model, conduct some type of business with other webmasters, kick back at some big porn party with lots of naked, paid-to-be-horny girls running around acting like they wanted you, or, as most often is the case, I was there for some big porn convention. And this trip was no different.
Except this time I really was only going there to see my Mum. Okay, I lie. I also had a quick business meeting to attend. And, as always, had to scout potential models.
I don't fly, so like I always do, I drove to Sin City. It's actually a nice relaxing drive (if you don't go on the weekends) and usually only takes about 5 hours – depending on pit-stops and how fast you drive. Because I'm a safe driver that doesn't speed, and also because I drink a tonne of water (meaning I have to stop to pee all the time), it usually takes me about 6 to 7 hours to get there. It goes without saying that most my friends, business associates, and others, don't want to travel with me – always have a hard time figuring that one out. I put some good tunes on, enjoy the pleasant scenery, visit all the gas station restrooms, and just relax. But no, they are always in too much of a hurry to just get wherever they are going. Tsk, tsk, tsk.
It was the second day of my trip, I just finished having a late lunch with my Mum, and was going back to the hotel to rest up a bit before heading out to my meeting, and then enjoy a hopefully hot (usually lukewarm) night on the town.
Yes, in case you are wondering, even though my Mum lives in Vegas, I always stay in a hotel. That way I don't have to explain to her why I get in so late, smelling like cigarettes, booze, and cheap hookers. That sounds like a line out of an old Noir Detective novel. But actually, I don't smoke, seldom, if ever drink, and never pick up hookers – especially cheap ones. Too many diseases out there; besides, I'm a pornographer, I pretty much have 24/7 access to a revolving door of hot, young, porn star wannabes.
I pulled into the hotel drive and as I was waiting in line for the valet, I saw a vision of beauty walking by. She looked Asian, had long, straight, black hair, full lips, nice figure, probably a 34C, 24 years old, approx. 5'2 and somewhere around 105 lbs. She was dressed casually in a pair of sexy low-rider jeans and a baby-doll shorty-top that showed off her extremely flat and nicely muscled stomach. And the best thing – she was by herself. Now when it comes to girl watching, I'm very good. I saw her for less than 2 seconds and was still able to get all that info burned into my brain before she disappeared around a corner.
Trying to hurry the valet up, I got out of my car and motioned for his attention. He looked toward me and I cocked my eyes in the direction of the now long-gone girl. Having noticed her as well and knowing exactly what I was thinking, he smiled, came right over to me, got my keys, got a nice tip, and said, "Good luck."
It's not something I normally do, but like a dog on the hunt (or at least hoping to catch another glimpse) I trailed after her. I rounded the corner, where she had only moments before left my sight, and was stopped in my tracks by her sitting right there on the curb – sunning herself. Not expecting to really catch her, I was tongue-tied and said the first thing that came to mind. "Are you a model?"
Duh, what a stupid first line. But to my surprise she said, "Yeah, I've done a little."
A smile shot across my face as I whipped out my card, told her I was a photographer, and sat down next to her. We sat there for the next two hours talking and getting to know each other. Her name was "M." She was not Asian, but a nice Black-Puerto Rican mix. She had a great smile and her description was almost to a "T" as I described earlier (God, I'm good). She was from New York, flew in a day early to meet with some friends and was staying in the same hotel as me. What luck!
We decided to get some dinner. We ate Italian – she had rigatoni while I had spaghetti. We talked, laughed a lot, and really hit it off. During dinner she ordered a bottle of expensive wine and since I rarely drink, she polished off about half of it by herself. Unfortunately, after dinner, I had to attend that now-stupid business meeting. Before I finished explaining my eminent departure to M she said that she'd wait for me and when I got back we'd go out and paint the town red together. And I'm thinking, Can this really be happening to me? And apparently, it was. Kewl!
I flew across town to my meeting, made an appearance, spent a few minutes discussing the biz, then, leaving them wanting more of my dazzling presence, I drove, like a man that really wants to get laid, back to the hotel. I got back to my room, called M and made plans to go to her room and pick her up.
Absolutely-un-frickin'-believable! Her room was right next to mine. I'm not kidding! Seriously, I'm not! Was this a sign? Could things get any better?
I left my room, walked ten steps and knocked. Half-dressed, she opened the door and invited me in. You know that Mmmm sound that Homer Simpson makes when he wants a doughnut or ice-cream? Well that's the sound I made as I entered her room and saw her half-naked body. Wow! She gave me a big hug, finished getting dressed, then, yup, hand in hand, we were out the door.
As we passed my room I heard the phone ringing. Probably business (or my Mum), so of course, I had to answer it. While I talked biz on the phone, M started jumping up and down on the bed, having a good time and laughing like a kid on a sleep-over. I jest you not. After another minute, she had rolled herself up in my blanket and fell off the bed – landing on her head and laughing. It was at this time that I realized that she was a little tipsy – having had finished off the rest of the wine while she waited for me to return. What did I get myself into? I got off the phone, picked her up and unrolled her from the blanket. I brushed the hair away from her face, we kissed. And kissed again.
Mmmm, I wanted to do her right then and there and I think I could have, but being a gentleman (what an idiot I sometimes am), I asked her if she was ready to go. A few minutes later we were in my car and heading to the Hard Rock.
On the way to the club, her tipsiness seemed to wear off a little. We talked, learned a little more about each other, and held hands between shifting (yes, I drive a stick and I love it). I told her that I, not only shoot mainstream models, and fashion, but that I also shoot "adult" models as well. She thought that was neat and said that she always wanted to dabble in it – you know, just to see what it was like. So, I nonchalantly suggested that we should shoot sometime, and she eagerly agreed. Wow! She was quickly becoming my dream girl.
We left the car with the valet and, with her on my arm, entered the club. It was just like I've seen in the movies – she was the best looking girl there and I was the envy of every other man. I saw the look in their eyes and they knew, as well as I did, that I was gonna get some of the best sex I've ever had. It was certainly a huge boost for my ego.
M headed straight to the bar!
She quickly downed a glass of wine, ordered another, then, for the benefit of all the other guys watching, stuck her tongue down my throat – she's such a tease. Besides the awful taste of cheap bar wine, I certainly didn't mind locking lips with her. Her next drink arrived and our lips parted long enough for her to gulp it down. She ordered another and as I puckered for the expected kiss, she reached back and grabbed the ass of the guy standing behind her.
The colour drained from my face as the bruiser turned and looked directly at me. Of course I averted my eyes away like I was guilty... uh, I mean… as innocent as can be… and, (thank God) the bruiser looked right past me for the culprit.
Meanwhile M, with her back to the man, was kissing on my neck and trying not to giggle. Once I got the vision of my face being pummeled out of my thoughts, I realized that what she did was actually pretty funny.
For the next hour or so, between downing drinks and pawing all over me, she grabbed guy's asses and then played innocent as they looked around for the perv. Of course we (and I say "we" because I became a willing accessory) got caught a few times. Most of the men that caught us thought it was funny as well – especially since whenever we got caught, she would usually start flirting and rubbing her body all over them. And just about the time the guys would get the idea in their head that they might steal her away from me, she would stop, turn, and give me attention like I was her one and only lover. Dang, she was good! Real good!
But all good things must come to an end and the end was fast approaching.
M, having downed too many drinks for me to count, was wobbling on her feet, slurring her words and getting much bolder; not only gabbing guy's butts, but their crotches as well. Now I felt more like her guardian angel than her future sex partner. She was so drunk that I pretty much knew if I didn't get her out of there, then I'd never get laid.
As I was talking with one of our victims, M quietly let go of my arm. I assumed that she was scoping out another target. How right I was. I turned to stop her, but she was already out of reach – making a beeline for the casino floor.
Oh Lord, what did I get myself into?
Just like in the movies, everything went into slow-motion.
"Noooooo..." I muscled my way through the crowd, drinks flying in the air. By the time I caught up to her, her hand was already reaching for the ass of a heavy-set, gold-chained man that was about to roll his dice at the craps table.
I quickly grabbed her hand (now back to normal speed) and spun her around. Laughing, she fell into my arms, knocking me backwards into a mean-looking Pit Boss. It really was time to go!
Trying to keep what was left of my dignity and knowing that I was no longer the envy of every guy, I held her "ass-clutching" hands to her side and guided her drunken weight through the casino toward the exit. By the time we got to the valet, she couldn't walk, I was carrying her. I plopped her inebriated ass down on the bench and waited for my car. Of course at this point she became very amorous and kept trying to remove our clothes. While gently restraining her from making a total fool out herself, she passed out. Thank God!
A few minutes later, my car arrived. I lifted Sleeping Beauty off the bench and carried her to it. The valet opened the front passenger door and I tried to deposit my prize onto the seat. Like a cat that doesn't want to take a bath, M's arms and legs shot out clutching the perimeter of the door.
In her drunken stupor she suddenly had no idea who I was, where she was, or what was going on. With the patience of Job I calmly explained everything to her (over and over again), and that I was just trying to take her back to her hotel where she could sleep it off.
Of course, the valet was now giving me a questioning look. And I could see in his eyes that he was starting to wonder what I was doing to this intoxicated girl, and if he should call security or not.
As I was trying to smooth things over with him, M had a moment of clarity and decided to get in the car – but only if she could ride in the back seat. I more than gladly obliged, and tried to buckle her in. Of course, she argued about wearing the seat belt and just as I let her win, she passed out across the back seat. I was now thinking it would be great if I could just get this lush back to her room before anything else goes wrong.
Okay, picture this… I pull onto the street, then look into my rearview mirror – only to see M bolt up to a sitting position and weakly proclaim, "I'm gonna be sick."
Immediately, I maneuver into a driveway, jump out of the car and open the back door. M leans out the door and lets loose a huge gassy burp. I swear I saw her lips flutter. Then sitting back up, she smiles at me and says that she's okay now. Riiight!
I find a plastic bag, hand it to her and tell her that I don't want her getting sick in my car. She just smiles. I certainly don't like the look of that smile. Not one bit, I don't. Her eyes suddenly roll back up in her head as she once again slumps across the back seat. What better time than now to get her back to her room, and out of my life!
I merge back onto the street and head straight to our hotel. I keep checking the rearview for her little head to pop up like a jack-in-the-box. Nothing. At this point, I'm finally starting to realize and accept the fact that I'm really not gonna get any sex. Oh fiddlesticks!
I check the rearview again. Still nothing. As I drive, I keep thinking that she's so lucky that she's with me because I really am a gentleman. I can just imagine some other guy taking her back to his hotel, taking advantage of her, then dumping her in an alley or worse. Whether I want to be or not, I'm her guardian angel.
Check rearview. Ahhh! She's sitting up! And to make it even worse, saliva bubbles are percolating out of her mouth. ICK! I ask her if she's okay. No answer. Damn! What should I do? She's really sloshed. I feel like I'm in high school again. Maybe I should take her to the hospital? Red light! I reach back and touch her. "Are you okay?" In response, like she has no neck muscles, her head wobbles from side to side and drool slides over her full, luscious lips. What a sight! I bet that would make her Momma so proud!
Honk! Honk! The light has turned green and the car behind is impatient. Knowing that it's not a good idea, I reluctantly ease into the intersection. I check the mirror just in time to see M lurch forward – spewing wine and rigatoni from the open cavern of her mouth. Again things move in slow-motion as projectile vomit splatters down the back of my neck and car seat.
I yell, "Not in my car! Not in my car!"
The car behind me is honking. I'm trying to get through the intersection to pull over, but of course, I'm in the middle lane and am surrounded by cars speeding past. In the rearview I see M starting to retch again.
Honk! Honk!
"NOT IN MY CAR!"
She opens the door and leans way out – puking on the pavement. Shit! She's not wearing her seat belt! "Close the door!" I envision her falling out of the car and me running over her with my back tires, and then trying to explain it all to the Police.
Honk! Now everything is happening so fast. "Close the door!" I swerve! Hooonk! "CLOSE THE FUCKING DOOR!" Honk! She closes the door and immediately up-chucks all over it. Great timing!
Now immune to the other cars and their get-out-of-my-way-I-have-to-go-lose-my-money-in-a-casino honking, I plow across three lanes of traffic and pull into a convenience store parking lot. I immediately jump out of the car and yank open the back door. M falls toward me and I barely catch her – keeping her head from hitting the pavement. She immediately repays my kindness by ralphing on my shoes. So, I did the only thing I could do – I held her already vomit-soaked hair away from her face and let her continue.
It was not my night!
Over the next hour or so, I cleaned the contents of her stomach off of her and out of my car. I've never seen so much puke. Not only did she throw-up all over the back seat, the back of the front seat, me, the back door and window, she also threw-up all over herself. I felt like mother cleaning her baby. I cleaned vomit (even the word is icky) off of me, off her clothes, out of her pockets, off her face, fingers, and from between her toes.
Damn! I'm such a nice guy. I don't even know this girl! But there I was at 2 a.m. in a Sin City convenience store parking lot taking care of her. But I did learn one interesting thing about M. She doesn't chew her food well – I found whole rigatoni noodles all over my car.
By the time I finished cleaning, M had fallen soundly asleep. I drove back to the hotel, and not wanting to carry her through the casino, I opted to self-park.
Thinking that it might be best if I kept an eye on her through the night, I carried her straight to my room and gently put her in the second bed. I went to the bathroom, washed her stomach juice from my hands and got ready to go to sleep. I was exhausted! As I started to slip into my bed, I looked over at her and realized that her clothes were covered with drying vomit (so gross) and she really shouldn't sleep in them.
Getting the clothes of a drunk girl is not as easy as you would think. She woke up, and thinking that I was trying to do more than I was, weakly tried to push me away. I convinced her that I was only trying to make her a little more comfortable. After a moment, she didn't care anymore and he let me remove the remainder of her clothes. Since her bra and thong were not covered in puke, I left them on. Besides, I really didn't want her to wake up in the morning thinking I did anything wrong.
Before I finished tucking her in, I took a nice long look at her body. Wow! I felt a little twinge of movement in my boxers and... Nope, no use thinking about it. I guess it wasn't meant to be. Drats! I jumped into my own bed and turned out the light.
Just as I was starting to fall asleep, she let out a moan. Hoping that she wanted me, I was instantly by her side and asking if she was all right. She was sound asleep. Doggone it! I guess it's for the best though. Sex with a drunk, vomit covered girl is not good! Not under any circumstances! Go back to bed! And I did, but I couldn't sleep.
Even through everything that had just happened, I was horny. There was a hot babe laying (passed out drunk) and nearly naked just a few feet from me and there was nothing I could do about it. I thought about jacking-off. But how would that look if she woke up? So I laid there with a raging hard-on, looking at her and wishing that she'd wake up and ask me to fuck her. But of course that wasn't gonna happen. And even if she had woken up and asked me, it still wouldn't have happened. She was drunk.
Damn my morals.
So I laid there trying to convince myself that it's probably a good thing. I really don't believe in one-night stands anyway. I didn't even know this person, and besides she might've been a psycho – just waiting for me to fall asleep so she can frame me for something that I didn't do, or worse – kill me!... Damn!
Sleep was elusive.
Sometime during the night, I managed to fall asleep, but of course, I woke up early. M was still sleeping – Dreaming the Dreams of Somnus. More like she was dead-drunk and passed out, but saying "Dreaming the Dreams of Somnus" is much more romantic and poetic sounding.
I got up to pee and when I returned she was sitting up and looking strangely at me. She started to ask me why I was in her room, but before she could finish the sentence, she realized that it wasn't her room. She immediately lifted the covers to see if she was naked, or dressed, or what. Seeing that her undies were still on, relief crossed her face. I sat on my bed and proceeded to tell her about our night of adventure.
By the time I finished the story, an hour or so later, she was in my bed – laughing about her actions and cuddling with me. Yes, she cleaned up before any cuddling commenced.
The last thing that she remembered was getting a drink at the bar. After that – nothing! She apologized profusely, assured me that had never happened before and asked what she could do to make it up. Of course, the first thing I thought of was... SEX! Right here! Right now! But, like a gentlemanly idiot, I told her she could buy me breakfast, and pay to have my car cleaned. She agreed!
Right after breakfast we tried cleaning my car a bit (it really reeked), but after a while we just gave up, and before I knew it we were back in my room – cuddling and kissing until check-out time.
M asked me if I wanted to stay for a few days and hang out with her and her friends. But I had to get back to LA. Dang! And double dang! She walked me to my car, gave me a huge hug, and a very long, and quite passionate kiss. She apologized again, asked me not to forget her, and promised that she would keep in touch.
As I watched her shapely ass walk away I thought of what might have been… No, there was no way I could ever forget her (or the aftermath of our night on the town).
I then drove all the way back to LA, and although the windows were down, the fine scent of her "stomach-wine" will be forever burned into my nostrils.
-----------------------------------------------------------------------------------------
Lon Casler Bixby is a professional photographer and published author in various genres: Fiction, Poetry, Humor, Photography, & Comic Books.
You can find him on Amazon.
-----------------------------------------------------------------------------------------
If you've liked what you've read, please check out my other stories on Vocal - https://vocal.media/authors/lon-casler-bixby
If you've really, really liked what you've read, a small tip would be greatly appreciated.
Thank you!
About the Creator
Lon Casler Bixby is a published author: Fiction, Poetry, Humor, & Comic Books. He's also an award-winning photographer whose work has been featured in magazines, art & coffee table books, & in Art Galleries throughout the world.
Reader insights
Be the first to share your insights about this piece.
Add your insights