How to Photograph a Lingerie Shoot
Advice for Photographer and Model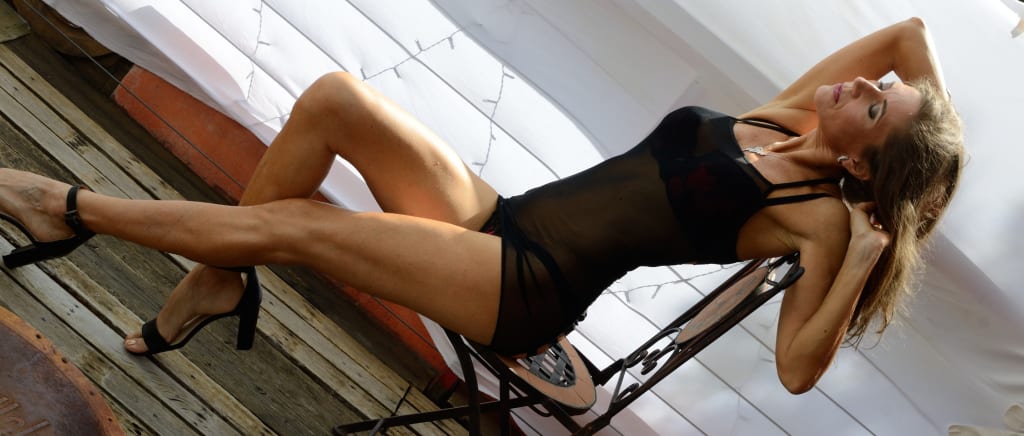 Sexy lingerie has been designed and sold for a purpose. That is, to make the wearer of the lingerie feel and appear beautiful and sexy. And, it is not just for beautiful women in their late teens and twenties. Middle-aged and even elderly women can feel and look both beautiful and sexy if tastefully photographed.
Some women choose to wear sexy lingerie just to please themselves. Others like to please their partners in addition to themselves. Yet others like to share with an even larger audience.
Now, a lingerie shoot does not have to include nudity, although it can. A model wearing lingerie, with good lighting and posing, can in fact look even more sexy than if she would wearing nothing.
So, what is required for a lingerie shoot?
The simple answer is a model with lingerie, and preferably a few changes, and of course a photographer prepared with cameras and associated equipment.
Apart from the above, almost anything goes. The model and photographer can be as creative as they wish.
Many lingerie shoots are done in bedrooms, but a bedroom is not a necessity. If it is your choice to use a bedroom, some initial preparation will be required.
How is the lighting in the bedroom?
If you are able to open up windows and curtains to let in more natural light, some great effects can be achieved. If not, you may have to supplement the lighting using light stands. Be aware however, that mixing light sources can lead to problems with colour etc., which will need to be corrected. You may prefer to use artificial lighting on its own.
Remove any clutter which may be in the photographs before starting the session. This applies to all venues, not just bedrooms. Although some strategically placed props may improve the photograph, generally we want to draw the attention of the viewer to the model only.
Bedrooms are fine for lingerie shoots, but there are many other choices.
A preference of mine, if a suitable site is available, is to contrast the soft, smooth feminine form with brickwork, rough concrete, old furniture or doors with peeling paint in old buildings. Alternatively, modern kitchens and living rooms can also look great.
Generally I have a preference for natural lighting, and outdoor settings in quiet country areas can be great.
The Model
If you do not know the model well, it is important you get to know her and both of you are relaxed before starting the shoot. This may not take very long if you are working with an experienced model, but for someone inexperienced, take your time.
It may even be advisable to have a meeting, perhaps over a cup of coffee, to discuss what both the model and the photographer wish to obtain from the shoot, prior to the shoot taking place.
At the shoot, allow the model to have privacy when she is changing into various outfits. Be aware that even after she has changed, tight bra straps etc., can leave indentations and red marks on the skin. Allow sufficient time for these to disappear before starting the shoot.
Encourage the model to relax and be as natural as possible. Friendly chatter with compliments when appropriate "looks" are achieved can help. Of course, some instructions on positioning of head and other body parts may be required, but it is often best to keep these to a minimum and let the model explore different poses.
The Photographer
Most photographers these days will be using digital cameras, so we do not have to be as concerned as we were in the days of film cameras about getting "the shot". Sometimes you can be surprised by the results of unexpected shots. Continuous shooting mode may even be an option to choose for some shots.
As the photographer, make sure you get shots of the model from different angles. You may use a tripod and/or stand for some shots, for other shots you may be seated or even lying. Although most times the camera will probably be in portrait mode, ensure you take some shots in landscape mode as well. Get some variety also with different lenses; short, long and wide angle. Generally for a lingerie shoot I will have several cameras fitted with different lenses. Cameras can be changed more quickly than camera lenses.
Enjoy your lingerie photography shoot.