How to Make Money on Chaturbate as a Webcam Model? -Make $2000 Week
Webcam Model Tips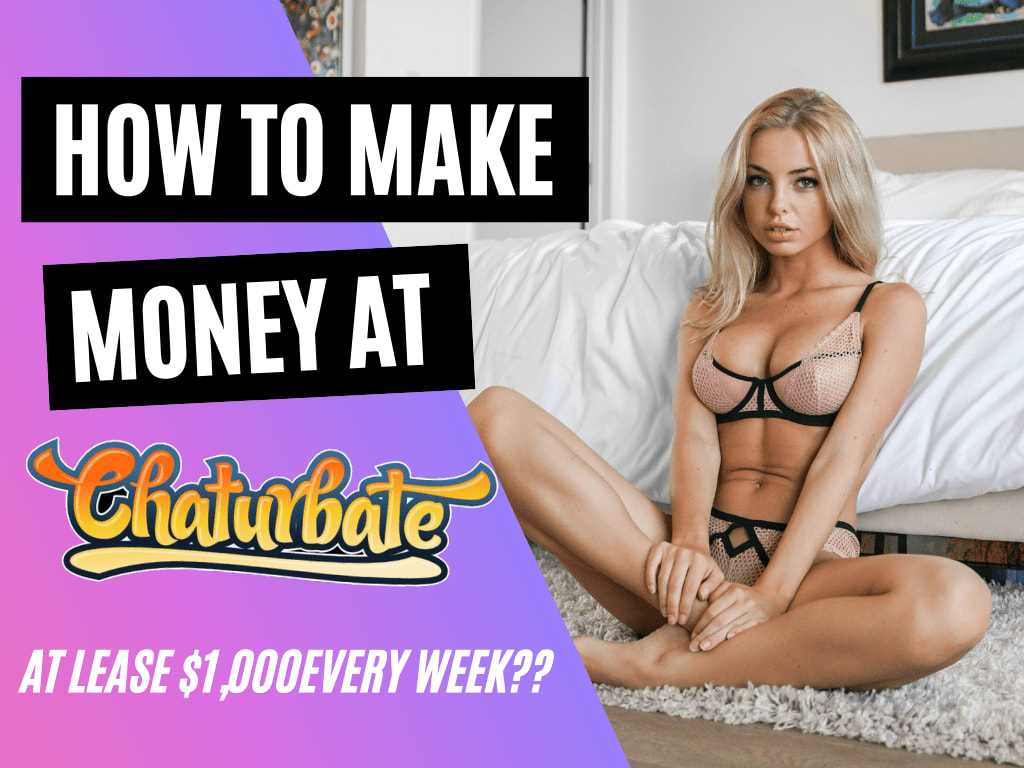 The acceptance and adoption of the latest technologies by the adult industry has always paved the way for more money-making ways for the people working in the industry. One such technology that brought in a massive influx of revenue is live camming.
Cam sites like Chaturbate, BongaCams, etc., started platforms that enabled models to stream live and make money from the comfort of their homes. This rise of live camming has many people asking questions like how to make money on Chaturbate and how much can you make on Chaturbate. This article will answer all these questions and more.
What is Chaturbate?
Before we dive deep into the money-making part, it's important to understand what is Chaturbate. Chaturbate is one of the biggest live camming sites and is very popular with many adult performers who make a living on it. Models from all around the world perform sexual acts on live cams and make money from numerous users all over the planet.
Chaturbate has around 450+ models online at any given time, making it one of the most successful camming sites with a Twitter following of 611,400 users. Chaturbate works on a token-based platform that provides multiple revenue channels for models other than live cams. Let us now explore how to make money on Chaturbate.
How to make money on Chaturbate?
By becoming a cam girl on sites like Chaturbate, you can make money not only through live cam streaming but also in many other ways. Live cams are the main revenue generator on Chaturbate, and you can find models of different ethnicities ready to perform. Users purchase token packages and then spend tokens to watch live shows, tips, messaging, and more.
Live Cam shows
Cam shows on Chaturbate are of two types, one is the public show, and the other is the private show. Public shows are what users see when they come to the Chaturbate website, while private shows are done one-on-one with a user and charge a higher premium.
Public shows
Any user who comes to Chaturbate is greeted with a host of public shows on display on the home screen. These public shows are a great way to mint money from users who don't want to spend on private shows or buy other stuff available on Chaturbate.
If you're wondering how public shows can make money for the models, then here are a few things that you can do on a public show to make money on Chaturbate.
Tip Goals
Models can set tip goals for the users to achieve to perform a task for them. For example, models can put the token target at 1000 tokens for a boob show, 2000 tokens for getting nude on camera, and so on. As the user's tip to reach the goal, the model earns good money from all the users on the public show.
Tipping games
Chaturbate provides a lot of automated bots and apps to enhance the user experience. Using bots and apps like Roll a dice, Token keno, etc., models can engage and interact with the users on the public chat and gain tips.
Tip menu
Models create something that is known as the tip menu in which token prices are mentioned for the activity the models will perform if the tip amount is reached. This works well on the public shows as users get together to help the model achieve the token amount to perform promised acts.
Interactive sex toys
Sex toys that are controlled through tips are a great revenue model for the performers. These interactive toys, like teledildonics, react to the tips given by users, the more the tip amount, the more the intensity of these toys.
Private shows
Private shows are where the model stands a chance to earn the maximum revenue. Once a user decides on getting a private show with their favorite model, then the user is charged on a per-minute basis. This means models who can make the user stay longer in the private show with them stand a chance of earning more money on Chaturbate.
On private shows, users can talk and request the model for specific tasks that they want them to perform. These shows offer complete anonymity, privacy, and control over the show.
Spy shows
Voyeur shows or spy shows are the side hustle to the private shows, where users can spy on other private shows on a per-minute basis. Models get to set the token price per minute after they enable spy shows on their private shows. Most of the time, it's the spy shows that generate more revenue for the models than the private shows.
Sell nudes and sex videos
Once you establish yourself on Chaturbate, you can sell personal stuff like nudes and sex tapes through your profile for some extra income. You can set the desired price for the content you sell on Chaturbate.
Referrals and Affiliate programs
Chaturbate also provides a lucrative bonus for referrals made to their website. Models can earn a good passive income by referring fellow models onboarded on Chaturbate. Models can also earn through affiliate programs by linking their camming sites to affiliate sites.
Tips for making money on Chaturbate
As we saw, Chaturbate provides a lot of ways to maximize your income through their cam site. But to be successful and consistently make good money, you'll need to follow some tips for camgirls to maximize your earnings on Chaturbate. Let's take a look.
Put in the effort
Camming does provide models with the liberty of flexible work times and working from their comfort zones. But as a model, you'll still need to put in regular hours and efforts to make it big in the industry.
Your earnings are in your hands, the more effort you put into your work, the more chances of you striking it big.
Offer varied services
If you think that just by camming every day with the same type of shows, you'll be able to garner a good following, then you're wrong. Users keep looking for diversity and are interested in shows that are not monotonous.
Bring some changes to your shows, change the theme, shuffle the games, try different acts, and take on various roles while on cam to make it interesting for the users.
Timing is essential
Chaturbate hosts thousands of models, and millions of users visit the site every month. Once a user strikes the chord with a model, they would prefer to keep returning to Chaturbate to interact with their favorite model rather than spending time and money to find another model.
Hence, your timings on Chaturbate should be constant. You should be regular and punctual for your shows to build a fan following for yourself. Choose a time that suits you well, and then make it a point to show up at the same time every day without fail.
Use apps and bots
Chaturbate offers a variety of apps and automated bots that are very helpful in keeping things organized and fun in your public chat rooms. Apps like auto tip thank you, Token keno, Crazy ticket, etc., help in keeping things fun in your chat room and also provide money-making opportunities.
Bots like all in one bot help in organizing your chat room and keep spammers out of your room. You get leaderboard updates, send out reminders to users to keep tipping, and more using these apps and bots.
Promote your profile
Promotion is very important for any model on Chaturbate as your profile might get lost between the thousands of other model profiles available on the cam site. You should invest time to make your profile attractive with a sexy intro and give users an idea about your likes and day-to-day life.
Use social media platforms to promote your Chaturbate profile and ask users to join your show. You can also make use of blogs to reach a larger audience. Snapchat is also a great tool to lead people to your Chaturbate shows.
In the next section, we will see how much do Chaturbate models make.
Go check out the best webcam model sites to work for.
How much money can you make on Chaturbate in a week?
The money cam girls actually make on cam sites like Chaturbate can vary from site to site. How much can you make on chaturbate will depend on how many fans you get in your shows and how many hours you put into work every day on Chaturbate. There are models who easily make $3000 to $10000 every week by camming on Chaturbate.
If you manage to be on the landing page of Chaturbate with your popularity, then you stand a chance of earning $100-$250 every hour of camming. Second-page models can earn around $25-$100 every hour, third-page models can earn $5-$50 every hour, and the rest of the models can make $0-$30 every hour.
If you invest 5 hours a day on camming and you have decent popularity for your shows, then you can easily earn $2000 to $5000 every week just by camming on Chaturbate. When you establish yourself on Chaturbate, then you should look at starting your own webcam business using readymade solutions like xModel.
Using scripts like xModel, you can start your own paid membership website. This turnkey solution is very beneficial for webcam models, porn stars, and content creators. Some key features of xModel are:
Multi-tier subscriptions
Live streaming
eCommerce store
Custom token settings
Robust tech stack
Affiliate marketing
Reliable payment gateways
Conclusion
Chaturbate is a very popular platform for cam models, so it's obvious that there is a lot of competition on the platform to survive. If you need to strike it big and make a good following for yourself, then you need to invest time and effort to make this possible. Combined with good looks and hard work, you can easily make a good income by camming on Chaturbate.
Frequently Asked Questions
1. How much do Chaturbate models make?
The money models make on Chaturbate depends on their popularity and the number of hours they work. A well established model can easily make $5000 in a week on Chaturbate.
2. How to make money on Chaturbate?
You can make money on Chaturbate by doing public shows with tip goals, private shows with per minute billing, spy shows, referrals, and by selling nudes and sex tapes on Chaturbate.
3. Can adult webcam models work from smartphones?
Yes, adult webcam models can work from their smartphones too, but it is recommended to use a computer for a better experience for the viewers.
Reader insights
Be the first to share your insights about this piece.
Add your insights