How To Choose The Perfect Leather Jacket For Your Body Type
Do you love the classic look of a leather jacket but feel overwhelmed when shopping for one? Have you ever felt like a certain style just didn't look right on you?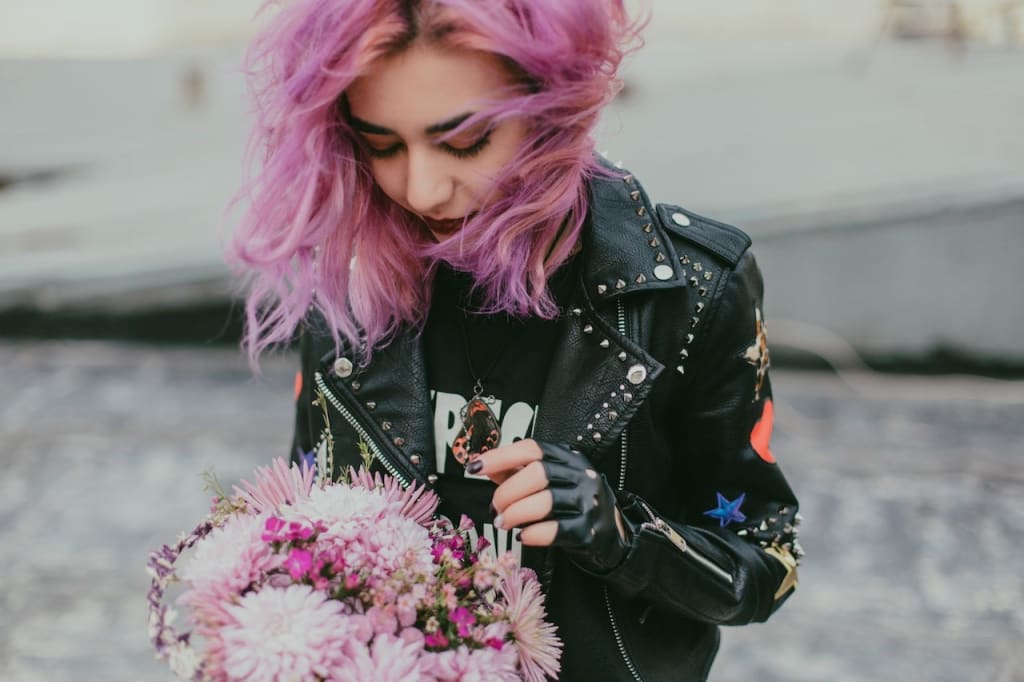 Image Source: https://www.pexels.com/photo/woman-holding-flower-bouquet-1035682/
Choosing the perfect leather jacket can be tricky, but with the right tips, you can find the one that looks great and fits your body type. This article will show you how to choose the perfect leather jacket for your body type so you can always have the perfect look.
When it comes to finding the perfect piece of clothing, fit is everything. It doesn't matter if it is a dress, coat or pair of jeans - if it doesn't fit properly, it won't look good. The same goes for a leather jacket. Knowing your body type and what style works best for it will help you pick out a jacket that fits perfectly and looks amazing.
Getting a leather jacket that flatters your figure and complements your wardrobe won't just make you look stylish; it will give you confidence as well. So let's get started learning how to choose the perfect leather jacket that suits both your style and body type!
1. Determine Your Body Type
Determining your body type is the first step when choosing a leather jacket. It's essential to know what looks best on you, as this will ensure that you find the perfect fit and make a statement. There are four main body types: apple, pear, rectangular, and hourglass. Each type has its own unique features that should be taken into account when selecting a leather jacket.
Apple Shape
Apple shapes typically have broad shoulders, narrow hips, and a full midsection. When it comes to jackets for this body type, look for something that is slightly longer than average to create the illusion of an elongated silhouette. Choose styles with plenty of detailing around the neckline and waistline to draw attention away from the midsection. Additionally, opt for fabrications with some stretch to allow for movement in key areas like the arms and torso.
Pear Shape
Pear shapes have wider hips than their shoulders. To balance out this shape, choose jackets with structure at the top such as strong shoulder pads or epaulettes to create width where needed most. Look for jackets that have a defined waistline and plenty of detailing on top such as shawl collars or lapels. Avoid styles with lots of bulkiness at the bottom half of the garment as this can exaggerate the hip area even more.
Rectangular Shape
Finally, rectangular shapes are characterized by having straight sides with little definition in either their waist or hips area; this means they can get away with wearing virtually any style jacket! Jackets that cinch at the waist are particularly flattering on these shapes as they help create more definition around the middle section. Avoid boxy cuts as these can overwhelm smaller frames while also lacking any sort of structure around the shoulders and upper chest area; instead opt for classic cuts such as biker or bomber jackets which will provide both structure and style!
2. Consider The Style Of Leather Jacket
When choosing the perfect leather jacket, it's important to consider the style of the jacket. Different styles can flatter different body types. For example, if you have an athletic build, you can go for a fitted biker-style leather jacket that will enhance your broad shoulders. On the other hand, if you have more of an hourglass figure, opt for a wrap-style that will show off your curves.
3. Select A Color And Texture
The color and texture of the material can make all the difference. It's important to take into account both your body type and personal style when deciding what color and texture will look best on you.
First, consider the colors that are available. A classic black leather jacket is always timeless and versatile; brown is another popular option that gives off a more casual vibe. If you want something different, there are plenty of other hues to choose from like white, red, navy blue, or even bright green.
Then there's texture - smooth or embossed? Smooth leather is most common; it looks sleek and polished, making it ideal for dressy occasions. Embossed leather has an interesting pattern or design that adds depth and character to your outfit. The type of embossing can vary depending on the material used; some jackets have crocodile-embossed patterns, while others feature snakeskin designs.
4. Consider The Length Of The Jacket
It's important to think about length. You'll want something that fits your body type and flatters your figure.
A cropped leather jacket looks great on petite body types, accenting the waist and giving a more structured silhouette. It can also create an illusion of height for those who are on the shorter side. However, if you're taller or have a bit more curves, you might opt for a longer style. A mid-length or full-length leather jacket is a great choice for larger body types as it lengthens the frame and creates an elegant look.
The material of the leather is also important to consider when it comes to length. A thicker material will provide more structure and hold its shape better than thinner materials, so make sure to take that into account when choosing your jacket's length.
5. Consider The Fit
The fit is just as important as any other factor. It is essential to consider how you want it to fit on your body type. A good fit can make or break the look!
First, think about where the jacket should hit your body. If you have broad shoulders and a slim waist, a cropped leather jacket that hits at your natural waistline can create an hourglass figure. On the other hand, if you have an athletic build, an oversized style with a belt cinched at the middle can give you shape and definition.
Second, focus on the sleeve length. The hem of your leather jacket's sleeves should reach just past your wrist when your arms are by your side. It should not be too tight or too loose-just right! If you're in between sizes, opt for the larger size so that you can layer sweaters or shirts underneath it when needed.
Third, pay attention to shoulder seams and how they lay on your frame. You want the seams to sit smoothly on top of your shoulders without bunching or pulling; they should echo the shape of your body's natural curves. When trying on jackets, move around in them to see how they feel when sitting or reaching up above your head before making a purchase decision.
6. Look For Quality Construction
It's important to look for a well-constructed piece that will hold up over time and not wear out quickly. A good way to tell if a leather jacket has quality construction is by looking at the stitching. The seams should be even with no loose threads, and the zippers and buttons should be securely fastened. In addition to the stitching, inspect the material itself for any signs of tears or discoloration. If anything looks off, it's best to move on and find something else.
Another important factor when evaluating a leather jacket's quality construction is its lining. Look for a full lining that will help keep you warm in cooler weather. Be sure to check if the lining is attached firmly and that there are no gaps between it and the outer shell of the jacket. You'll also want to make sure that all pockets have been lined as well.
Finally, take some time to feel how heavy or light the leather jacket is; this can tell you a lot about how durable it is and whether or not it will last through different seasons. If you think you've found one that meets all these criteria, then go ahead and give it a try! With proper care and maintenance, your new leather jacket should last you many years—and look great doing so!
7. Pay Attention To The Details
When it comes to finding the perfect leather jacket for your body type, paying attention to the details is key. From the zippers and buttons to the lining and stitching, every detail of your jacket should be carefully chosen. The quality of these details speaks volumes about the overall construction of your leather jacket and can make or break its look and feel.
The little things matter. Look for a jacket with smooth, high-quality zippers that won't snag or stick. And while they may not seem significant, it's worth considering details such as button size, shape, and color too. With a well-made jacket, these features will be consistent throughout the entire design and complement each other in a pleasing way.
8. Know Your Measurements
It's important to know your measurements when shopping for the perfect leather jacket. This is especially true if you're ordering online and can't try the jacket on beforehand. By having your measurements on hand, you'll ensure that you get a jacket that fits correctly and looks great.
Start by taking your chest, waist, and arm measurements. This will help you determine which size to buy. The last thing you want is a jacket that's too tight or too loose in certain areas. Knowing your measurements also helps you avoid buying a style of leather jacket that may not flatter your body type.
When taking these measurements, it's important to measure yourself with a tape measure only once – don't guess! It's also helpful to have someone else measure you if possible. Having accurate numbers will make sure you get the right fit for your new leather jacket every time.
9. Try It On
Once you've done your research and gathered the necessary measurements, it's time to try on some leather jackets. Before you head to the store, make sure that you have a few different styles in mind. This will help narrow down the selection and make it easier for you to find the perfect jacket for your body type.
When trying on a leather jacket, it's important to pay attention to how it fits around your shoulders, chest, and waist. If possible, bring a friend with you who can help point out any problematic areas or provide an honest opinion about how the jacket looks on you. Look in the mirror from multiple angles and consider if the fit is comfortable and flattering.
It's also important to consider how well-made the leather jacket is. Quality materials will last longer and look better over time. Be sure to check all of the seams and inspect for any signs of wear or damage. If you're buying online, be sure to read reviews before making your purchase so that you know what other customers think of the product quality.
Frequently Asked Questions
How Can I Care For My Leather Jacket?
Caring for a leather jacket is just as important as choosing the perfect one. It's not only a matter of keeping your jacket looking good, but also preserving its longevity. Knowing how to properly care for your leather jacket can help ensure it will last you season after season.
First, it's important to understand what type of leather your jacket is made from. Different types of leather require different cleaning and conditioning methods. If you're not sure what type of leather your jacket is made from, take it to a professional cleaner or look up the manufacturer's information online. Once you have determined the type of leather, you can then decide what cleaning products are best suited for your specific item.
When cleaning your leather jacket, use only mild soaps and conditioners specifically designed for that type of leather. Apply these products with a soft cloth and lukewarm water, gently rubbing in circles until the entire surface has been covered. If necessary, use a toothbrush to remove dirt particles that are stuck in seams or creases in the fabric. After rinsing off any residue with a clean damp cloth, allow the jacket to air dry before applying any additional conditioner or oil.
When storing your leather jacket, make sure it is away from direct sunlight and heat sources as this can cause discoloration or fading over time. To protect it further from dust and dirt particles, place it in its own garment bag or wrap it tightly in acid-free paper before putting it away until needed again. With regular maintenance and proper storage techniques, you can keep your favorite leather piece looking great for years to come!
What Is The Best Type Of Leather For A Jacket?
The answer really depends on your lifestyle and what kind of features you're looking for in a leather jacket. Lambskin is a popular choice because it's lightweight yet still durable. It also has a smooth finish which makes it incredibly soft and comfortable to wear. On the other hand, cowhide is heavier and more resistant to wear and tear, making it ideal for anyone looking for something long-lasting.
Are Leather Jackets Suitable For All Seasons?
In hot weather, leather jackets can be quite uncomfortable; after all, leather is a heavy material that traps heat and doesn't allow for much air flow. However, there are ways around this issue: look for unlined or lightly lined leather jackets with perforated panels that allow air circulation. On days when nothing but a jacket will do, opt for a lightweight style in a softer hide like lamb or suede.
For colder months, you'll want to pick up on the heavier side with something like cowhide or buffalo leather. With these types of jackets, you'll benefit from extra insulation and durability that won't wear out quickly in cold weather. Look for styles with quilted linings for added warmth and protection from wind and rain. And if you just need something light to keep off the chill, look for lightweight options with an outer shell made from waxed cotton or nylon.
What Is The Average Cost Of A Leather Jacket?
The average leather jacket costs anywhere from $150–$600, depending on the quality and brand. However, prices can range from $50 all the way up to thousands of dollars for designer collections.
If you're looking for something that will last a lifetime and that has been crafted with expert attention to detail, then investing in a higher-end option could be worth it in the long run. On the other hand, if you don't plan on wearing your jacket often or if you're just looking for something stylish but not too expensive, then opting for a less expensive option might be the better choice.
Where Can I Find The Best Deals On Leather Jackets?
The first place you should check is online stores like Amazon or eBay that specialize in selling apparel and accessories. Here, you can find great deals on quality leather jackets from a wide range of brands. Plus, with user ratings and reviews, it's easy to compare different options side-by-side.
Another option is visiting physical stores like department stores or boutiques that carry leather jackets. This gives you the chance to try on different styles and sizes in person before making your purchase. You may even be able to score a great deal if there are seasonal sales or promotional discounts at these locations.
Conclusion
The perfect leather jacket for you is out there, and it's just a matter of finding it! Taking the time to consider your body type and the type of leather you want will help narrow down your choices. With proper care, your leather jacket can last for years to come. It may be a bit pricey, but with the right research and patience, you can find great deals that fit your budget.
Leather jackets are timeless pieces that never go out of style. Whether you're looking for a piece to wear in summer or winter, there's no doubt that having a leather jacket in your wardrobe will add an extra layer of sophistication to any outfit. Investing in the right one can make all the difference, so take the time to choose wisely!
At the end of the day, choosing the perfect leather jacket is all about finding one that suits your style and body type. With proper care, you'll be able to enjoy it for many seasons to come! So don't wait any longer - find that perfect leather jacket and get ready to show off your style!
Reader insights
Be the first to share your insights about this piece.
Add your insights