How Many Cocks Spoil the Broth?
A short story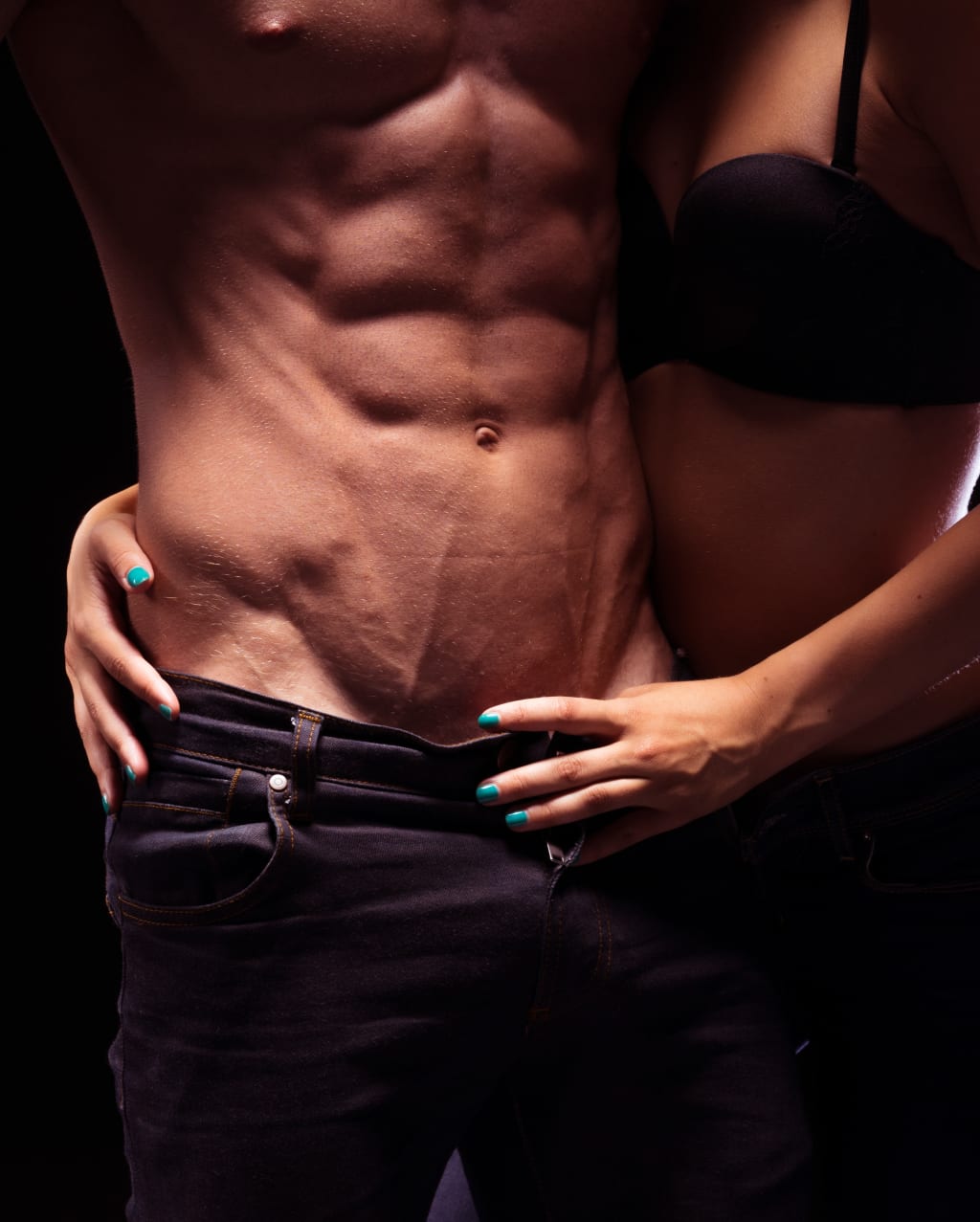 This hard floor is murder on my knees, but it's worth it. It's a little cold in here too without any clothes on. The men don't seem to mind though. They all seem to be focussed on me. And their cocks.
You might well ask how I ended up in this situation, kneeling naked on the floor as 20 or more men crowd around me, jostling for position so they can get their tumescent pricks into my hands and mouth? I'll give you the potted version.
I've always been obsessed with dicks. I've been fascinated with them for as long as I can remember. I was a nightmare as a kid. I was forever coaxing boys into showing me theirs. I played a lot of "show me yours and I'll show you mine." I was awful.
I got worse when I hit my teenage years and cocks became even more fun. Not just something to look at, but something I could touch and play with. I loved making them harden and stand, I adored the sight of them when they were full and straining, so weird and different and masculine. I wanted nothing more than to touch hard pricks, to run my fingers over them, to stroke, to squeeze, to make guys gasp and moan and writhe. I thought about dicks all the time.
And then I made a boy come for the first time and it was such a rush to watch it happen. To see all that white, slippery mess gush out of him in great spurts as he groaned and pulsed in my hand. I was done for then. My obsession became a full-on addiction. I wanted it again and again, I was forever on the lookout for opportunities to give hand jobs, and then I tried giving head, and that was even better. I quickly became an expert at it. But then I did have a lot of practice.
Sometimes, as you age, you leave your teenage fixations behind, but cocks stuck with me. My love of dick intensified. I practically hounded men to show me theirs, to let me touch them, to let me lick and suck them until they came in my mouth or over my body. And then one night, I sucked two guys at the same time, and I got a taste for it. I realised more cocks meant more fun. I wondered how many I could have at one time. I wondered if there could ever be too many?
And that brings us back to what I'm doing now. Me and the 20 naked men. You see, in my pursuit of cock, I've recently joined a sex club, one of those high-class ones, and I've not been shy about making my proclivities known. I've sought out every opportunity to look and play and suck, and I've encouraged other chaps to approach me when I've had one on the go. I like to line up a couple of men so I can tug and suck on their pricks at the same time. It's tremendous fun.
But tonight it's all gotten a little out of hand, no pun intended. I caught the eye of a gentleman who calls himself Charles as soon as I came in. We've danced before, and he knows what I like, and his wonderful, long, thick cock was out and in my face as soon as my knees hit the floor. We were in the middle of large room in the club, so people gathered around to watch me kiss and lick and suck him, and I gestured for other men to join us.
Soon I had three men standing over me, offering me their hard cocks. Then there were five, then eight, and then more. I guessed 20, but it's not so easy to count when you've got a prick in your mouth, one in each hand, and others batting against your face. All I could see were hard, fleshy dicks, and faces grinning down at me.
The boys got a little over excited too. Usually, when I line them up, I'm the one in control, I decide who's cock I suck and for how long, but I quickly lost control that evening. They bustled around me, shoving each other, thrusting themselves into my hands and face, over and over, taking quick turns, and it was all a bit overwhelming. I tried to suck and handle them as best I could, but I lost my rhythm, I couldn't catch my breath, and they started fucking my face, and some of them did it hard.
Not that I'm complaining though. It's such fun to be used like that, and to be surrounded by so much dick. If I really wanted it to stop, I could have got their cocks out of my mouth and shouted the safe word, and they would have stopped, those are the rules, but why would I? It was wonderful. I was in cock heaven. And then they started undressing me.
They reached down and explored my body as they crowded me. They rubbed and squeezed me through my dress, then they pushed the top down and pulled my skirt up. Fingers, I don't know how many, slipped into my bra and squirmed into my knickers. They clasped my breasts and rolled and pulled and pinched my nipples and I moaned loud around the cocks in my mouth. Fingers slid in and out of my cunt, over my clit, and some cheeky fucker stuck one up my bum, then two, then three, and maybe it wasn't just one chap who was doing it? What a wicked thought.
I lost any last semblance of control. Cock after cock was shoved into my hands and between my lips, my jaw started to ache, saliva ran down my chin, but I kept it up. I jacked them fast, I sucked hard, I bobbed my head back and forth even though they were thrusting enthusiastically. All those hands on my body were glorious too, almost too much to take, so much stimulation in so many places, it made me hotter and hotter and lightheaded.
And then they stripped me. They pulled my dress right off over my head, my bra was torn away, then they lifted me up and worked my knickers down and off over my feet. All the time there was a dick was in my mouth and two more in my hands, and I didn't stop.
Then they were getting naked too, pulling their clothes off until I was surrounded by a wall of flesh and muscle and cock. Oh, it was paradise.
They kept touching my body and using me. They groaned and laughed and cheered, and the sight of them, all those delicious pricks, and what they were doing too me, it got me frantic; I started panting and moaning louder, and it was all too much and I came.
I tried to be dignified about it. I tried not to make too much noise, not to thrash around too much, but I couldn't stop myself. I had hands all over my body, squeezing my breasts and buttocks, tugging on my nipples, stroking my clit, fingering my pussy and arse, and holy shit I came hard. They cheered for me, but they didn't stop using my mouth and fingers, those glorious bastards.
My hands grew tired, my jaw was killing me, but I valiantly kept on. Another prick was proffered in front of me and I took it into my mouth gladly. It was dark and thick and tasted of musk and man. I sucked it greedily, I stared at it, I looked up at the muscular stomach and his grinning face, and I sucked him harder. I sank down to take as much of him into my throat as I could, and he groaned loud to encourage me on.
More cocks came and went until I was dripping with sweat, and I felt drunk with desire and pleasure, and I came again. But how could I not? I felt like an animal, like a beast; they were using me like I was a whore, nothing but hands and a mouth, and they were touching me wherever they pleased, and I came over and over. I wouldn't have been able to stop myself even if I'd wanted to.
And then the first of the men came too. His noises reached a crescendo, his cock twitched between my lips, and his seed spurted into my mouth, warm and salty, and I swallowed as much as I could; but there was too much, it filled my mouth too quickly and some of it slipped out and ran down my chin.
And then they were all at it. Another came between my lips, another couldn't wait and he jacked himself off over my breasts, and then one of them finished on my face. I saw him smiling down at me as he pumped himself in his hand, then he roared and a line of his cum fell over my cheek and nose, and then another and another, and it was hard not to laugh at the fun of it, even if I did have a dick filling my mouth.
Some of the men waited for my mouth to be free, and I swallowed what I could. Some waited for my hands, and I finished them over my chest and face, but some weren't so patient. Some directed their jizz onto my sopping face and tits themselves, but I felt others spurting across my back and my buttocks and my feet and in my hair and wherever they could.
More men kept appearing around me, they used me over and over, until I was dripping with their semen. I was absolutely coated in it. It was running down my face, dribbling off my chin and breasts onto my stomach and thighs, it was everywhere. They didn't stop touching my body and probing me though. They smeared that mess all over my body, they kept stroking my cunt, thrusting their fingers into me, and they kept me coming.
And then only Charles was left. He'd somehow managed to hold himself back, but as soon as I got my lips around him again, he erupted in my mouth, and it set me off too, and I reached the strongest of my climaxes. We came together, I shook and my vision went funny, but I kept sucking and sucking, and I kept it up until he wilted in my mouth and pushed me off him.
The men stood back around me as I lay gasping and dripping on the floor. I noticed here were women watching too, some of them with looks of disgust on their faces, some with envy.
Turns out, no number of cocks spoils the broth. You can never have too many. Just like I'd always thought.
Want to read more stories like this?
If you've enjoyed this story, then why not try one of our short story collections on Amazon, like this...