Hot Summer Bods of 2021 Pt. 10
Shining Like the Stars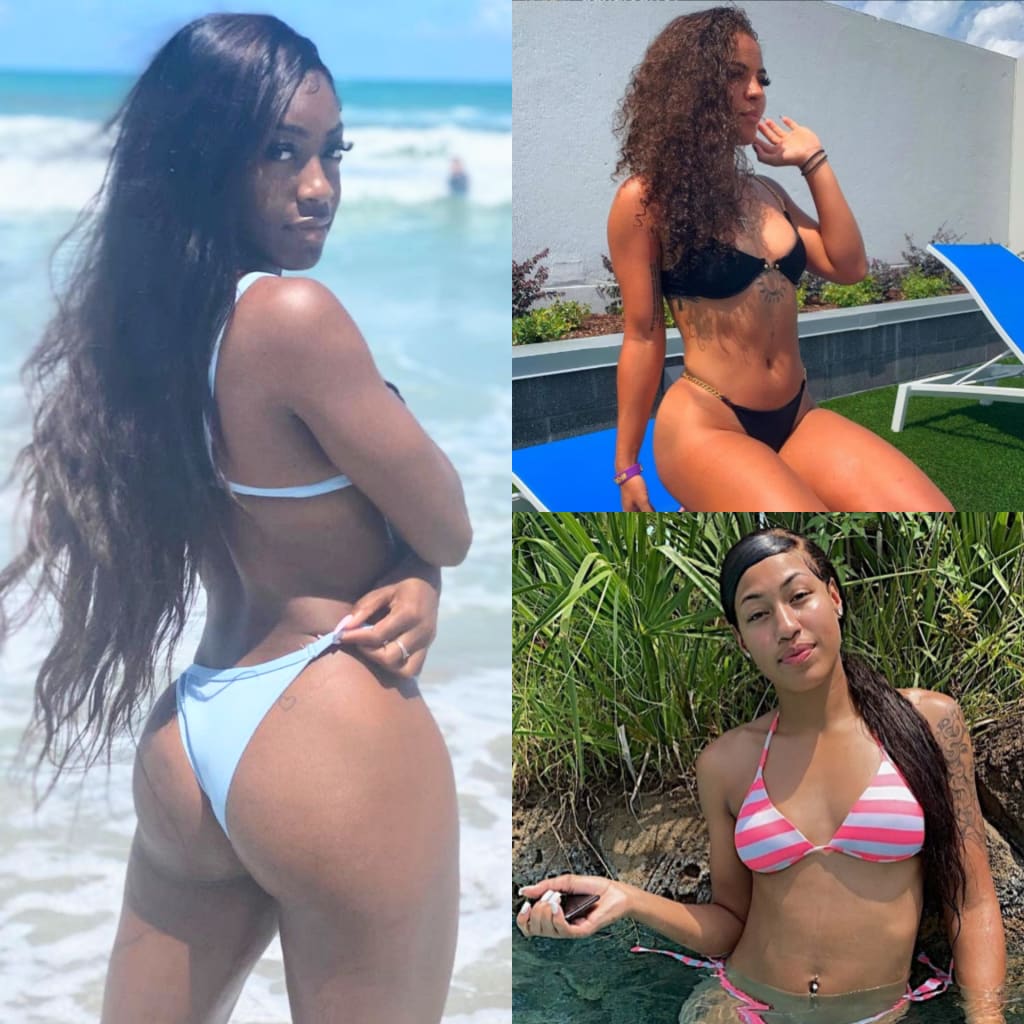 Kiara, Tiana & Shakira
Kiara Rhodes
While at Tennessee, Kiara Rhodes had some successful moments. During the 2021 season she was on the first place 1,600-meter relay team at the Tennessee Challenge. She was second at the Tennessee Relays in the heptathlon. She also got a runner-up finish at the Auburn Tiger Track Classic in the 400-meter relay. Rhodes was on the third place 1,600-meter relay squad in the same meet.
She started her 2021 indoor season with a win in the 60-meter hurdles at the Vanderbilt Invitational.
In 2020 Rhodes' indoor season began with a runner-up finish in the 1,600-meter relay and a third place result in the 60-meter hurdles at the Indiana vs Tennessee Duals. She placed third in the 60-meter hurdles at the Virginia Tech Invitational and second in the pentathlon at the Texas Tech Invitational.
Rhodes grabbed the first win of her collegiate career in the pentathlon at the Carolina Challenge during the 2019 indoor season.
Shakira Austin
During the 2020-21 season Ole Miss' Shakira Austin opened eyes that she is one of the best players in the nation. She averaged 18.6 points per game, nine rebounds, 1.7 blocks and 1.5 steals per game while her team finished as the runner-up in the Women's National Invitational Tournament. Her best game of the season was during a win in the first round of the SEC Tournament when she scored 29 points, ripped down 13 rebounds and blocked three shots. She also dished out three assists that day. Austin recorded 13 double-doubles during the season. She pulled down her season's best 13 rebounds three times.
In a first round win against Samford Austin scored 23 points and grabbed 12 rebounds. She shot 11-15, which was her second best shooting performance of the year. Her best shooting effort was a 9-11 home outing against Kentucky, where she had 21 points, 12 rebounds, one block and one steal.
On the defensive side Austin blocked five shots on two occasions. The first time was during the regular season in a 40-point blowout win over Mississippi Valley State. She also had 19 points in just 21 minutes of action which was her shortest time on the court during the season. The second time was during the WNIT final against Rice. Austin blocked five shots to go along with 25 points, nine rebounds and two steals. She also had five games with at least three steals. She put up a season high four steals in a road win over Kentucky.
In seven post season contests, which included games from the SEC Tournament and WNIT, Austin averaged 20.7 points, 10.3 rebounds, 2.7 blocks and 1.3 steals. She also shot 51.5 percent from the field and 86.5 percent from the free-throw line.
Tiana Caffey
We rarely feature a soccer athlete in our series but Tiana Caffey is going to have us considering looking at the sport that the world calls football from here on out. From 2017 to last season, the Port St. Lucie, Florida native has competed for LSU after a high school career at Jensen Beach.
Caffey is a midfielder who is majoring in Kinesiology. Her team's best season during her career was in 2018, when they were 13-7-4. She is growing a solid following on Instagram with over 12,500 followers. Caffey's fans can get a peak of her workout routines along with her pics on the field as well as near the pool and beach.
Athletics are in Caffey's genes. Her cousin, Jason, was a well-known player for the Chicago Bulls as he won an NBA title in 1996. Her father was a college football player and her mom played college hoops.