Hot Summer Bods 2021 Pt. 7
The South is Hot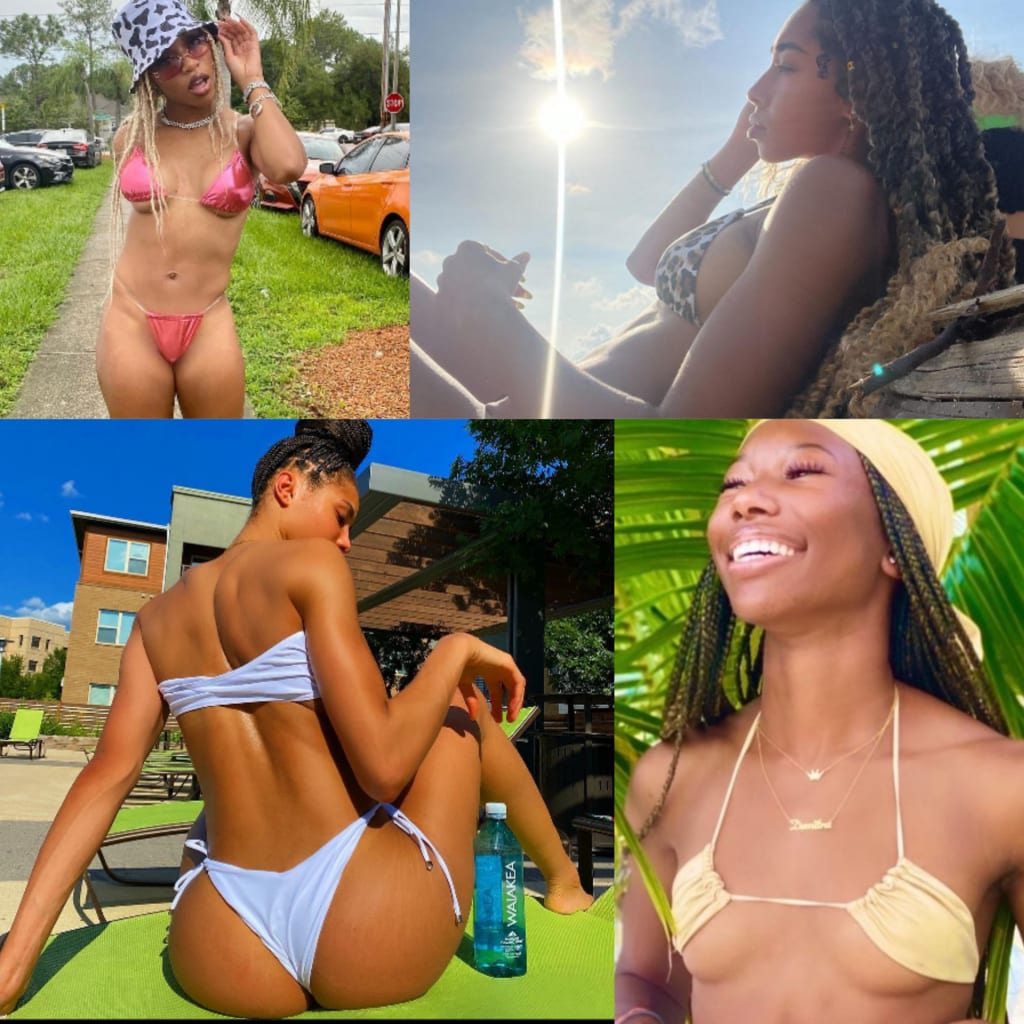 Ani, Reide, Isabelle & Demitra
Isabelle Harrison
Nashville, Tennessee native Isabelle Harrison was just on the cover of our latest We Want WNBA release, which can also be read on Vocal. She is in the midst of playing her best basketball in years. After starting her career with the Phoenix Mercury in 2016 and competing with San Antonio, now known as the Las Vegas Aces in 2017, Harrison has been a center with the Dallas Wings since the 2019 season. On June 30 and July 5 she scored 23 points on each day making a combined 19-of-29 shots overall from the field in both games. She also hit eight-of-10 free-throws during those contests as well.
Reide Ryans
Bredenton, Florida's Reide Ryans competed for South Florida and North Carolina A&T during her collegiate career. She is a multi-talented athlete. While at South Florida during the 2017 season Ryans competed in the 200 meters, 60-meter hurdles and high jump. She scored a fourth place finish in the high jump at the GVSU Open and a fifth place finish in the 60-meter hurdles at the 2017 Hoosier Hills meet. During the 2020 season, while competing for North Carolina A&T, Ryans earned a win at the Gamecock Opener in the high jump, where she beat out 17 other competitors.
On her Instagram account she describes herself as "a plant-based cosmic shorty that loves to create plus elevate." She also said she likes to "work hard, play hard and look good doing it." The charismatic athlete uses her YouTube and TikTok accounts to show her hard work in the gym and her humorous side.
Ani Wells
Ani Wells of Tampa, Florida, competes in track and field for the University of Central Florida. She is a sprinter who has competed in the 60 meters, 100 meters and 200 meters over her career. Wells kicked off her collegiate career during the 2020 indoor season. She ran her fastest 60 meters time at the Tiger Paw Invitational where she finished at 7.62. After having the 2020 outdoor season cancelled due to the COVID-19 pandemic, Wells debuted in outdoor season as a collegiate in 2021. She ran her best legal 100 meters time at the UF Tom Jones Invitational where she finished at 11.91. Her fastest all-weather time was 11.77, which she ran at The American Outdoor Track & Field Championships.
Wells is making noise on social media as her Instagram account is approaching 10,000 followers. The photogenic young woman is winning fans over with her summer swimsuit photos.
Demitra Carter
Demitra Carter is a native of Kansas City, Kansas and is a student-athlete who competes for the Baylor track and field program. She was recently named to the Academic All-Big 12 Track & Field Team. Carter also earned those honors in 2020 and 2019. During the 2021 indoor season she placed third in the 60 meters at the Texas Tech Corky Classic. At the Aggies Invitational Carter placed third in the 200 meters. At the Big 12 Indoor Track & Field Championships she qualified for the finals in the 60 meters where she scored points for Baylor by placing seventh. In the outdoor season, Carter grabbed her first win of 2021, when she and her 400-meter relay squad won the Baylor Invitational.
Carter earned the first open victory of her career back in 2019 when she won the 100 meters at the Michael Johnson Invitational. She also was a member of the runner-up 400-meter relay squad at that meet. A product of Sumner Academy of Arts and Science, Carter was a high school state champ in Kanas while competing in the 200 meters and 300-meter hurdles. She was a member of the National Honor Society and Spanish National Honor Society.