Hot Summer Bods 2021 Pt. 5
Sunny Days, Everybody Loves Them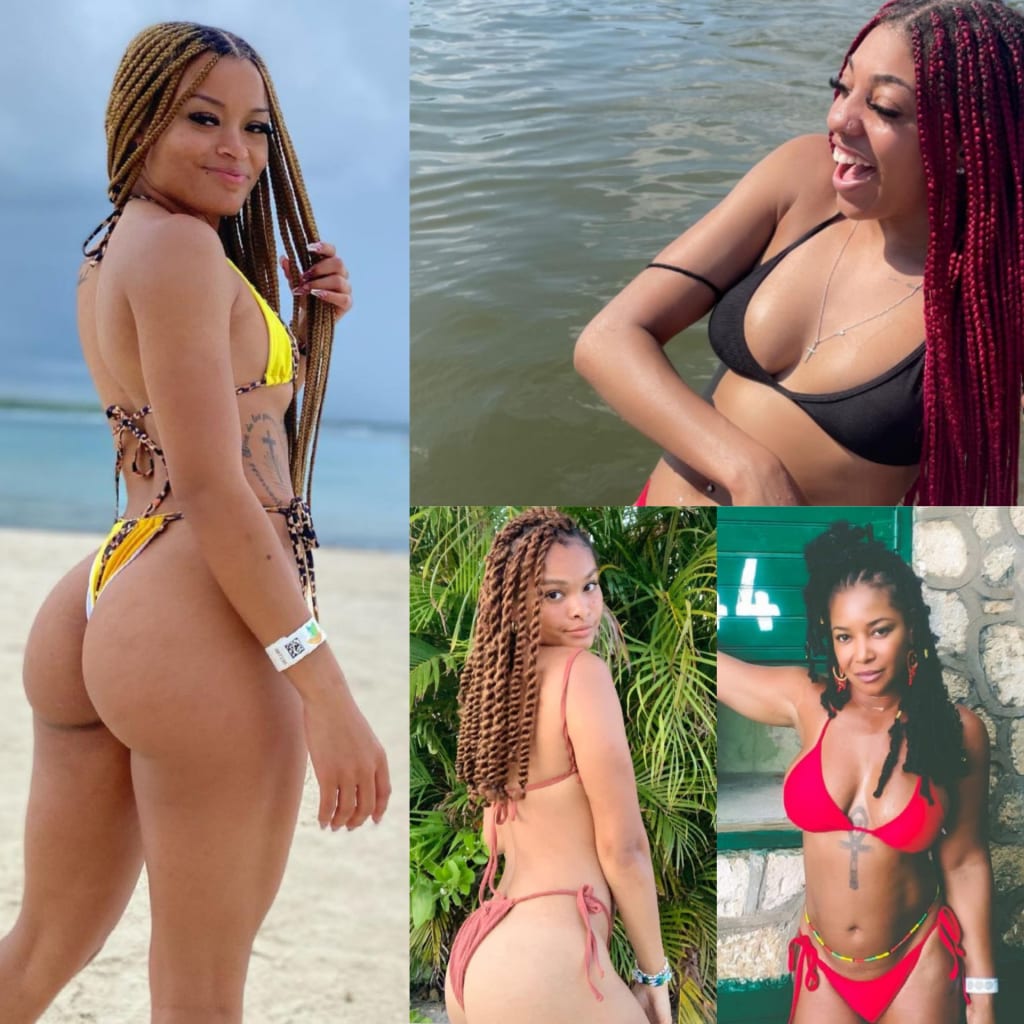 Brenda, Tamari, Tamala & Mi'Angel
We told you all before that while most of our series will include athletes, you will see actors, singers, models, rappers and other entertainers featured. Check out more of the hottest summer bods which include an actor who has been in the game a while and looks better than ever. Enjoy!
Tamari Key
Tamari Key is a center for Tennessee who is turning 20 years old, July 11. The 6-6 native of Cary, North Carolina was named to the SEC All-Defensive Team during the 2020-21 season. Key averaged 8.9 points, 5.6 rebounds and 2.2 blocked shots per game. She was named SEC Co-Player of the Week, Feb. 2, when she registered a triple-double with 23 points, 10 rebounds and 10 blocks against Florida on Jan. 31. Key was a prolific shot blocker, getting a swat in all but two games last season. She blocked at least four shots in nine games. Along with her triple-double she had two double-doubles. Her shooting percentage was .628 which was tops on the team.
Key also is a leader on campus as a member of VOLeaders Academy and a representative of the SEC Student-Athlete Leadership Council and SAAC. She is also a rep for Tennessee's Student-Athlete Advisory Committee.
Brenda Santana
The track star out of University at Albany always brings it with some of the best beach photos that an athlete publishes on social media. Brenda Santana has posted photos from Boca Chica, Dominican Republic, the Barcelo Bavaro Grand Resort, Azua, Dominican Republic, Grafton Lakes State Park and West Beach among other places. A sprinter, Santana had her best finishes during the 2019 season. At the RPI Capital District Classic she placed second in the 100 meters, at the Bobbi Palma UAlbany Spring Classic she placed second as a member of the 400-meter relay and third in the 200 meters.
Tamala Jones
If you were coming of age in the late 1990s, early 2000s Tamala Jones was an actor in some of your favorite movies such as "Next Friday," "The Wood" and "Booty Call." She also had a run on network TV from 1998-2002 in the show "For Your Love." Now in the fourth decade of her career she can now be seen in the ABC series "Rebel" starring Katey Sagal, who made herself a household name as Peggy Bundy in Married ... with Children and later starred on Sons of Anarchy.
Jones always has been a great representative for African American women on television, due to the authenticity of the characters that she often plays. Many times it has seemed like African American characters are playing roles that cannot escape the imagination of what white writers and directors think they should be. Jones always has seemed to be able to add her genuine spirit into many of the characters that she has performed and it allows people to see that black women exist and are versatile. She has been able to make us laugh and think in her roles throughout the years.
Mi'Angel Daniels
An Academic All-Mid American Conference and recipient of The Joy Scholarship for Athletics, Mi'Angel Daniels is a multi-talented student athlete. While shining in the classroom, she has her hand in the world of fashion along with being a champion on the track. Daniels, a major in fashion design is a member of the Kent State women's track and field squad that won the Mid American Conference championship this season.
During the season she won the 100-meter hurdles and 1,600-meter relay at the Mountaineer Twilight meet. Daniels also took a win at the beginning of the outdoor season at the University at Buffalo Invitational. During her high school days she was an indoor and outdoor state champion in the 60-meter hurdles and 100-meter hurdles respectively.