Horny aunt
The time that our aunt caught me having incestuous sex with my sisters and wanted to join in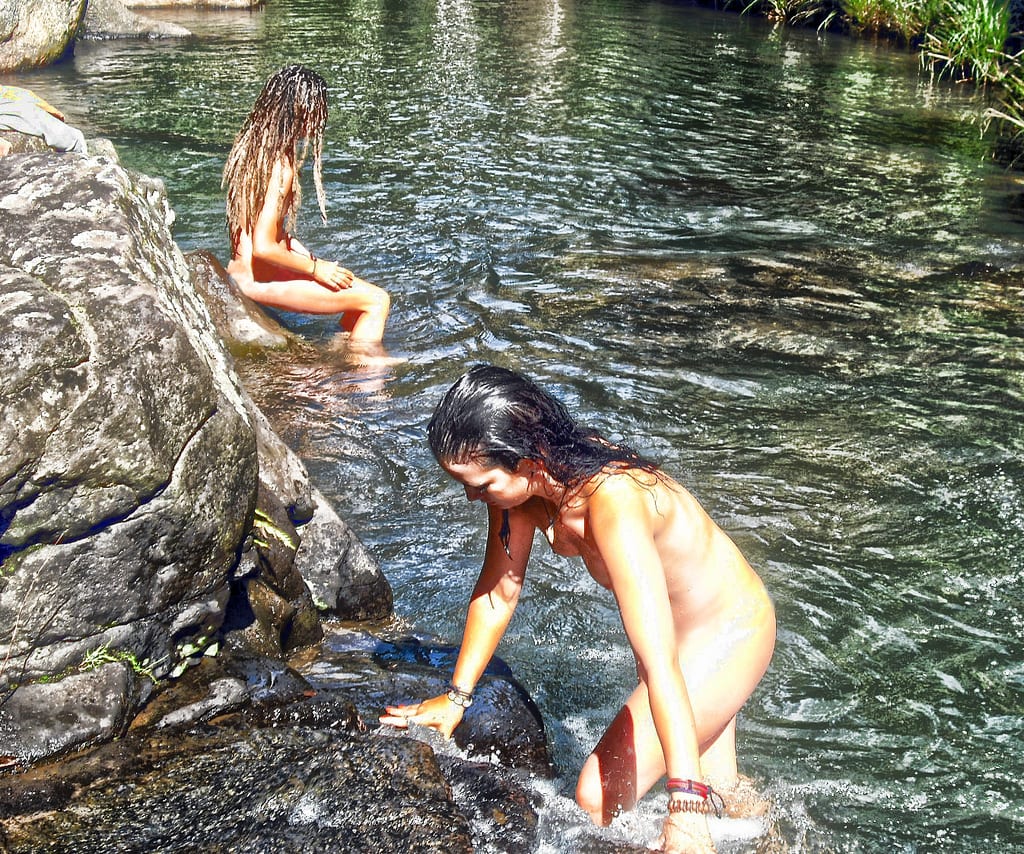 Me and my two sisters skinny-dipping
I was caught having sex with my 2 sisters by my aunt; I have been very close with my mother and two busty stunningly beautiful, busty sisters walking around the house in the nude since we are a family of nudists. We would go to our rooms, undress and go about our lives in the house naked being comfortable with our mutual nudity. Of course we had nudist friends and visitors who loved to visit our large house who would also disrobe and practice social nudity along with us. Being the only boy in a set of triplets I was usually the center of attention so to speak in our small family. They would occasionally say something salacious or suggestive about my hard situation hanging between my legs in the morning or point at my erection and giggle or smirk or wink. The fact that I was and still am well endowed with 7 inch cock didn't help the situation and made it impossible to hide my erections. Given all of this, I started having incestuous sexual relations with my 2 sisters when we turned 15. Since we all enjoyed it and didn't see anything wrong with it we continued doing so whenever we could, keeping it a secret from everyone including our mother.
That one special day when we were caught having sex was when we were all 17; at this point I had already been having incestuous sex with my two sisters for almost 2 years now. Our mother had dropped us off at our aunts estate in southern Florida for a week because she had to go tend to some legal business out of the country regarding my father's death. Being a family of nudists we immediately stripped off our clothing when we got there and went to swim in our aunt's private Lake that has a small dock. It was early June and very hot and humid. This particular day I had been having erections all day much to my aunt's and sisters delight and amusement. My aunt isn't too big on the nudism but allows us to be naked to our heart's content; she is a very tall, busty, leanly built woman. My aunt and mother were both cheerleaders and in the swim team in high school so they still had some of their muscle. She was wearing a simple tank top and mini-shorts given the hot weather and because the house AC was barely working. I tend get erections even when I'm not sexually aroused; I also get them when I'm happy or excited like when I was to be at our aunt's and being able to be nude at her private estate much to everyone's delight and amusement. We ran around in the buff all over her private property and skinny dipped for a while, the whole time I had a strong erection. I thought that I would try to calm it down by masturbating behind a bush out of sight from them. So I quietly sneaked away from them while they were talking quietly with each other. As I was j/o I started to moan and unconsciously say my sister's names not noticing that they had found me and were quietly spying on me with big, goofy smiles, they realized that I was j/o to the thought of having sex with them. They were noticeably sexually aroused and amused by my erection but didn't do anything sexual at first. As it turns out they also had similar incestuous mindsets and were not disgusted or offended by what I was doing. They helped me finish j/o and afterwards we discussed being nude and having sex. This whole time my 7 in erection never subsided and they noticed and were noticeably aroused by this.
It was now late afternoon but our aunt had sprayed us from head to toe with bug repellent so mosquitoes didn't really bother us. We found a spot on the other side of the small Lake behind a tree so that our aunt couldn't see what we were doing or so we thought. We then started slow, kissing, touching and fondling and then oral. They were more sexually experienced than I was at the time so they led everything at first. They both took turns on their knees in front of me giving me head and I did the same to them and they laid back with their legs open so I could lick and suck their vaginas. I was very aroused and horny; my erection never went away. We laid on top of a large inflatable pool toy to use it as a bed as I took turns pumping them both aggressively as they kissed each other using their tongues. I remember the look of lust and desire her face as I positioned myself on top of one of my sisters to penetrate her and she gave out a loud shriek as I slipped inside of her. After a while of doing her in one position while kissing and making out with my other sister we would switch and had sex with them both. We basically did every possible position but it was kind of reckless now that I think about it because we didn't use protection. I got rough with them pulling on their hair, pawing their breasts and kissing them roughly but they enjoyed it even more. I couldn't control myself this time and I ended up coming inside of them both; inseminating them. After a few minutes my erection would come back and we went at it again; amazing them with my sexual prowess. We went at it for almost 3 hours I estimate because the sun was starting to come down and our aunt had called us in for a bath and dinner. Of course we ended up all sweaty and covered in each others fluids but a dip in the lake was more than enough to wash away all incriminating evidence from our nude, tanned sun-slicked wet bodies. By the time we got back into the house she looked at us suspiciously because we were panting like we have been running marathons. She was now wearing only a white bathrobe and bikini bottoms like my mother usually does around the house. She knew that we were nudists so the fact that we were naked wasn't what was suspicious it was the fact that my two sisters were walking a little weird because of the hard f**k session that we just had but thankfully she didn't pursue the issue. She rinsed us down with a garden hose on her back porch before we got inside so we wouldn't tread mud and grass all over the house. I let my sisters get rinsed down first and as my aunt was rinsing me down she gave me a knowing wink and giggle as she purposely sprayed down my semi-erect penis. She handed towels to my sisters so that they could dry themselves but she dried me with a towel herself taking the opportunity to fondle and touch my privates after the two girls had already gone up to the bath on the second floor. I knew I had been caught red-handed without her even having to say anything. She obviously knew what we had been doing but said she would help by providing them with birth control and that she would join us in the tub soon. With a kiss on the lips she gave me a gentle, playful slap on my nude, bare bottom as she sent me up to the bath. I guess we were louder than we thought with those two shrieking and screaming their heads off in pure ecstasy as I f****d them aggressively but my aunt can keep a secret.
We were naked basically the entire time that we were at our aunt's. As we three were bathing in her large bath I was about to tell my sisters about our aunt finding out about our incestuous shenanigans. Our aunt came into the bath wrapped in only a bath towel, we were all pleasantly surprised when she said that she wanted to bathe with us and get to know us better. She dropped the towel revealing her nude slim, toned, busty hourglass figure making sure to open her legs and then posed to me a good view. Needless to say I got very hard and aroused and everyone noticed. Up until that moment I had only seen her topless or in a bikini and never seen her completely naked as she sensually slipped into the large tub filled with warm soapy water with us and started bathing. Surprising all of us, the grown woman then sat next to me suggestively and started groping, touching and fondling my wet erection right in front of my two stunned sisters. She revealed that that she had been watching and hearing us from the second floor of her house but was willing to keep a secret from our mother if we complied especially me. We were all embarrassed and a little ashamed so we quickly complied since we didn't want our mother finding out. Satisfied with our reply, my aunt suddenly started kissing and making out with me and pleasuring me with her experience hands right in front of my two sisters. She had me stand up in front of her as she was kneeling so that she could also give me head and she was very good at it since she was an older experienced woman. As she moved in front of me in between my legs she also said that she has never been with a man with such a large penis. She had always fantasized about me especially after seeing me naked and having incestuous sex with my sisters. She had just gone through a messy divorce and hadn't had any sex in years so she was very glad that I didn't have a problem with incest. Her oral skills were far better than my sisters and she even sucked on my testicles, tee-bagging and bobbing her head up and down. She was very good at using her tongue and she even gave me a little love nip by biting me a little as she winked at me sensually. She laid back with her legs open and I knew what she wanted me to do and I started orally pleasing her. It was a bit intimidating doing this with her since I was 17 and she was an adult and much larger and more experience than I was at the time. Her hairless vaginal slit was larger than my sister's and tastier than theirs as I sucked and licked it and took a play from her rule book and also gave her a little love nip on the lip of her perfectly shaved vagina. This whole time my two sisters just sat there in stunned silence. I thought that was going to be it but to my surprise the larger adult woman laid me down on some towels on the bathroom floor and started lowering herself on my cock; impaling herself on my hardened cock. My two shocked sisters, who were still watching, covering their mouths, gasped along with me as my erection started slowly going inside of her. These 2 horny sl*ts were blushing a deep red now and were obviously enjoying the show. To my surprise her vagina was able to take the entire length of my shaft and my penis disappeared inside of her as we both let out a long moan of pleasure. Being a middle-aged woman she was much more experienced in sex so I shouldn't be surprised when she took control of this sexual encounter. She was also careful not to drop her whole body weight on me since she was an adult and I was a child to prevent hurting or injuring me. As soon as she felt that I was all the way inside of her she bounced up to avoid crushing me with her body weight. It felt like she was in control here, having sex with me as she rode me then and there; we both started moaning and crying out in pleasure. We grabbed each other's hands and looked at each others eyes in deep lust and sexual attraction, we spent several minutes in this position. This whole time my sisters were watching and giving me the thumbs up encouraging me and cheering me on. We then switched to doggy style for a while and I felt like I was more in control this way taking her from behind, since she was a grown woman she could take a lot more sexual abuse than my sisters. As we were switching over to missionary I noticed that those little sl*ts were engaged in lesbian sex, sucking and fondling each other which only made me hornier. I got on top of my aunt in missionary position and started f*****g her in that position aggressively for a while passionately kissing her. The entire time we were all very loud, moaning, crying and shrieking as the sounds of our flesh slapping against each other added to the noise. I vigorously f****d my aunt and my 2 sisters went full lesbian with each other. I finally reached climax and came inside of her with a loud grunt and she let out a loud scream in ecstasy. We both passionately and sensually deeply kissed each other with our tongues exploring each others mouths as she was coming down from her orgasm. I looked over at my two sweaty sisters and they two had just reached lesbian climax since their swollen, sopping wet pussies were very wet with their pussy juices. Everyone was now covered in each other's bodily sex fluids in one form or another as we held each other in a loving embrace; slowly coming down from our sexual high. She told us not to worry because she had just taken birth control and would give some to my sisters. She loudly proclaimed that was the best sex that she has ever had especially since she was divorced and hadn't had any sex in a very, very long time. She instructed us about birth control and how important it was if we intended to continue having sex with each other. We made a pact to not tell anyone and just keep this between the 4 of us as we all enjoyed it and don't want this to stop. My erection had come back and we took advantage of it by having a quick foursome again in the bath. Someone would sit on my face so I could eat out their pussy as I laid on some towels while someone else would impale themselves on my still erect cock switching positions frequently. We didn't go at it for too long because my 2 sisters were sore and tired and very hungry from f*****g like rabbits all day but they were amazed by my sexual prowess. We finished bathing and went down to have dinner like normal. Feeling unsatisfied my aunt asked me to satisfy her sexual desires in her bedroom which I did later on. For the rest of the time that we were there I slept with her in her bed with her and played with my sisters during the day. We even had several foursomes again at some point; we still reminisce about this special time and turning point in our relationship.
Best of all it wasn't awkward or uncomfortable afterwards for us in fact we are closer than other families. Our aunt is now a full-time nudist along with us. I have heard that families give off pheromones to discourage incest but that never happened with us. I have obviously since had sexual relations with other women but it's still not the same as with my sisters or aunt; it just doesn't feel the same. I know that society seriously frowns upon incest and condemns our actions but we enjoy this so much. Even today we have awesome sex and we are all healthy, happy siblings who are closer than others. In order to spice things up we go to sex positive nudist resorts and like to have people watching us. Either that or we go to public risky locations where we might get caught like a park or parking garage. We keep our incestuous escapades a secret from our mother although one day I hope to bring her into the fold as well.