History of Phone Sex
Phone sex is as old as the device itself.
Gloria Leonard is believed to be the first person to use 900 numbers as a new revenue stream in the adult industry. She recorded her own voice, giving callers updates on the next issue of High Society magazine before the issue was published. Leonard persuaded the then magazine publisher Carl Ruderman to buy many of these and soon the magazine's business was flourishing.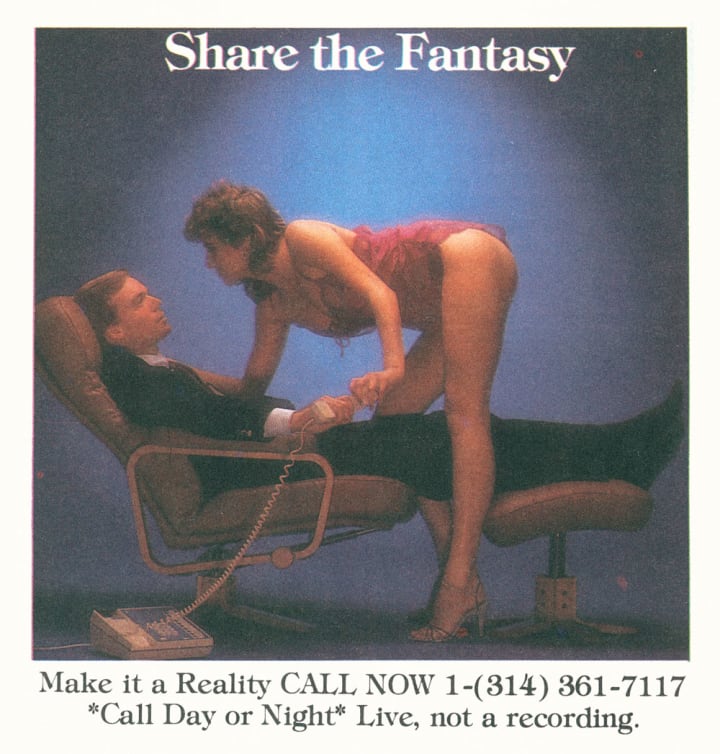 Business of Phone Sex
The great phone sex services are actually managed like Uber, a network of busy dispatchers, either manually or through ever-advancing technology, route calls to the erotic performers and adult linguistic specialists, or just some college girl in her dorm. Yes, they ask about age, it is so important for under age kids not to use these services, so the phone services rely on their honesty. There are even services where you first speak to a receptionist who inquires as to your particular desires and acquaints you with the right girl.
Most of the old school services charge exorbitant, rates but more modern services became toll free calls. Once on the line, you register with a credit card and the billing begins, nothing quite compared to the cost of older phone sex lines, except of course for lawyer's fees. But in both situations you feel fucked. Most telephone companies have a structure that allows users to block calls to the insanely expensive outgoing premium numbers, outside of the 800 and 900 numbers. In the late 1990s the FCC revamped regulatory rules on 900 numbers to deal with the ongoing issue of minors dialing in. Seems like the online porn explosion did not begin until a few years later, and made the 900 number issue pale in comparison.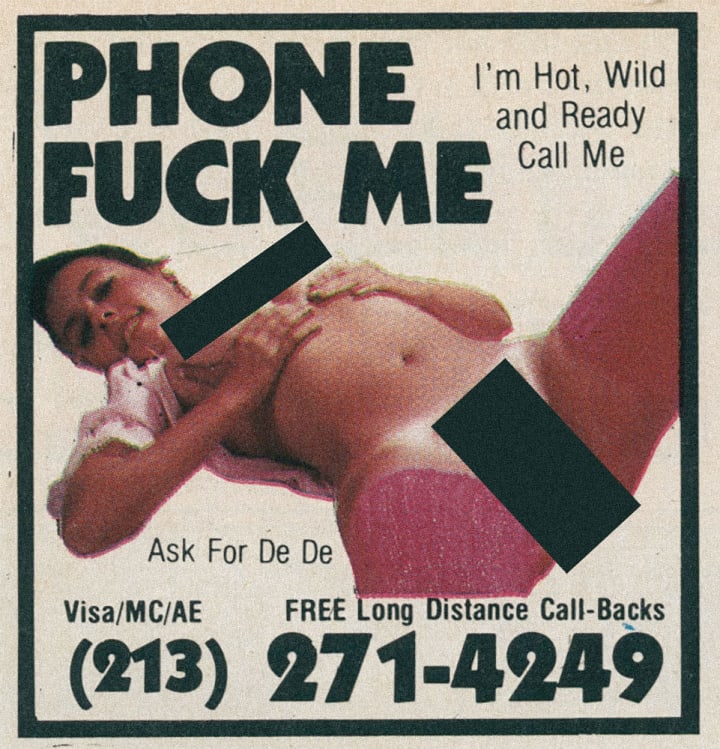 Phone Sex as a Means to an End
Many of the independent phone sex lines exist simply to self promote. These days it is more about drawing you into a personal website or web cam business. Phone sex services have been advertising in the back of men's adult magazines and on what used to be late night cable access. Today, phone sex services use some of the top tech and state-of-the-art strategies for customer acquisition. From database marketing to geo targeting, these businesses go after a generally male demographic, focusing on ages eighteen to twenty-two and fifty-eight to sixty-two. These particular demographics are the high conversion points of the distribution.
These businesses spend millions on marketing and advertising. The advanced tech allows them to track user behavior, preferences, and desires. Specific lines are then set up to target these sub-niche preferences. Assigning these distinct phone numbers to each specific marketing channel allows phone chat businesses to analyze conversion rates and return on investments. This data is further studied to determine the key insights, like the most popular niche and the best time of day to market.
Near the end 1980s, just about all major local phone companies as well as the major long distance carriers in some way were in the adult chat line industry. Phone companies handled all the billing and saw kick backs of up to 45 percent of the money paid to chat line companies. The bills would literally be a part of your monthly bill from Ma Bell.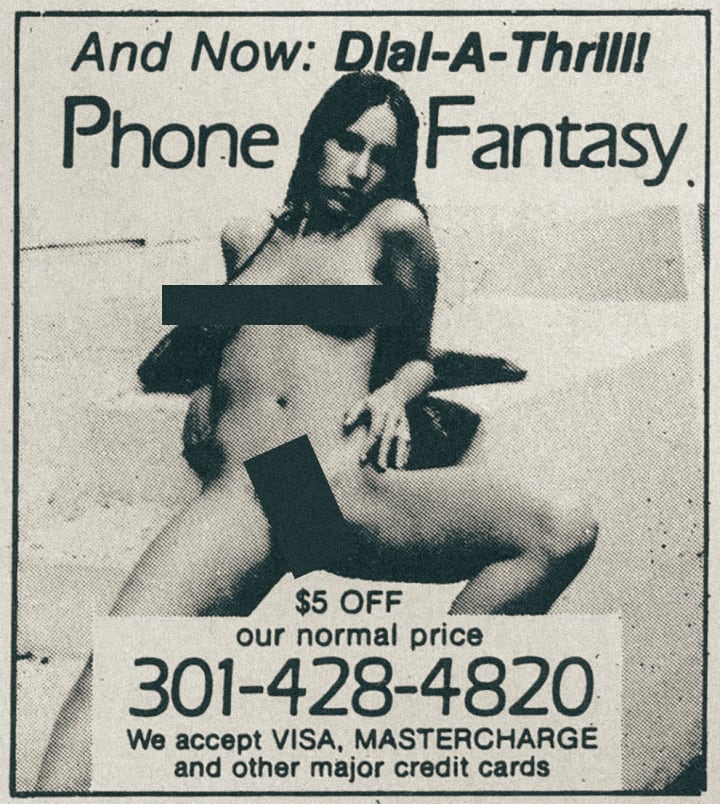 Quality of Phone Sex
There are many cheap telephone sex call lines in the US and Canada today. But they are of such poor quality that it is difficult to discern. Most offer a free trial, the longer the better. The bottom line is if you want to either hone your communications skills, or if you just enjoy flirting and exploring your hidden wild side, you probably will enjoy the naughty fun of the call lines. In her own words, one of the routed call specialists remembered her first night. "This one guy just would not end the call. I explained to him that I was just a customer service assistant and would route him. He insisted on talking through his sexual fantasy right there on the phone. Of course I went straight to the supervisor, Boris. She said I should go take the call in one of the empty closets down the hall. I gave it a try. I had never done anything like it before. I told him that for $5 a minute he could pop my phone sex cherry. Now I am the highest paid sex chat professional in my office."
History of Phone Sex
The dark art of the erotic phone line business is comparable to a remote form of intercourse, or at least the perception of it. But phone sex has a rich history and has evolved dramatically in the digital age.
Right after Alexander Graham Bell first invented the telephone, it took one year for it to become a new era of social communication. In 1876 there was only one telephone operator, Betsy Craddock, and she would often talk to customers about how she was unbuckling her shoes, or how her hair felt free from a tight hat she has just taken off. Betsy became the first real sex operator and made millions during a famous six decade career. She is believed to be responsible for modern day sex lines.
Once sex became a staple of the institutionalized print business, phone sex ads were everywhere. It is believed that 1918 was really the first clear cut sex phone line advertisement. Perhaps this was inspired by the role women came to play during World War I, when they essentially ran the country while so many men were off fighting for their country. This empowerment led to a number of startup businesses by determined women. In 1920, the righteous Woodrow Wilson banned phone sex as an abomination to American culture. Very divisive, the law created further divide between the religious south and the masturbation-friendly north. The law was never really enforced, but it was the beginning of the new era of censorship that would be followed by prohibition. Franklin Roosevelt would rescind the nuisance law in 1934.
In the last few decades, the phone sex line business has continued to deteriorate. There is no question it will go the way of the VHS tape, but never forget there would be no streaming video if the VHS hadn't come first. Phone sex and its boom-bust cycle is part of the ever-changing cultural shifts when it comes to First Amendment rights, censorship and general sexuality. Perhaps the saturation of online adult content and the adult industry's inability to create a publicly acceptable business vehicle for growing the adult industry, from the early 20th century through today means that the battle for sexual expression is ever looming. It is the platform for delivering adult content that is forever shifting.