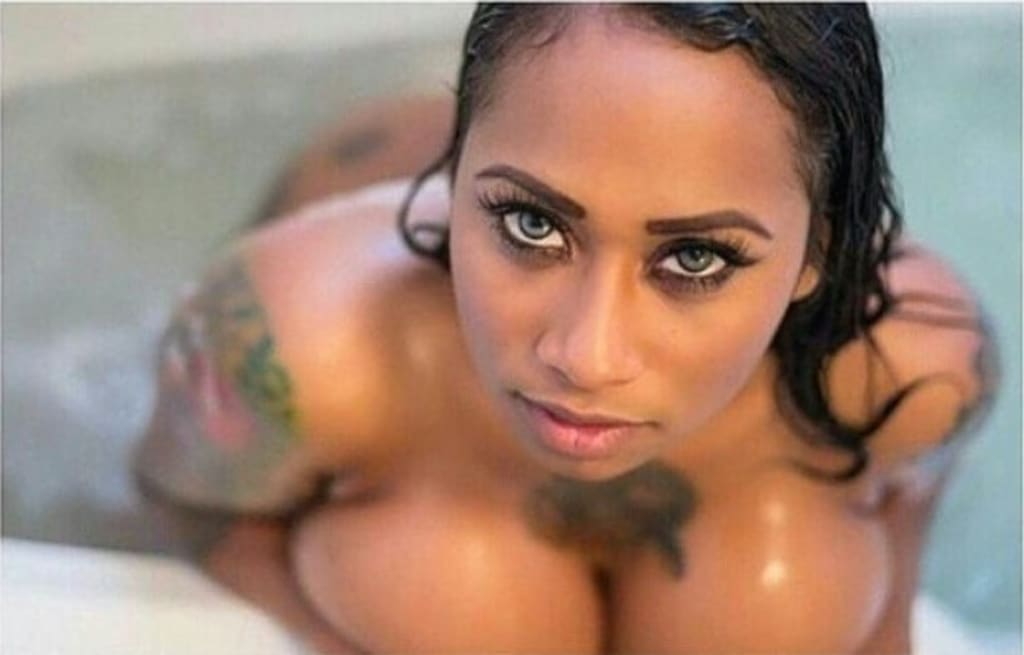 Anyone that follows my blogs (for that I thank you immensely) knows that my main purpose is to turn you (the reader) on, to get your imagination going, and to also make an impression on you that I am a worthy and talented writer to check out on a regular basis. The stories/blogs I create come from many different avenues; from memory to conversation to imagination and all the way to confessions that people send to me via email. Out of all of these avenues, I enjoy the confessions and although I write this kind of stuff all the time, I'm always amazed at the level of candor people have with me. Either way, I make it my business to bring something juicy to the table to quench everyone's thirsts. This particular blog came from the confessions section and I have to say that when I read it, I not only clutched my pearls and gathered myself (shout out to 4THELOVEOFJOOSE as I absolutely love your catchphrase) I had to 'quiet' certain parts of my body that were cheering on the confession.
"I'm currently not in a relationship and men don't really approach me in public, so online flirting with random guys with cute profile pictures didn't seem like a bad thing to do to pass time. One guy, in particular, had my attention because he was very responsive, attentive, and the more we talked, the more the sexual vibes increased between us so we arranged to meet for the first time in a public place where both of us could feel safe. For our first meeting, we picked the hardware store and even though it sounds weird to meet at a hardware store, I thought it was perfect; after all, I did need a part for my broken faucet anyway. We met up and walked around the store for several minutes, stopped and kissed every now and then which had me completely turned on, but of course, we remembered that we were in public so we kept the PDA to a minimum. Something aroused us suddenly when we got to the nursery department. Kissing moved quickly to hip holding, ass, and tit grabbing. I was only wearing a t-shirt and loose fitting shorts so his hands felt like they were on my naked skin, his body heat had me sweating and when he slipped his hand down the front of my shorts, I didn't stop him. His fingers slid inside of me with ease, his thumb was massaging my clit and my legs were shaking so much I couldn't hold myself up. Lost in the scene of it all, I started to rub his hard cock from outside of his pants and the sounds of someone coming closer stopped us immediately, bringing us right back to the reality that we were in public. We continued our walk around the store until we got to the pavers department and as soon as we noticed that we were the only ones left, we went at it again and this time his hand caught all of my juices. The tsunami type of orgasm that rose out of me couldn't be controlled or stopped and afterward, when he left the store and I continued shopping, I had to walk around the store for another ten minutes because I was so disoriented. A few days later, we met up again in the parking lot of an industrial business strip mall. I was wearing a pink sundress with black lace panties and no bra. He wasn't in my car a whole five minutes before he had my panties on the floor around my left ankle and my right foot on the center console by the glove box. His mouth felt so good on my pussy and I know I squirted all over my seat; it had been such a long time for me I almost forgot how it felt to be licked. My dress was up above my tits and anyone could've walked by and caught us, but I didn't care. My pussy was getting taken care of at the moment and nothing else mattered. When he was done with me, he pulled out his hard cock and started stroking it in front of me, almost like he was daring me to touch it. Once I saw precum oozing out of his mushroom tip, I couldn't help but want a taste of it. As soon as I put my mouth on it, it exploded. Hot cum shot me in the face and I happily licked it up. It took me twenty-five minutes to get myself together after he left my car."
After reading that, the only question I have is where is this hardware store at? I think I need a piece of wood all of a sudden!
Check out Kai Storm Books on here and here, subscribe to my YouTube channel & as always leave a tip if I write what you like! YA DIG!
erotic