Hermione Granger's Stolen Treasure
Malfoy Breaks The Unbreakable Girl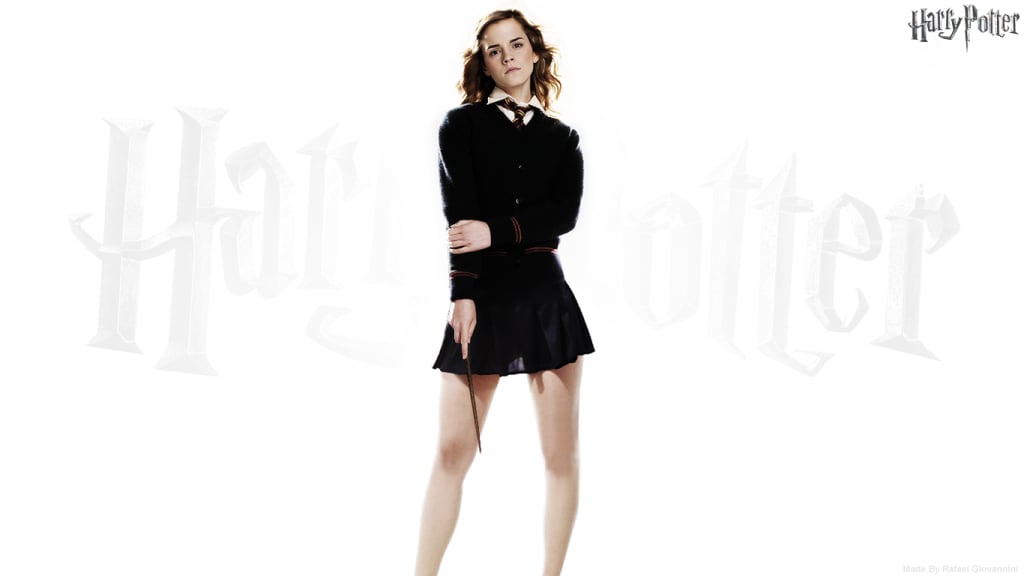 https://www.deviantart.com/rafaelgiovannini/art/Sexy-Hermione-Wallpaper-421426250
The only child of a family of purebloods, yet here he stood lusting after the tainted filth. Her lush pink lips needed his kiss. Her dark eyes invited the danger. Her creamy white skin begged for his talented touch. The swish of her skirts against her thighs practically demanded that he invade their inner sanctuary.
Yeah, Hermione Granger was driving Draco Malfoy mad with desire and she didn't even realize it. The young girl has liked the danger she was in. She suspected nothing and willingly put herself in harm's way.
Hermione had plans to go to the library after her Prefect duties were done. Draco Malfoy was about to interrupt her well-made plans. He had some diabolical plans of his own. He watched and waited.
Waited for the beautiful witch to enter the dungeon corridors.
There were several abandoned classrooms down there. Only Prefects checked these rooms because on rare occasions students would use the secluded rooms to rendezvous in.
Draco Malfoy had magicked one of those rooms with a complex silencing charm. He wanted no one to interrupt his filth desire. With a quick expelliarmus, Granger's wand flew to the stone floor. She let out a gasp at the sudden intrusion.
She was totally unaware she'd been followed. She was halfway through the door of Draco's special room. Still clutching the door handle, she turned around to find Malfoy retrieving her wand.
With a questionable look on her face, she demanded to know what he wanted.
Without saying a word, Draco pushed her into the room with a lazy flick of his wand, he cast a locking spell over the door. He turned to her and saw some desire across her face too, yet she remained defiant.
He was sure this would be no easy task. No, It wasn't hard. She wanted it for a long time.
She backed up into the room, aware that she had no means of escape. Whatever Draco was planning, she wanted quite the same.
He saw thirsty feelings clearly reflected in her eyes now. He gave her an evil smirk as he crossed the room to where she stood. She had backed up into one of the desks, she wasn't trying to go anywhere.
Draco grabbed her roughly by the shoulders and whispered seductively in her ear 'What I want Granger, only you can give me.'
Hermione let out a whimper as he pressed his lips along her jawline. 'What do you need? Tell me Malfoy.' She demanded in a low growl.
He laughed and grabbed her wrists above her head and pushed her down onto the desk. He pressed his body suggestively into hers. He pulled one of her hands down to the front of his pants. 'See what you've done. I'm going to give you what you wanted Granger and there will be only you and me.'
She let out a gasp and moaned. He whispered to her ear, 'Don't bother about anyone hearing. I've made sure that no one hears your moans. It's just you and me, love. Enjoy'
This was Hermione's untold dream. She made contact with Draco's willy. He was happy. That was intentional from Hermione
She tried to run away to the door. Suddenly she felt a tug at her hair and came face to face with hungered Draco. They were playing love games. She had no way to escape him, he was bigger and stronger than her.
Inevitably he would end up having his way with her.
Draco pulled her over to the professor's desk. Hermione felt him rip open her blouse, exposing her naked breasts to his shiny eyes. His touch seared into her flesh like a hot poker.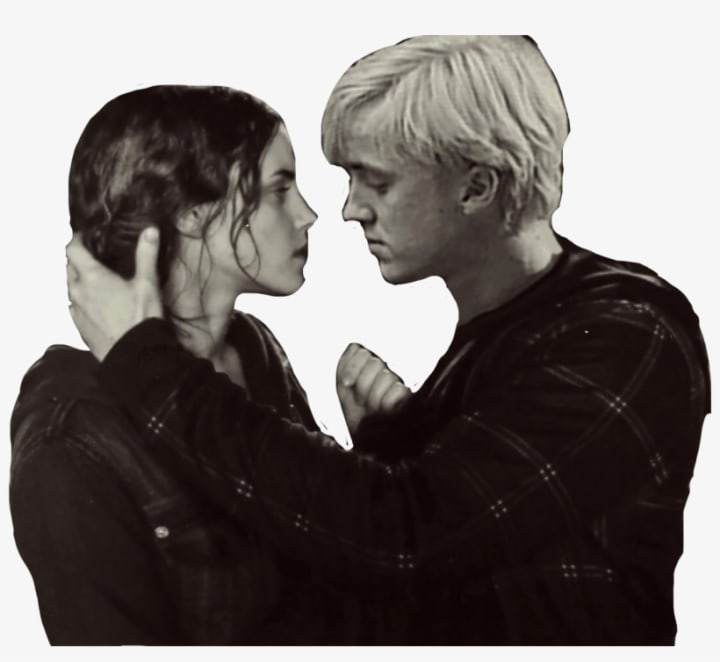 Draco's lips were upon her, licking and biting her soft skin. The smell and the taste of her made him even more frenzied. He wanted her and she needed him more now than ever. She asked him to slow down.
Draco has been fantasizing about this moment for a very long time and nothing was going to keep him from his intended goal. It was the same for Hermione. She doesn't want this to end.
' Oh yeah, Granger! Look what you've done, made me go panting after a virgin like you. Why did you do this?' She smiled with her Gryffindor charm and say ' I've done nothing. You've bought this love on yourself.'
Draco's face had a serious look. He said ' You're not going to tell anyone, anything Granger. They are jealous' She looked away, knowing he was right.
She'd never be able to share this with anyone. Not even Harry or Ron.
Meanwhile, Draco let his hand travel down between her breasts. He pinched hard at one firm nipple and listened to her soft whimper. He let his hand travel further down her stomach, his long fingers lingering her at her waistband.
With force, he pulled her legs apart. She felt a searing pain as Draco's cock ripped into her. The last remnants of her virginity were torn away with each thrust of his hips. He pulled her knees up higher to deepen his penetration. She felt even better than she wished before.
His hands explored her soft body as his cock expertly invaded her treasured sanctuary.
Hermione was asking for more, yet Draco didn't offer full enjoyment.
Draco let out a moan of pleasure as he finishes and spilled his seed within her. She laid there, trapped under his naked body, wondering what would happen next.
Draco got up and dressed himself up. She looked at Hermione. This wasn't the girl he knew. She liked that. He couldn't believe it. Anyway, he had finally broken her treasure.
He then left, leaving her naked with everything she wished for.