Her Neighbor
an accidental date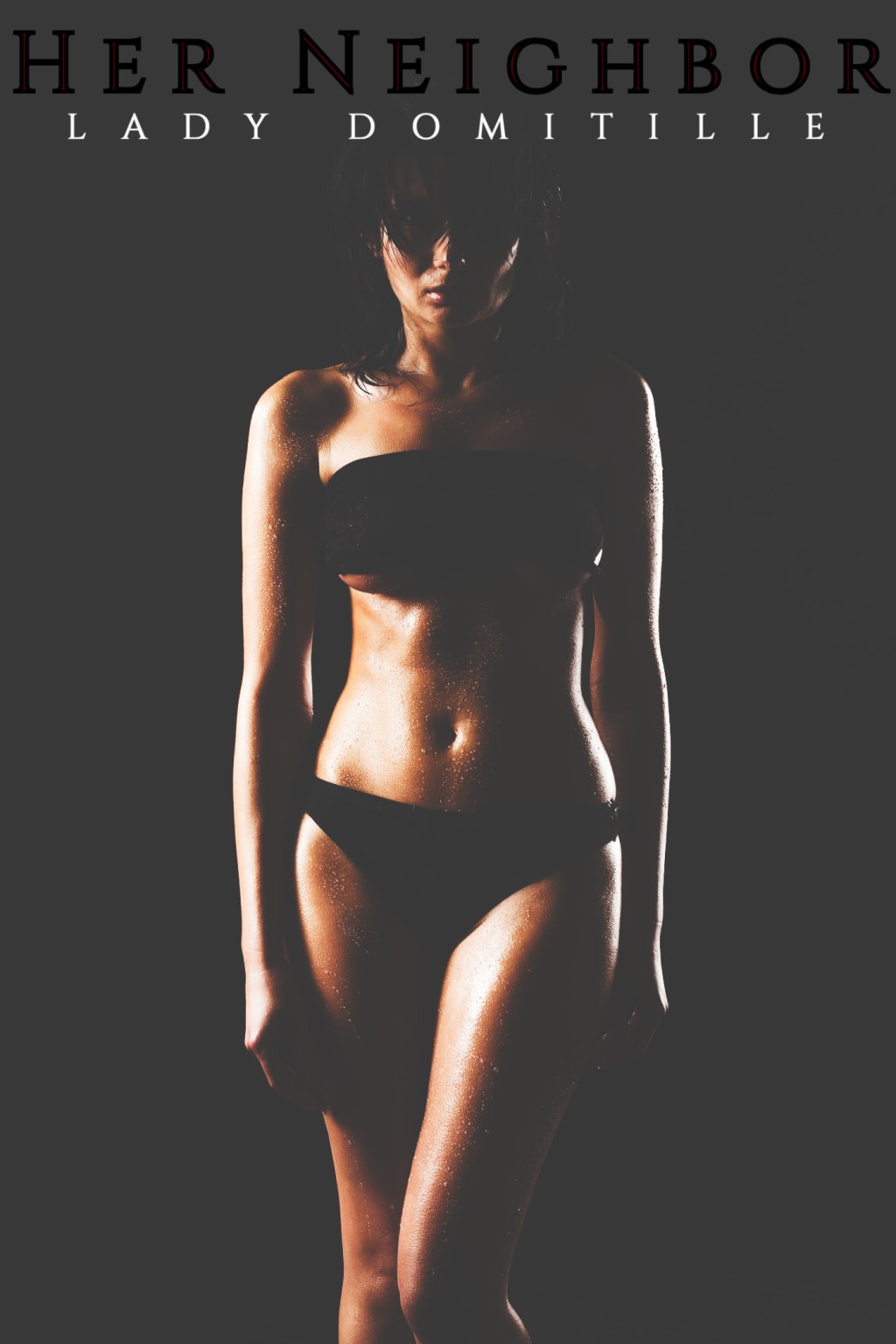 Knock knock.
The sound echoing from her door at eleven at night was unexpected, to say the least. The sharpness of each 'thunk' pricked at the edge of Maura's brain, eating away at the little patience she had left in the day. The abrasive noise shot down her spine, straightening her up back into business mode despite fleeing from the office an hour before. Her fingers curled around her glass of whiskey, tapping the edges, internally debating whether she could ignore the visitor. A nuance from the office, no doubt. Someone needing to ask her a million mundane questions. Someone she didn't have the patience for. Someone who, if they asked a single wrong question, would invite the pent-up hellish anger firestorm brewing within her veins.
Then a softer, knock knock.
Maura mentally recalculated. The person on the other side of the door feared her, respected her, or both. Her grip around the pristine glass loosened slightly, enough for her to tap her nails to hear the clinking. The other hand made its way up into her hair, releasing her curls from the tight updo of the clip buried inside the strands, before taking a sip of her whiskey to loosen her up for whatever awaited her attention on the other side of the door.
The softest, knock.
Finally giving in, she made her way over to the door, unbuttoning her blazer as she went. If she couldn't avoid doing work after 9 PM, then she would at least be comfortable while doing so. Throwing caution to the wind, she threw open her door, surprised by what stood in front of her.
It was her neighbor, the cute one from across the hall, with the pretty blonde curls. They had made minimal interactions. Once while receiving her mail, another when she was late for work and scuttling out the door in her best pumps, another when the neighbor was late for work and throwing on a ridiculously large winter coat. Maura, always the reserved, barely spoke a word but her attention still remained fixated on the other woman. The other woman, always clumsy, usually stammering and apologizing.
Tonight, however, instead of a massive winter coat, she wore a sleek leather jacket. It was zipped up, but Maura could see the hints of a red silk blouse underneath. Clinging to her shapely legs were the tightest pair of skinny jeans that mesmerized her. A purse was hanging haphazardly to her side, almost as if barely given a second thought before being chosen. In her hands were a package of folders, and in the other was a bottle of what appeared to be expensive red wine.
"I'm sorry it's late."
Maura quickly realized the other woman was speaking. She straightened up, focusing on the other woman instead of her body, before pushing her curly dark hair behind an ear.
"There was this young girl, I think she was your assistant? She was pacing outside in the hallway when I came in—looking like she was about to have a panic attack…" Maura's eyes focused in on her red lips. "I asked her what was wrong and apparently you forgot these files at the office?"
Maura took a second glance at the files and recognized them immediately. "And she thought giving them to a stranger would be the best next step?"
The blonde smirked at that. It sent a heat wave through her stomach, "Apparently you're rather terrifying, and I told her I needed to speak with you anyway and that I would release her of getting her ear chewed off for disturbing the boss at home. 'Maura will kill me' she said."
Maura smirked at that. It was no common secret that her office demeanor left no survivors. Only the toughest worked under Maura Underwood. However, when the neighbor offered over the files, she took them quickly.
"And why did you need to speak to me, Miss…?"
"Scarlett," the blonde stuck out her hand. Maura only took a momentary delay before she returned it. She quickly went from thinking what a strong handshake it was to imagining what it would feel like to have those hands all over her… "and, I didn't really."
Maura gave her a questioning look.
"Well, I…" Scarlet began to stumble. It was adorable, really. "We were having a Valentine's day party at the office. And well, I made a big sale recently. A client gifted me a bottle of wine, and well, I'm not really a wine drinker, but you can't offend a client… but you seem like the type of lady who would appreciate a glass of wine…"
"I'm more of a whiskey woman," Maura answered. She almost beamed at the disappointment that flashed across the younger woman's face before interjecting, "But I do love a good glass of red."
Disappointment quickly morphed into pride as Scarlet thrust the bottle of wine into her arms. "I hear, uh, it's a good one. I mean, the client wouldn't stop boasting about the year. I honestly don't know much about wine, so I hope I'm not giving you some shitty..."
"How about you have a glass with me?"
"What? Now?"
Maura shrugged. "Unless you have plans?"
"No… I don't." Scarlett paused. "I just thought you would."
"Why?"
"I thought you would be on a date."
"Why would you assume this?"
"Valentine's day…?"
Maura paused, oh right. It was that day.
"Sorry, I didn't mean to offend you. I mean, I just assumed… in fact, if I had known you didn't, I would have asked you out myself..."
Maura began to smile for the first time in what felt like weeks. The poor woman was continuing to babble. "Scarlet?"
"And then I just had to…" She stopped. "Yes?"
"Why don't you shut up and have a glass of wine with me?"
Scarlet turned bright pink, but she nodded. Maura moved aside enough to let her through the doorway, noticing the faint scent of lavender as the woman brushed by her. She took a moment when closing the door to internally grin at how quickly her night had turned around.
When she gathered herself, Maura moved quickly. She placed her hand on the small of Scarlet's back, leading her down the entry hallway and into her kitchen.
"Wow, you've decorated it beautifully," Scarlet admired. Maura moved quickly through the kitchen, grabbing the corkscrew from its home, and turning around to face the blonde. She had assumed the woman would be talking about her furniture pieces or fake flowers (because she never had the time to water real ones), but instead, she was looking through the window into the living room at the artwork. She pointed towards them, "Do you mind if I…?"
"Go for it," Maura smiled gently. It would give her a moment to sort her brain out. As Scarlet gazed longingly at the paintings, Maura poured them both a glass of wine. This woman, her neighbor, had been a crush of hers for some time.
Their work schedules kept them at odds from running into each other. However, every time they did, Maura loved watching the way Scarlet's lips would go up a bit more on the right when she smiled. There was a cute way she stammered and apologized for being in Maura's way. She anticipated the way their eyes would catch in the elevator.
Now the gorgeous blonde was here, in her apartment, intrigued by the artwork on the walls, having a glass on wine… on Valentine's Day. If there was a time to be bold, which Maura always was, the time was now.
Sauntering… and sneakily… into the living room, Maura walked up directly behind her. She reached her arm around, offering the woman the glass of wine on her right side, but keeping her lips incredibly close to her left ear. She could feel the stray strands of blonde curls tickling her nose, "Which one is your favorite?"
"Um… this one, I think?" She pointed straight ahead.
"Why that one?"
"I don't know. I think it reminds me the most of you."
"How so? This is the first time we've really talked." Maura pointed out.
Scarlet turned, facing her directly, in a move Maura was not expecting, "It's bold. It's beautiful. It doesn't apologize for being exactly what it is."
"And that is what you've learned about me so far?"
Maura paused, taking a sip of her wine, neither revealing the correct assumption or denying it. Scarlet had a twinkle in her dark blue eyes, and Maura wanted to uncover whatever it was.
"It's what I observed so far."
"And what does one do for a living with these high-prized observation skills?" Maura asked, spinning around and setting herself down on her sofa. The one she had been sitting on before this wonderfully effervescent neighbor had knocked on her door.
"Art sales and investing," Scarlet responded. "I own a gallery downtown called One + Two."
Maura smiled as the woman even made a 'plus' sign with her fingers, "Hence the admiration for the art on my walls."
"Exactly," Scarlet beamed, sitting down beside her. Close enough to be suggestive, but not too close to make any moves. "I pride myself on having a good eye."
"I'll have to stop by if your gallery curates the same taste as you have for my collection." Maura leaned forward, placing her arm on the back of the sofa.
"And what is it that you do that leaves assistants terrified outside your door at nine in the evening?" Scarlet wondered, unzipping her leather jacket. Maura was tempted to ask her if she wanted to remove it, but knew she wouldn't be able to tempt down her own urges if she opened up the can so soon.
"PR Relations. Mostly managing businesses, but I do oversee a couple of personal accounts as well," Maura answered, taking a sip of her wine, "Your client was right. This is an excellent year."
Scarlet grinned with pride as if she had been the one to personally pick it out. She repositioned herself slightly closer, her smile wide and her curls bouncing as she did so. Maura desperately wanted to reach out and run one through her fingers. The flush on Scarlet's cheeks coiling something hot and twisted in her lower stomach that was crawling to be released.
"And what about PR relations leaves the terribly frightened twenty-something peeing her pants outside?"
Maura tried to hold a laugh in, but she found she couldn't. It rippled out of her. "You were right in your observation that I don't apologize for being exactly who I am. In the office, I am demanding, cut-throat, belittling, terrifying." She couldn't help but notice the excitement growing in Scarlet's eyes. "And I fire without a second thought. The poor girl probably thought I would fire her on the spot."
"Would you have?" Scarlet asked, apparently eager to hear the answer.
"Probably not," Maura answered. "I did need these files for over the weekend, so I supposed I would have cut her a little bit of slack."
"Well, I'm glad she couldn't work up the nerve," Scarlet commented as if trying to brush it all off.
"Me too," Maura agreed, humming and downing the rest of her wine.
They were facing each other on the couch now. Maura could feel the anticipation pricking at her skin. It was consuming her. The way Scarlet's cheeks were flushed a light shade of pink, the way her laugh came off a little bit nervous, the way she didn't mind when Maura scooted just a little bit closer to her.
"Scarlet..?" Maura needed to test the waters, she needed to know. She had been daydreaming about this for too long to let it slip through her fingers.
"Yes?" the blonde breathed heavily, her eyes not moving from Maura's lips.
"Would it be correct for me to assume… when you said that you would ask to be my date… that wasn't you just covering up possibly offending me?"
Scarlet looked up into her eyes then. "No, Maura… that wasn't me covering."
"Good," Maura reached her hand around her neck and pulled her close, crushing their lips together. She desperately needed to know what this woman felt like, and she was not disappointed. She inhaled the fresh taste of wine as their tongues mixed together. She had felt the pool of wetness soaking her panties from the moment she opened the door, and she craved those fingers inside of her.
"For the record," Maura murmured between kisses, "I do want to take you on a date."
Scarlet giggled, a sound Maura wanted to hear from her over and over. "I appreciate you going on the record, and this is good too." She threw her leg over the other woman, straddling her on the couch.
Maura ran her fingers along the smooth texture of the leather jacket. She wrapped her fingers around the collar, pulling her lips in closer and deeper. The scent of lavender and leather swirled into her senses making her lightheaded and dizzy. She shakily took ahold of the zipper, pulling it down unbearably slowly. By the time it had reached the bottom, Scarlet had moved her lips from Maura's onto her neck. She was gently sucking and biting, leaving Maura squirming in her seat. She grabbed hold of her waist, pulling her in. She pulled the red silk blouse out from the impossibly tight skinny jeans that the girl was always wearing, and touched the smooth skin of her hips for the first time.
There was a shaky breath against her neck as Scarlet moaned out, "Maura."
Fuck, there it was. Maura felt the dragon unleashing inside of her. She absolutely needed to hear that moan a thousand times, the way it fell so unashamedly from those red lips. She needed to hear it begging, panting, pleading, screaming, she needed to listen to it every which way.
"Scarlet," she whispered, as she ran her fingers along the skin of the woman's toned stomach. Oh fuck. "I can get a little rough… in bed… just tell me, and I'll cool it down, okay?"
Scarlet pulled back, looking her dead in the eyes, "I'm pretty sure I'm not going to have a problem with that with you."
Maura took a deep breath. Inhale. Exhale. What miracle it was that on such a shitty day, the universe would provide her with her one wish and she was into…
"Take off that jacket."
The words were out of her mouth before she knew what she was going to say. Scarlet grinned, immediately releasing herself of the garment.
"Unbutton."
Scarlet looked down, biting her lip coyly, but one by one, she unbuttoned the small silver buttons. Maura watched, entranced, as each piece of skin was revealed to her. Her breathing deepened, she kept her hands on her waist, holding her close. As if she was fearful this gift would just disappear.
If Scarlet was expecting another order, she wasn't going to get it as Maura stared. Scarlet sat in a black lace bra, her incredibly toned abs on display, as Maura pulled the rest of the blouse off her.
"You look so delicious," Maura muttered as she ran her fingers teasingly over every available inch of skin.
"I want to see you," Scarlet breathed, enjoying the attention she was receiving.
"Soon," Maura promised as she flipped them over, landing Scarlett with her back on the couch.
Scarlet let out a little yelp before Maura began nipping, biting, squeezing all over her torso, "Fuck, that was hot."
"What are your limits?" Maura asked as she was kissing down her stomach.
"What?"
"What are your limits?" Maura insisted.
"What do you mean?"
"I mean," Maura moaned, exasperated. She stopped the attention she was giving to pin Scarlet's arms above her head, "I've been dreaming about this for some time, and I have little self-control. So, I need you to tell me what you like and don't like otherwise I'm going to fuck you senseless until you're screaming and begging because you can't handle anymore."
"Fuck," Scarlet moaned. "Fingers. Toys, if they're clean. You can leave marks on me. Bite me. Spank me. Call me names. Don't cover my eyes, I want to see you."
Maura grinned, rolling her eyes. "I wouldn't deny you that on our first time."
Scarlett let out another laugh. "I promise I'll say something if I'm uncomfortable, I just really need you to fuck me. I've been dreaming of this too, ya know?"
That stopped Maura. "You have?"
"Yes, you insane woman!" Scarlet declared. "Have you seen yourself? I've only been trying to literally run into you for three months because I'm a dimwit and I couldn't come up with another reason to talk to you."
"I see we're both great with our interpersonal skills so let me spell this out for you, okay?"
Scarlett nodded, but it was a slow nod because Maura had begun removing her shirt and that left her with the inability to speak correctly.
"We're going to fuck right now, and then we're going to go on a date. And if that date goes well, we're going to go on more dates. And you won't be seeing anyone except for me, do you understand that?"
Scarlet nodded. "Yes. I do. No one else. Just you."
"I don't do traditional dating. If I like you, then I like you. I should warn you that I'm rather… protective. I will shower you with everything you could possibly want, I will make you cum so hard that you will see stars, I will romance you with every fucking shitty line from every romantic comedy, but I will devour you like the sins of hell in the bedroom."
"Fucking shit," Scarlet breathed. "I hit the jackpot."
Maura grinned, "I'm glad you feel that way. Now, get up. The first time I fuck you will not be on my couch."
Once she was able to, Scarlet scrambled up. Maura immediately took her by the hand, dragging her towards the bedroom. It might have looked ridiculous, one woman in a bra and pencil skirt dragging the other in her bra and skinny jeans, but neither woman could care less. Once they were inside the bedroom, Maura shut the door, shoving Scarlet up against the door and kissing her.
They were kissing like their lives depended on it. Scarlet hadn't felt so worshipped in years, and Maura hadn't felt the need to possess so wholly in a long time. Both women had been skirting around each other for months, both scared to make the first move, but now that it was done- they were diving in so deep that they never wanted to return from it.
Both bodies were on fire. They were desperate. Hands were clawing at each other as if the other was going to be ripped away for good.
"Hands up," Maura ordered.
Scarlet did as she was told without question. Maura smirked, pleased.
"Good girl," she whispered, kissing her cheek, leaving a smudge of red lipstick stained across it. Scarlet flushed from the act and how insanely responsive she was to it.
"Did you like it when I called you that?" Maura asked.
Scarlet flushed even harder, squeezing her legs together. Maura swatted at them, gently, not too hard. Scarlet took the hint, spreading her legs out.
"I asked you a question," Maura said, pressing her forehead against the other woman's.
"Yes," she breathed, knowing that there was no way to deny it. Especially when the brunette's fingers were unbuttoning her jeans. As quickly as she could, Maura ripped the jeans down her legs.
"Good, because I would know if you were lying," Maura breathed against her lips. "You'll soon quickly realize that you can't lie to me."
"I wouldn't want to," Scarlet breathed, wanting to desperately kiss the smirk off her lips.
Maura took her fingers are traced the outline of her panties. She could feel Scarlet struggling to remain in place. Her fingers dipped down, and she felt the damp material soaking through.
"Oh, well isn't this interesting," Maura's voice deepened. "It looks like my little slut has been getting wet without permission."
"I'm sorry," Scarlet breathed, but her lips were immediately covered by Maura's hand.
"Shut up, I didn't ask you to speak."
Her hands didn't leave her mouth as the fingers continued to play with the soaked fabric. She played with the edges, gently dipping underneath, but not enough to give Scarlet any real satisfaction. Scarlet moaned, letting her head fall back against the wood.
"I bet my girl has been thinking about this for a while, haven't you?" Maura teased, running her fingers along her opening but never entering.
Fingers were still clamped over her mouth tightly so Scarlet nodded instead. She pushed her hips forward, silently begging. The laughter that erupted out of Maura was so devious, it made her even wetter.
"Awwwww, my girl is so horny, is that it? She wants to feel my fingers inside her? She thinks she deserves to cum? Poor little thing has to beg for release?"
Scarlet was nodding now, pleading with her eyes. Maura removed her hand, and she gasped for breath.
"Beg me," Maura ordered. "You can move."
Scarlet wrapped her arms around Maura's neck, clinging as if her life depended on it. "Please, Maura, please. Please fuck me. I need you inside me. I need you. Make me yours. Take me."
Take me.
That stirred something inside Maura. Something dark that rumbled in the pit of her soul. She looked so pretty when she begged, but there was a trust in her eyes that made it all worth it. If she asked, Maura would stop in an instant. There was a desperation in her eyes. She tucked a blonde curl behind in her ear. Scarlet purred, clinging harder to the other woman. Maura ran her hand up her back, wringing her fingers through those gorgeous blonde curls, and forcing her towards the bed.
Her curls were so soft and lovely, it almost hurt Maura to let them go as she turned the woman to face towards her. Scarlet gasped softly, her eyes shut but her face clearly experiencing pleasure.
"Sit."
Scarlet's eyes opened immediately, sitting down on the soft silky bedding. She barely had a moment to take in her surroundings, Maura's bedroom, a room where she was hoping to spend several foreseeable nights. Nights where she would be tossing and turning in pleasure. Nights where she could curl up against the other woman. Nights that she had been dreaming about just a couple apartments down the hallway. But the subtle shift of hands onto buttons on a pencil skirt captured her attention before she really got a good look.
Perfectly manicured fingers unbuttoned a gold button and shoved the black fabric down slowly, revealing perfectly tanned, toned legs that went on for days. That left Maura in only a red thong and bright red bra. Scarlet's mouth watered, desperately wanting to reach out and touch her.
"Please," she whispered, her eyes glued to the way Maura's body moved and swayed as she removed her clothing.
Maura placed a finger on her lips, shushing her, as she climbed across her lap. She let Scarlet grab her hips as she dove down to ravish her with a kiss. They stole the breath out of each other's mouths as they moaned. Maura bit at her bottom lip, loving the way Scarlet whimpered and hummed each time. She grasped her head, running her fingers through those tempting blonde curls. She pushed her down, so she lay flat on her back on the bed.
The brunette leaned down, brushing her body along Scarlet's, whispering in her ear, "I'm going to fuck you now. I'm going to fuck you so good that you won't look at anyone else."
Scarlet's smile grew wider, nodding her head in approval. Maura grinned back at her, kissing her softly before urging her further onto the bed. Pleasure shot through her as Scarlet immediately did as she was told, her blonde curls resting just below her pillows.
"As much as admire your behind in those jeans, take them off," the brunette ordered before disappearing to a hallway closet.
Scarlet couldn't be any faster, her hands diving down to unbutton her jeans and slid them down her legs. She wasn't sure where to put them, so she laid them down beside her, her body never rising from the bed. When the other woman hadn't returned, she stifled down a groan. Her pussy was throbbing with need, and it took everything not to reach her own greedy fingers down. Instead, she grabbed the sheets with her fists, silently praying that Maura would return soon.
After some scuffling where Scarlet could make out the sounds of boxes being opened and shut, the sound of the closet door shutting made her jump, she heard footsteps slowly returning.
"You look good enough to eat," Maura drawled slowly, her tongue snaking out to lick her lips. Her throat had gone dry at the image of Scarlet, spread out of her bed, just for her.
"I'm hoping you will," Scarlet moaned, her voice strained.
"I have my favorite toy here," Maura commented, letting it drop onto the bed, "and if you're a very good little girl, then I might consider using it on you. But only if you're very, very good."
The blonde turned her head to catch a glimpse. Her pussy clenched with need when she saw a dildo strapped into a harness sitting 12 inches away from her.
"Please," she whimpered.
Maura chuckled, leaning down to crawl over the younger woman's body. She let her skin scrape against the woman below her. She could see the beginnings of silky sweat beginning to glisten on her glowing skin. Parts of her chest with tinted pink, her breath coming in shallower and shallower, and her eyes, her eyes, her eyes held the perfect cocktail of desperation and need to please. To submit.
"You're going to stick that hungry tongue inside me and make me cum all over that pretty little mouth of yours," Maura instructed, settling each of her thighs over Scarlet's head. Relief flooded through Scarlet as she wrapped her arms around Maura's muscular legs. The tip of her nose brushing her clit, smelling her arousal, she felt a pang of wetness flood into her underwear. She would definitely need to buy a new pair.
Before Scarlet could think too long about it, Maura was already lowering herself down. Scarlet hummed as she got her first taste, stroking her tongue along each fold. She moved everywhere, finding each spot that made the woman riding her gasp, shake, moan, pulse. She explored each taste, drinking her in.
Alternating between straining to keep her eyes open and shutting them, Scarlet battled between entirely slipping into her submissive role and becoming consumed with the taste and pleasure of her new lover and her desire to watch her new domme face as she rode her pussy faster and harder against her face. When Maura reached her hand down, gripping her hair and pulling it against the bed, her eyes fell shut, Maura completely taking over her.
Scarlet ran her fingernails against the skin of Maura's ass, cupping her ass. She felt her legs beginning to tremble.
"Fuck, yes, good girl," Maura moaned, her hips grinding down harder, her clit almost grazing Scarlet's teeth. Pride swelled in Scarlet as she moved, taking the woman's clit in her mouth and sucking hard. Maura nearly screamed, her grip on the blonde hair tightening. Scarlet moaned, the vibrations rippling through Maura's body.
Scarlet could feel her walls clenching around nothing, the need to desperately be filled drowning her underwear.
Maura gasped above her, "Stick your fingers inside me."
Without thinking twice, Scarlet plunged two fingers inside her and sucked on her clit. She felt the relief instantly as Maura screamed out, her orgasm washing over her. The evidence spilling down Scarlet's fingers and onto her face. Maura leaned her head against the headboard as she rode out her high, Scarlet content to be her throne for as long as she needed.
After a few brief moments, Maura removed herself. Scarlet almost pulled her back, but there was no need, Maura merely repositioned herself, so she was straddling her legs.
Scarlet looked up and fell in love with the sight. Maura's hair was no longer in its pristine, styled look. Her makeup was smudged, not nearly as much as herself she guessed, and she was breathing heavily. Her eyes held a cloudy gaze that was slowly coming back to life. Scarlet knew she could get used to this.
Before she knew it, Maura, her voice thick, ordered, "Turn over."
A shot of straight heat and arousal flooded Scarlet in a second, her body already following the command before her brain had realized what was asked of her.
"What the fuck is this?"
Scarlet was on all fours, her face towards the headboard, so she couldn't actually see what Maura was referring to. Fear rose inside of her.
"You soaked my bedsheets. You got your dirty cum all over them," Maura hissed, her fingers playing with the strap of her thong. Scarlet breathed a sigh of relief, the adrenaline shooting through her.
"I'm sorry, I didn't mean to," she whispered.
"I give you the privilege of tasting my cum, and you repay me by soiling my bedsheets because you're a dirty little whore who can't control yourself."
The first slap on her ass reverberated throughout the room. Shame and arousal caught in the pit of her stomach. Scarlet thrust her ass even higher into the air. She begged, "Please, I need you."
Maura smirked, drawing circles on her ass where the pink mark was slowly fading. She smacked it again. The sound of Scarlet's whimper fueling a dark and twisted pit in her. Maura couldn't help but admire the beauty of it all. The blond curls cascading over the pillows. Her delicious ass stuck in the air, begging to be spanked. The arousal dripping from her unclaimed pussy.
The reminder of that sparked Maura into gear. The need to claim this beautiful woman. The need to show her who her new boss was. The absolute raw desire to dominate her and give her the maximum height of pleasure that she could possibly receive.
"You are my pretty little whore."
"Yes."
Gods, the sounds of her gasps were like surrounding herself in a warm spa.
"And you are here for my pleasure."
She began to twist her thong down, around her ass, and slowly down her legs. Scarlet nodded frantically.
"Stay just like that," Maura said, moving away for a moment, "Do not move."
The thought of disobeying didn't enter Scarlet's mind.
When she felt the bed dip back again, she felt the knowing sensation of silicon pressed against her bare pussy, and she screamed into the bedsheets. Maura cackled, and the shame at her desperation made Scarlet even wetter.
"You are such a good little plaything," Maura commented, "I'm going to make you mine, and you are going to take it like the good little girl you are."
"Yes, yes, yes… please," Scarlet begged. She could feel Maura rubbing the entire length of the toy along her pussy. At that moment, she knew she would do absolutely anything for her. "I want to be yours. Take me, make me yours. I need it."
Maura bent down, knowing the exact words she wanted to hear fall from those beautiful red lips, "What do you need?"
Scarlet whimpered and begged, "I need your cock inside me, Miss. I need you to take me. I need you to claim me. I need you to fuck me until I can't think."
Maura felt like she could cum all over again with those words. Instead, she plunged her cock slowly inside her, earning the most desperate, raw, beautiful scream to echo in her bedroom. She grabbed a fistful of those beautiful, blonde curls and began thrusting in and out.
Just the sight of this woman totally submitting to her made Maura glow with pride, and she could feel with every second that ticked by, Scarlet letting all her walls down and giving into her most primal sensations. Every gasp, every moan, every pleading and begging words as she picked up her rhythm.
"Fuck… yes, ohmygod, please," the words were falling from Scarlet's mouth, "Fuck me. Yes. Maura, oh… oh my god, yes… ah!"
Scarlet let out an impressive moan as Maura slid easily in and out of her. The desperation to be filled consumed her as she clawed at the bedsheets. She could feel her heartbeat in her toes. She tried to muffle her overly enthusiastic moans by pressing her mouth into the bed, but Maura wasn't having any of it. She grabbed the blonde hair and pulled back, allowing the sounds to vibrate around the room. After a particularly delicious moan, Maura kept her cock lodged inside, choosing to slowly move it around in a circle, scratching every surface of the inside of her new plaything's pussy. The scream was worth it when she quickly pulled out and plunged back inside of her.
"Touch yourself," she ordered, the absolutely glorious feeling of dominating this woman taking over her. She began to thrust in and out at a brutal pace. One that Scarlet was too happy to keep up with.
The moment she felt the sweet relief on her clit, Scarlet was panting and sweating. Her fingers danced along, feeling the gushing wetness spreading all over her thighs. It was over. She knew that Maura could order her two doors down at any time, and Scarlet would come running.
"Oh, Maura," Scarlet whined, her pussy clenching around the cock buried deep inside her, "Fucking take me."
Maura slapped her ass again before ramming inside her at a brutal pace. She began slapping her until she could see pink marks forming, but all she could hear was the beautiful moans coming from below her and the chanting of, "yes, yes, yes, yes." She pulled her hair back, leaning down, so her mouth pressed hotly against her ear, "Be a good whore and cum all over my cock."
And then, Scarlet was. She could feel her cum spilling out from her, over the dildo, onto the bedsheets. She could see stars forming. She tightened her grip on the bedsheets, pulling desperately at them as Maura continued to pound every inch of her orgasm out of her.
When they fell against each other on the bed, Scarlet could barely breathe, but she managed, "That… was incredible."
"I hope it wasn't too much," Maura panted beside her, combing through the blonde hair with her fingers.
"I'm inclined to say it wasn't nearly enough," the blonde admitted, tentatively looking over.
Maura grinned deviously at her, "Well, then. How about another round?"
The end.