Hellcat
The Leather Bound Box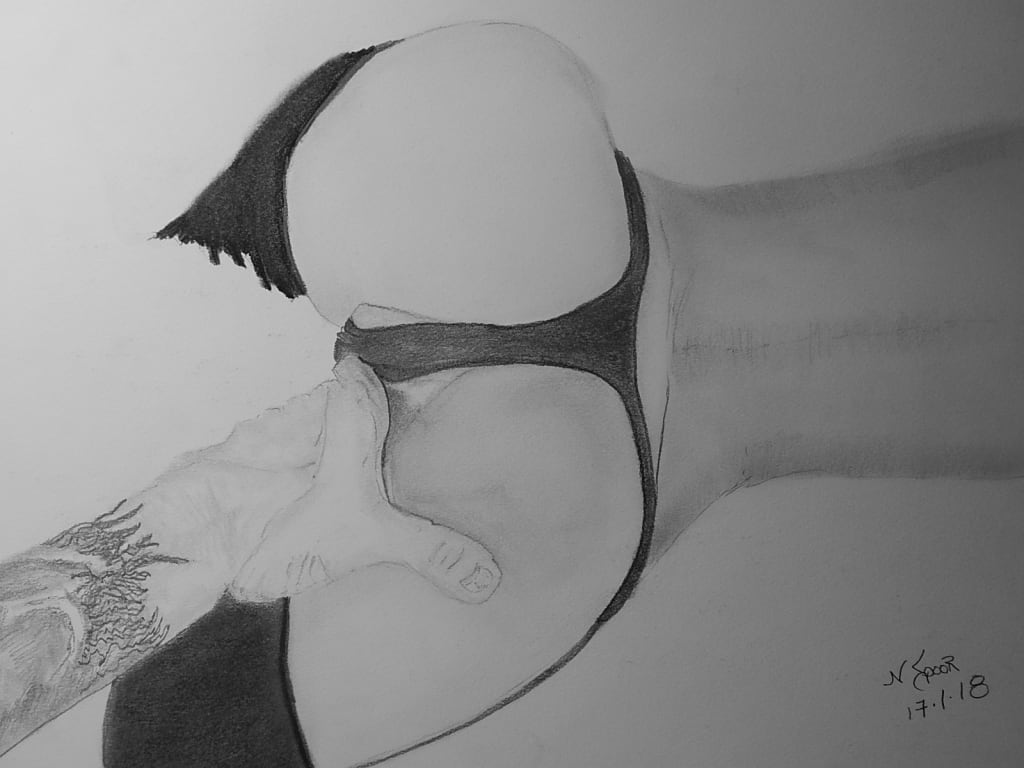 Fondled
This story follows the exploits of Al a middle-aged man who lives alone and dreams about young women. On this particular escapade we find Al sexually aroused by three young ladies who are dressed rather provocatively. All three of the girls are in their early twenties.
Tanya the dominant character in the story is a tall brunette with hazel eyes. Her curvaceous body is clad in a black, macro, miniskirt that barely covers her ass. A silky, red, blouse hardly covers Tanya's double 'D' breasts and her long slender legs are partially covered by sexy, thigh high, leather boots.
Her friend Jessie is a redhead, fair skinned with freckles. Tonight she enjoys being seen, by guys of all ages that get a peek up her skirt. And see her stiff nipples protrude through the skintight t-shirt that hugs her 'C' cup boobs. Black, strapped high-heel shoes adorn her feet.
Sally on the other hand being the submissive of the three girls is a cute blonde haired, blue-eyed girl who follows her friends around the mall. Tonight she is dressed in a black, miniskirt and a pink top that hangs loosely from her upturned breasts. Black fishnet stockings held up by a matching garter belt cover her sexy legs, and pink pumps compliment her outfit.
The story unfolds in a small town along the coast of British Columbia. It is a hot Friday night in early August.
Al decides to cruise the local mall, one of his favorite places to watch girls clad in their skimpy, summer clothes. In the past he has found several of the shops ideal places to fondle young ladies, as they shopped.
On this particular evening he watches three rather provocatively dressed girls from the bench where he sits in the mall. Then decides to follow the girls discreetly through the shop. He waits until they are engrossed in conversation when he sidles up approaching from the rear.
The girl closest to Al suddenly bends at the waist to retrieve some item she has dropped. The timing is perfect, as Al steps closer and reaches out brushing his fingers between the young ladies legs. Excited, and throwing caution to the wind he weaves between the girls and fondles the second girls tit. Her nipple is hard as he presses his hard cock against the third girl's tight ass. This all happens in a matter of seconds. Adrenaline rushes through his veins, as he completes the maneuver.
Al waits to see what the girls reaction will be. He can see the girls in deep conversation, as they talk amongst themselves for several minutes occasionally glancing in his direction.
When the girls move to another aisle one of the girls motions for Al to come closer than whispers that at first they thought about dialing 911 frightened by his advances, but after talking about the incident the girls decide they will have a little fun.
The two other girls approach. Then Tanya, Jessie, and Sally introduce themselves, as does Al. Tanya speaks up, and invites Al to join them in a sexual rendezvous he will not soon forget.
Tanya teases Al, as she presses her tight ass aganist Al's hard cock and feels his hardon twitch in his jeans. Jessie then whispers in Al's ear that she wants Al to finger her pussy right there in the store aisle. Al, dumbfounded by the request from the sexy redhead, slowly reaches up Jessie's skirt and to his wonderful surprise finds her pantyless. Ohhh...she moans then leans closer to Al, and whispers how good his thick fingers feel fingering her pussy.
With Jessie on his right, Tanya moves to his left side blocking the aisle, as Sally drops to her knees in front of Al. She unzips his jeans and pulls his cock out.
Tanya grabs Al's cock in her hand stroking back the foreskin, as Sally suddenly engulfs the head. Al nearly screams out, but Tanya warns him to remain quiet. With Al's face directed back at her she unbuttons several buttons on her blouse exposing her boobs, and stiff nipples.
Jessie then slides a hand into Al's jeans and caresses his balls while Sally continues to suck. The girls feel Al tense, and know he is about to cum. Tanya slips her right hand into her blouse, and pinches her nipple. On cue, Jessie rubs her stiff nipples up aganist Al's side. Moments later Al shudders, as he cums in Sally's mouth. He hears Sally hungrily lap up his cum, as she slurps then smacks her lips. A quick flip of his cock and then she zips up his jeans.
Tanya then whispers in Al's ear Mister, you are not finished by a long shot. All of us girls are horny and want to get laid. The girls link their arms through Al's and with Tanya in the lead they usher him outside to her panel van.
Tanya has parked her van at the back of the parking lot for just such an occasion. She pulls open the side door of the van then Jessie, Al, Sally, and her climb onto the mattress. Al notices a leather-bound box fastened to one side of the van, and wonders what it might contain.
Sally and Jessie peel Al's clothes off. He lays naked until Tanya instructs the girls to bind his wrists, and ankles. Then tells the girls to pull the ropes through each of the four rings and have him spread-eagled on the mattress. Al can only stare, as the girls smile down on him and wonder what they have in store. He is at their mercy unable to move.
Tanya tells her friends, " Let's all get undressed." Al stares, as the girls remove their tops exposing their breasts then watches, as each girl in turn tweaks her nipples. Tanya unzips Jessie's skirt, and pulls it off. Al watches, as Tanya brushes her fingers over the folds of Jessie's pussy and purrs like a cat.
Both girls then turn to Sally, as they pull her skirt down and expose her lace panties. Tanya is behind Sally, as Jessie kneels in front and slowly peels Sally's panties down over her ass then leans forward, and flicks her tongue across Sally's clit. Tanya meanwhile grabs Sally's nipples, and pulls outward until Sally winces.
The show continues, as Jessie pulls down Tanya's macro skirt slowly an inch at a time. The moment her bare ass is exposed Sally slaps Tanya's cheeks until they redden. Sally then reaches between Tanya's legs and finger-fucks her mistress. It was not until Sally's fingers slip out that Al sees how wet Tanya has become.
Al begs for the girls to release him so he can join in the fun. His erection twitches aimlessly, as he remains trussed to the van's interior.
Tanya says, "Sorry, but its girls only you get to watch till I decide how to incorporate you into our love nest." Tanya then opens the leather bound box and pulls out a ten inch, strap-on which she proceeds to strap around her hips, and thighs. Firmly in place the strap-on is thick, and ribbed. She strokes the strap-on, as if it were a real cock, and licks her lips.
She tells Sally to kneel over Al's face, and face the back of the van. Sally in position Tanya then tells Jessie to straddle Al's chest, and suck Sally's pussy. Tanya then says let Al watch, but for heavens sake do not let him touch your pussies. We want to tease the hell out of him! Tanya then positions behind Jessie, and presses the tip of the strap-on into Jessie's pussy. Tanya then surprises Al, as she brushes her pussy lips lightly across the tip of his cock with each thrust into Jessie's pussy.
Al watches helplessly from below, as he witnesses Jessie's tongue graze Sally's pussy. Occasionally Sally's wet pussy dribbles into his mouth and he gets to taste her sweetness. Al can hear both Sally, and Jessie begin to pant, as they both thrust their hips backwards. He looks down and sees Jessie's tits bob to, and fro. He stretches his neck, and sticks out his tongue, as her nipple comes closer, and manages a quick lick.
Tanya pounds Jessie's twat with the ten inch, ribbed, strap-on until she moans outloud moments before Sally's body shudders. Sally simply lowers her pussy and brushes across Al's mouth.
Jessie now holds an impressive black dildo in her hand, as the girls reposition themselves. Tanya the dominant female of the three makes Jessie ram the thick black dildo into Sally's tight rear end. Come on you slut she screams at Jessie make Sally whimper, or I might just shove that black, dildo up your tight bum.
Tanya likes being in control of her girlfriends, and this poor, male, devil trussed up before her has fondled her tit without her permission. Tanya rubs her stiff nipples across Al's legs then grabs his cock firmly in her hand. She can feel the blood pulsate through his cock, as she strokes. She teases him with her pink-pussy, as she barely brushes the tip of his cock. Al begs her, and says he is about to cum when Tanya grabs an icecube from the cooler, and presses the piece of ice to his balls. When Tanya notices his cock go limp she immediately takes his cock into her hot, mouth. Each time Al is ready to cum she rams the icecube aganist his balls over, and over for what seems an enternity.
Sally, and Jessie lay down on either side of Al and watch Tanya, as she plays with his cock teasing him endlessly until she seems bored. Then quite suddenly positions herself over the tip of his cock and plunges down his shaft until her ass thumps against his belly. Al screams, as she rises then falls repeatedly, as she whoops and hollers like a cowgirl riding a wild bronc. Al still tied can only endure her sadistic ride. She rakes his chest with her long fingernails, and bites his nipples. A smile crosses her face, as he cums.
Al sighs then shock crosses his face, as Tanya continues to ride his hard cock. Tanya leans back, and rakes her fingernails the entire length of Al's legs. In that moment she reminds Al of a hellcat in heat. The look of insanity crosses Tanya's face, as she continues to buck and lets out a blood curdling howl, as she shudders and collaspes on top of Al.
Tanya motions for Jessie to assume her position between her legs then demands that Jessie clean her up with her tongue. Sally crawls on her hands, and knees, and kisses Tanya's feet then the two subs dress Tanya then themselves before releasing Al.
He pulls on his pants and ties his runners then grabs his shirt, as he hastily exits the van and flees the scene.
Tanya asks Jessie and Sally. "Do you think we taught Al a lesson he will never forget?" Never, ever fondle young girls while they shop! You, never know what kind of a hellcat you might come across.
...............................................................
Author's Note: I first wrote this story many years ago and added the story to a file that lay hidden in an external drive until today. I did change a few sentences here and there just to make all the words flow better, but on the whole believe I kept the main storyline intact.
I appreciate and am grateful to all my fans who continue to promote my stories worldwide.
Contact: [email protected]
erotic
Wilderness adventures and wildlife encounters have given rise to more than thirty-four real-life stories during 2014-15. Over the past ten years living in solitude I have been known to the locals, as 'a character' that you should meet.