Halloween Becomes an Identical Twin's Favorite Holiday
Switching Costumes; At A Halloween Costume Party Turns Into Hot Villian-ness Sex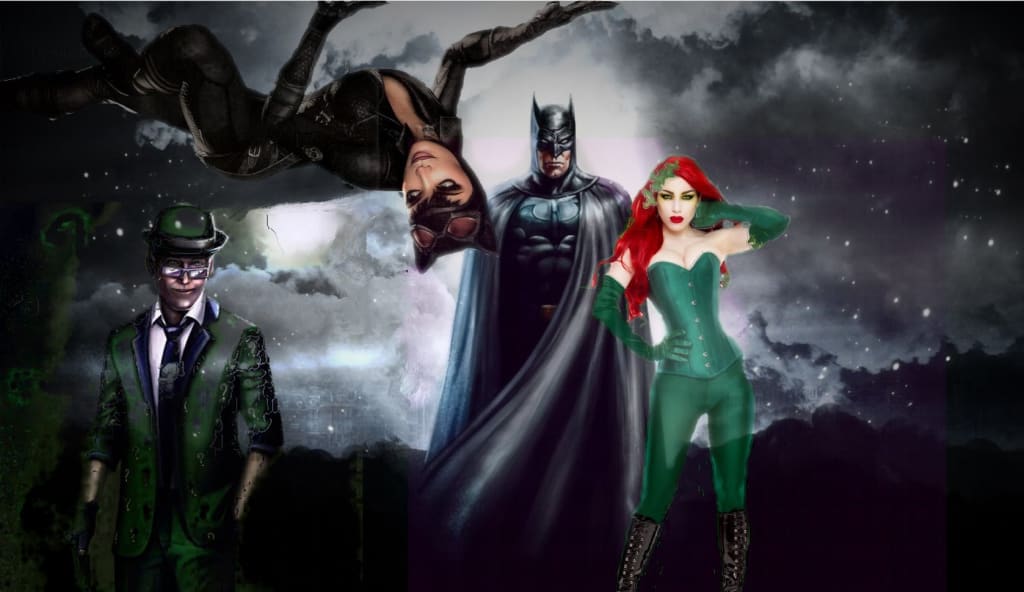 Ryan and Lee, identical twins, decided that they were going to dress up this hump day Halloween. Ryan dressed up as Batman and Lee as the Riddler. Their girlfriends decided to dress up as other characters from the Batman movie, Cat-woman and Poison Ivy for a Halloween costume party.
Ryan's girlfriend Candice dressed up as Cat-woman. Lee's girlfriend Patricia dressed up as Poison Ivy. Candice had the perfect body to squeeze her nice tits into a Cat-woman outfit, which accentuated her hips and her shapely body. Patricia slid into her Poison Ivy outfit with ease. Even though her tits were stretching at the seams, she managed to get herself into the costume.
After five too many drinks, Candice and Patricia asked if Lee and Ryan would switch costumes. Ryan and Lee both thought that it would be fun. So they went to the bathroom and exchanged costumes. Lee had always wanted to be Batman.
Candice saw the two brothers getting them all some more drinks. She told Batman that he was looking good in his outfit and suggested that they go exploring out behind the house. Lee didn't say anything, he just nodded. Poison Ivy told the Riddler that she wanted to go and make out in the barn.
Lee, or rather Batman, had Candice, Cat-woman, on her knees licking and sucking his cock. She unbuttoned the bottom half of her outfit so that Batman could fuck her tight pussy. He bent her over a table that was in a dark, secluded corner of the rear patio. He licked her pussy. Cat-woman meowed with delight as Batman began fucking her from behind. Meanwhile, Poison Ivy was sucking the Riddler's cock in the barn.
The Riddler's cock tasted so good as Poison Ivy was sucking and licking his cock. She unzipped the top half of her outfit, releasing her big tits. He grabbed them, pinched her nipples, and placed his cock in between them. He sandwiched his cock between her tits and titty fucked her.
His cock would come to the top of her tits and she would take the head of his cock in her mouth. She wanted more. She laid on her back, on a hay bale. The Riddler grabbed her outfit at the waist and slide it down to her ankles. He licked her clit while he fingered her pussy. Poison Ivy's legs wrapped around his waist and pulled him and his cock inside her.
Back on the rear patio, Cat-woman had overpowered Batman and had him on his back riding his cock. Candice unzipped the top half of her outfit so that Lee could suck and lick her nipples. His cock felt amazing in her pussy while she was riding him. Cat-woman wrapped her legs around Batman's waist. Lee found leverage and lifted Candice while she was still riding his cock. He leaned her up against a tree, her legs still around his waist, and Batman shoved his cock deep in her pussy. Cat-woman came like a fierce lion all over Batman's cock.
Batman pushed her down on her knees and she eagerly licked and sucked his cock. He put his hands on the sides of her head and throat-fucked her till he exploded his hot, juicy, white, sticky load of cum down her mouth. Both satisfied, they gathered themselves and went to look for the other duo and get back to the party.
The Riddler had pounded his cock inside of Poison Ivy until she climaxed all over the hay. He then bent her over a hay bail, grabbed a fistful of her red hair, and shoved his cock in her pussy. He grabbed her by her hips and pumped his cock in and out of her until he came all over her ass. After Poison Ivy licked him clean, Patricia fixed herself and her costume and they left the barn to go find Cat-woman and Batman.
They all meet up at the bar and got some more drinks. Lee and Candice and Ryan and Patricia all agreed that it was the best villain-ness sex that all of them ever had.