Greatest Orgasms in Movie History
From Jennifer Aniston collapsing in pleasure to the unforgettable dinner experience in 'The Ugly Truth,' we bring you the greatest orgasms in movie history.
What do we know about this extremely desirable event in our lives—the orgasm? We expect it to be powerful, elusive, and explosive or even mind-blowing. At the peak of our satisfaction, we become both sexy and vulnerable, as our bodies begin speaking for themselves. The facial expressions and bodily motions when we reach climax are so unpredictable and range from the sublime to the ridiculous. Orgasms in movies are even more ridiculous. They range from a bit exaggerated to entirely unbelievable, but we still like it, imagining that it could one day these portrayals could become our reality. We can't help but be lured in the world of inexpressible satisfaction while watching these great movie sex experiences!
The first of our best orgasms in movies is from Bruce Almighty. Bruce (Jim Carrey's), bestowed with God's almighty power, uses it to present an unforgettable and magical orgasm to his girlfriend Grace (Jennifer Aniston). After a passionate kiss, feeling aroused, Grace ran into their bathroom, took off her clothes, and replaced them with a white negligee. While she is in the bathroom, preparing for a night of love, she suddenly begins feeling unadulterated pleasure. Stunning waves of intense sexual pleasure cause her to drop her lipstick and knock over several tubes and bottles. She is breathing deeply and can hardly stand straight. Finally, full of passion and satisfaction, she collapses on the toilet, and finally falls onto the floor in complete ecstasy.
One of the funniest movies of the 1980s, A Fish Called Wanda, shows us the funniest face of a man, named Otto (Kevin Kline), experiencing one of the greatest orgasms in movie history. It probably can be named as the funniest orgasm shown in film. With his partner's legs askew in the air, Otto is trying reach ultimate pleasure. He is singing Domenico Modugno's "Volare" while making love to his partner in crime, Wanda (Jamie Lee Curtis). As the pleasure gets more intense, he loses his composure and goes cross-eyed at the climax of his satisfaction. There's no doubt that this orgasm really steals the show. Kline's orgasm face potentially influenced his career and helped him to nab his Best Supporting Actor Oscar.
Porky's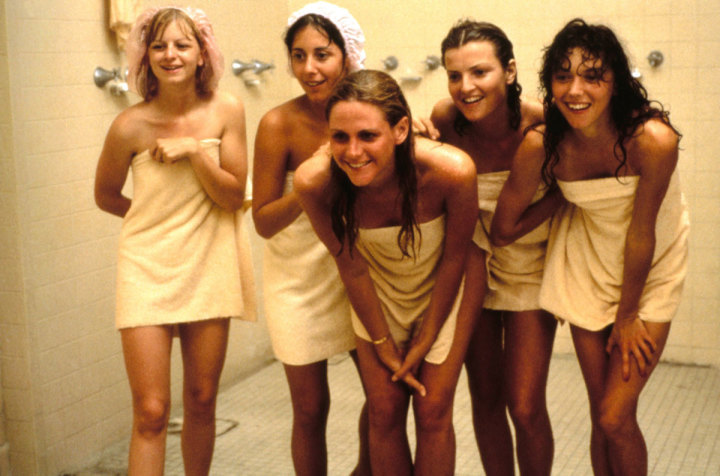 The very original sex comedy Porky's features Lassie (Kim Cattrall) having one of the highest pitched orgasms ever recorded in a movie. Her nickname, Lassie, is not coincidental, considering what we see in her orgasm scene. Lassie makes dog noises during sex and such frequencies can hardly be heard by humans! As soon as Lassie arrives at the peak of satisfaction, her eyes get wider and bigger than usual. When climaxing, she strikes a loud chord and gradually becomes so loud that possibly everyone in the city could hear it. You are free to decide whether it is funny or annoying but I guess many men would feel a degree of satisfaction in making their partners howl like that.
Perhaps the most explosive orgasm in movie history is in Scary Movie. In the very enclosed space of a walk-in freezer, a girl helps her boyfriend to "see the heavens" while masturbating him. It is clear to her that he is not faking his pleasure—he is not moaning, he is shouting loudly when he finishes. The fountain of semen he releases is further proof of his pleasure. It plasters her to the window, adding a comedic end to the buildup of this orgasm scene.
Most women know how to pleasure themselves with a vibrator, but few do so in public. But what if you were sitting in a crowded place, and were suddenly letting everyone watch the pleasure your bullet provides? Katherine Heigl and her character Abby go through just this in The Ugly Truth. Abby drops her small vibrator during a formal dinner when a boy finds the control and decides to test it. The lad sends her wild by spinning the dial. Abby can't hide her sudden rush of an ineffable pleasure. Gerard Butler and the other guests look on in a great amazement. Women are starting to envy Abby's unbridled ecstasy while men are bursting with desire. Do not miss out this orgasmic dinner scene!
According to the Kinsey Institute, 71 percent of women do NOT reach an orgasm regularly with their partners during sex. Sad, but true. Nevertheless, they look so natural and realistic sometimes when faking it that their partner's don't know the difference. This was Sally's point in our next top-rated scene from Rob Reiner's movie When Harry met Sally. Harry Burns (Billy Crystal) and Sally Albright (Meg Ryan) are good friends who keep bumping into each other over the years. They are terribly unlucky in love and obviously attracted to each other. Our next romantic and one of the most spectacular orgasms in movies takes place at Katz's Deli in Manhattan. Harry is trying to convince Sally that he knows when a woman is faking an orgasm. Sally calls this rubbish and is ready to prove the opposite. Meg Ryan's fake orgasm has gone down in movie history and became the iconic movie orgasm. This sweet pretended orgasm became so famous that Katz' Deli made a sign above the exact seat Ryan sat at—inviting fans to experience the same!
Scary Movie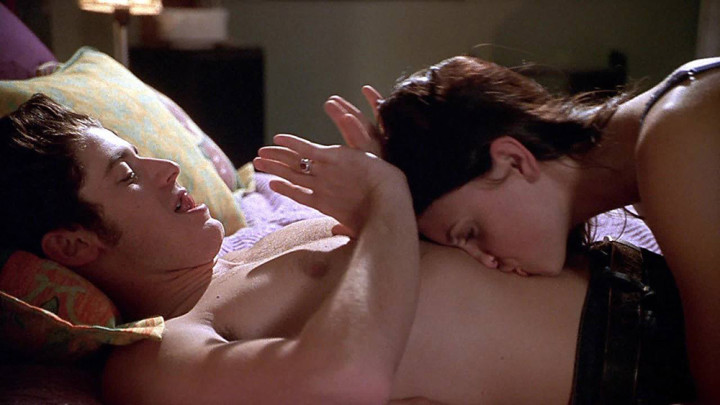 Scary Movie makes the list again, this time with the scene between Bobby and Cindy. Sustained self-abstinence is bound to lead to such an explosive and powerful orgasm as that experienced by Bobby (John Abrahams). The lad was going to gently deflower his virgin friend Cindy (Anna Faris). Everything went fine until things got hot and Bobby lost his composure. Unpredictable pleasure drove him crazy and he couldn't help erupting like a geyser. It was a real explosion, one that plastered Cindy to the ceiling and made Bobby look like a zombie, emptied out almost into a skeletal husk.
Pleasantville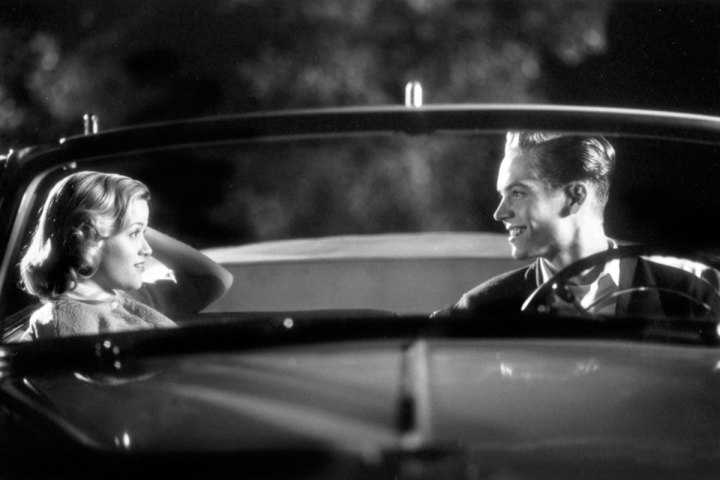 The last of the orgasms in movie history we are going to recount is rather dramatic and fiery hot! Joan Allen's character in Pleasantville, Betty Parker is a family mom living in a black and white world, nothing special. While exploring herself through masturbation for the first time in her life, Betty emerges into a new, colored world. Her climax led to a tree catching on fire outside the house. If all the women in the world could experience such great pleasure there wouldn't be enough firemen, I suppose. Gary Ross's underrated 1998 fantasy-drama is proof that reaching the highest peak of satisfaction is sure to light up your world. If only all orgasms were this dramatic!