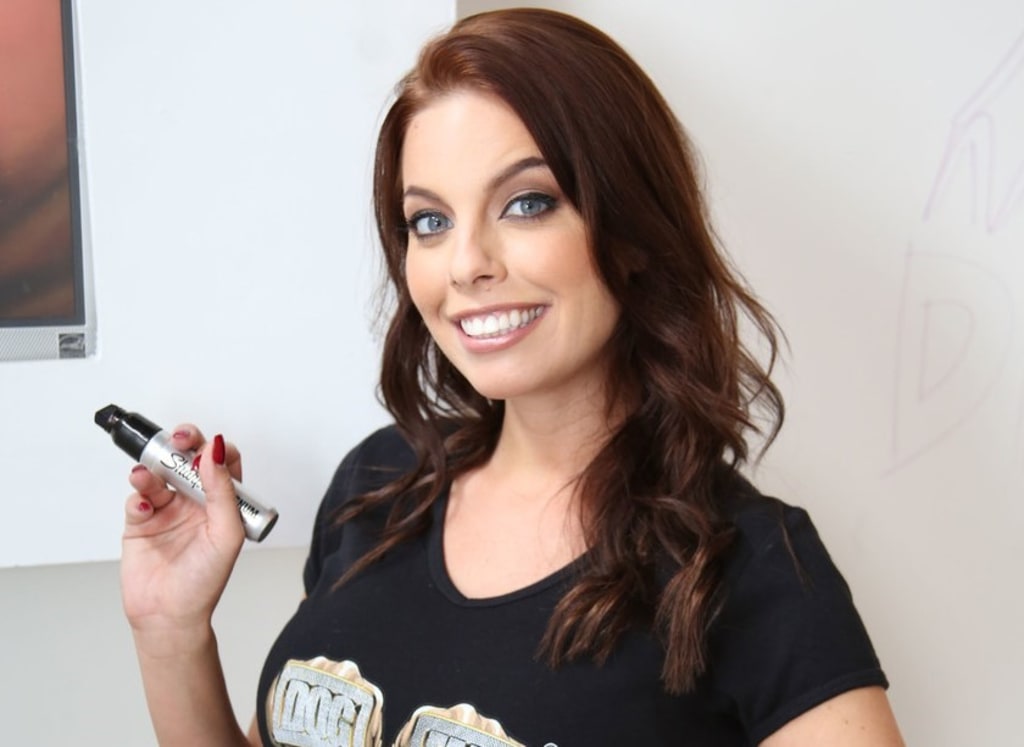 Gorgeous Britney Amber in a promotional shot for 'Dog Fart.'
I tend to mix it up when it comes to porn and recently stumbled across this website called 'Dog Fart.'
While it probably is the most disgusting name I've came across for a website; it had some pretty good material. It mainly focuses interracial porn; black guys doing white girls kind of stuff. Their website has a number of series which include 'Blacks on Cougars, We Fuck Black Girls, Watching My Mom Go Black, Interracial Blowbang, Cumbag, Interracial Pickup' and what we'll be looking at today 'Glory Hole.'
For a monthly membership to Dog Fart you're looking at $29.99 a month which is fairly standard across the internet. If you're lucky you might find a deal where you get a subscription for $20 a month but they're few and far between. For a 3 month membership it's $16.66 a month which is billed as one payment of $49.99. A 12 month membership works out at $8.33 a month and is billed as one payment of $99.99. Dog Fart also offer a day's trial at $0.99 which is fairly reasonable too if you just want a quick look.
This scene stars the glamorous 33 year old Britney Amber from California, USA. A former legal prostitute at the 'Bunny Ranch' in Las Vegas, Britney has been in some really hardcore scenes. She's previously worked at McDonald's and a hotel auditor before going to Nevada to work as a prostitute. After speaking to some of the girls at the ranch she was encouraged to try pornography and debuted in 2008. Since then she's had a pretty successful career managing to secure an AVN award in 2010 for 'Best New Starlet.'
I have to admit this scene I looked at today has to be one of the most 'grimy' I've ever watched. The dictionary defines grimy as 'thickly covered with ingrained dirt or soot.'
That pretty much sums up this scene as it's main arousal factor is the sleaze of the situation. Britney turn up to a hole in the wall where I'm presuming women go to 'suck dick.'
She's actually talking to her husband on the phone before she sits down and watches the pornography on the TV. Britney tells him she's at the mall with the girls just hanging out but it appears she's about to be with the guys instead. Britney pretends to be the good wife on the phone and it's particularly hot bearing in mind what she's about to do. She also looks absolutely phenomenal in a tight flowery blouse, denim skirt and high heels.
Britney manages to get him off the phone and starts to watch a porn flick which is on the television. I didn't know what she was watching at this point as we could only see the room from one angle but she starts masturbating to what's on the TV. I think these scenes are aimed at women who like black men too as Britney starts talking about how she likes all the 'black cock.'
She's watching a gang bang scene and seems to be getting pretty excited while doing so. To the left hand side of her there's a wall with writing scrawled all over it and two holes cut into it. I'm presuming this is the 'glory hole' where the women get to 'suck cock.'
Eventually someone sticks there member through one of the holes and much to the delight of Britney it's a huge black cock. Throughout the scene her husband keeps calling and she's forced to smile while talking to him. It's a nice little concept which creates the idea that she's a 'bad wife.'
Little stuff like that does a lot for a scene and it's good to see directors get creative with it. The blow job Britney gives is really sloppy and she really goes to town for the scene. She spits all over the guy's huge cock and is delighted when another guy puts his cock through the opposite hole. Britney's husband calls again and she tells him she's eating with the girls. The bad Californian makes out she has a mouth full of food while she speaks to her better half. As this is going on Britney is getting undressed; her tanned body looks amazing and makes for a good spectacle. There's a bit of sex as well as she takes off her g-string to work one of the cocks with her pussy. It's a good scene if a bit 'sleazy' but I'm sure most will enjoy it. I give it 4 out of 5; prepare for a 'grime-fest with Britney Amber!'
4 out of 5.