Gangbanged by Santa's Elves
Reading what people did to get on the Naughty List gets me horny and I prove I can be even naughtier than those slutty women by spreading my legs for Santa's Elves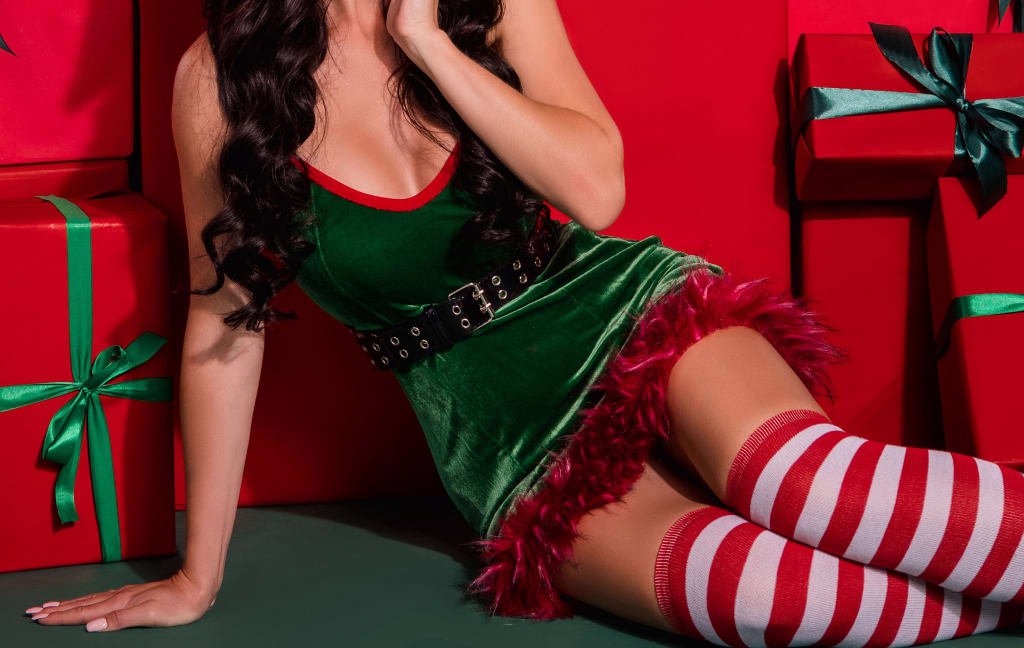 Photo by deagreez1 at DepositPhotos
At the North Pole, in the Santa's toy factory, the days before Christmas are always incredibly busy. But today is a special day. Instead of tolling away at preparing the gifts for nice kids today the elves can have some fun.
"Hey, Snowball, you ready?" Jovial says and pulls me towards the room when our shift is gathering.
I follow him eagerly and enter the meeting room where five male elves are already present, as excited as me for this interesting diversion.
It's tradition to read the Naughty List on this day. And not just the names; no, those are not as important as what people did to get on the list. Everybody grabs a page to scan through and we take turns reading the best bits. Stealing someone's garden gnomes, poisoning an old lady, being a pain in the ass when playing online games… there are a lot of reasons to get on the Big Red's shitlist. But my attention quickly shifts to more… depraved… reasons to land on the List.
Cheating on spouses, public sex, being a total slut for strangers…. I lick my lips as my gaze slides down the page.
"Snowball, share with us! I can see you got something good!"
I blush and try to hide the page but Jovial wins the ensuing scuffle for it.
"Well, well," he says, his eyes widening and then darkening as he reads. "Wearing a vibrator to work, fingering herself while on the train, selling her body for sex…. Ha! That one is the winner: thinking dirty thoughts about Santa!" A laugh goes through the crowd but hey, who wouldn't want to bang our employer?
"What can I say, he is a chunky piece of ass and a silver fox. It's weird to me more women don't land on the Naughty list because of this," I say with a shrug, empathizing with the woman.
"Oooh, Snowball, spill the tea! Does that mean you have the hots for Santa Claus?"
"Guys, guys, it gets better! This woman wants to be banged by Santa's helpers too!"
My brain freezes as I imagine all the male elves in the room fucking me.
"Do you think more women should want this as well?" Jovial purrs into my ear, waving the Naughty List page before me.
I snap out of my fantasy and look around the room. The Elves' gazes are hungry, their blood stirred by reading the list.
"It's a good thing we are exempt from the Lists, no?" Cheersy comments innocently.
Every one of Santa's helpers is indeed taken off the List as no one wants to work with such an invasion of privacy hanging above them; our employer knowing each bad and good thing we had ever done would be a nightmare. And that left us room to be sometimes completely naughty, straight under the Santa's nose.
"What are you suggesting?" I ask, my heart beating fast.
"Why don't we have some fun?" Jovial takes the lead of the conversation. "How about we play a game?"
"What kind of a game?"
"Let's take a page at random and you will do the dirtiest thing that's written there," my friend proposes with a wicked smile.
"And what's in it for me?" I ask stubbornly, not letting them see how the idea is getting me wet.
Dreamy, an elf who always likes to get into fights, pushes me into a wall.
"Don't pretend you don't want our eyes on you while you do indecent things. We all know you would be at the top of the Naughty List if Santa looked at your thoughts."
I can't hide how my breath hitches in my chest and how my tongue comes out to wet my lips as he presses me against the wall.
"Give me a page," I say, not letting my eyes stray from Dreamy's fiery ones.
Someone scrambles for the paper and the requested page is thrust into my hand. I scan the magical writing quickly to find the filthiest thing on the list.
"S-sucking two cocks at the same time," I read out loud.
Dreamy grins at me, a hint of fang showing in his smile, even as the bell at the end of his hat jingles merrily.
"What are you waiting for? On your knees, there is a cock in front of you. And why don't we invite Jovial over? After all, it was his idea."
I try not to combust from lust and embarrassment as Dreamy takes a step back to make room for me. I fall on my knees in front of him and Jovial joins him at his side, his hand already reaching for the zipper of the green-and-red uniform. In no time two half-hard cocks spring in front of my face and I swallow thickly, my throat bobbing as I prepare myself for the task before me, anxious with the knowledge all six elves in the room are looking at me.
I start with a lick. My pink tongue stretches out to swipe over the tip of Dreamy's cock before I give the same treatment to the cockhead on my right. I switch between the two erections, trying not to favorize anyone, and with every pass I grow bolder. My tongue presses harder, sneaks into the slit to taste a drop of precum, circles around the head, licks a stripe down the side… I play with one cock than the other and I watch as the two erections fill with blood, growing harder, plumping up under my administrations, making something like pride rise in my chest at the effect I have on them. I'm having a great time until one of the elves from the side snorts.
"The list said: 'two cocks at the same time'. It looks to me like you are doing one at a time."
I glare at the smartass, Tinsel, until he holds up his hands in surrender. But he kinda has a point…
I use my hands to encourage the two elves closer, until their dicks are side by side, and when I give the next lick I get both of them at the same time. It's impossible to do it all the time if I want to properly go down on them but when my mouth is busy with one dick I keep my hand on the other, never leaving either Dreamy or Jovial without stimulation.
"Now, that's better!" Tinsel praises and I hum with satisfaction around the cock I currently have in my mouth.
I service them both until saliva is dripping down my chin and a line of it hangs from my lips every time I switch my target. I make this dual blowjob as messy as I can, knowing what a sight I have to make. As the minutes pass Jovial and Dreamy start to fight over my attention, wanting to be the first to blow their load.
"Suck me, Snowball, c'mon," Jovial urges.
"No, baby, stay on my cock, you like how it stretches your lips, don't you? Fuck, you are so good at this," Dreamy pants, his cock pressing into my mouth with the sway of his hips.
I look up at them both, my two hands on their dicks, and grin.
"I will swallow the cum of whoever finishes first," I declare.
Their desperation grows with such an enticing reward and they fuck my mouth hard when it's their turn and rub their cocks on my face even when it's not. Jovial finishes first and I tighten my lips around him, providing a hot heaven for the spurts of his white cum, my throat working around him eagerly, milking every drop. Dreamy is not far behind and he comes all over my face before Jovial even pulls his cock out. Their spend is everywhere; inside and outside of me. On my tongue, dripping from my cheeks, even sliding down my nose. I close my eyes and turn my face to the crowd of spectators, letting them see just how debauched I look, how dirty they made me. Without a doubt I am debased enough to land on the Santa's Naughty List in normal circumstances.
But this is only the beginning. I'm striving to be as naughty as the other women mentioned on the List and a mere dual cocksucking won't win me a place of pride among such sluts. I have to do better.
"What's next?" I ask and stretch out my hand.
After another mad scramble I'm given a different page from the List. I clean my face with the edge of my skirt, resigned to getting my clothes ruined tonight, and focus on the magic text.
"Letting three men come in me," I read the dirtiest thing I can find. My hand throws the page to the side letting it fall to the floor as I cock my heave to the side and look at the gathered elves. "I bet we can do better than three."
My challenge is met by immediate reaction from Tinsel who grabs my hair and pulls me into a dirty kiss. His free hand scrambles to get me out of my clothes and his efforts to disrobe me are joined by the other elves, their fingers pulling and prodding until I am completely unraveled, standing naked in the middle of the room surrounded by six men.
"I'm going first," Tinsel snarls at the rest of the men, territorial like a feral dog.
He pulls his cock out and presses me into the wall, hooking my legs around his waist and letting me drop onto his cock. I cry out as my pussy is stretched around him, his length pressing deep inside of me, as he doesn't give me any time to get used to the feeling. No; he starts bouncing me on his dick, up and down, until I'm dizzy with it. The bell at the end of his elf hat jingles with his thrusts, creating a decadent melody with my moans and the sounds of Tinsel's cock slapping into my pussy. My previous activities already made me horny, priming me for release, and it doesn't take long before I shudder, my back arching as a mewl of pleasure leaves my lips. My climax makes my pussy tighten around the blissful invasion and Tinsel curses into my neck, his orgasm practically wrenched from his cock by my thirsty pussy.
"T-that's one," I pant out, my boobs heaving with my breaths. "Who's going next?" I ask even before Tinsel pulls out of me.
My legs are slightly shaking when he drops me to the ground and steps away, his urges satisfied.
Dazzle takes his place and leads me to the table where we usually discuss our upcoming workday. But today instead of papers it's me sprawled on its surface. I lie on my back on the hard wood and Dazzle takes a moment to appreciate my tits, his tongue playing with my pebbled nipples before he turns his attention to my cunt. I blush when I see a string of white cum dripping from my pussy but the lewd sight seems to only entice the elf before me. He takes in a shaky breath full of want and presses into me. He doesn't charge in like a bull in a porcelain store the way Tinsel did. Instead, he takes his time, rolling his hips into me slowly, pushing inside of me gently, deeper with each thrust, until I am the one who places a hand on his neck to get him closer, deeper, clawing at his back to spur him on.
Soft ah's and oh's leave my mouth, a staccato sound of pleasure and want echoing in the workroom as I get fucked with increasing fervor. It doesn't take Dazzle a long time to come with the way everybody here is already on edge. He kisses me as he spills inside of me, adding to the cum already inside me.
Cheersy takes his place, his hand already working his cock furiously, letting me know he could barely wait for his turn. It doesn't surprise me when he comes the moment he sheathes his painfully hard dick into my cunt.
"Four. That's four," I moan out.
"Already naughtier than the person from the List," Jovial agrees, back to his cocky self after recovering from blowing his load into my mouth. I can see his cock is standing proud once more, ready for more action. "How about we finish it with a bang? Tinsel has a good idea."
"You should service both our cocks at once, Snowball. But this time do it with your pussy instead of your mouth," Tinsel says to me and I shiver.
Both of them? In one hole? That's quite a challenge. And I never step down from a challenge.
"Where do you want me?" I say, tossing my long hair back.
Jovial and Tinsel pull me to the floor and arrange me to their liking. I end up with my back pressed against Tinsel's chest, his cock the first to enter my pussy, while Jovial takes the front. The head of his cock pushes against my already occupied entrance, trying to slide alongside the other cock and to force my pussy to open wider than ever before.
The pressure as he slowly pushes in is unbelievable. It dances on the edge of slight pain and too much sensation but I grit my teeth against it and focus on feeling every inch of his cock as he slides into me, carving space for himself, pushing me to new heights of this delirious experience. I cry out when he finally settles fully inside of me. It feels like there's not enough air in my lungs as the two men fold me between them, holding my legs up for better access. When they start to move it's a rush of bliss that overwhelms all my senses and leaves my drooling, my mouth open as a continuous symphony of moans, groans, and panting breaths leaves my lips. Once they find their rhythm it's devastatingly good, better than I could ever expect.
It feels like I was made for this. For taking two cocks at once, for being a slut for a room full of men, for exposing myself as a depraved girl drunk on lust. Tinsel bites my neck and I scream, the sound turning into a sob of bliss as I shake apart between the two elves still frantically hammering into my stretched pussy. They come in me, one after another, fighting for space within me, for the Holy Grail of spending as deep inside of my cunt as possible, their grunts nearly animalistic as wet heat fills me and I can't help but feel pride at making it to my goal of servicing six men with my pussy.
When they pull out cum rushes out of me, rivulets of white sneaking down my legs to pool onto the floor. It's a mix of all the men in the room and I press two fingers inside of my throbbing pussy and bring them to my mouth, closing my eyes and savoring the taste.
It feels like I had got away with tricking the universe. After all, I did wicked things that should put me on the Naughty List…
But I still got my gifts.
***
This story is a part of Fun with Santa collection where you can read more of my dirty Christmas stories. Get more fun with Santa (and his elves) here
fiction
About the author
Dirty thoughts turned into hot stories. Nessa likes to play with different kinks and themes to create interesting scenarios that will make you beg for more.
Reader insights
Be the first to share your insights about this piece.
Add your insights