Fucking Your Girl in the Arse
An Anal Sex Erotic Short Story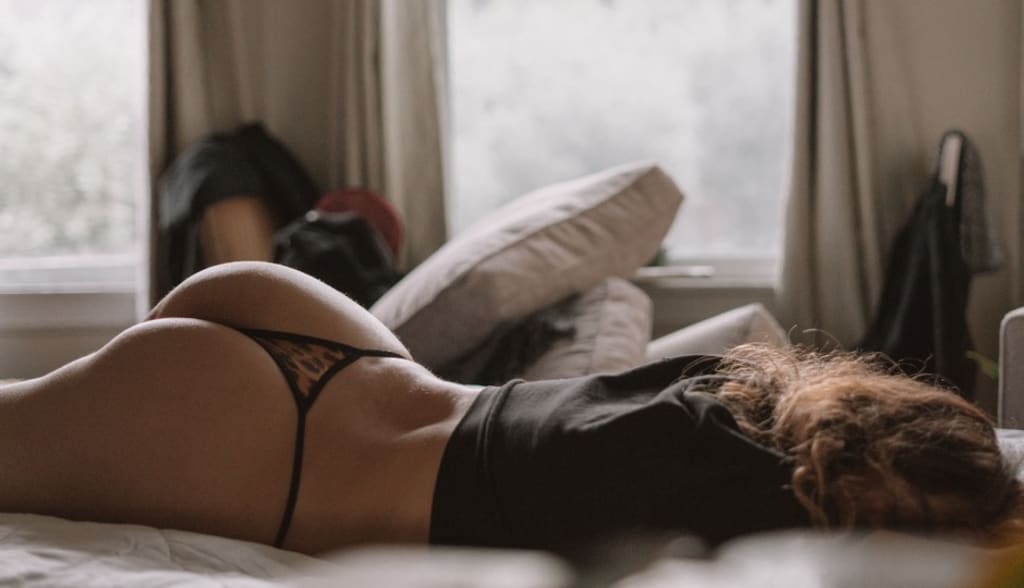 Your girl doesn't take it there, does she? She's a good girl.
That's what she tells you, anyway. But then you don't do it like I do.
You don't kiss your girl like I do. You don't bite her lip and pull her hair. You don't shove her down onto the bed and yank her top up like you own her. You don't pinch her nipples in that way that makes her gasp and writhe.
You're too gentle with your girl. You don't know about her wild side, and how to bring it out of her. You don't understand her. You don't pull her jeans off and flip her over, and order her to show her arse off like the slut she really is. You don't give her any hard smacks on her behind to get her adrenaline pumping.
But I do. I'm not scared to take your girl in hand. I'm not scared to dominate her. I make her stay like that, on all fours, with her back arched and her arse in the air for my enjoyment. I stroke her through her knickers and she's wet already. I reach under and rub her tits, and pull on her nipples, and she moans and quivers for me. I bet you've never heard her moan like that.
I mash your girl's knickers into her cunt to make sure they're sopping wet, then I tell her to take them off. I tell her to reach back and to do it slow so I can enjoy the view as she exposes her chubby little bottom to me. Her smooth pussy lips nestled between her thighs are flushed and slick already.
You don't know how much your girl likes to be humiliated, do you? It's never even occurred to you. But she does. Your good little girl likes to be treated bad. It gets her off like you wouldn't believe.
I take your girl's knickers from her as she slides them off over her feet, then I walk around to her front and I arrange them on her face. I make sure the soiled crotch is over her nose and mouth. Our eyes meet and her face reddens, but she looks up at me through her underwear like I'm her fucking god. Goddess more like.
I step around to your precious good girl's rear again. I spread her cheeks open like she's meat, and she groans as I do it. I slide a finger into her cunt, and she moans and presses back onto me like a bitch in heat. She's dripping already, so I push a second finger into her and fuck her with them. I'm not gentle, but she doesn't like gentle.
Your good little girl begs for more. She presses back onto my fingers harder and she whines like a whore. She wants me to touch her clit. She's aching for it. I tell her what a slut she is, but it just makes her moan louder. I like to watch her come, I like to see her lose control, so fuck it, I spread her lips with my other hand and I find her clit.
You don't touch your girl like I do. You don't know how. I twist my fingers inside her, I rub her g-spot, I slide the pad of my thumb around her clit, and she moans and pants and trembles like she's desperate for it. I take my time though.
I slowly get your girl right to the point of no return, but I don't let her come, not yet, I keep her there. I tease her. I hold her on the edge, and she whimpers and pleads for release like she doesn't have a shred of self-respect.
Your girl makes a real scene of herself as I keep teasing her. She bucks on my fingers, she presses back, she begs for me to let her come, and I laugh at her, but eventually I show her mercy. I stroke her clit with the pressure she needs, I tickle her g-spot with the same rhythm, and she explodes. She comes so hard her whole body shakes. She screams. She shouts my name, not yours.
I take my thumb off your girl's clit when she can't take anymore. I keep my fingers in her cunt though, and I fuck her lazily with them. I keep her gasping and groaning. I don't let her catch her breath.
I push a finger from my other hand into your girl's pussy along with the other two. I twirl it around to get it nice and wet, and your girl gulps and moans and tells me how good it feels. I laugh once more and tell her what a whore she is, and she presses herself back onto my fingers again. She's got no self-control, your good little girl.
Once my finger's slick from your girl's cunt, I slide it out and move it higher. I press it against her tight, sensitive, little arsehole, and she moans louder. I massage her there, I press my finger against her firmly, the way she likes, and I feel her coming open. I press harder and the tip of my finger slips into her backdoor.
I hold my finger still, but your girl presses back. She works my finger slowly into her own arse. It's not the first time we've done this. She knows what to do. Your girl keeps going until I'm in up to the second knuckle. She feels so tight around my digit, like she's squeezing me.
I move my finger in a circle, pressing against the firm ring of muscle, and I feel your girl relaxing. I move my finger faster, I press harder, I make bigger circles, and she comes open for me like she always does.
Your girl makes guttural grunting sounds as I finger her arse. She's a filthy animal. She's your love, your precious, your one and only, your perfect beautiful darling, but she loves this. She craves it. I push a second finger into her arse, and she trembles and moans loud and long.
I slide my fingers in and out of your girl's behind. I move in time with my fingers in her cunt, as one hand moves forwards, the other pulls back, over and over, I press deep, and she makes those noises she only makes when I'm in her there. She gets close to coming again, even though I'm not touching her clit. She's awful, your girl, a disgrace. You don't even know how bad she is.
I take my fingers out of your girl's cunt, I only finger her arse now, just to show her how much she loves it, how much she needs it. I push a third finger into her. I work them as deep as I can, twisting them inside her, and she's almost there now. I get her right to the edge, again, but then I stop. I pull my fingers out of your girl before she gets there.
She complains, your love, your one and only, she begs once more, but I ignore her. I get up and move around to her front and I kneel by her face. I pull my cock out and slap it against her cheek. The silicone makes such a pleasing sound as it hits her.
I tell your girl to open her mouth, but she already has. I pull her knickers to the side and I slide my fake cock between her lips.
I can't feel anything, obviously, but I love the sight of it as she sucks me. How desperately she does it. And it does something to your girl too, of course it does. It's the domination she loves. Being on all fours with a prick in her mouth and her underwear over her face as I call her a bitch and a whore.
Your girl sucks on my silicone cock greedily. She moans as she does it. She's such a fucking slut. I slap her face a bit, only lightly, but it does the trick. She drops her arse down and she rubs herself frantically against the bed covers. I push my cock deeper and make her cough and gag, and she humps the bed with even more enthusiasm. If only you could ever see her in this state. Pity you never will.
Your girl's so horny she brings herself off quickly. She thrusts herself against the bed like her life depends on it, and suddenly she's writhing and moaning like a pig in filth. She doesn't stop sucking my cock though. She's a pro, your girl.
I get behind your sweetheart again when she's finished. She's relaxed, she wants it, and my cock is wet from her mouth, but I still squeeze fat slugs of lube between her arse cheeks.
I rub the lube into your girl, I push it inside her open sphincter with my fingers, I squeeze more and more onto her until she's glistening and dripping with it. I even put the nozzle of the tube into her arse and squeeze until she moans and squirms. I cover my cock in it too. Your darling's a dick-loving whore who loves being fucked in the arse, but a girl can never have too much lube.
I put the head of my cock against your girl's arsehole. I tell her to spread herself and she reaches back with both hands and pulls her cheeks apart. I tell her to beg, and again, she does. She pleads for me to put it in, to fuck her in the arse, and so I do.
I angle the strap-on cock and I slide the first two inches of it into your girl's behind. She gasps and shudders. I hold still and she takes deep breaths to calm herself. I'm always gentle with her when we do this, at least at first. It's why I'm the only person she does it with.
You'd fuck it up, and she knows that. You wouldn't be able to hold yourself back. The sight of her bent over, her back arched, her beautiful round arse spread, your cock disappearing into it, that, and the feel of her tight sphincter holding you so snug would be too much for you to take. You'd thrust into her, you'd go too quick, you'd hurt her, that's why she won't let you put it there. That's why she only lets me.
Your girl begins to move before I've even tell her to. Slowly, just a touch, she eases forwards, then she presses herself back and takes a little more of me into her. She does it over and over, she takes deep, ragged breaths, but she moans softly too, and gradually she works my cock deeper into her arse. The sight of it makes my chest tighten and my cunt throb.
I lean forwards and reach under your girl's body. I squeeze her breasts, I roll her nipples, I make her moan louder and move faster. I rub her arse cheeks, I clasp them, I spank her, and she groans and pants again.
Your girl moves faster. She takes me deeper. She keeps going until I'm in her all the way.
We hold still together like that for a time, my prick buried deep inside your girl, then she looks over her shoulder at me and she asks me to fuck her arse.
You'd never imagine how much your girl loves it. But you don't know her like I do. You've never seen this side of her, have you? She hides it from you, and everyone else. But I know her completely, and I know just how she likes it.
I take over when I know she's ready. I grasp hold of her hips and I start to thrust. I go slow, even though she's juddering and trying to press back onto me. An arse fucking always works best when the girl wants more than you're giving her. At first anyway.
I pick up my pace, but slowly. I slide more and more of my strap-on cock into your beloved's behind, and she grunts and groans and shakes in ecstasy.
Your girl moans louder and louder as I fuck her arse. She trembles all over, her body feels hot to the touch, beads of sweat break out all over her. She looks back at me and her face is red, she's straining, she's on the edge again, and she begs me to fuck her harder. I don't tease her now. I give it to her good. I hold her and I pound her.
Your girl makes a real song and dance of it as I slam into her beautiful arse. She makes so much noise. She reaches down between her thighs and she strums herself. She comes quickly, then she comes again, and then again, as soon as one orgasm finishes another rises up to take its place. She's gone into that wonderful state where she comes over and over, and she gets wilder with each climax.
Your girl loses all control. She's overwhelmed by the pleasure and the raw wickedness of what I'm doing to her. She's just instinct and adrenaline and neurotransmitters and firing nerves now. She can't think properly. All she can focus on is her pleasure. She's primal. An animal. She yelps and shrieks and shouts my name over and over. Then she looks back at me and pleads for me to come in her arse.
I reach down and take hold of the hollow scrotum hanging beneath my strap-on. It feels heavy and warm from the hot milk I filled it with earlier. I shove my cock all the way into your girl and I squeeze that scrotum hard.
Your girl comes again, her grand finale orgasm, she screams and shrieks as I fill her rectum with warm milk. There's so much it gushes out around the cock in her arse.
I keep going though, I pump and pump and your girl comes over and over, and all that milk goes everywhere. It makes a glorious mess of your precious darling and the bed you share together.
I fuck your girl until she's done, then I let her lick my cunt and arse to show me her gratitude. Something else you didn't know she loves.
Want to read more stories like this?
If you've enjoyed this story, then you might like to try one of our erotic short story collections on Amazon. They're explicit and detailed, and feature group sex, sex with strangers, sex with lovers, lesbian sex, oral sex, anal sex, voyeurism, and domination and spanking. Some are wild, some are even wilder.
Click on the link below to read a sample: