Fred Just Needed Some Company
He made a new friend that he didn't expect.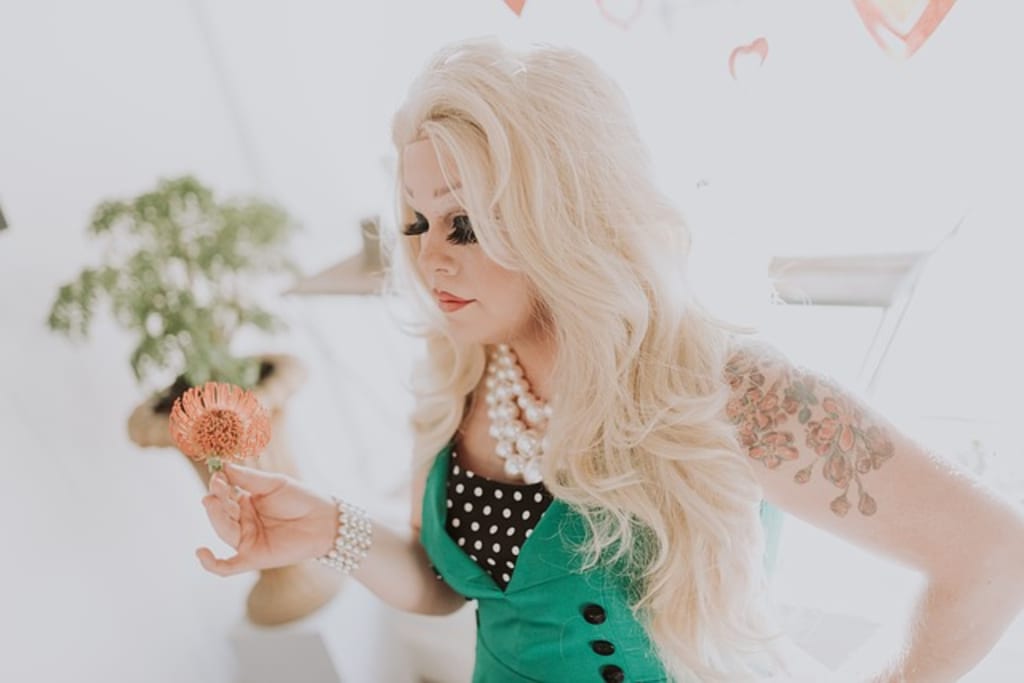 One night it was rainy outside, and Fred was all alone and wanted some company, so he took a ride down the strip to find himself someone to keep him company for a few hours. There were many women out walking around that night and all of them looked very attractive to Fred, but there was this one who stood on the sidewalk in front of a motel that peaked his curiosity.
She stood tall with the sexiest legs in those high heels. She had long wavy blonde hair and her makeup was just perfect. Fred checked out her lips and he thought to himself that she could probably suck a man's lips right off his face, but there was something about her that he liked, so he pulled over in front of her. She walked up to the car and leaned over into the window, and Fred asked her if she would care to keep him company?
She agreed and opened the door, getting into his car before they pulled off. They rode around for a few minutes talking before deciding to go back to her place. They headed back to the motel where he found her and parked outside. Fred got outside and walked around the car, meeting up with her and together, they walked inside.
They arrived at her door on the third floor and she stuck her key in the door. When it was opened, she walked inside and Fred right behind her. He closed the door behind himself and walked over to the little love seat in the corner. She told him to have a seat and make himself comfortable.
She walked over to him and sat down next to him, rubbing on his shoulders. She was trying to relax Fred, which was working, and then he placed his hand gently on her thigh and felt how strong it was. He thought to himself that it must be spending all those hours in her heels that would make them strong.
She reached down and began unbuttoning his shirt, taking it off him. She loved his chest and began running her nails softly over it, which caused a little commotion down in his crotch area. He was becoming more relaxed and aroused at the same time. He tried to hide it, but he couldn't. She saw that she was arousing him and removed his hand from his crotch area and unzipped his pants.
He stopped her and asked what she was doing? The woman raised her head up and kissed him passionately on his mouth before pulling his penis out of his pants and sucking on it. Fred laid his head back in ecstasy as she sucked on his penis. She turned around and climbed up on the couch on her knees with her round butt in the air.
He reached over and began rubbing her butt in circles, which made him so excited. After she sucked on his penis for a few minutes, she stood up pulling her panties off from under her skirt and climbed up on the couch straddling his lap. She reached down and grabbed his erect shaft and sat right down on top of it. She slid it all the way in and it felt so good to Fred. He noticed how tight she was like she hasn't had sexual intercourse a lot.
As she rode Fred's hard penis, he kept feeling something hitting his groin area and knew that she was thick enough that he shouldn't feel her pelvic bone much. It began to get harder and while her head was lifted back and she was riding him, Fred lifted her skirt in the front and saw a hard penis bumping into his groin area.
It shocked him at first and almost told her to get off him, but it was feeling too good and her penis looked so beautiful. It had a long shaft with a pronounced vein underneath and a fat mushroom-like head. He reached his hand down to touch it and found that it was nice and smooth to the touch.
Fred took his hand and pulled her penis out where he could get a good grasp on it and began stroking it while his penis was being milked by her vagina. She looked down and saw that Fred found her penis, but wasn't freaked out by it and that he was stroking her penis too.
He had never been in that situation before and decided to try more since it was erotic. He looked up and told her to penetrate him. He wanted to feel her penis inside him, so she climbed off and they both got on the floor, sitting facing each other. She had him lay back while she took her penis and slowly penetrated him in his anus.
Once she was inside, she pulled him towards her and up on her lap where he was sitting on her penis. It hurt at first, but then it felt good. She reached around and grabbed his butt cheeks, spreading them further apart so she could get deeper inside him while he moaned. There Fred was, sitting on this woman's lap with her penis deep inside him.
He looked down and saw her penis in between them. Fred reached down and stroked it while she raised him up and down on her penis. It was Fred's first time with a shemale, and he was absolutely loving it. He stroked her hard penis in between them until it ejaculated all over both chests, and Fred was even hit in the face once. He felt her orgasm deeply inside him and found it to be very erotic.
Once everything was done and everyone cleaned up, Fred exchanged numbers with her and made a new friend that he was happy with. He has been seeing her every week since that night and finds her company enjoyable.
About the Creator
I'm a forty-eight-year-old woman who became a published author back in 2016. I write fiction and nonfiction in many different genre. I love to write and tell stories to the world and hope that everyone enjoys them.
Reader insights
Be the first to share your insights about this piece.
Add your insights