First Class POV
Starring Anna Bell Peaks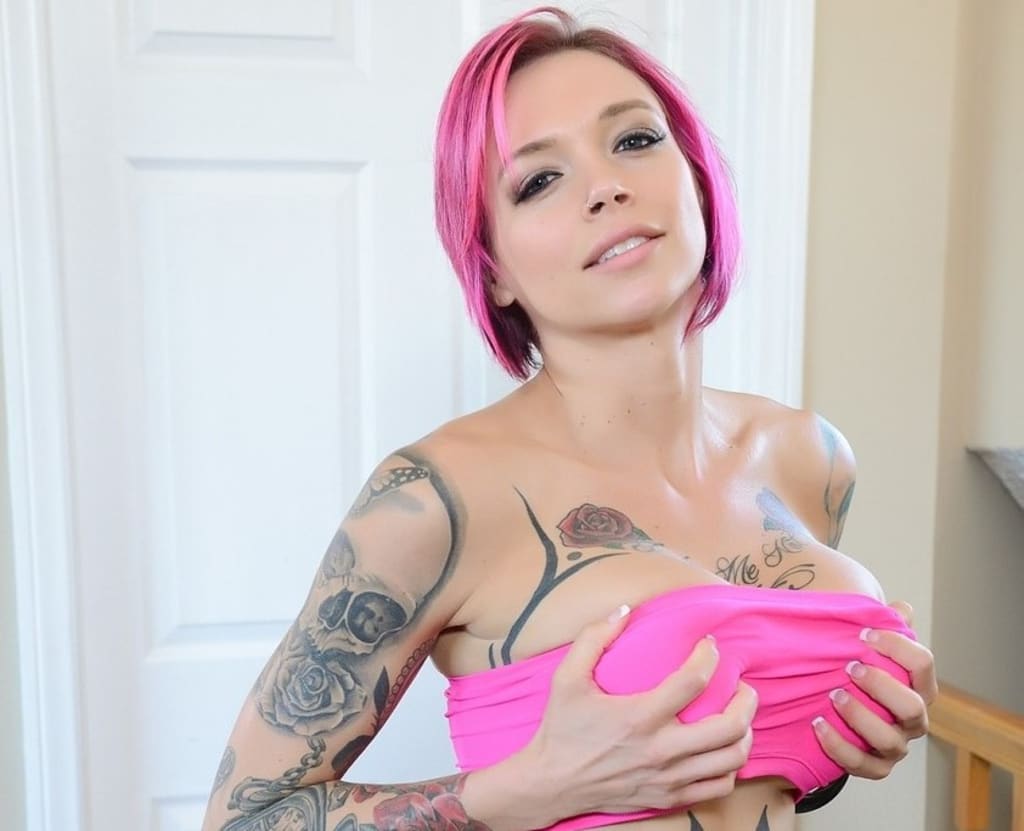 Anna and her massive 'G' sized breasts.
I decided to continue my search for quality porn away from the usual sites that I visit such as Naughty America, Brazzers & Reality Kings. While these 3 sites always do guarantee quality models and production values I feel that readers of my articles might want to try something different for a change. There is much choice out there; so much so that even I didn't realize how much was available to men and women. You'll think you've found the best quality stuff and then bang!
You'll find something completely new and seductively alluring which will make you want to investigate. Personally I absolutely hate 'point of view' porn (POV) as it just seems so dumb. It's strange because most of the time I actually hate 'First Person Shooter' video games unless they are well done. Now I can finally say the same for POV porn as I managed to find a scene which was well filmed and well produced. I stumbled across this film on 'First Class P.O.V.com' which didn't actually seem that bad.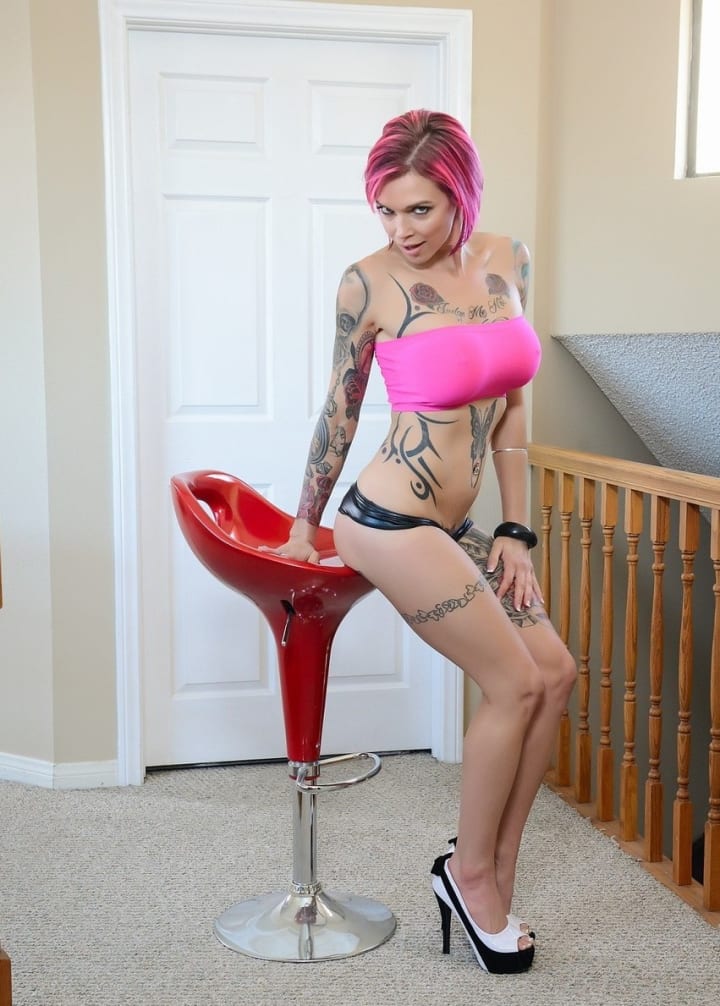 'First Class P.O.V' is part of the 'Spizoo' Network who I presume have a large number of these types of websites. This one is actually pretty expensive considering you would only get this genre of POV films. For a years subscription the price stands at $60 (which works out as $5 a month;) If you wanted a rolling month by month membership it would be a bit more expensive at £29.95. At that price you would be much wiser to get the year's membership which would be the cost of 2 months on a rolling contract. There's actually a deal on at the moment where it costs $5 for a 2 day trial which is re-billed at $15. You'd have to be quick to cancel it or the cost might add up quickly!
The scene I'm looking at today stars delicious Californian Anna Bell Peaks. The magenta haired star has stunning curves of 32G-25-32 and is known for her heavily tattooed look, pieced tits and her squirting performances. I'm not quite sure if the Californian just likes doing blowjob scenes but she does seem to get very excited throughout them. I previously watched her in a scene for 'Mommy Blows Best' where she play a dude's stepmom. Then again it could be a case of taking whatever work you can get and if you like sex then chances are you like giving a blowjob.
While at college in 2014, Anna paid for her studies by publishing videos of herself on the internet. Not long after that she began working as a 'webcam' model on websites such as 'ImLive', Chaturbate and My Free Cams.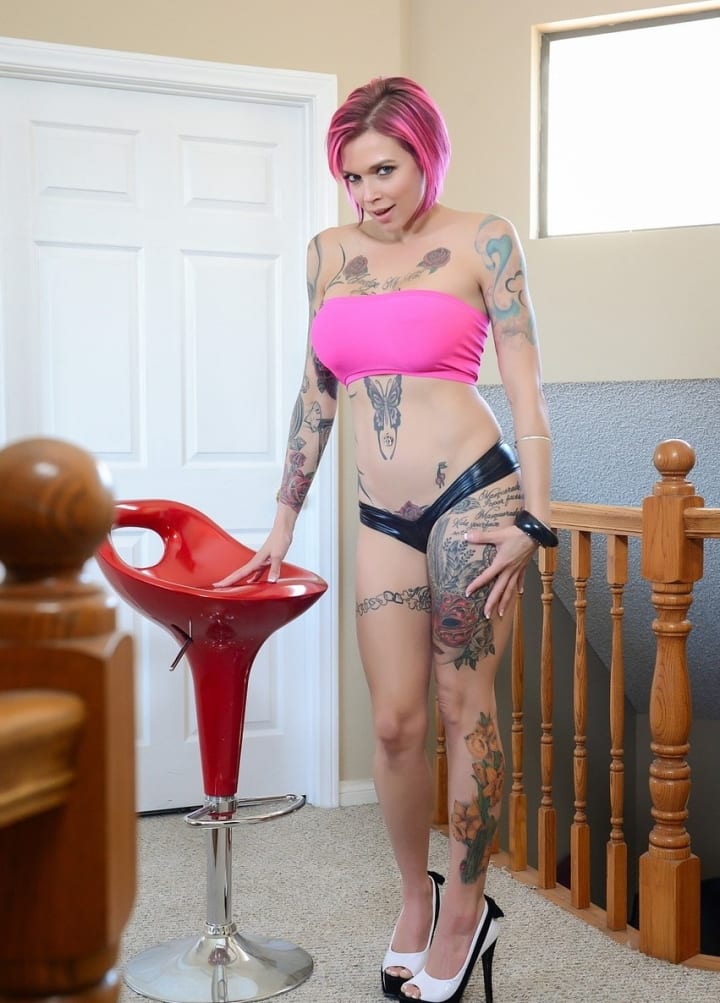 It was actually back in 2015 (not that long ago) at the age of 34 that Anna started in the porn industry. It appears that because of her unique look she has become quite a success as back in 2016 she was nominated in the AVN Awards for 'Best solo/tease performance.'
The following she managed another two nominations at the XBIZ Awards, most notably for 'Best Supporting Actress' for the film 'Suicide Squad XXX: An Axel Braun Parody.'
I much prefer her in scenes like this though rather than parody porn films. This particular scene has a certain 'rawness' to it. It's shot from the camera man's perspective and it's implied that Anna has just finished shooting a sex scene. It's a nice twist on the reality sex scene, this time happening on a porn set. Anna insists she needs some more 'cock' and the only one available at the moment is the camera man's (lucky him.)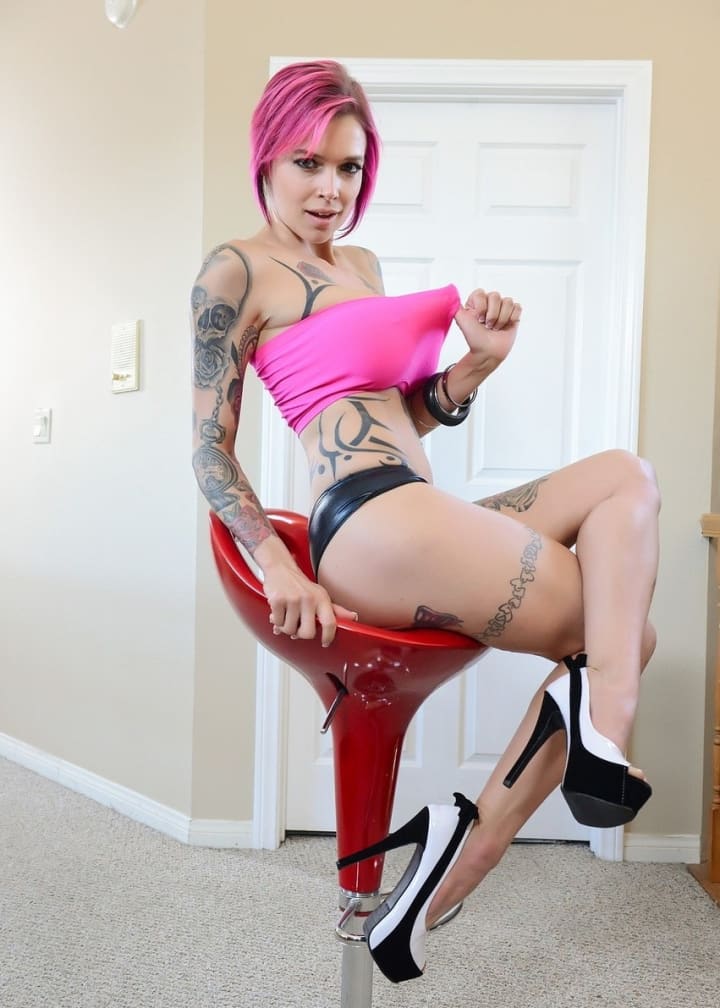 So Anna goes to work giving him a blowjob and she has to be one of the best pornstars at giving a blowjob. I have to admit every time I've watch her suck a dick it's been entertaining. She just talks pure filth while she sucks and she usually likes the guys to get a bit rough with her. It's hard for her to hide her arousal when the camera man pulls her hair and makes her choke on his dick. I watched Addie Andrews explain how the art to porn is being able to make the viewer believe you're turned on. If Anna Bell Peaks wasn't turned on then she's a damn good actress; she had me fooled. As the scene progresses Anna decides she once to get fucked as well. It's a good shot of her bent over a bar stool and the camera man gives her a spank for good measure. The camera man is uncredited but he gives a good performance here. By the end of this scene you'll wish it was your cock getting sucked by Anna Bell Peaks. The tattooed honey (who has 27 pieces of artwork on her) has to do some of the best blowjob work out there. I hate POV scenes but I have to give this 5 out of 5; Anna's eyes were watering throughout this, your eyes will water when it ends!
5 out of 5
Great scene, one hot magenta haired woman.