'Fifty Shades Freed:' Mrs. Grey Finds Her Voice (Review)
The worldwide phenomenon finally comes to an end.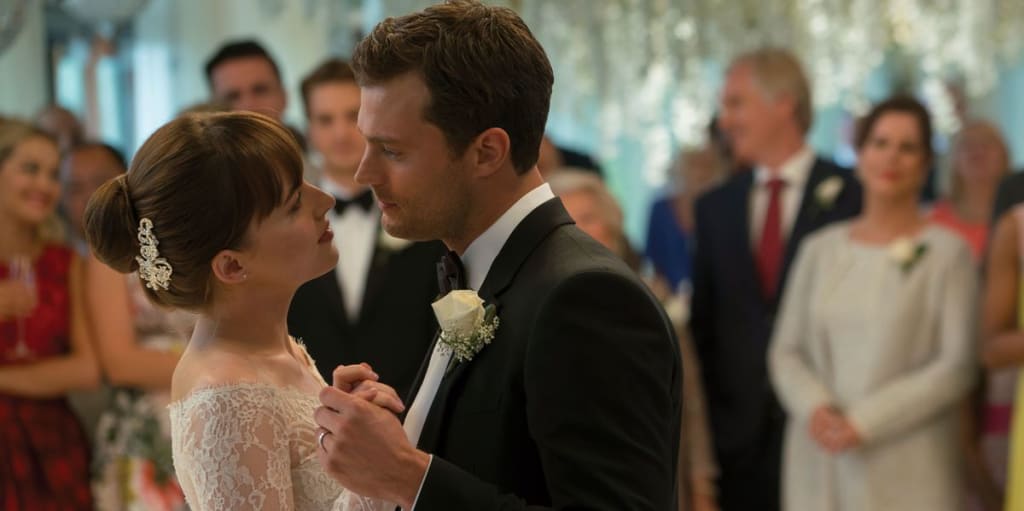 Image via Universal Pictures
In Fifty Shades Freed, the complex story of Anastasia, played by Dakota Johnson, and Christian Grey, played by Jamie Dornan follow the newly married couple through various ups and downs. Though predictable and sometimes confusing this finally comes to a close on screen and fades back to the pages of the popular book trilogy. In what was a very abrupt ending, their romance is tested and ultimately survives with a little glimpse at the end, nodding to their lives as parents. Without further ado, let's get into this review (that rhymed)!
Can I just start off by saying that this is easily the best movie of the trilogy! I know that doesn't say much, but from experience, it really does help to go in without any expectations (FYI: this isn't an award-worthy movie) and just have casual movie night vibes. I did this when I watched the movie and I actually got through it without falling asleep. Also, I think it's important to note that I haven't read any of the books yet so I went in as a blank canvas, newly diving into the story.
I think the highlights came when we got to see Anastasia finally standing up for herself as a woman and not just digressing into the role of Mrs. and losing her identity. Another positive was that it had less sex than usual and more content to actually review. It can even be categorized more as a romantic comedy this time around, which I appreciated. For example, there were points in the film where they actually tackled real problems that go on in relationships. Like when Ana found out she was pregnant, "unexpectedly," but can we really say it was unexpected when they have sex 24/7? Sigh. Anyways, he completely threw a fit and I was proud of how she handled the situation and stood her ground... finally. Another standout moment was the use of her maiden name (Steele), and Christian demanding that she use his name of course, because what's better than answering to Mrs. Grey all the time at work?
To sum things up, they honestly make being newlyweds look really miserable. They were fighting about everything for what seemed like the entire movie, and Christian remained just as mysterious as when we first met him. Besides the fact that his mom was a drug addict, that's all the new info we got. Nothing else.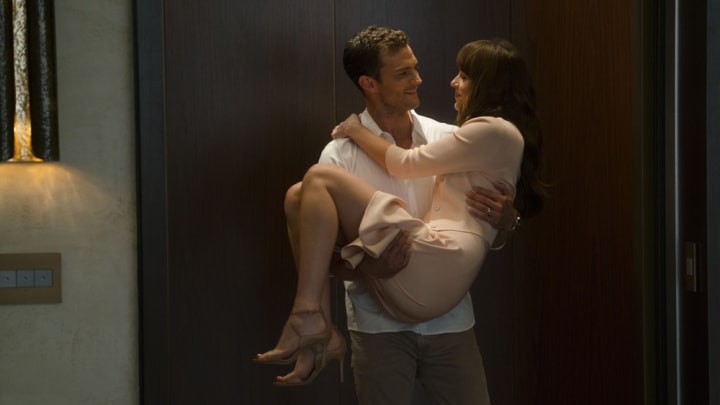 Let's get into the main negative. The Jack Hyde plot fail. And if you don't know, Jack is Ana's former boss at Seattle Independent Publishing who threatened Mr. and Mrs. Grey, coming out of the blue to get payback for how Christian treated him at the foster home they stayed at when they were younger. And to make it clear, it's not because Ana took his job at SIP. Yeah, this plot really sucked. Even the flashback at the end with all of Ana and Christians happy moments couldn't save it.
I'm not sure what the end game was for this trilogy, but in my opinion, it ended up romanticizing a rather unhealthy relationship and made it a highlight reel for pleasure. But, what's the entertainment business without putting bad relationships on display for us all to consume and become obsessed with?
In the end, Fifty Shades Free was a solid two and a half stars and I can honestly say that I won't be watching it ever again... like never. It doesn't even fall under the "Let me watch it again to re-evaluate and rethink my movie score" watchlist. I will say that if the central plot was stronger, it might have gotten a higher score, but really fell short big time in what could have been a really dramatic ending. Something for other movies of this likeness to take note of in the future, we can only hope.
Let's be honest though, no matter what harsh commentary came its way, the Fifty Shades phenomenon laughed itself all the way to the bank and dominated the international and domestic box office (for a movie of its caliber)! The trilogy managed to cross $1 billion in ticket sales despite all of the lackluster reviews. But I reckon, that came from readers who were interested in seeing the tale come to life. And as a book reader, I can pretty much confirm the truth in this. Did you know it's the best-selling book in the history of Britain? (There's a fun fact for you.)
I do, however, foresee production milking at this franchise one more time to showcase how Ana and Christian would be as parents. We got a little glimpse at the end but the credits rolled in front and to be honest, I was left wanting a little more of that visual.
I think the positive out of this whole franchise ending is that next Valentine's Day we will be free from any more of these movies. Am I right?
To purchase on DVD or digital, go to Fifty Shades Movie.