Dreaming of Shower Sex
A Lust Letter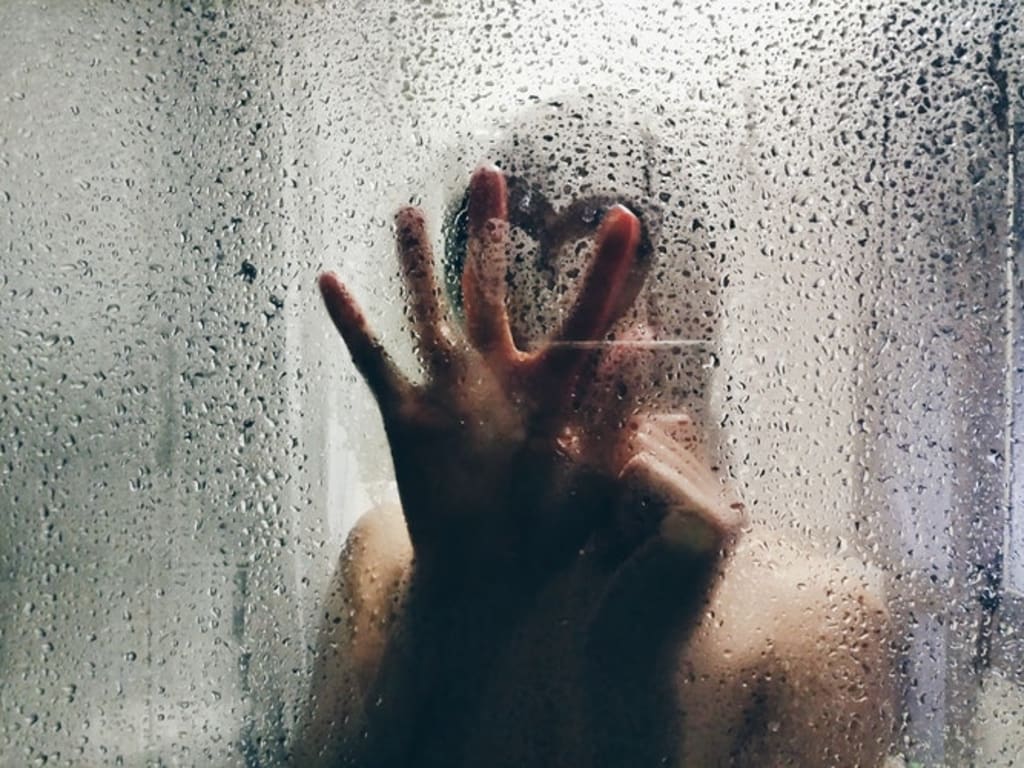 Photo By Skyler King
Dear Ashleigh,
I know it's only been a week since I saw you last, but it will be another two months before I see you again. You're the dirty secret I love to keep. I already miss you.
I'm dreaming about you already, fantasizing about our first night together.
I was back in the shower again, but when I close my eyes, I am not alone.
You were in there, bent over, hands on the wall below the shower head. The water turned your dark hair into sexy, twirling curls that danced over your shoulders.
You pressed hard on the wall because my cock was already in you. You could feel my hips against your fat ass, easing in and out slow.
I traced my fingers around the rose tattoos as they moved with my slow thrusts. It was hypnotizing, like your eyes when you peeked over your shoulder to watch my chest squeeze together with every push forward.
"Harder, baby," you said.
My tracing turned into small scratches from the bones to the butterflies.
Your pussy was too intense for me to keep going slow.
I moved my hands from your back to your tits so I could hold on tighter. The warm water and your soaking snatch made a sound like popping firecrackers when my hips smashed into your thighs.
You're losing strength to keep your hands on the shower wall because i'm driving my dick like I want to break through you. I'm watching your tattoos as we fuck. The butterflies and skull are all an ink-washed blur to me because of your quaking skin.
I know you're about to cum. Your pussy lips are starting to throb and squeeze tighter with my thrusts. You've given up on pushing against the wall. You're hands are on your knees. The ends of your hair reach for the floor. You're moans rattled across the tiles. They get louder and deeper as I take you to the edge of climax.
Finally, your legs buckled. I leaned back on a wall and pulled you closer from behind, but I don't pull out my cock. I wanted to feel your snatch cream on it first. Your lips quivered as much as your thighs did when your orgasm peaked.
As your orgasm winds down, the words I hear from your mouth send me into overdrive.
"Fuck me and finish."
You turned the shower off, put your hands back on your knees and push that plump ass onto my hips again. You swept your hair to the side so you can watch me pound.
"Come on, baby," you commanded, staring through me with those endless eyes.
I'm fucking like there's no tomorrow.
My cock swole until I'm at the brink of shooting my load. You sensed it, and pushed off of my hips. You're now on your knees, looking up at me.
"Right here, baby," you said, raising your eyebrows and pointing at your lips. The more you talked, the faster I jerked myself.
"Right on my mouth. I wanna see it drip on my tits."
Finally, my load fired out like steaming bullets.
I gripped your hair with one hand and tilted your chin up
I want to stare deep into those eyes, but I'm cumming too hard to keep mine open. The first rope hits your mouth so fast it makes you blink and flinch. The rest land on your cheeks and drip down your chest.
You played with my cum, wiping some from your face before the shower water can take it away, and into your mouth . The rest you rubbed on your chest and nipples.
I'll be back soon, baby. Let's make this dream real.
Love,
Roman
erotic
Roman Gabrielo is a writer from the San Francisco Bay Area. He specializes in erotic short stories, namely his 48XTC series that explores encounters stemming from a mysterious phone app. Follow him on Snapchat : Alamedaking510
Receive stories by Roman Gabrielo in

your feed