Downtown Dive Bar
Playing in Public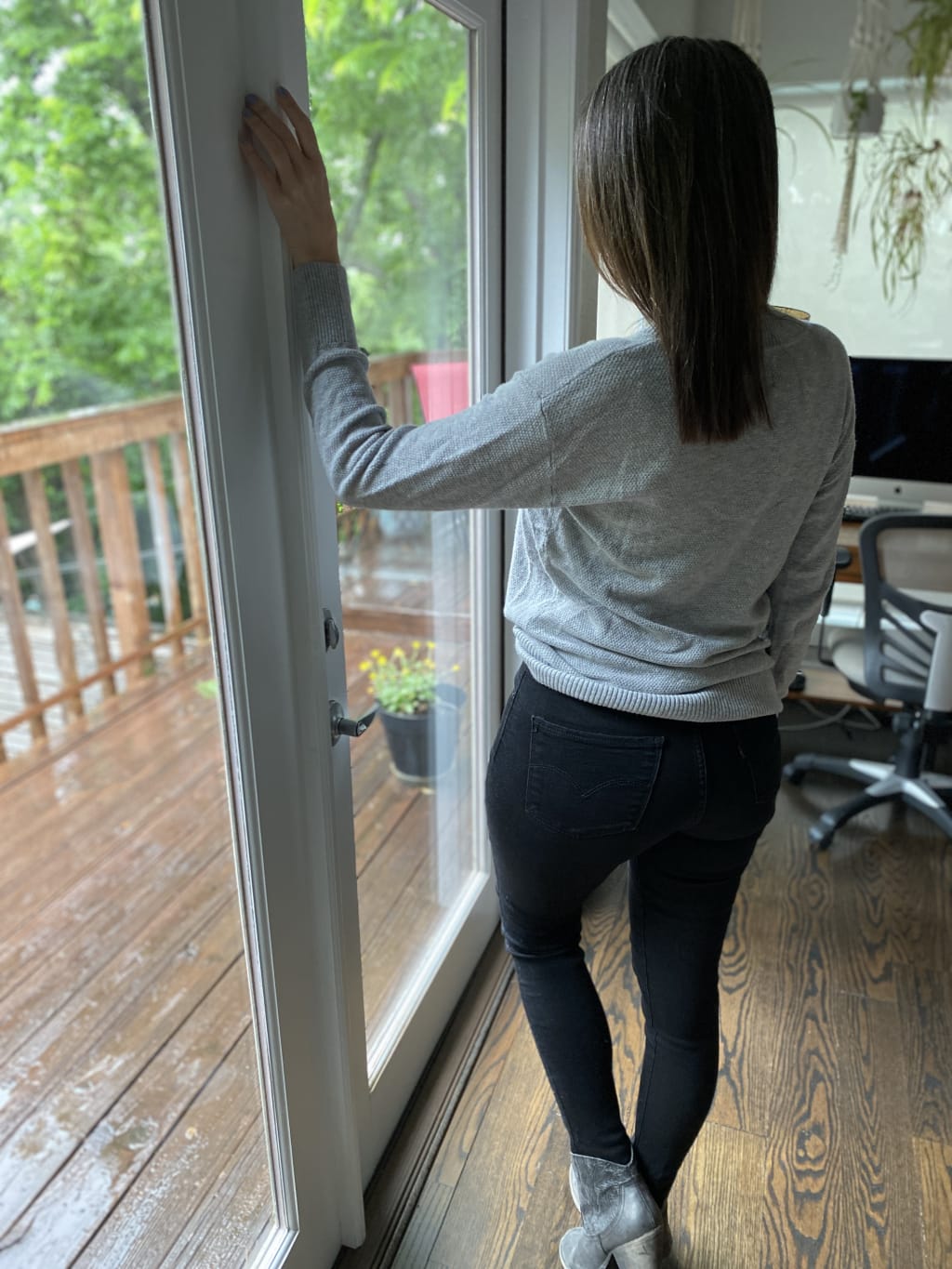 I haven't known him long. I'm new in town, and he's lived here his whole life. So, he offers to show me around. He picks me up at my house and takes me to some of his favorite spots downtown. We walk from bar to bar, his hands getting more comfortable with my body as we go — starting at the small of my back, then venturing to trace the curve of my ass. I'm wearing tight jeans and a light sweater. It's the perfect spring evening.
We end up in this indie dive bar — small, dark, and smoky with live music and local brews. It's my kind of place for sure — unassuming and cool, although I'm bummed I'll have to wash my hair when I get home.
He orders a beer, and a Jack and diet for me. We sit at the bar, sipping our drinks. Ok, I'm not sipping. I'm sucking mine down. I tend to drink Jack and diets fast anyway, and I'm an introvert. Drinking helps ease my social anxiety in these situations — new guy, new location, make it a double, please!
I finish my drink, and he orders me another. A double this time, that I finish as he drinks his beer. He asks if I want to go upstairs. I hadn't noticed the stairs when we'd come in. I'm still looking around for them when he grabs my hand and leads the way.
There aren't many people upstairs. The pool table in the center of the room and a couple of oversized armchairs in the far corner take up most of the space. He leads me over to one of the chairs, sits down, and pulls me into his lap, facing away from him. I laugh and start to say something cheeky. He puts his hand on my chin, turns my face toward him, and kisses me long and hard. Sploosh. My black g-string is soaking wet.
As we're making out, me still mostly facing away from him, he starts rubbing between my legs, over my jeans. The seam of my jeans is in a really good place, putting pressure on my clit every time he runs his hands between my legs. We're not the only people upstairs, but it's not packed, either. I'm slightly intoxicated and very turned on.
I don't like drawing attention to myself in my everyday life, but there's something so sexy to me about the possibility of being seen. Being watched. You might say I'm a bit of an exhibitionist at heart. I'm also the kind of girl who doesn't like to get in trouble, so even though I'm suuuuuper turned on, I'm kind of nervous that someone will notice. My hips are getting into a rhythm with his hands, and even though it's dark and fairly empty upstairs, I feel like we could get caught at any moment.
When he starts unbuttoning my jeans, I almost die! But I'm too into it to stop. He unbuttoned my jeans just enough to get his hand inside, pulls my little black panties over to the side with one finger, and starts circling my clit with another finger. I'm sooooo wet, his finger sliding over me again and again, making me squirm. I'm trying to keep my composure, but I'm not doing a great job. He puts his other hand lightly at the base of my throat and kisses me hard. It's a good thing we're kissing when I cum because his lips muffle my moan. I'm trying hard not to be loud, and I think I'm doing a fairly good job.
He slips his fingers inside of me before taking his hand out of my pants, and I know we're far from done tonight. I grab his hand and suck myself off of his fingers. I covertly button my pants, straighten my sweater, and excuse myself to the ladies room, wondering where the night will take us next.
About the Creator
I'm Lori, your sweet, sultry neighborhood mom. I love telling spicy stories - both fictional and from my life. If you want to peek into the window of the married, vixen-next-door, here's your chance. Reddit.com/u/good_lord_lori
Reader insights
Be the first to share your insights about this piece.
Add your insights