Down Under On The Farm
What Happens To Three Sisters In Australia When They Go To The Land Down Under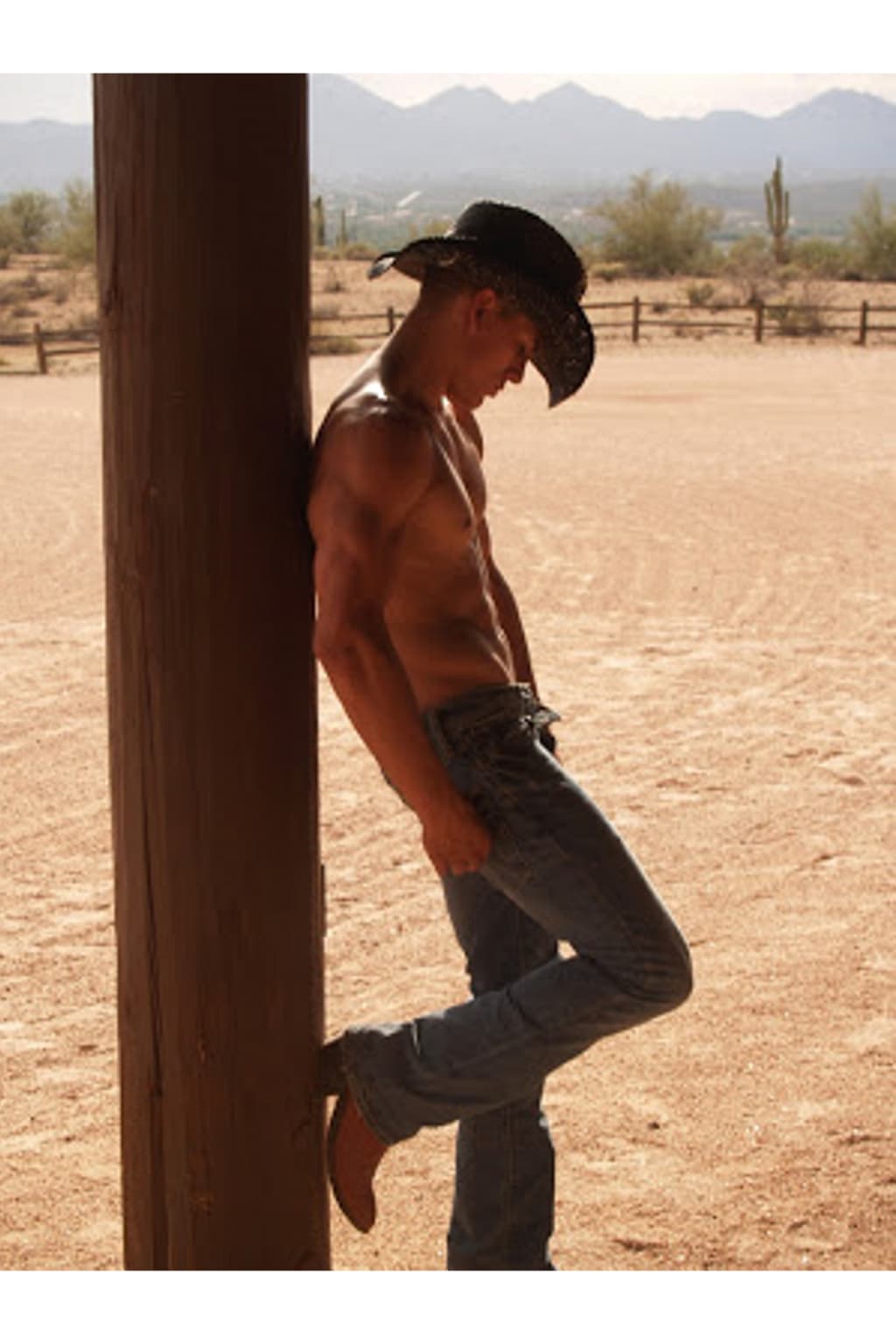 Recently, my dad, James, a wealthy entrepreneur who made his millions from the stock market bought a ranch in Australia. My sisters and I had always wanted to go. So we packed our bags one summer to go and visit him. Our dad was a swanky stockbroker who lived in a penthouse, so we weren't sure what he was up to, or what we were walking into.
After a long and tedious flight and screaming kids, we were ready to come back to our homes in the upper Manhatten area until we met our father and his ranch hand. Dad introduced him as Luke. He was tall, blue eyed, broad-shouldered, wearing a white t-shirt where we could see his rippled abs and strong muscular arms. His jeans were slightly tattered had a few tears in them. His cowboy boots were worn and smelled of leather. He wore a black cowboy hat that reminded me of George Strait. In my mind, I'm singing Big & Rich's, "Save a horse ride a cowboy". But I'm thinking that our father wouldn't want his three daughters riding this cowboy. In my mind, though I already was. I haven't had sex in eight months since my boyfriend dumped me for another woman.
Leanne and heather, I am sure was thinking the same thing as I was. We were sisters of course. Leanne took after our father and was a CPA for a stockbroker on wall street. She had a cute frame that matched her personality. She was short but quick and a fiery attitude. Dad always knew that she would go far. His aspirations for me I am sure that he wished that I was more focused and driven. But I, Megan, chose the path of our deceased mother. She was a lovely beautiful, smart, and inteligent brown-haired e.r. nurse. Dad always told me that I was just like her. Heather, was the black sheep of the family. She wasn't the type to always be in trouble. She was the type who was always jumping out of airplanes, bungee jumping, dropping 25 feet from a helicopter with a snowboard on her feet. She had her body covered in tattoos. We were always very physically active in whatever we were doing.
As we get our luggage, Luke jumps in front of us and grabs our three suitcases like it was nothing. I felt my body swoon with desire for this delicious looking strong young man. I had to think of a way to seduce him this summer. Maybe in my bikini and have him drive us to the beach. He loads up our suitcases in the back of a ford 150 Raptor. Us three girls sat in the back while Luke drove and our dad in the passenger seat. Our dad said that he hoped that we would help out a little bit on this ranch investment. He said there would be an increase in our inheritance if we helped him make it a profitable business for all of us. We agreed. Even though we didn't fully understand what all was going to be entailed. We thought it was just going to be a vacation from home and responsibilities. The ride was long and enduring, we were thankful after the 30-minute drive to come into a long manicured driveway to a beautiful 50-acre horse ranch.
The garage was amazing. Dad had still kept our classic cars. They were vintage mustangs. He would have let us have them but was afraid that they would have got stolen or wrecked especially driving them around in New York. Luke grabbed our suitcases and escorted us past the three mustangs. A 1964 1/2 cherry red convertible mustang. A green 1968 Fastback that Steve McQueen drove in the movie, Bullet. Heather's 1969 350 Shelby mustang. We never thought of ourselves as being spoiled. As our dad walked us through his house. A feeling of warmth and home settled into all of us as he walked us to each of our rooms that overlooked the property. His house was amazing. It had a beautiful walk-in kitchen. A long L shaped island that housed a gas stove. A double door built-in fridge. Beautiful bay windows that went around the wrap-around deck that housed an outdoor grilling area. The living room had vaulted ceilings and was spacious that overlooked a sixty five-inch television.
Luke said, "follow me, ladies". I was more than happy to. Heather and Leanne in tow escorted us to our bedrooms. They were beautiful. We each had our own bedrooms. Which was a markup between growing up. As teenagers, we had to share a bedroom, as our dad was a single dad, who did the best that he could with raising three teenage daughters after our mother passed away. Luke dropped off Heather's suitcase in her room. It was a nice 16x20 bedroom with a private bath that had french doors. Leanne's room was just as big with a nice huge walk-in closet. My room was just as beautiful as my sister's rooms. We felt like we were at the Waldorf Astoria in Manhatten. It didn't feel like we were out in the middle of nowhere, in the wilderness of Australia. Luke told us to wash up and that dinner would be ready in a bit. I had to tease him and say. "So what is it that you don't do around here. You're a driver like a chauffeur, and escorting us to our rooms like a butler. Are you also the chef"? He had a cute laugh that matched his masculine jawline and cute dimples. "Miss, I do what your dad asks and he pays me well". I replied, "So if I were to pay you what would you do for me" with a wink. He winked back and said, "you wouldn't have to pay me". My mind swam with ideas of what I wanted to do with him. Luke lifted my suitcase on the bed and left so that I could get it unpacked.
After we all had our suitcases unpacked us three girls had enough time to go and explore the ranch. Dad was out riding his horse. A beautiful palomino named Duke. We get to the barn and see Luke lifting some straw bales and stacking them. I asked Heather and Leanne if they wanted to get this hot young guy in a hot threesome. It wouldn't have been the first time the three of us had tagged team a guy. They agreed but thought that right now wasn't the best time, our father could come riding up at any minute. So we agreed that we would get Luke in a threesome this following weekend. We just sat there in awe watching Luke sweat and lift these straw bales. Flexing his muscles with each lift. I wanted him so bad right then and there. We walked up to him and he said that we could brush out the other horses before we go riding this evening after dinner. We brushed out the horses, a pretty buckskin named Sampson. Heather brushed out Goliath and Leanne brushed out Adonis. As we were finishing up I see Luke out at the end of the barn with his cowboy hat on and leaning up against one of the poles with his shirt off. Oh my god, he was perfect. He had chiseled abs, a strong chest, and his shoulders were as muscular as Arnold Schwarzeneggar. I quickly and quietly took a quick picture of him on my cell phone. Heather and Leanne would love this.
We get back to the house and got washed up just in time as our dad was walking in with Luke. We had the most scrumptious dinner. A Medium rare steak with a perfect pinkness, and lobster with a shrimp salad and champagne. Dad always had a flair for nicer things. Such as nice elegant meals and nice vehicles. We helped Luke clean up and as our father and Luke promised we went for a nice long ride. Heather rode Goliath. Leanne rode Adonis and I rode Sampson. Even though we hadn't ridden in a couple of years, we still never forgot how to bridle and saddle a horse. Even though it wasn't the ride I was wanting. I made do and visualized what it would be like to wear Luke's hat and ride his cock. Later that evening I told Heather and Leanne what I was thinking. They agreed with me that we each wanted to wear his hat and either ride his cock or ride his face. This weekend couldn't get here any faster as our pussies ached for Luke's cock.
I was so horny that night. I texted Leanne and Heather and asked them if they wanted to have a hot sisterly threesome. They were just horny as I was after I showed them that picture of Luke and were shortly in my room. We started kissing each other and licking and biting each other's lips until our pussies were wet. Our nightgowns and panties were quickly off as we engaged in a hot daisy chain. I was licking and finger fucking Heather's pussy. Heather was licking and inserting two fingers in Leanne's pussy, Leanne licking and fingering my pussy. It has been so long that we had done this, as we each licked each other's clits we all climaxed simultaneously and fell asleep in my bed. It was pretty hot. But what was going to be hotter, would be when we could tag team Luke's cock. I could see it now. We would have Luke on his back, heather would ride his face having his tongue in her pussy. I would ride his cock. Leanne would stand in between us as Heather would lick and finger Leanne's pussy as I licked her ass. We would take turns sharing his cock until he exploded all of his cum on our tits. It would be the hottest love triangle we ever did. Now it's just getting Luke to agree to this hot sisterly love upon him.
We spent the rest of the week helping Luke out in the barn. Washing horses and brushing them out and feeding them. It was almost like being kids again. Dad had gone into town and had got us three girls cowgirl hats and boots because we were going to be here for another two weeks. I was wearing a cute flannel that was tied in front with denim shorts with my cowgirl hat and boots. With Heather being the black sheep of the family she was wearing a black tank top which barely covered her tits, her torn-up jeans, straw hat, and black cowgirl boots. Leanne was a little more reserved and was wearing one of our dad's t-shirts her denim shorts that went to her knees and her tan boots. I'm sure we must have looked like a bunch of misfits to Luke. He never complained though as we kept him busy with conversation and gave him something more to look at. Literally.
Our dad came out to the barn and told us that he had to go into town for a business meeting and that he wouldn't be back for at least a couple of hours. This was it. This was going to be our most opportune time to seduce Luke. After we heard our dad leave we giggled and started to throw hay at each other. I wish I could have seen what we looked liked. I imagine it must have looked pretty hot to Luke to seeing three hot girls in the barn having a hay bail fight. Leanne and Heather ganged up on me and I ran and hid behind Luke saying, "Oh please save me" as I cupped my hands over his eyes. He played along. Heather and Leanne each grabbed a side of his shirt and ripped it off. I still had my hands over his eyes, Heather got done on her knees unbuckled his belt. I told Luke to Just relax and let things happen. He said, "okay". As heather was undoing his pants, Leanne was stripping out of her clothes. When they had his cock out I released my hands from his eyes as my lovely sisters started sucking and licking his cock. I untie the front of the cute little flannel shirt that I was wearing to reveal my tits and pull my shorts off over my boots to show him my cute little tight shaved pussy.
Luke pulls me closer to him and kisses my lips. It was everything that I thought that it was going to be. Wet and passionate. His strong arms pick me up, I lift my legs over his shoulders and he starts licking my pussy. His arms were so strong and his hands supporting my back as I arched my pussy towards his face shoving his tongue inside my clit. I look down to each side of me and Heather and Leanne are on each side of his cock licking and sucking him off. Twirling their tongues around his balls and the head of his dick. I wanted it. I swing around Luke's shoulders my pussy at the back of his neck I tell him to lower me a little bit. He wraps his cannon sized arms around my legs. Licks my pussy like I was riding his tongue reverse cowgirl style just standing up. I'm face to face with his cock in my mouth and my sisters sucking on each of his balls. His cock was so big I could hardly get it all in my mouth. His knees start to buckle.
Heather gets down on her hands and knees, Leanne laid on top of her sisters back showing her perfect sized tits to Luke. He wanted to pound his hard cock into them. He lowers me down from me sucking the tip of his cock. He takes his cock and slides it in Heather's hot wet pussy. She lets out this deep moan as Leanne fingers Heather's clit while Luke pounds his hard cock in my sister. I straddle Leanne's face and rub my clit up against Leanne's soft wet tongue. Luke grabs my tits and pinches my nipples almost making me cum immediately in my sister's mouth. He takes his cock out of heather's pussy and slides it in Leanne's pussy. I reach down and grab her tits and cum some more. He tag teams both of my sister's pussies at the same time.
Not wanting to leave me out of it I lay on top of Leanne. We looked like a sex sandwich. Heather on the bottom, Leanne in the middle with me on top. I finally get to feel his rock hard cock slam deep inside my pussy. Oh my god, his cock felt so good slamming hard into my pussy, it was so amazing. It was better than the last time that I had sex. Luke pounds his hard cock in our three pussies at the same time. It was so hot fucking this hot guy in our dad's barn. Luke say's, "I'm going to cum". Us three girls get down on our knees and each take turns sucking his dick until he shoots his hot juicy load all over our tits.
That was the hottest sex that we had in the land down under. We make it down to see our dad at least once a month. To also get a good pounding from Luke the hottie from the land down under in Australia.
Victoria Cumming
Cum check out and buy some of my other hot books at...
https://www.amazon.com/dp/B083ZHDF4B
https://www.amazon.com/dp/B0839NPF74
https://www.amazon.com/dp/B0837WF6PJ
https://www.amazon.com/dp/B083DYN56K
https://www.amazon.com/dp/B083GZRVZD
https://www.amazon.com/dp/B083M45S1L
https://www.amazon.com/dp/B083RD5ZBH
https://www.amazon.com/dp/B083V4VHX7
And don't forget to cum and check out my Facebook page and give me a "LIKE" here https://www.facebook.com/VictoriaisCumming/