REMY: "Girl I hope you're free tonight, because I have a special surprise for you! I've got two tickets to a show and I want you to come with me so if you're planning to lay up and watch the ratchet shows then let me be the first to tell you to kill that! Get dressed now!"
KIM: "Why do you always call me with some extra shit? Maybe all I want to do is hang out at home with my TV favorites! Damn!"
REMY: "Stop talking shit, and get dressed already! I'm coming to pick you up in thirty minutes, so be ready and downstairs by then. This is a must see show I'm taking you to, and you will thank me at the end of the night. Trust me!"
The next thing I heard was the click of an ended call. I really didn't feel like going out, but I also knew that if I wasn't dressed and ready by the time Remy got to my house, she would blow the car horn, and blow my phone up, until I responded. Being that it was summer, it was easy to slip on a cream-colored silk mini dress and matching sandals. A little lip gloss and mascara completed the look. Twenty minutes later, we were in Remy's Mazda bumping some hip hop music, and heading down the highway.
KIM: "So, what kind of show is this that we're going to see? Is it a play, or comedy stand up?"
REMY: "I haven't seen the actual show, just a small clip of a video online, and all I have to say is that small clip gave me life, honey! I want to experience that shit firsthand, and I want my best bitch right there with me, so let's go and have a good time!"
I thought about asking Remy to show me the video clip that she saw, but I decided I wanted to be surprised and based on her words, it seemed like I had nothing to worry about. We got to the club and upon entering, I noticed the intimate setting of the place, as there was only seating for about thirty people. The small stage had a bed like couch on it, and the room was filling up quickly once we sat at our seats which were in the front. Remy was wearing a similar outfit to mine, so it was like we were twinning. We ordered a couple of drinks while we waited for the show to start. By the time the waiter brought us our drinks, all the seats were filled, the lights in the room dropped, and the spotlight on the stage was on. A statuesque chocolate black woman walked out into the spotlight. She was naked and beautiful, glistening in the light. Full lips, hard Hershey Kisses nipples, shaved snatch, and thick legs. She turned around, so that we could not only see her ample derriere, but she also bent down, spread her ass cheeks, and showed us her motherland. Clean shaven, dripping wet and pretty pink. She laid on the couch with her legs wide open, and began playing with her pussy; her moans bounced off the walls immediately. I couldn't believe what I was watching, and at that moment, I wanted to lean over to Remy, and ask her what was going on, but I didn't. I wanted to see what was going to happen next. The woman on stage was swishing her hands in and out of her pussy while massaging her nipples, so her wetness was also on her nipples. All of a sudden a six foot two chocolate man comes on the stage, and his hard wood bounced as he walked. He stands right above her while she leans her head over the edge of the arm of the couch. She sets herself in the perfect position to be fed dick while she plays with her pussy... and feed her he did! Sloppy head, and wet pussy sounds in the air along with a captivating display didn't allow me to remember that there were others in the room also enjoying the show. My concentration on what I was watching was broken when I felt Remy's hands searching for my snatch. I looked around and saw that everyone's hands were 'busy,' as they watched the show. I slid my hand in Remy's wet spot and we both got into a rhythmic pace to get that intense nut. Things on stage changed when the man nutted all over the woman's face and mouth, as he went on the other side and took her from the back. The first thrust must've frightened her as she screamed loudly, but then the rhythmic strokes began and their equally wanton moans became music in the room. He surprised us all when he took it out multiple times to eat her from the back. The room was filled with low sexual murmurs, sensuous moans, and held back screams. The words "I'm cumming!" were heard over and over. The couple on stage came harder and better than all of us watching. The round of applause at the end was heartfelt.
KIM: "So I guess you deserve a 'thank you' for bringing me to this tonight. My question is where do you want me to thank you at? My bed or yours?"
That's the kind of nasty goodness I like to read about! YES, SIR! Please do check out all of my blogs here and here, check out, and subscribe to my YouTube channel, and absolutely hit that LEAVE A TIP button, and show me some love!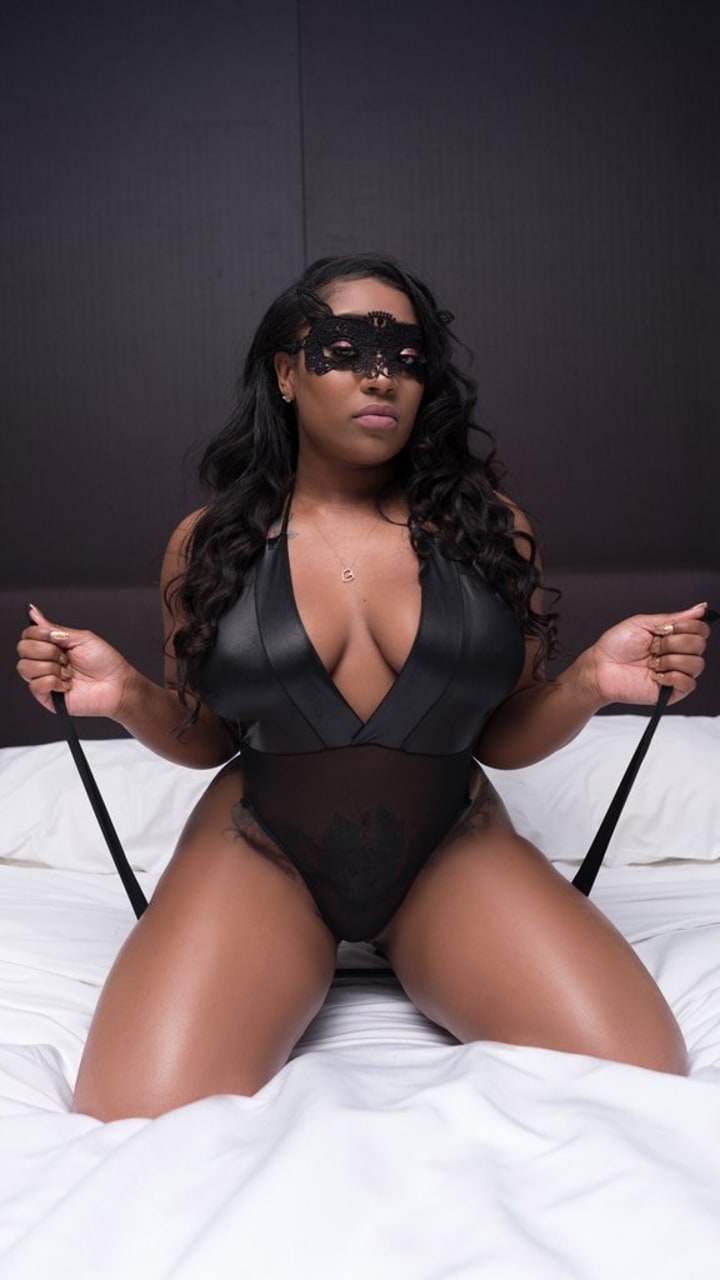 About the Creator
Author, Blogger, Podcaster for Motherhood Sex Marijuana, Writer for Fuego Magazine!
nattiekai.com
nattiekai.wixsite.com/kaih!
motherhoodsexmarijuana.com
Reader insights
Be the first to share your insights about this piece.
Add your insights