Do I Love or Need You?
Food tastes good, so does sex.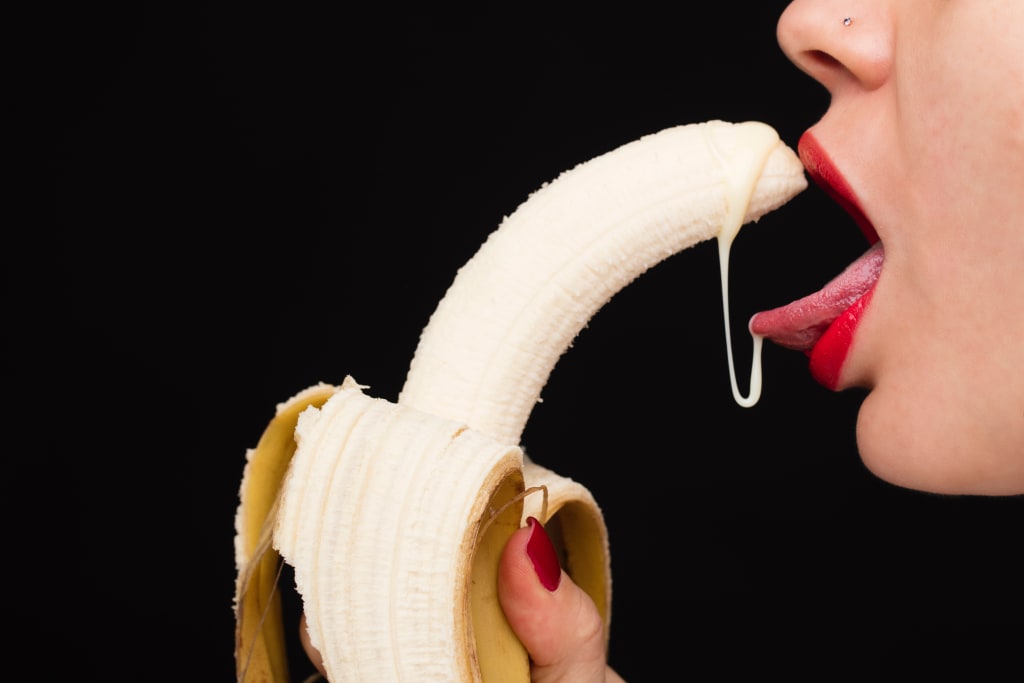 "It's one of those nights again is it?" Ken asked his best friend and roommate Isabelle as she popped another two pieces of bread in the toaster.
"I'm hungry" she mumbled while shoving crumbs in her face, between spoonfuls of peanut butter, too impatient for the toaster.
"I just want to keep eating. " She slapped two large heaps off peanut butter and went towards her room.
"You want some bread with that peanut butter?" Ken teased. Meanwhile, he was sitting on the couch with a beer.
Isabelle ignored him and closed the door shut. She put in her headphones and lay back on her bed. She let herself fantasize about the man she loved and lost. She lost him by cheating. She cheated because he was so distant. But then he was gone, and Isabelle still loved him. His name was Adam.
Adam was a janitor. Isabelle was a university student, with parents in the background, pushing her up the hill with generous cheques and support. Adam hardly knew his family.
The two of them crossed paths in the yoga studio in late September. Adam would attend the 90-minute hot vinyasa class every Saturday to help support his mixed martial arts training. Isabelle loved to move and the yoga studio was her home away from home where she was also a passionate teacher there. Adam's only passion in life was fighting. They fit together like Yin and Yang. He was possibly the fittest man Isabelle had ever met. Isabelle had not seen Adam in years when they practiced side by side that one afternoon. It turned out that he was in the wilderness, making ends meet as a hunting guide and in his time off, he was having the time of his life in Thailand.
Isabelle and Adam had encountered and spent some time together years ago. Until Isabelle found a more committed boyfriend, and he left without saying goodbye. They found themselves in the same town, side by side, sweat dripping down over both of their strong and lean physiques. Both bending and stretching themselves displaying the art they could create with their bodies.
Isabelle offered Adam a ride to her place after class. She lived in a spacious basement suite to herself then. It was already feeling oddly comfortable and familiar to have him there. Adam had a shower while Isabelle ordered pizza. Then she left him to relax in her room while she took a bath.
'Go relax in my room if you like, I'll be there soon, ' Isabelle instructed Adam. She wanted some time to prepare herself. She filled the bath with hot water and let herself slip in, feeling the layers of sweat and grime loosen from her skin. She cleaned and massaged and shaved her legs. A rare occurrence for her, she was feeling happy, excited.
When Isabelle was clean, she found him in her room: her bed, a simple foam matt on the hardwood floor. Which clearly didn't match the otherwise fully furnished house. But he didn't say anything. She got on the ground and crawled over to him, allowing her body to move as it wished, like a cat stretching after a long, lazy afternoon nap. Isabelle, feeling gloriously limber from the yoga and bath, was only wearing a towel loosely wrapped around her body. The first time he had seen her without clothing since she was 19, she was now 22. Adam reached for her hips and grabbed hold of them. She suddenly remembered Adam's aggression when he wanted her back when she was younger. She had to be clear with her boundaries but her body was asking for him too.
"Turn around so I can see your incredible body," he said, like a pilot asking his attendant to follow his orders. But she wasn't going anywhere. She waited.
"Turn around" he gently took hold of one of her butt cheeks. Just hours earlier they weren't even aware of each other. Now their worlds and bodies intertwined.
"Oh, Isabelle," He said softly, the only one to ever call her by her real name, not some lazy nickname. She loved to hear those syllables. She rolled over, freeing herself of the towel completely.. He started to spread her cheeks apart with his hands. He was admiring the shameful parts, and she was letting go into pleasure and bliss. This man loved her body so much he wanted his tongue in her most earthly hole. Adam's lips magnetized to her skin as he licked and loved her. The perfect level of spice to tingle but not burn. Isabelle's face and chest were hot with arousal.
"Yes…more..." she mumbled. She allowed herself to sink into the sensation of his touch. The same way she slipped into the hot soapy bath. Eventually, allowing his face somewhere, no one had ever been before. He licked inside and out. He devoured her like she was his first meal in months. He was licking the plate clean of any remaining morsel of pleasure.
In the morning, Isabelle stumbled into the kitchen for a slice of the pizza they ordered the previous night. It tasted just as amazing as when it was fresh and the cheese was melting all over the place. It was already 10am and Adam was still napping in bed. Isabelle woke up starving after the night they'd had. Once she had managed to eat 2 more cheesy slices and make some coffee, she set herself up for a relaxed Sunday morning. Adam eventually came out of the bedroom. He came over to wrap his arms around her from behind on the couch where she sat with her coffee.