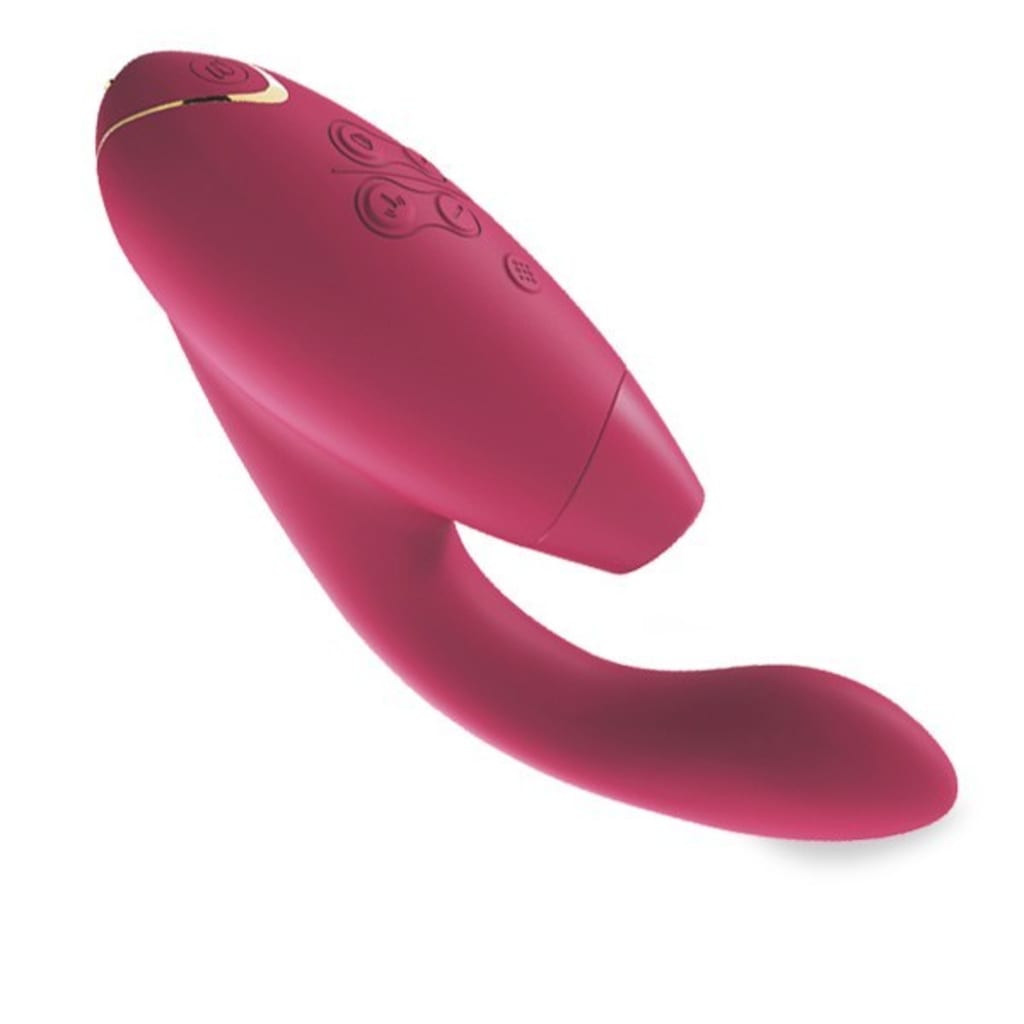 The Womanizer Duo
I first stumbled upon the Womanizer on a lazy Sunday afternoon as I perused random stores in Laguna Beach, California.
I wasn't in a particular mood for a new vibrator, but once I feasted my eyes on the Womanizer, my curiosity got the best of me. And.... $200+ later, I found myself to be the owner of a very unique sex toy.
Firstly, I've never had to read the instruction manual of a sex toy. And I now I know that the old adage is true, there really is a first time for everything.
After taking two minutes to read the instructions and playing with the few buttons to see which button performed what function, I felt confident enough that I could figure everything else out. And so, I went to bed for the very first time with the Womanizer Duo. Boy was I in for a treat.
Nirvana!
I know... I know... It sounds too good to be true. But this is the real thing!
Prior to my Womanizer experience, I had never "squirted." Well, I squirt now!
Prior to my Womanizer experience, I had never had multiple orgasms. Well, I orgasm multiple times a day now!
The Womanizer Duo (to be very precise), is the most advanced pleasure toy on the market. One of the best features on this device is the fact that the clitoral stimulator is not a vibrator at all. It is a suction mechanism. And therefore, no numbing effect. With regular vibrators, you can have endless amounts of pleasure, that is until you go numb. This is no longer an issue with the Womanizer. You can go and go and go until you are so far gone, you're going to need help coming back.
A fair warning: You may have difficulties peeling yourself from the bed.
The shaft, well that is a magical device in and of its own. The shaft, not overly large or intimidating, fits snugly up against your G-spot. Once you've figured out how to place the shaft and the clitoral stimulator, well... I'm sure you can guess at the effects of that magical placement.
Magic. God. Pleasure. These are the words that are conjured in my mind when I think of the ecstasy that is a single session with the Womanizer Duo. And a single session will be a practice in self-restraint. Trust me. The orgasm that the Womanizer produces is like none other. The dual intensity of the clitoral stimulator along with the g-spot stimulation packs a powerful punch that will have your eyeballs rolling to the back of your head and your toes curling into themselves.
I would be doing the women of this world a disservice if I did not share this magical experience. In fact, I have recommended this toy to numerous ladies and am already on my second device as the first one broke. Not sure if that says more about the product or myself but alas, they got me to purchase a second device without so much as a thought. I'm sure this article sounds like an ad, but I promise, I am simply sharing what I have discovered. A sex toy so good that maybe, just maybe might eradicate the usefulness of the male species.
I mean, I guess men are still good for cuddling and stuff. Just kidding, sort of.
Disclaimer: I have not been paid for this article/review. I am sharing my own personal experience without any communication with the manufacturer of the Womanizer Duo.