Dad's Girlfriend Takes Care of Son
Keen Chanel Cheers Bill up on His Big Day!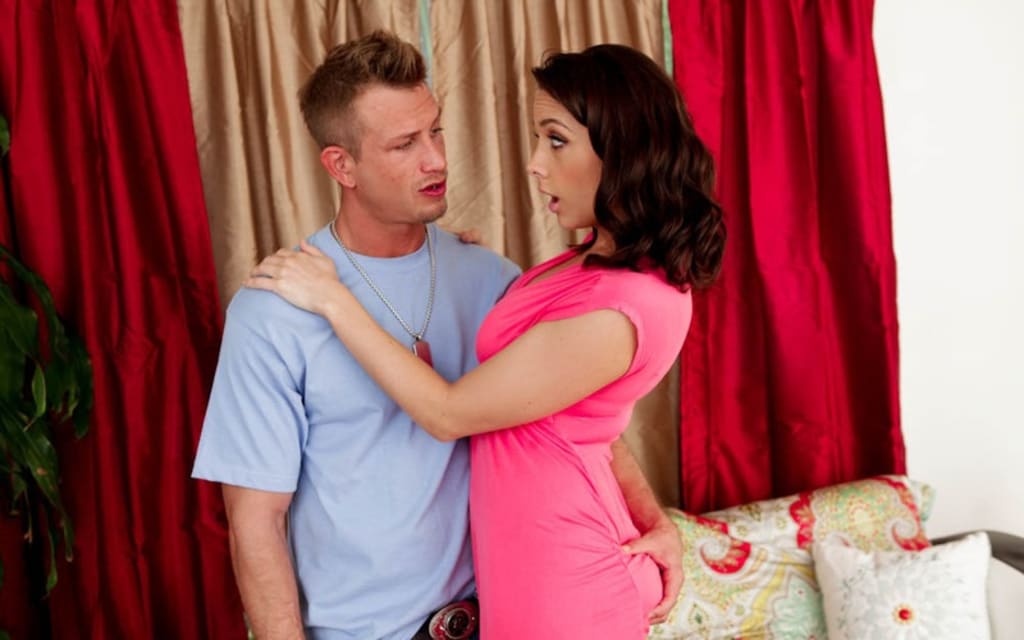 Bill has other intentions for his Dad's girlfriend on Graduation Day.
In recent months, My Dad's Hot Girlfriend pornographic series has produced some excellent escapades without being too taboo for viewers. The fact that the father has not married his girlfriend makes it 'not incest' which has made it a popular choice among casual porn fans while still making it taboo and exciting. This recent episode stays with that theme, casting a pair of good performers in Chanel Preston and Bill Bailey. Chiselled and handsome, Bill Bailey seems to be on every website available. The guy has a very Aryan look about him with his blonde hair but sounds like he's been pulled off a farm in Kansas. Despite this he's a good actor and an excellent performers which is probably why he keeps getting parts. In this particular scene it's his school graduation and he's getting ready to don his robe. His co-star is the filthy yet gorgeous Chanel Preston, looking particularly nice in this scene in red dress and with a light tan. Chanel is one of those actresses who looks just as good pale as she does tanned and fans like me like to see her either way.
"I'm too sexy for your Dad..."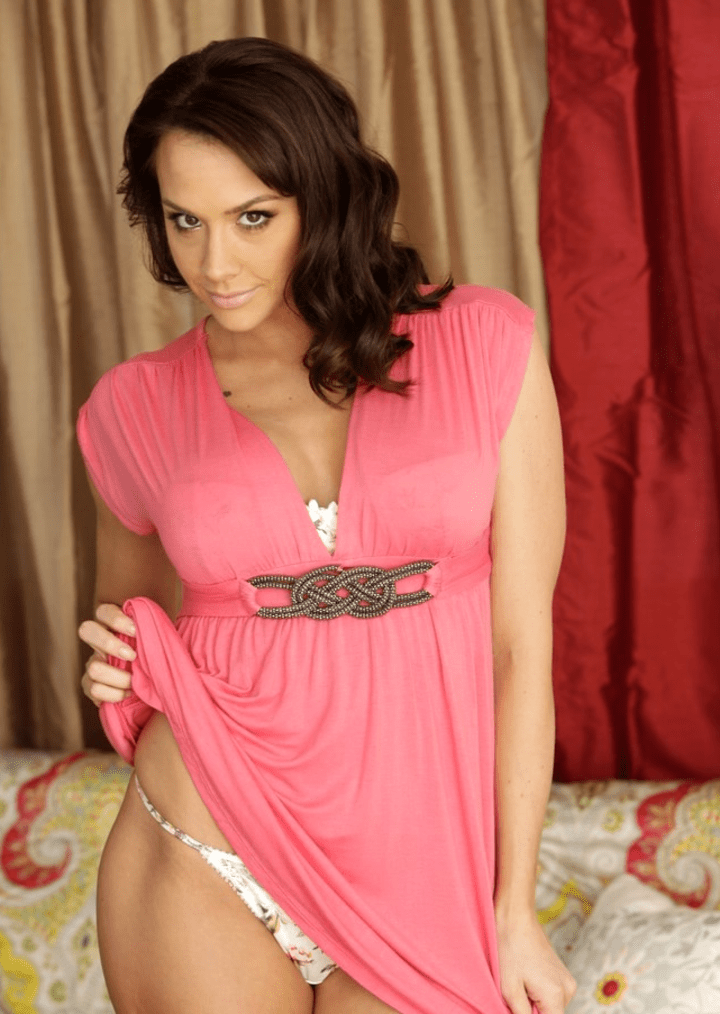 There's something about that sweet face and cute nose that make her so desirable; add to that her 32D-28-30 assets and she's almost marriage material. She would be if you hadn't watch her in various scenes getting impaled by guys with 12 inch cocks but she makes excellent viewing performing hot sex scenes. As the scene commences Bill is getting ready to graduate and Chanel seems to be like his mother hurrying him along. Chanel seems a lot more mature in her mannerisms in this scene which adds to the arousal factor when two finally do get it on. She's shocked to find Bill hasn't got his robe on but he seems to have a very casual approach to this graduation process. Chanel is still hurrying him along when Bill realizes his Dad isn't present. He's disgruntled by this, getting visibly angry and upset. Chanel reassures him that he'll make it up to Bill, she informs him he had to work and that Bill knows how it is. Bill continues to be displeased, refusing to graduate because his father isn't present. Chanel tries to cheer him up about his big day, stating his robe is in the car and that she really cares about Bill. I'm not sure if that was a mistake by the improvised acting as I thought the initial issue was that Bill was not dressed properly. I am not sure what America students wear under their robe but you think a bit of cutting would be able to edit this out. Bill doesn't mean to offend Chanel but states 'that's she just his Dad's girlfriend' devaluing her presence a bit. This doesn't stop Chanel trying to convince him to go as it is his big day.
Time to Graduate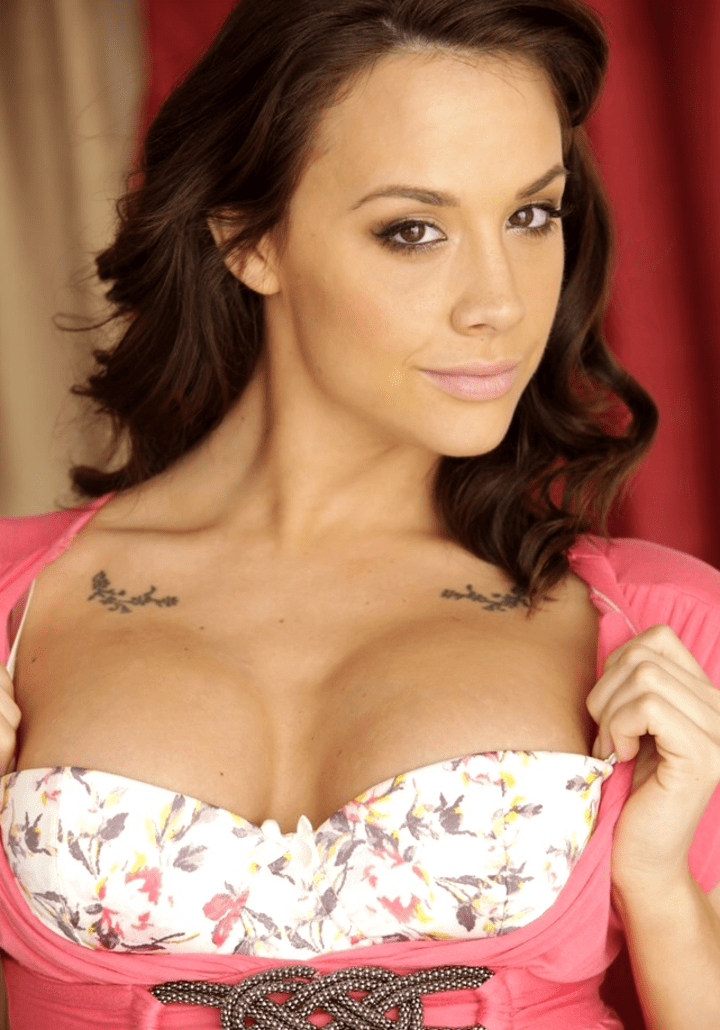 Bill takes advantage of the fact that she wants to please him on his special day, stating there's something else he would like to do other than graduate. Pulling her in close Chanel panics stating that its inappropriate and they shouldn't being doing it. Bill charms her discussing that he's felt there was always some sexual tension between them. Chanel is taken in back Bill's lustful glances, she starts to kiss him as he gropes her back and arse. I like kissing in porn films but Chanel seemed to eager to start with the sex which sort of spoilt the slow build up for me. The reason people choose these type of porn scenes is to go with a fantasy and a bit of narrative. Chanel was way to eager to get with the sex which spoilt it a bit for me. Thoughts of that quickly disappear though when Bill lifts up her dress to reveal a white g-string and tight, tanned ass. Fans will probably want a go at that ass for themselves as it looks fantastic on film but Chanel tends to look good anyway. The two sit back on the couch and get down to business; Bill continuing to smooch Chanel while revealing her breasts to give them a suck.
Pre-Celebration Anyone?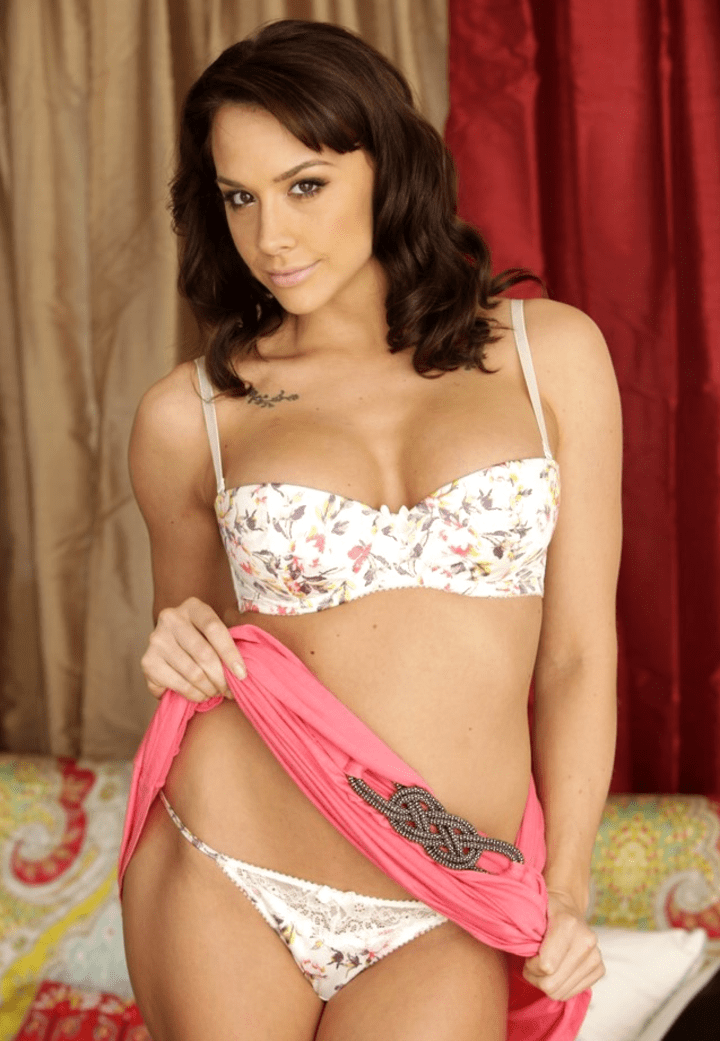 Both are competent performers and they look good for the camera. Chanel must give one of the best blowjobs in the business as she dirty talks to Bill as she does it. "Do you like getting a blowjob from your dad's hot girlfriend?"
It appears Chanel's acting is actually better while she's fucking; maybe because this is where she is most at home. This scene is actually an anal scene (not really my favourite category) as when Bill wants to fuck her she states "that hole is for your father," maneuvering Bill's cock to her ass. Chanel looks fantastic in the spoon position and she really does keep herself in shape which is good to see. This is a watchable scene with a few acting errors and an over keen female performer which is a shame because I'm a Chanel Preston fan. I give it 3 out of 5, you can pick it up at the Naughty America website but I managed to get it on whorestepmom.com for free.
3 out of 5.