Craft Beer, Karaoke,& Lesbians
First Date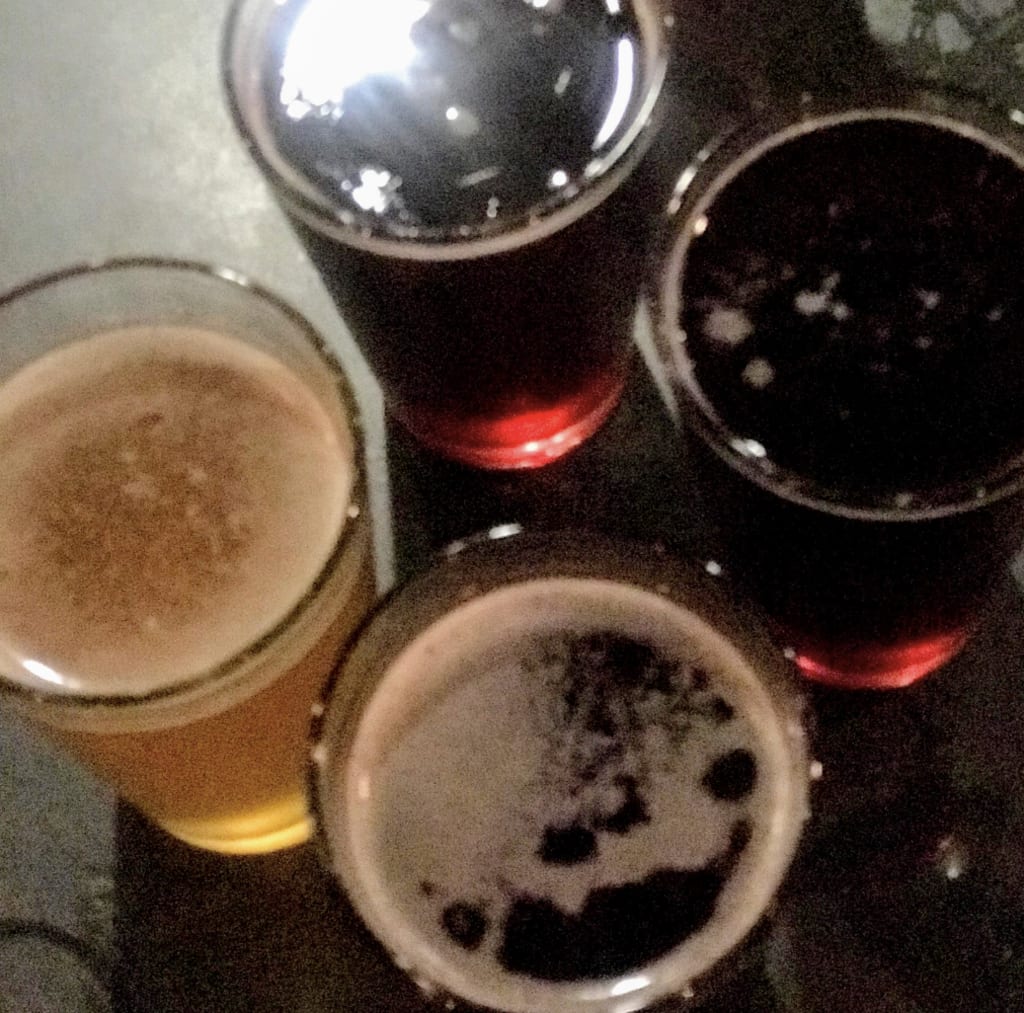 Flights that grew into full sized beers.
Craft Beer,Karaoke & Lesbians
First dates go I am not really a fan. There is a awkwardness involved with getting to know someone all while trying to impress them at the same time. I felt a natural chemistry with E.J. from the very first night we met. It was easy and unforced. I was comfortable around this stranger and for me personally that is extremely rare and worth pursuing. We had been randomly texting throughout the week and agreed to meet at a local brewery after his son's football game. Sometime between the first meet and now this one, we had met another time in between. It was a spur of the moment meet that was not something I would qualify as a date exactly. We ended up at the same bar that happened to be having a hair band tribute, therefore conversation wasn't priority number one on the list as it had been far too loud for that. This second meeting, I was convinced was sure to be different. A quieter place, with less hustle and bustle and meet up. I was so excited and feeling that this was something positive bordering on overwhelming.
The Angry Horse is a brewery located in the city of Montebello. The layout of the establishment is open and airy with the large bar area just a few feet from the entrance. On the outside there is an enclosed patio area with a few heating lamps and ambient lighting. As you enter there are picnic sized tables and a large bar that beckons you to run up and order a flight. As you walk along the side, there are higher and longer bar tables and an area where there is a plethora of board games to choose from. Further walking will lead you to men and women's bathroom areas and an exit out towards the back. There is no food served at the Angry Horse but customers are allowed to bring in food from outside eateries. The staff is both accommodating and very friendly. The bartenders are helpful with selections if you are a newcomer.
We agreed to meet at 9:30 pm and I arrived maybe ten minutes before that time. The night weather lent for a black dress with floral print and a pink sweater to match. When we were talking about where we were going we found out there would be live music which was a bit of a treat because every other time I'd gone there it was just the conversational noise of patrons. The band playing was called The Cheeky Few and they were a cross between Elvis and Johnny Cash. I sat at one of the picnic benches near a couple out on their date night. The man got up and went to the bar for drinks and the woman sat there making conversation with me about the band and how much she liked them. She partially complimented my dress with the exception that it was "too much cleavage up in front." I could only look at her and wonder where else but up top was she accustomed to seeing cleavage on a woman, but I was in no mood to argue so I just smiled and nodded. Unfortunately her husband seemed to think we knew each other and when he returned, he was carrying an extra beer for me. The woman didn't make it too obvious when she decimated her husband with a look before getting up and walking up and to a different table, leaving the man to awkwardly get up and say; "It was nice meeting you…" I simply smiled back and said; "Good luck buddy." It was then I received a text from E.J. informing me that he was running late and would arrive closer to ten. Luckily I had a beer in front of me and I was enjoying the music so his tardiness was hardly noticeable.
Looking around and noticing for the first time that the band drew a lot of their crowd to the spot giving them a positive showing of support and love. Unfortunately, I could not pay them the necessary attention because my mind was working on something else and while I had the time I wanted to craft up some type of game plan as far as what I was going to be watching out for. Lost in thought, I had not noticed that the band had stopped and they were taking a break until the lead singer and the bass player came to sit at the table I was at. They asked how I liked the set and had I been there before. I proceeded to explain to them what I thought and how I saw their set. Surprised I knew anything about music we launched into conversations about the artists that have influenced them and how long they've been playing together. That's when a woman roughly about my age in a vintage yellow and black dress with a pixies styled haircut came to the table and tossed a band sticker at me. I looked up and was about to say something when the singer jumped up and followed the woman at a high tailed pace. The bass player just sat there and laughed while explaining to me that the pixie was the singers' girlfriend and she possessed somewhat of a jealous streak. I elected to let it go because my whole reason for being there had not yet arrived and I would not be distracted from my main objective. Being quite entertained by the bass player sped the time up pleasantly. While I waited, we discussed a number of topics to pass the time till the next set was about to get underway. He got up, shook my hand, thanked me for the conversation and wrote his number down on the sticker that had been thrown at me.
Once the second set got underway, I received another text telling me he had arrived and was parking. I stared at my phone musing over the fact that E.J. had no problem accounting for himself. I considered it to be a positive quality in a man because it showed that he is conscious of others and their time. I reasoned that when it came to concert experiences and all else associated with my work, capturing details would not feel like it was being forced out of him in like an interrogation. I decided to get up and grab a couple of beers at that point, because I figured my date would need one, and I was certainly done with my free one and in need of a new one as well. Later on in the night we would be able to take some time to pick our flight selection while having tamed our thirsty palettes. When he arrived, he looked around till he saw me and still for a few seconds seemed somewhat puzzled before shaking it off and coming forward to the table where we continued to sit for another song or two before he suggested moving towards the back behind the bar and the music to be able to hear each other better. We talked about his son's game, and the routine of how our day had gone and delved into those "getting to know you" questions that can be rather uncomfortable conversations that gave me some insight about who he was, and at no point in time did those questions and inquiries become uncomfortable or short lipped. Several times during conversation I caught myself giving up personal information that I don't normally share with anyone and most especially a stranger. But there was a manner about him that is both arrogantly confident and humorously inviting. I was regaled with anecdotal stories about him and his friends throughout the years that had me rolling in my stool.
After the flights were chosen he discovered the board games, jumped up and grabbed dominos while I excused myself to use the bathroom. Once back and setting up, we realized that we played very different versions of the game but he was accommodating enough to explain to me how he played his game. I lost every hand, but the conversation continued to be interesting and the beers all got sampled. Time was flying, it felt as though he had just arrived and the next the bartender was announcing last call. Quickly rushing for one more beer and continuing the conversation until lights out. Not quite being ready for the evening to end we opted for another local watering hole called "The Venice Room". It is a great place to go to regardless of the time of day. Someone is always the life of the party there and things are always interesting. My memory fails me as to why we thought it was a good idea for me to drive, but I had car keys in hand and at the ready, and just like that we soon found ourselves with company. A spunky and equally inebriated woman who insisted on knowing where the party was and announcing she wanted to go as well. We told her we were headed for the Venice Room and she was more than welcome to join us. Being all for the idea she became quite chummy and introduced herself as "Tania" and asked us for our names. E.J. introduced himself, and when I told her my name she looked heartbroken. As we made our way to the car I learned I shared the same name as her most recent ex-girlfriend. Tania then proceeded to share with us the woeful tale of their recent breakup after coming back from a vacation fun filled vacation in Cancun, Mexico. In my efforts to give her my undivided attention as we drive to the next bar, I may have missed a red light or two, but I can say we made it there in one piece and having made a brand new friend, who unlike the woman from earlier in the evening who disapproved of my choice of wardrobe, this one was in favor of the cleavage and told me so several times on the drive.
We entered the establishment and made a B-line for the bar where we got our drinks. The night we went to go listen to the hair band I had taken the liberty of providing E.J. with an unwanted shot of Jagger, which he vehemently refused and I found it impossible not to make fun of him mercilessly. So when he walked up to the bartender and ordered the Jagger shot to make up for the one he refused to take, I could not help but laugh in appreciation at his ability to recognize the "Alcoholics Golden Rule" of leave no shot behind. Our new friend however, turned out to be the touchy feely type and had grown fond of running the tips of her fingers up and down my arm, completely ignoring the boundaries of personal space. Each time she would inch toward me I would inch toward E.J. He was observant enough to know what I was doing and I was grateful that I did not need verbally communicate what I needed him to do; he quite naturally placed his hand on my waist and pulled me to him which conveyed the right message.
With drinks in hand we located a booth and assaulted our ears with some fabulously awful karaoke. Tania, in all her sensationalism, hopped up and bounced around from table to table hitting on all the ladies in the room. Until that moment I had only ever seen my male relatives do that and with not as much success as she was having. Eventually she made her way back to us and immediately took to sliding a part of my dress up and feeling my upper thigh and asked what I used to shave my legs with. I begin to think I should own stock in coconut oil and while that's happening Tania cocks an eyebrow at E.J. and tells him "If you don't want her, I'll take her" I made some kind of smart ass remark she got a kick out of and I took the opportunity to go to the bathroom again. Upon my return she asked if I would add her on Facebook. I did and in doing so we discovered how small the world truly is because as it turned out her brother is a really good friend of mine and I knew him through another good friend of mine. Tania knew her as well and proceeded to call her at nearly 1:30am and harass her at the top of her lungs to answer the phone, get dressed and come join us and not pussy out. Of course Marissa didn't answer. I learned that an intoxicated Tania is an amorous Tania who kept scooting closer, and from out of nowhere seemed to have grown a few more hands and was seemingly using them all at once until fortunately an observant E.J. took my hand and held Tania's gaze till she placed her hands back on her own lap laughing the whole time.
It was soon 3 am and once again it came time to call it a night, I drove us back to the Angry Horse and we bid our new friend good bye and returned her to her vehicle. Everything after that was a tumultuous blur once we made it back inside my car. The rearranging of clothing, the steaming of windows, and at some point in all that action, an all much too pointy object attempting entry into my virgin ass. I had not quite recognized what was happening due to a multitude of reasons. A few being; 1.) I was enjoying myself, 2.)I was fabulously buzzed, and 3.)I was curious. Until that moment, I had purely been accustomed to pointy objects sliding in front of me not in the back of me. I decided then and there to put a pin in that fun activity and return to it at another time because a vehicle is far too small and confined as far as the depravity one can commit in it. Therefore the only choice to make was to part ways and continue the adventure at another time.
E.J.'s POV
I believe this was our third time meeting. On my way to the bar I have to admit that I was sure her name was "Amanda". Based on the stories I have heard about her now, it would have been foolish of me to call her by the wrong name. Walking from the parking lot, to the Angry Horse I was so deep in thought as to how to get her to say her name that I missed the entrance entirely and attempted to come in through the wrong door. I told myself to get it together and figure out a way to find out her name without making it obvious. To my shock and surprise she had gotten beers for us. It is rare that a woman has taken it upon herself to grab drinks while waiting for her date to show. I was getting the feeling more and more that this was no ordinary woman. After greeting each other, we ordered a flight of beers and I recommended every beer be different so that I can try half of her choices and she could try half of mine. After drinking a couple she took a bathroom break and I continued to think of a way to get her to tell me her name.
The answer was right in front of me or so I thought. There was a section with board games, domino cards etc. I offered the idea of playing domino and I designated her the score keeper ,by keeping score she would have to write her name on the piece of paper. I waited for her to come back to the table and when she did I said. " Let's play dominos''. She agreed and I handed her a small sheet of scratch paper to write our names down and keep our scores on. I told myself, I'm finally going to get her name right! and I handed her the pencil which she took in her hand and proceed to write the letters "A" and "E" This woman wrote a fucking "A" with a line in the middle followed by an "E"! I was positive this was the devils handy work. After dominos I showed her how to play a couple of drinking games using playing cards. One that I call "drunk driver" and the other I call "black and red". In between the beers and games we had conversations and still getting to know each other. Angry Horse closed early so we ordered one last beer and decided to head down to Venice Room. I remember us waiting for the traffic light to turn green and I don't recall how we started talking to Tania. To me that is a blur. All I know is that she wanted to party so I invited her to Venice with us. "Amanda" and I introduced ourselves to her and that's when I at long last caught her name. Finally! Arlene. I must admit that her driving did scare me a little on the way to the bar, it was cartoon Go Kart racing. In my head I thought, Jesus take the wheel! Before I could be scarred for life we arrived. Once inside we got to the bar and ordered drinks. It was a good sign when the circular booth in the far back became available and once seated and situated we all started talking. I remember thinking how crazy it was that Arlene ended up knowing Tanias brother. The karaoke singers were a drunk mess. It was hilarious. I do remember Tania having some interest in Arlene. During one of Arlene's bathroom breaks Tania asked questions like a cop. From, were we a couple? To how we met and if it was okay if she tried to make a move on her. True, the dress she wore certainly made her chest a focal point and no doubt Tania took notice as well and was angling for some action. Asking if we were down for a threesome. I said that I didn't know anything about her that well to answer that question, and at that moment she asked me again if I was down and willing to convince Arlene to expand her experience and do a three way. It took some quick thinking, because I had noticed that Arlene was uncomfortable with all the touching. I negotiated with Tania, explaining to her that the only way I would even make the effort to convince this woman I had only just met to join me in a threesome with yet another stranger,(me knowing what the answer would be) Knowing I had her undivided attention after that. She obviously asked how and I said. "Only if I can fuck both of you." Her eyes lid up, and I could see the wheels in her head spinning. It was likely she was running multiple scenarios in her head about what exactly that would entail. Then she looked up at me once more said no which was the answer I was expecting. All that conversation happened I. The few minutes Arlene went in the restroom. When she came back, we went back to talking about how she knew her brother. The night ended. Arlene drove us back to Angry Horse because our cars were there. And well you know.
Looking back on it, the events of those first couple outings set the tone for all the events that have taken place since then. There is no great mystery to how and why we get along. The answer has always been simple; open and honest communication. Oh, and beating her at a few games to keep her humble.