Cheesecake Photography: What can we learn from the origins of the Pin-Up?
Glamorized images of women have been passed around for the entirety of the 20th century. The history of this market helps us understand how sensuality, public image, and women's agency has evolved: new resources from the OG Collection offer valuable insight into this often-hidden cultural world.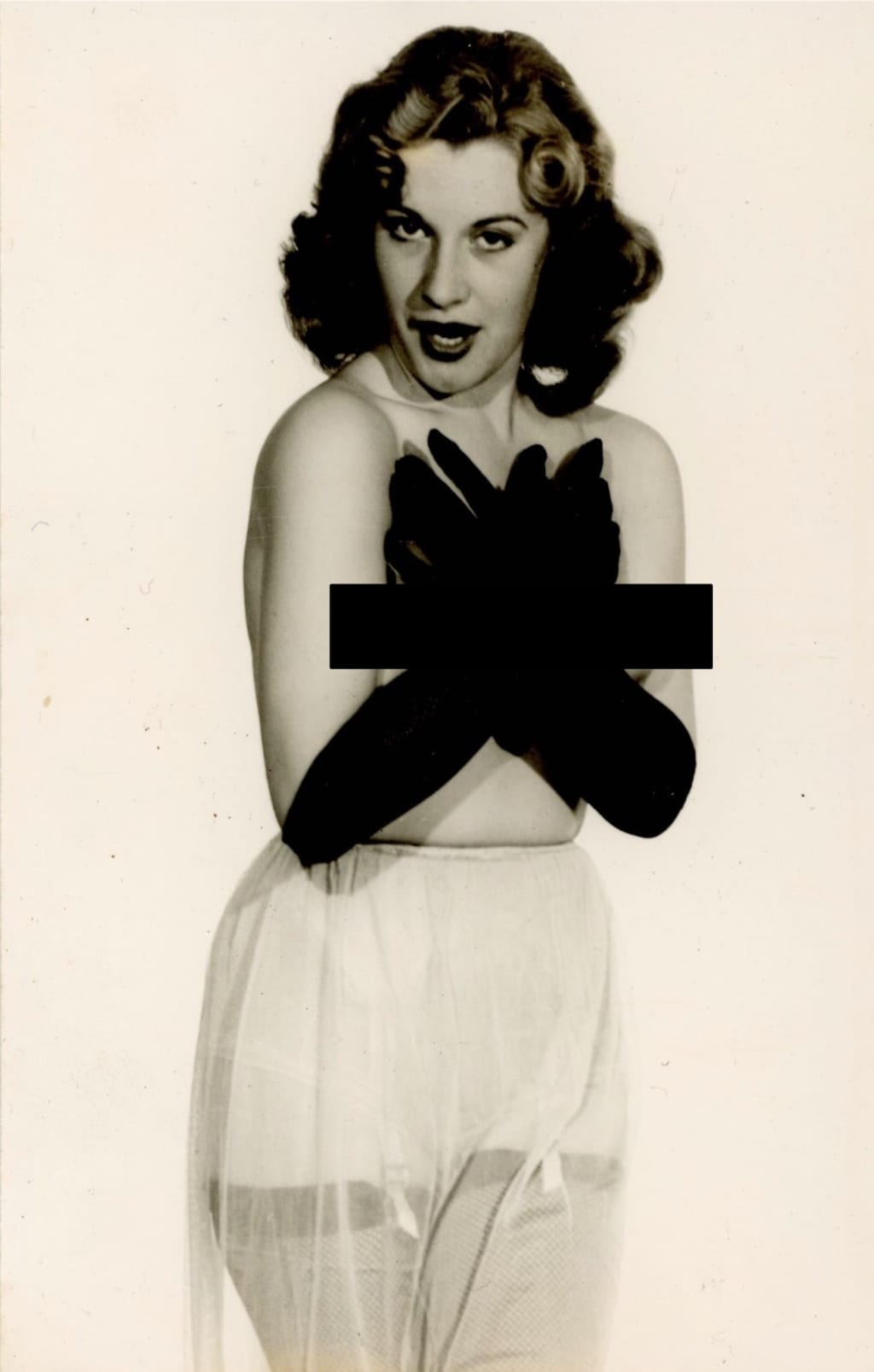 "Cheesecake" Photograph, ca. 1950. The OG Collection.
Bob Guccione's first foray into the business of erotic entertainment was not the publication of the first issue of British Penthouse in March 1965. Before he was a maverick and titan of publishing, Bob was "Robert Gucci," a purveyor of cheesecake photos to customers around the world. His market included prisoners, government officials, and everyone in between.
"Cheesecake" photography is an earlier name for what we know as "pin-up" photography presenting stylized portraits of clothed, nude, and semi-nude women typically looking directly back at the viewer through the camera lens. The photos were characterized by little background setting or costuming beyond a pair of black stockings. The need for a code name for the sultry photos conveys their taboo nature. Cheesecake photos represented an evolution of circulated photos of women that reflected the rules and norms of the day. A 1915 photograph of Serbian-born singer and silent film star Elvira Amazar, taken by George Miller, is generally declared to be the first "cheesecake" picture; the story goes that when Miller's editor saw the tantalizing image — Amazar's skirt was hooked up above her ankle — he exclaimed "Why, this is better than cheesecake!"
Cheesecake and pin-up photos became prominent during World War II, as stylized images of women were shared at the frontline, painted on planes, and reflected at home by a growing trend of women wearing matte red lipstick — their femininity intact despite Rosie-the-Riveter war work (Elizabeth Arden produced a shade called 'Victory Red'). The prominence of the form can be further established by the need for a male equivalent: and so the term "beefcake" was coined in 1949 by a publicity department promoting photos of British actor and heartthrob Philip Friend.
George Harrison Marks emerged as one of the larger producers of cheesecake photos in the early 1950s. With his lover Pamela Green, Marks opened a photography studio at 4 Gerrard Street in London in 1950, and the two began selling nude photos to magazines as well as directly to consumers. Marks coined yet another euphemism for nude images, promoting his "glamour" shots beginning in 1958. When Marks launched his Kamera magazine in 1957, there seemed to be an opening in the market for a new direct-to-consumer operation.
Enter artist and cartoonist Bob Guccione. In 1960 Bob was selling cartoons to The London American, sowing the seeds of a career spent in publishing. Bob was then married to his second wife Muriel Hudson, an English singer he had met in Tangier in 1956 during his time as a traveling artist. Muriel had already made her debut as a "cheesecake" model in a British newspaper; she served as both muse and accomplice as the two got their "Fotopix" mail business off the ground in the mid 1950s. "Robert Gucci" found many happy customers eager to receive pictures of his "Gucci Girls," and for the first time Bob found both a romantic and business partner — an arrangement that would prove fruitful when he later built his empire with third wife Kathy Keeton.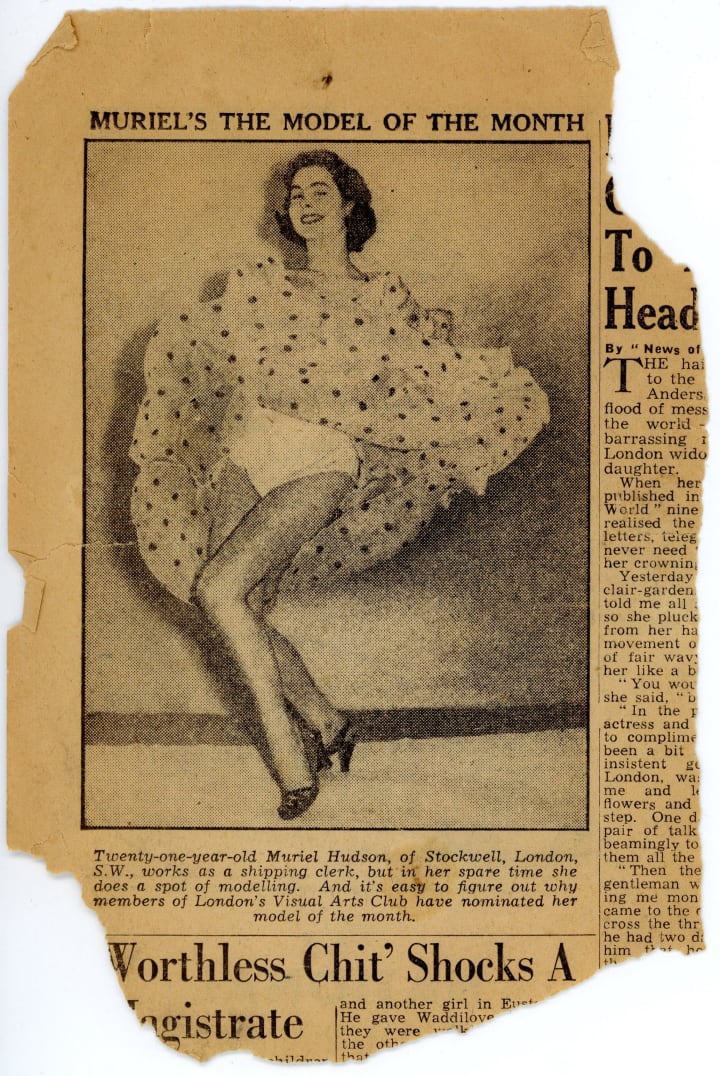 Cheesecake photos provide a counterexample to the photography style Guccione became known for. Where the pin-ups were heavily posed and minimally decorated, Guccione's photographs in Penthouse featured models moving and reacting organically in ornately decorated settings, often in Guccione's own home. The resulting images have a soft focus, very little editing, and provide a voyeuristic view into a woman's imagined interior world through the male gaze. It is ironic that Guccione got his start with images that were so different, but it allows us to learn that his artistic eye had an immense impact on his photography.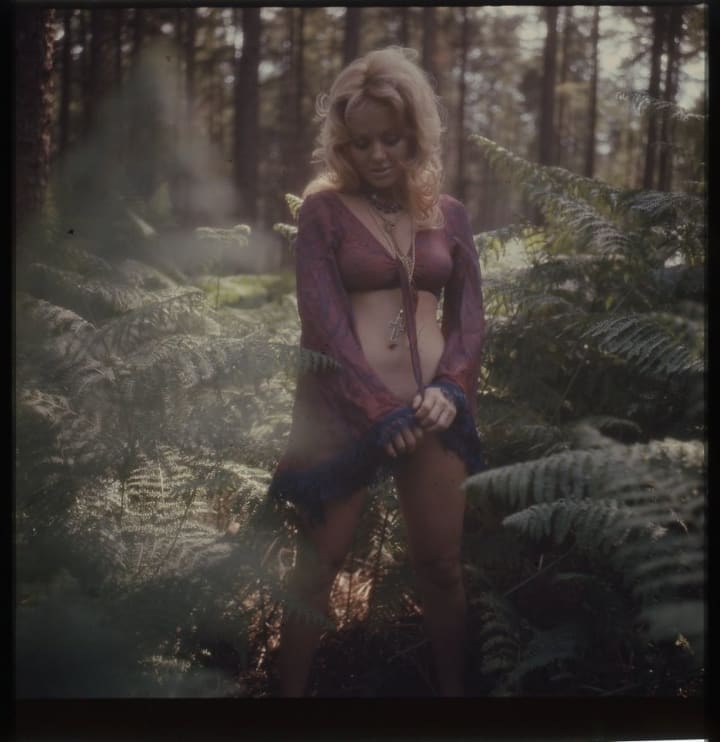 Cheesecake photography is ripe for historical analysis beyond the stylistics of the images. In "Women, Cheesecake, and Borderline Material," Joanne Meyerowitz' often-cited article published in the Journal of Women's History in 1996, Meyerowitz discusses the larger implications of these photos, such as how they led to a greater renegotiation around sexuality beyond procreation. Meyerowitz also writes that "this history demonstrates that commodified sexual representation was a 'woman's issue' well before the contemporary feminist movement." Discussion of these early photographs does not typically discuss the agency of the models, which while perhaps little documented was, of course, ever present.
Women posing for cheesecake photos and women in the society that circulated them had their own responses to this work. The OG Collection provides a rare historical source about the reactions of women to such images. In a 1955 letter to Robert Gucci, one Mrs. Rose Oliver writes a note accompanying the return of nude photos she discovered in her home. Rose writes that she only has to return the image because "Ronnie is 9 years old and has no talent for drawing," worrying Rose that he might find the photo intended for adult members of the household. Deviating from stereotypes of the prudish wife, Rose goes on to write that "Carla is very pretty" before wishing both her and Guccione luck in their work. Rose closes the letter with another encouraging note, writing "Robert Gucci, the key to any future is hope and progress and never give up the ship."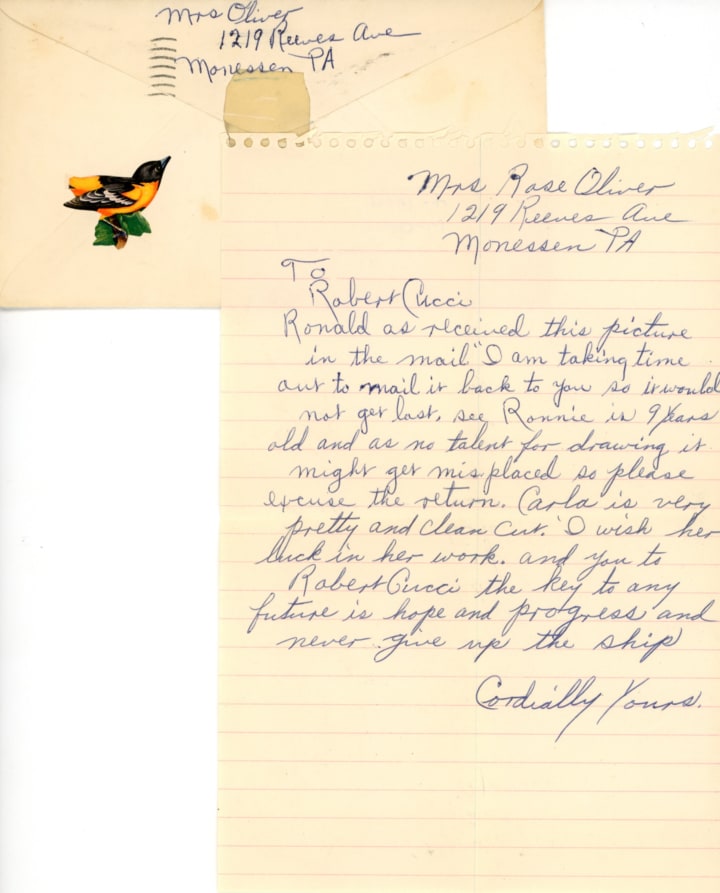 The historical study of these photographs is difficult because of the taboo nature of the materials at the time. Often all we have to go on is the photographs themselves, tucked away and either saved or just poorly hidden. The OG Collection contains materials that unveil more of this history, with written advertisements for the photographs as well as many customer letters showing the business and meaning beyond the ephemeral materials.
About the Creator
Exploring the most significant and hidden stories of the 20th century through iconic magazines and the titan of publishing behind them.
Check out our AI OG sandbox - https://vocal.media/authors/og-ai
Reader insights
Outstanding
Excellent work. Looking forward to reading more!
Top insights
Compelling and original writing

Creative use of language & vocab

On-point and relevant

Writing reflected the title & theme
Add your insights