Chantel: The 'Good' Church Girl
Risking it all for some heathen fun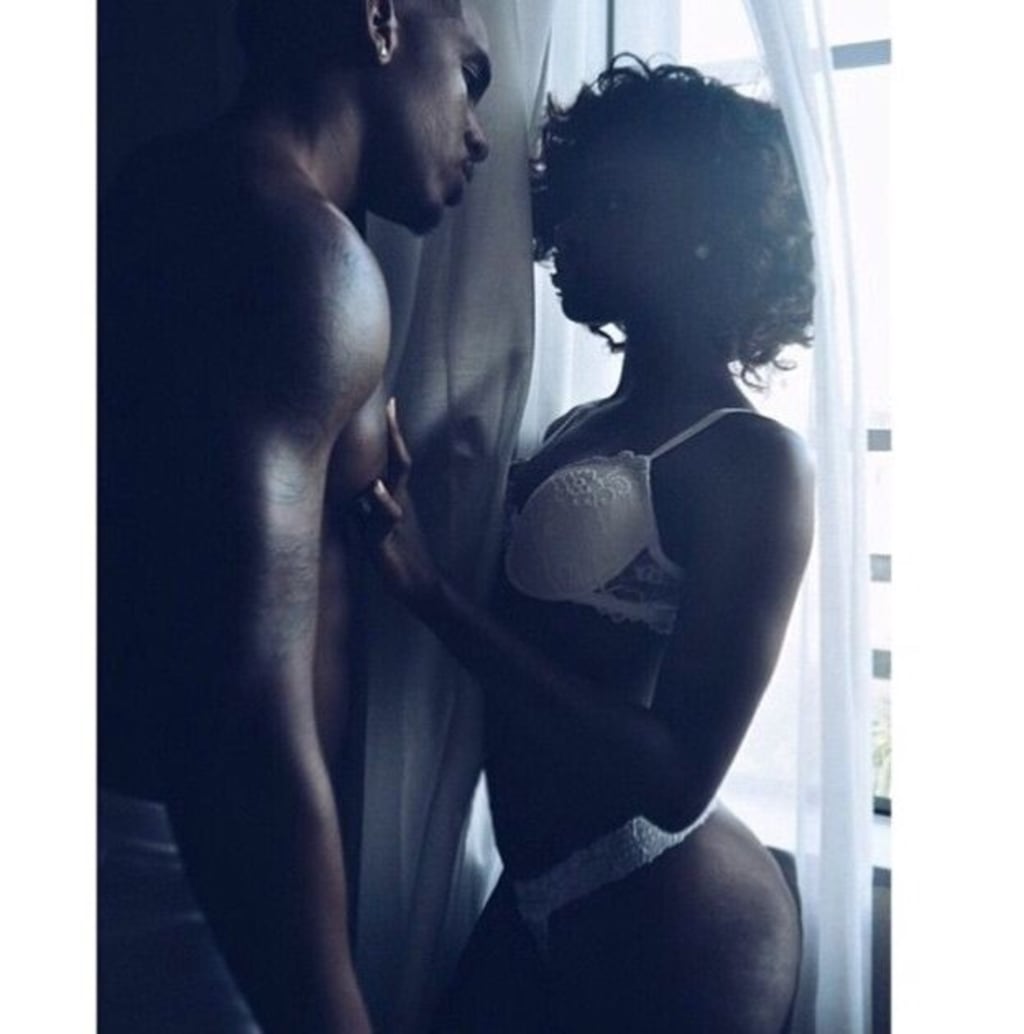 Source: Kontrol Magazine
The church is a great place for community, self-growth, and connecting with God. It is not the best place for women with active sex drives, and a willingness to explore their hedonistic nature.
The average churchgoer is highly repressed. But imagine being the daughter of a pastor.
My father is the pastor, my mother is the first lady, and the expectations they have of me are far from the expectations I have of myself. I am what they would consider a sexual deviant despite my status as a virgin. My ideas on sex and sexuality would cast me out as the black sheep of both my domestic and church families. I'm not sure that I could handle it. Actually, maybe I enjoy the mystery of being different from my family and sneaking around with my new beau.
David and I met two months ago, and my feelings for him have grown immensely. Yes, I want to have a long-term relationship with him, but I also want to feel his dick inside of me.
David is the most handsome man I've ever met, and his body always incites the dirtiest of thoughts. My pussy gets juicy when I look at him in his Sunday's best while my father delivers his sermons.
He dresses well. He speaks well. He moves well.
There is nothing about him that I don't find attractive. It's hard to see and think of him without oozing from my pussy. I often wonder what my family and church would think if they knew that at church every Sunday, I am deep in all kinds of David fantasies. Daydreaming about fucking David has become a mainstay in my everyday life - on the altar, on the church benches, in the deacon's room.
Outside of church, I've seen him every week since we met, but mostly in open spaces. We've talked about everything under the sun except sex. He knows that I am the pastor's daughter and consequently has been respectful of what he assumes are my boundaries. David doesn't suspect that I fantasize about his bare chest and his loosely hanging dick. Every chance I get, I paint mental pictures of me kissing his body and riding him in ways I don't yet know how to do.
---
We have plans to meet up today. He invited me to his house for dinner and a movie. But I know he won't make a move because he respects my family and religion.
Frankly, I am ready to take the next step with him. I need him to know what the ridges inside my vagina feels like. I want him to stretch my virgin pussy, and introduce me to this world of pleasure that is so sinful. I need him to ease the tension inside me by injecting me with his wood that I've been dreaming about for the last two months.
---
"Chantel, hi!" David kisses me on my cheek as I enter his apartment.
"Hey," I reply while I hug him. He smells good. Delicious might be a better word, but let's not get too excited.
His apartment is nice. More like a bachelor pad, but really clean and well-decorated.
"Want a tour?" he asks.
"Yeah, no doubt!" I exclaim, maybe a little too eagerly.
His entire apartment is nice, but now that we're standing in his bedroom, I can't help but wonder what has transpired here and what will transpire, if anything. I spin a full 360 degrees so I can have something to recall for my next daydream.
"Nice," I tell him. "I like your apartment. It suits you," I add.
"Thanks," he smiles as we walk back toward the kitchen.
"What are we cooking tonight?" I question him as I sit on one of the kitchen stools.
He has some things organized on the kitchen counter.
"So… as you see here, I was thinking we could do some shrimp," he says. "Is that OK? No allergies, right?"
"Nah, no allergies. I love shrimp," I inform him.
He turns around to get some things from the fridge, and I take some time to properly assess his body under his grey sweats and white wife beater. It took everything in me not to look down at his dick print when I got into his apartment. But my willingness to refrain is fading.
David gets some tomatoes, onions, and peppers from the fridge and looks at me. However, I am transfixed and enraptured by his dick print. He doesn't move - allowing me to gaze on him like a puma on the prowl.
I eventually find the will to look up into his eyes. He's smiling at me.
"Welcome back, Chantel," he grins at me.
"I'm embarrassed, but I don't regret it," I say, dropping my chin.
"No need to be embarrassed." He lifts my chin to plant a kiss on my lips. It's slow and intentional. As he softly sucks on my bottom lip, he maintains eye contact with me. Lost in the sensation of his lips against mine, I lose the ability to keep my eyes open. Any kind of physical contact with him leaves me tingling with desire. I could cum right now if he keeps kissing me like this. And I'd do it without shame.
He stops kissing me and returns to the fridge to continue with dinner. But I keep my eyes closed. Remembering the proximity of the kitchen counter, I bend over to rest my head there. I have to stay here for a few seconds.
How can one man have this effect on me? This makes no sense. And while I love the surges of lust through my skin and in my blood, I'm not sure that I can contain myself anymore. I have to leave.
I walk towards the sofa, grab my bag and head for the door. It's more like a jog-step to the door, but who cares? I have to get away from him. His effect on me is starting to overwhelm me. And it doesn't help that I am in close quarters with him.
As I open the door, I feel him grab my free hand. Before I was fully facing him, his lips were devouring mine in the best way any one can imagine it. His lips are full and soft with yearning for me. He shuts the door behind me and I drop my bag on the floor to kiss him back.
His lips were trembling on mine.
"Chantel, I need to have you," he whispers shakily. It felt so good to hear him call my name that way. Even better is knowing that he craves me the way I've craved him.
"I want so badly to respect your beliefs, but I can't hold this in any longer," he says. His eyes are now looking into mine.
"Fuck my beliefs," I say and lunge at him for another kiss.
This is it. I can't stop now and I wouldn't wish to. My body has been screaming David's name for two months, and he's finally answering its call.
He's seated me on the dining table while he kisses and bites my neck. If anyone happens to be walking by his apartment right now, they'd think he's fucking me with a 10-inch wood. Little would they know, it's only his lips and teeth against my neck that have me moaning like a maniac. I can't help myself. I've never felt this kind of pleasure in my life. My imagination couldn't convey these kinds of sensations for me. I feel like, here and now, I've come alive. My body has been sleeping for the last 24 years of my life.
David is enlightening me in the ways that are supposedly most sinful. And at this moment, I'd gladly accept the condemnation that goes with it.
He is in full control of my body. After removing my sun dress and underwear, he kneels before me and kisses my inner thighs before he sticks his tongue between the lips of my pussy to massage my clit. I lie on the table to give him more room to roam my crevices, but also to melt into the sensations incurred by his lips and tongue. I never thought tongue-to-clit would feel this good. Conceptually, it made no sense to me. But now that I am here, and this is happening, I don't know how I could have lived this long without experiencing it. My body starts contracting, and my legs stiffen as David sucks me to the rhythm of both our moans. I think I'm cumming. I can't control the trembles of my body, and my clit seems to have developed a life of its own in response to David's tongue.
When he stands to kiss me again, I sit up to face him. I can taste myself, and it's different from anything I've tasted before.
"You taste good, baby… so good," he moans in my mouth. He lifts me and treks to his bedroom. Gently, he lays me down and begins his slow undress. In no rush, he tosses his wife beater to the floor as he steps out of his grey sweatpants. He retreats into the dimness of the room, but his body is visible. He's just standing there, looking at me. But I don't mind. I can relish every moment and the beauty of his physique. He's slim but built. David's slender waist is decorated with a 6-pack, and evidence of his gym routine is in his chest, arms, shoulders, legs, ass, and back. The man before me is everything I've ever imagined.
"David, I want you inside of me." I'm begging him to fuck me.
I love looking at his body, but even more, I would love to feel him inside me. David smiles but says nothing. He climbs onto the bed almost in slow motion. He kisses between my thighs. Then my lower belly. Before long, he was licking my erect nipples.
"That feels so good baby," I say.
He then kisses my lips before climbing onto his knees to grab hold of his schlong. Before sliding inside me, he rubs his dick against my clit: slow to fast. It seems so simple, but it makes me feel so good. This is the epitome of desire and needing a man. As I moan and call his name, I arch my back against the bed and grab the clean, white sheets. He's teasing me, and there's not much I can do about it. I'm cumming. My pussy is cumming all over the place. This is the best day of my life.
As I come down from my orgasm, he slowly thrusts into me. I am supremely wet and distracted by my orgasm, so I only feel a pinch. His dick moves slowly between my walls, filling me up with satisfaction.
"Oh my God! David, don't stop."
"I won't," David murmured.
I can hear the sound of my wetness as he strokes my brand new pussy.
"You feel so good, Chantel."
"You feel good, David," I affirm. "Your dick is everything I've been dreaming about," I add.
He kisses my lips again.
"Chantel, I can't hold it anymore," he says.
"Cum for me David," I moan.
His strokes are getting faster. He plants his arm against the headboard for support before he calls my name again.
"Chantel, Oh. My. God."
I close my eyes to enjoy the feel of his warm milk inside of me. We're done. For now, anyway.
erotic
About the author
Sex stories that explore every desire and inspire sexual confidence.
*This is an adult space for adult consumption.*
Follow me!
Pinterest: @RheaRoseStories
Twitter: @RheaRoseStories
Reader insights
Be the first to share your insights about this piece.
Add your insights