Brenda Bondage
A Private Porno Party Story, No. 1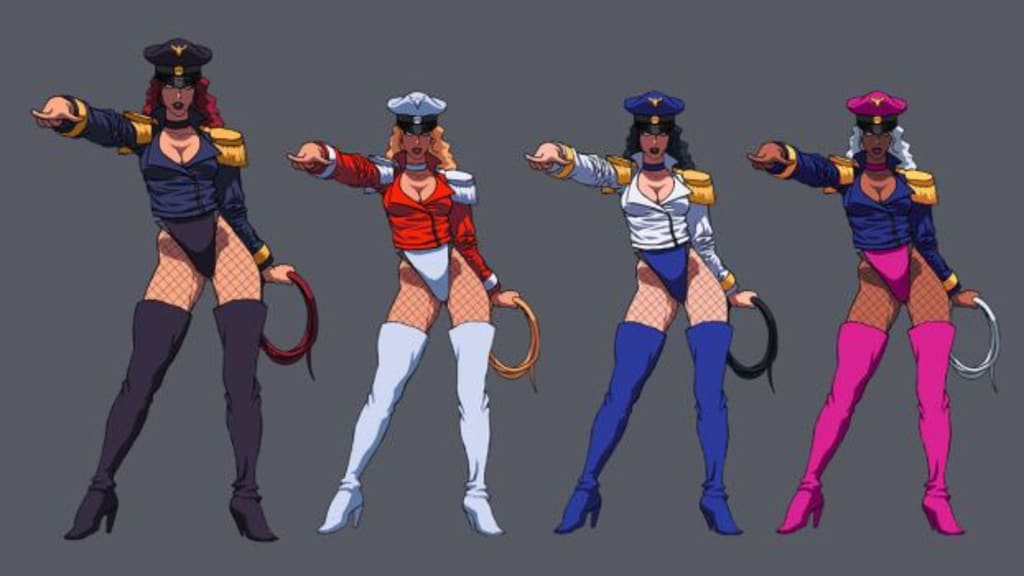 I get home from work after midnight. I'm nineteen years old, working at a sandwich shop and gigging as a stand up comedian at open mics around town whenever I can. I'm still living at home, and on this evening, when I enter the apartment, I notice my mom is not in her bed, which she keeps in the living room. I make my way across the living room and into the kitchen, where I find my mom at the window, looking down from the second story window onto the parking lot below.
"What are you doing, mom?" I ask.
"Shhhhhh," she shushes me. Then in a whisper, she says, "something is going on down there and I don't know what it is."
"Where?"
"Down there, on the other side of the garbage cans," she replies, still whispering.
I go to the window, which is open, and look out.
At first, I see nothing. Then there is a bit of motion, a streak of white, mostly shadows. I keep looking and after a moment I realize that what I'm looking at is a human thigh. A very attractive human thigh. A bare human thigh. From the top of the hip to the bottom of the pointy heel on a CFM shoe.
The thigh moves and I hear a scraping noise and then some low voices and some giggling.
"What the hell are they doing?" Whispers my mom.
"I have no idea," I respond, my eyes fixed on the scene below. The scraping noise continues, and then there emerges from behind the dumpster not one, but two naked thighs, attached to an absolutely delicious looking female body, dressed in a short, sheer negligee and carrying a shovel. She is accompanied by two other attractive females, and the trio makes its way across the parking lot and into the apartment complex.
I recognize the woman with the shovel. Her name is Brenda. She is a neighbor, who just happens to have the same last name I do. I've carried a laundry basket for her to her apartment. She is, unquestionably, the most alluring female I'd encountered to that point in my young life.
I see them go, and know instantly I have to take action. Something tells me that whatever the ladies are up to, it has something to do with sex. I know that more than anything else, I have to be a part of that scene!
I say to my mom, "Uh, so, mom, just stopped by to grab a couple things, I'm gonna stay with my friend Sue tonight." And without waiting for a response, I am out the door and moving toward Brenda's apartment.
I stand in front of the door to Brenda's place for fifteen minutes without doing anything. I am torn. What should I do? I mean, who walks up to someone's door around midnight for a casual social call? I could hear low voices and laughter coming from inside, and see some kind of candle burning through the thin curtains over the front window. I lift my arm up to knock on the door…hesitate…lower my arm…listen…raise my arm again…hesitate…put my arm back at my side. Over and over I reach up to knock, but keep stopping myself. I'm nervous! And I confess to feeling shy. This is a beautiful, clearly sophisticated woman. And I'm a wannabe entertainer. I am clearly out of my mind to be here in the first place. And yet…I'm aroused out of my mind! Finally, my fist flies up and flourishes a "shave and a haircut" knock on Brenda's door.
It didn't take three seconds for her to open it. And give me a close up inspection of that lingerie she is wearing.
It is indeed sheer. It appears to be a single piece of fabric, see through black, more like a cape than a gown — and it falls to just above the top of her gorgeous blonde valentine. She has perfect breasts. Perfectly shaped, perfectly sized, perfectly pouting nipples and aureoles. Her body is perfectly proportioned, at once completely feminine and stirringly athletic.
She stands at the door, naked from the belly button down, wearing that see through number and a smile, like it was the most normal thing in the world to open your door to an unexpected knock naked from the waste down. "Hi Bill," is all she says.
I find myself wishing I'd spent the time at the door thinking about what I was going to say rather than agonizing over whether to knock. But. I'm quick on my feet, and extemporized: "I have some beer, saw you ladies going into the complex when I got home, just thought I'd see if you wanted to party."
Brilliant. Dork!
Brenda's smile doesn't even flicker, in fact, it gets broader. She says, "Well, we have our own plans for tonight…"
A falling feeling fills my stomach.
"…but why don't you come over tomorrow night, this same time, and we'll party together?"
Oh. My.
"Sure, yeah, I got ya," I stammer, smile, turn and go. Before I turn away, though, I can see past Brenda, to the two other women, who I now observe are stunningly beautiful Asians, sitting on the floor at the coffee table in the living room, focusing on some kind of fire, not a candle, but a pile of something, burning on a pie tin in the middle of the table.
The thought "She's a witch!" bursts into my mind. I push the thought away — but it comes back. I've had some experience. With witches. Serious. Wicked Wicca women. Watch out!
The thought of Brenda as a witch sends a shudder through my body. Don't like witches…
* * *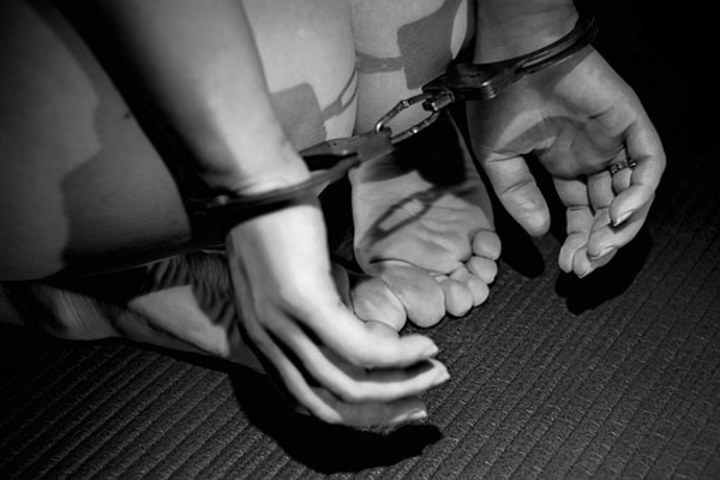 With a night to sleep on things and a chance to think more carefully about the invitation. I make the obvious decision and I'm at Brenda's door the next night, at the appointed time. I dressed for a date — dork! Brenda has on a short skirt and tank top. She shows me to the couch in the living room and we begin to talk.
The talk is small, but not for long. Less than half an hour into my visit, Brenda pauses in what she is saying, reaches under the couch — and pulls out a cat-o-nine tails, lifting it over her head and binging it down hard on the carpet next to the couch.
WHACK!
"Some people say I'm mean," said Brenda. "But it's not what it seems."
She looks right into my eyes and smiles.
Ho. Lee. Phuck.
She then proceeds to tell me a story about the cat-o-nine, explaining the rudimentary philosophy behind sadomasochism and relating a specific experience she has had with the whip.
I have never heard anything like it before. The idea of striking someone. With something like the cat! My first thought is, That's a horrible thing to want to do — and almost immediately notice that I've got a major hard-on.
I'm struggling with my thoughts and feelings about what Brenda is saying, when she says to me, "Why don't you take off your clothes?"
The struggle ends. My mind is still swirling with crazy and conflicting cognition, but, let's face it — there's only one reason why I came over here. Now, I'm pretty sure it's going to happen.
While I'm undressing, Brenda leaves the living room for a minute — and comes back with various "toys." As in devices used by adults to apply or increase stimulation. I had no idea what they were. Up to that point, I thought a dildo was just an insult or epithet. I mean, I recognize a rubber penis when I see it. It would take more instruction from Brenda for me to understand the form, fit, and function of all her devices. I had already developed a taste for the visual (as long as it's not too abysmal), copping Penthouse magazine when I was 13, sneaking into adult theaters when I was 16, and now here's Brenda, launching a whole new sexual predilection for my consideration — voyeurism.
I learned that Brenda's profession is "exotic dancer." Oh baby. She moves in unimaginable ways as she demonstrates the use of each device on herself.
Then she demonstrates one of the devices on me.
I have always thought of myself as open-minded. It's a value, taught to me by my mom. Still, what Brenda is up to now…oh my. Yes, that is different. Funny, I recognize that feeling. It's, it's…the same feeling I used to get as a little boy when the nurse at the doctor's office used a rectal thermometer to take my temperature! That odd little bit of…excitement. At the bottom of my stomach.
Have you ever read the Herman Hesse novel Narcissus and Goldmund?There's a great passage where the young adventurer is taken in by a madame at a brothel and educated in all the ways of sexual congress. That's what happened with Brenda and me that night. She showed me the ropes. Literally. Before the evening was done, I had achieved a skill in tying knots I found elusive when I was a cub scout. By the way, the safety word is Omaha.
Brenda's ministrations and mentoring didn't end that night. I was in school for several months. I came to understand that she actually cared about me, and she became an important part of my life. She would call for me at the sandwich shop, and coworkers who'd take the call would hold the phone and shout across the shop, "Hey, Billy! Brenda Bondage is on the phone!" In addition to being totally liberated sexually, Brenda was a good human being. She was compassionate. She was empathetic.
And — she was a nymphomaniac.
And let me tell you something. It's not easy having a relationship with a nymphomaniac! That may sound completely counterintuitive. But. Don't fool yourself.
Trying to satisfy a true nympho can make a guy feel a lot like Sisyphus.