Bondage Part 2
There's more.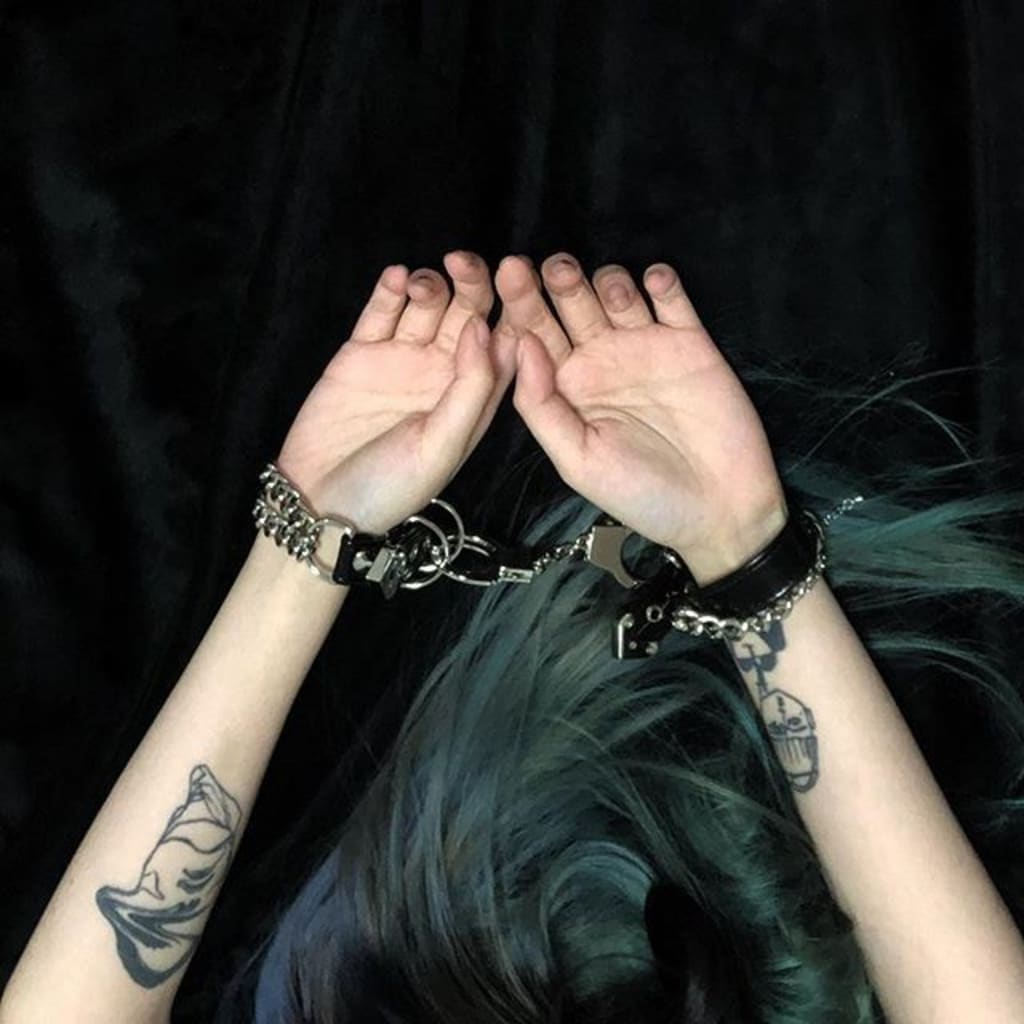 If you have not read part one of this post please do so now. I'm just covering the basics and I will answer all questions later. In this post I will cover more of the vocabulary of bondage.
Ball lock is the technique of fastening a lock (normally a padlock) around the male scrotum between the penis and testicles.
Bit gag is similar to the ball gag but it looks like a bit you use with a horse. I've seen these some of them look like a bone you would give to a dog.
Bondage bed is a bed used in bondage or BDSM play. It can be either a standard bed with some modifications or a table like piece of furniture. In both versions they may have features like padded tops and fixtures to attach stuff to them.
Bondage cuffs are what they sound like they are like handcuffs but they have a thicker part on the risk. Handcuffs are also used in BDSM but they are usually less sturdy than the ones cops use.
Bondage mittens or mitts are things that look like mittens or boxing gloves (there are at least two versions) but they can be attached to each other or something else. There are some that can inflate and there are some that are uncomfortable to the person wearing them.
Bondage harness are usually made of leather or faux leather. It is probably one of the things vanillas think of when they think about when it comes to bondage gear or wear. It has leather straps and is worn on the torso.
Bondage belts are usually made of leather and have metal rings and spring-loaded hooks. Mittens, cuffs, and other things can be attached to the belt or it can be used to restrain the sub to something or an anchor point. Some belts have straps that run in between the legs to hold butt plugs, dildos and vibrators in place.
A bondage hood is usually made of rubber, latex, PVC, spandex, darlexx, or leather. Head bondage is actually a thing and full face hood is used in head bondage. It is also used in depersonalization, disorientation, and/or sensory deprivation. I would not suggest using one if you are claustrophobic. The hood can also impair breathing and that can be a little hazardous so be careful.
Bondage tape is a 2-to-3-inch-wide (51 to 76 mm) and 0.0051 in-thick (0.13-millimetre) strip of latex or plastic. It usually adheres only to itself, without any adhesive. It may do that by using static electricity. Since it doesn't have adhesive, it doesn't hurt. It's also can be reused.
A bondage yoke is usually wood and has holes for the head and wrists. There are many different types and styles. It is used to keep the sub or bottom in place during play.
A breast binder is a tight-fitting compression vest used to hold breasts flat to the body. It is also used in the trans or gender non binary community. Some people also consider using rope to bind the breast to be breast binders.
There are chains involved with bondage but it is the same kind of chains found anywhere that you can find chains. In BDSM, chains are used with collars and other restraints. There are people who use chains as the restraints.
Chastity belts are not to be confused with BDSM belts, but it's normally worn by women to prevent them from having sex. It was used in the medieval times.
A cock ring is a ring worn around the cock at the base. There are some with an anal plug attached to it. They are usually made of plastic.
There will be a part three because there is so much information to still go over.