'Big Titty School'
Starring Britney Amber & Xander Corvus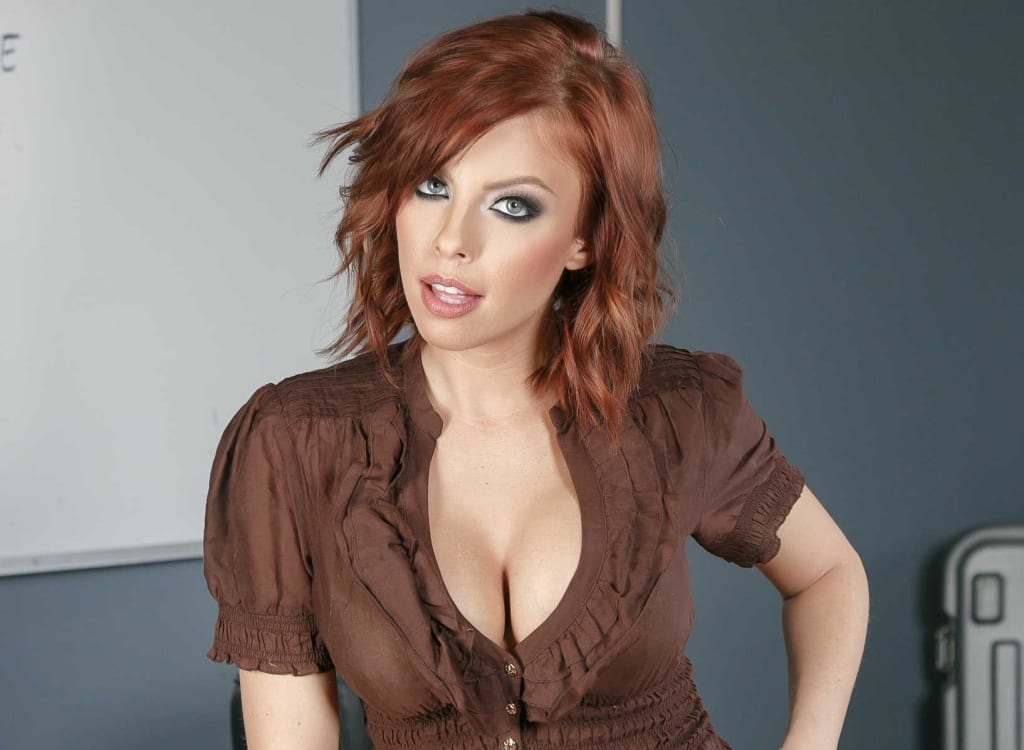 People who read my articles on the regular know I don't tend to steer in many directions in terms of the porn I watch. Yet now and again you have to have a look at what everyone else is watching to see if there's much entertainment there. Don't get me wrong I went to the usual Brazzers site to try out a scene (there's no replacement for quality.)
Something came up on the recommended starring California native 'Britney Amber' which I thought would be worth a look. The aptly titled 'Big Titty School' looked very alluring and with blue eyed Britney Amber sporting red hair it had practically made it's sale. I've previously watched Amber when she was much younger in some pretty naughty scenes. I recall one scene where she plays a girl on spring break and decides to cheat on her boyfriend with two young studs. It was awesome stuff but had a very amateur vibe to it. Here she was expected to act more and the shooting was probably much more professional. Amber was actually a 'legal escort' at the Bunny Ranch in Las Vegas before starring in pornographic films. In her spare time she likes to hunt 'game' in nature using a bow & arrow. Clearly a very naughty girl there's no doubt in my mind that she's very entertaining also. In this scene she plays a teacher in a film school; it comes across as like a college platform. Her student Xander Corvus appears to be failing his class; his recent submission 'Xander's First Fuck Flick' only seems to provide evidence towards that fact. Xander is a reliable performer/actor and women do seem to find him desirable. He actually sings in a rock band which might explain them mouth piercings he has. A self confessed geek with that kind of look; he tends to play video games in his spare time.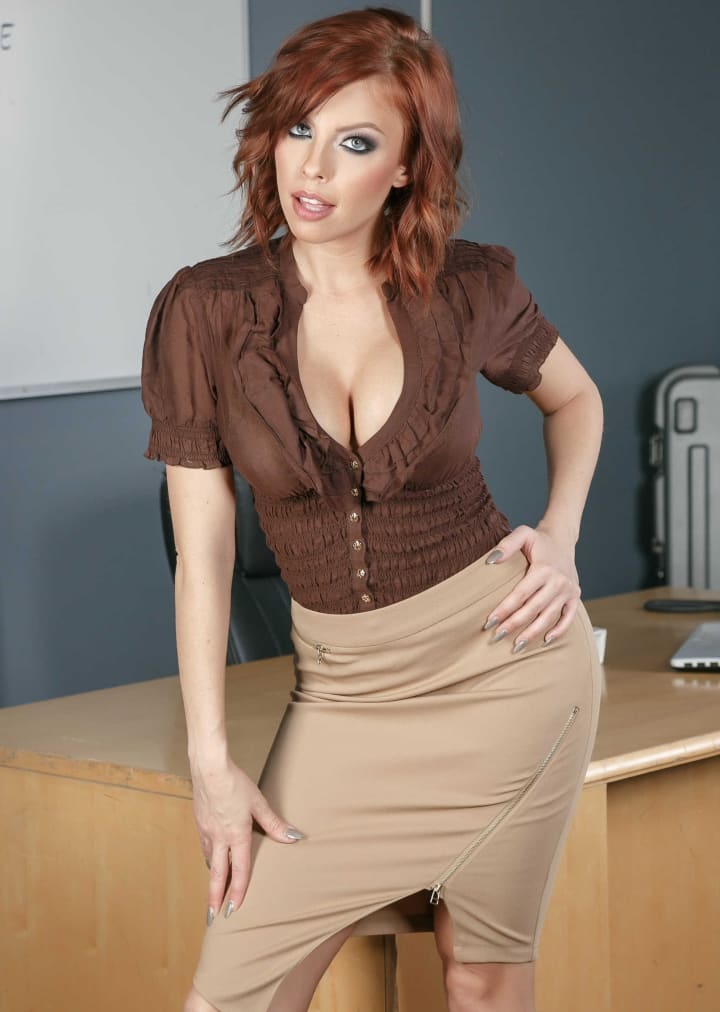 Xander is quite arrogant when he takes his place in Amber's class; who confronts him about the fact she hasn't seen him in 3 weeks. He's very dismissive and says it's just the hectic lifestyle of a professional writer ('coffee shops and stuff' he states.)
Amber's disappointment is clear and while Xander is convinced he is at least getting a grade C, his teacher informs him he is in fact getting a grade D. Xander is expectedly defensive considering his arrogance but Amber is feeling generous that day. She states that most of the class' grade will go on the student's final project which Xander feels he has in the bag. Amber has a 'chunky but funky' vibe going on here but is still supremely gorgeous as a redhead. The extra weight she is carrying acts only to emphasis those massive 36D-24-34 curves she has.
While Xander is convinced his final project means his film class grade is in the bag; Amber thinks otherwise. They begin to watch his 'First Fuck Flick' together, Amber putting an occupied sign on the class door. As they begin to watch the amateurish film it becomes clear that it's not that great. Xander is basically waving his cock at a naked girl on the bed who looks uninterested.
While they are watching this uninspired movie; Xander makes it obvious he has an interest in Mrs Amber by informing her it's her gorgeous looks which are distracting him in the classroom. Amber is sick of watching the boring movie and decides to show him how Xander's First Fuck Flick should be shot. It's entertaining stuff and to think a teacher would happen to show a student how to shoot a porn movie is pretty hot. She even uses the take board at the beginning while stood in her bra and knickers which is pretty arousing. Much to Xander's delight she tells him to take his cock out which she proceeds to suck in a sloppy manner. She really gags on the thing getting saliva and spit everywhere. I'm not one to be into pussy licking but when she decides to Xander's camera work for him while he's head first; it's cracking footage. The action is raw and sweaty but I don't want to spoil too much of it for you. Yet one bit is especially good when we get an upward shot of Amber's fat arse while Xander licks her pussy. This was a quality movie and one of the best I've watched from Brazzers. They're quite reasonably priced now at about $95 for the year so it's worth having a look at the site if you have the money. Britney Amber is hot and I don't think I've ever seen her in a bad scene.
5 out of 5
Redhead Britney Amber is redhot!