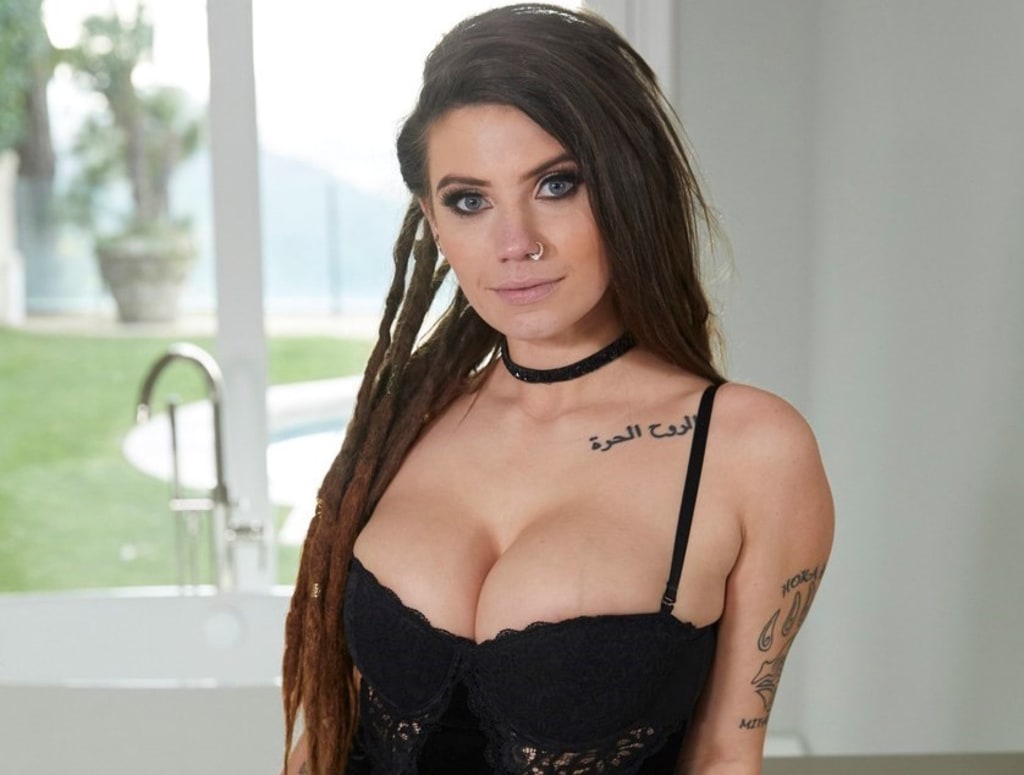 It's hard to get good quality porn for a decent price when you think about it as everyone's tastes are different. Some like it a bit rough and others a bit smooth; it really can be a mixed bag when it comes to pleasing everyone. The average cost of a pornsite per month I estimate at about £29 / $29 depending on your side of the Atlantic. In theory our American brothers / sisters get porn cheaper as the conversion rate of $29 works out at about £22.23 (source: Google.)
So today I decided to sample what porn site Reality Kings had to offer as I was curious of a scene which popped up on my radar. Often I've watched their scenes and been left with a bitter taste in my mouth as they didn't deliver on the 'reality' that their namesake promises. Never the less they have produced on occasion and do come up with a decent scene every so often. If you want to join Reality Kings on a monthly subscription it's £24.99 which is cheaper than most; although I recently saw 'Mommy Blows Best' on special offer at £20 a month.)
A 3 month membership will cost you £16.66 a month which will obviously help you save quite a bit of money on the monthly subscription. This is billed as one payment of £49.99 and will help you save a fair whack. A yearly subscription works out at £8.33 a month and is billed as one payment of £99.99.
It's not bad from Reality Kings and the quality seems to be there as this scene I'm reviewing today seems to suggest. It's from one of their websites called 'Big Naturals' which focuses on busty girls with no physical enhancements. It can often be seen as a rare commodity these days in porn as girls invest a lot of money in their bodies to try and stay in business. The scene stars a 22 year old American with 34DD assets and only started in the business back in 2019. If you want more information on her she has an active Twitter and Instagram account. The gorgeous brunette has a very alternative look about her; sporting dreadlocks and tattoos. That however makes her no less attractive as with her cute face and natural curves she is bound to 'rock your world.'
This scene is acted and has a bit of a romantic theme throughout (something I'm not much of a fan of when it comes to porn.)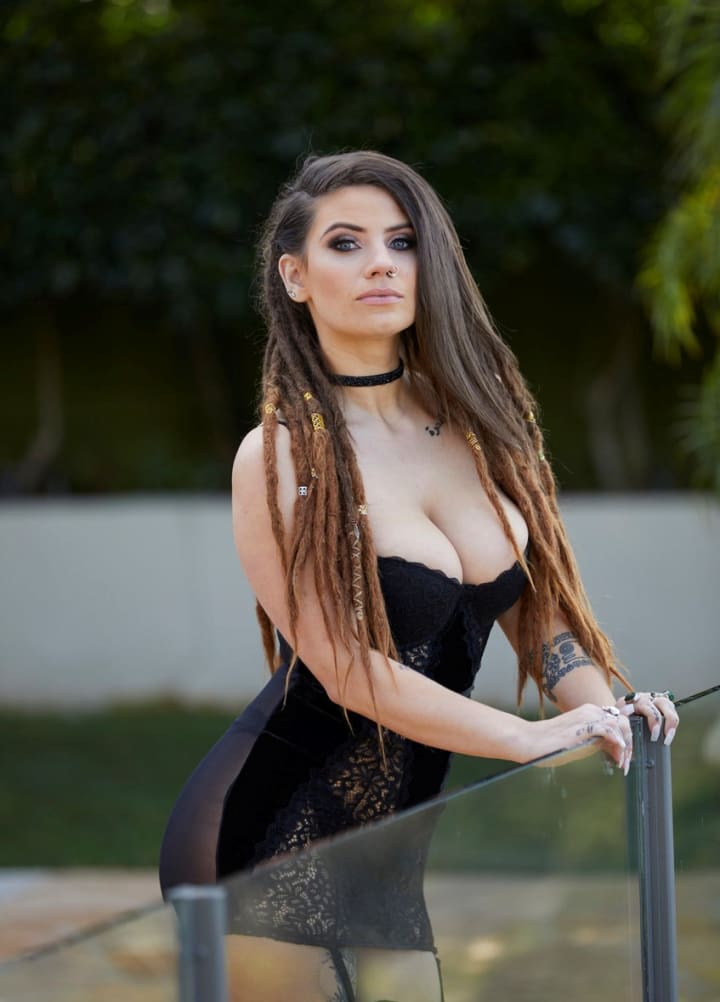 The scene begins with many scene cuts as Indica explains how she's met a new 'sugar daddy' who's been particularly kind to her. He appears not to be just after sex and tends to shower her with gifts throughout their relationship. The sugar daddy is played by male performer Zac Wilder who is 30 years old. It's lots of scene changes as Zac showers her with gifts of fur coats and oversized teddy bears. Not the intro I'm looking for in a porn scene but I suppose they have to make it a bit different now and then. Things turn interesting when Indica decides she's going to reward him for such kind acts by 'fucking his brains out.'
The narration gets quite smutty as she states she wants to 'milk his cock' and 'see where he cums on her.'
It's hot dirty talk from the 22 year old and the scene cuts to Indica wearing lingerie and waking up said sugar daddy from his slumber on the bed. What ensues is one sweaty sex scene where the pair really go at it. The gorgeous brunette gives a seductive blowjob and the scene only gets better as she slowly disrobes throughout. Zac seems just as keen as he buries his face into Indica's arse and pussy. There seems to be good chemistry between the pair as they smooch throughout and Zac can't help but suck on Indica's tits. At one point he even lobs her feet in his mouth while banging her in the 'bullet position.'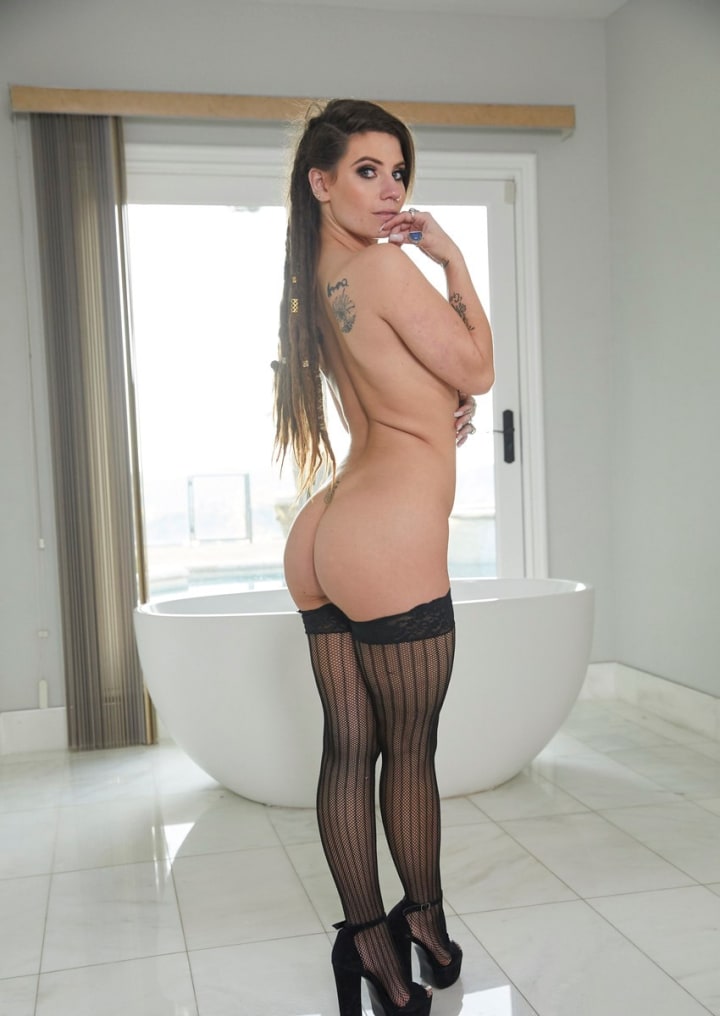 Indica's natural curves look good from all positions though; at one point Zac even stands her up on the bed and bends her over the head board. It's good stuff even if the intro was a bit soppy but the sex more than makes up for it. I give this scene 4 out of 5 and hope to see Indica Flower more often.
4 out of 5.