Becoming a Hotwife
We can thank my husband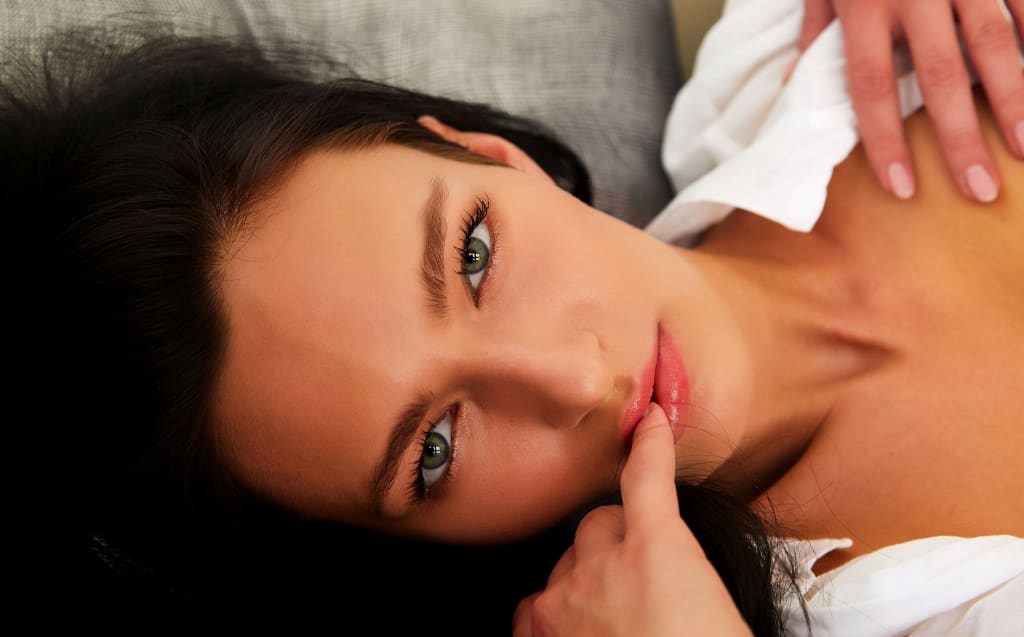 photo: https://www.metart.com/?utm_source=MyErotica&utm_medium=blog&utm_campaign=photo-credit
This story is a work of erotic fiction intended for adults 18+.
It was my husband Gary's idea, but it was only when he actually took steps to make it happen that I realized he'd been hinting at it for some time.
For months, he'd been saying things like, "God, you're so hot — you could have anyone you wanted," and, "Are you sure you're satisfied with just this one cock?"
But he'd only said those things during sex, and I'd never taken it as more than dirty talk. That was until the day he called me over to sit on the couch beside him and showed me a photo on his phone of a hot guy with his shirt off.
"What do you think of him?" Gary asked. "Do you find him attractive?"
"He's fine," I said, not knowing what he expected me to say or why he was asking.
I'd never talked about the attractiveness of other men in front of him, and I didn't want to say anything that would hurt his feelings.
Gary swiped to the next photo, paused, and swiped a couple more times. My brain felt a little like it was swimming.
"How about him? Would he turn you on?"
I glanced down at the buff young man on the screen and then back up at my husband. Then it sort of clicked into place that the photos he was showing me were on Tinder.
I took the phone from him and navigated to the app's profile — my profile, apparently. Except that I hadn't created it.
Hotwife. Sweet, funny, adventurous. Looking for BIG fun with a worthwhile stud.
He'd already uploaded a couple of my hottest photos, and I stared for a moment before looking back up at Gary and handing the phone back to him, my hand shaking just the tiniest bit.
"I thought it might be a nice surprise," he said, preempting my questions. "I love that you still enjoy fucking me. And I have no doubt that you love me. But I want you to always be completely satisfied. And it would turn me on to know that other guys were giving you all the pleasure you can handle."
It took me a moment to process before I said anything.
"Are you sure though? You'd really want me to sleep with someone else?"
"I don't want you to sleep with anyone else. I want other men to fuck you until you can barely walk."
Those words sent my heart rate up, and I felt all the circulation rush to my pussy.
When I'd gotten married, I'd believed my new husband would be the only one I'd have sex with for the rest of my life, and I was fine with that. As fine as anyone is with that agreement.
Now, my mind and body were processing a whole new set of possibilities — possibilities that should have felt shameful and yet sounded really good.
"If that's what you want…" I began.
But before I could finish, Gary lifted me up onto his lap to straddle him, and I could feel the erection that was growing under his pants.
"I want you to be the most satisfied, best-fucked woman out there."
I leaned in to kiss him, feeling the wetness in my underwear increase as I ground up against him. He pushed me back for a moment, enough to unzip his pants and take his cock out.
He lifted me onto it, pushing my underwear aside, and letting me slide right down his shaft as I moaned.
"Who do you want?" he asked, handing me the phone. He gripped my ass and started to rock me back and forth against him. "Find someone whose cock you want inside you."
I took the phone and began to swipe through photos as Gary fucked me. I'm not sure how many men I swiped 'yes' on — let's just say I wasn't quite in my right mind. We'd sort that out later.
In the meantime, I dropped the phone on the couch beside us so that I could rub my clit with my hand.
When I came, shaking from head to toe, crying out loud enough for our neighbors to later complain, and causing Gary to release his cum inside me, I was thinking about what it would be like to cum on another man's cock.
---
Gary helped me set everything up for my first, well, let's call it a date. We chose the man together, parsing through messages, Gary trying to figure out who would give me the best time.
We were, of course, upfront: I was married and my husband was interested in me being thoroughly 'satisfied.'
When the day came, Gary helped me pick out my outfit and the lingerie. He said he wanted to be able to picture it exactly as it happened.
"You're the sexiest woman I've ever met," he said as I looked at the outfit in the mirror.
It was somehow both classy and slutty. It said something like, 'I'm a lady, so respect me by satisfying my carnal needs.'
"Are you sure you want this? For real?" I asked Gary for probably the tenth time.
This was going to change everything. How could it not?
"I'm sure. As long as you want it too," he added.
I nodded. It still felt strange to admit that I wanted to be fucked by some other man. But I did. I absolutely did.
Gary picked me up and laid me on the bed, careful not to mess up my carefully constructed appearance. He slipped his tongue into my mouth as he kissed me, and I felt his erection press into my leg.
Then he put a hand up under my dress, touching me softly over my special lace panties, which were already soaked, my body betraying my excitement even if my words wouldn't.
"Hmm," he said. "Someone's ready."
I leaned back and stuck my tongue out at him. He smiled.
"God, it's hard to keep my hands off you…" he said. "Later though, I won't have to."
---
I took an Uber to the guy's place — Jared, his name was. He met me at the door, and I was not disappointed by what I saw. He was tall — taller than Gary, muscular (but not weirdly so), and had a handsome face that lit up with a lascivious smile when he saw me.
"Wow," Jared said, letting his eyes trail all the way up and down my body. "You look incredible. Come inside."
I followed him into his home, which was tidy enough that I assessed him as put together, and not so tidy that I thought he might be an obsessive ritualistic killer.
"Can I get you a drink?" he asked.
"Sure," I said, following him to where he popped a bottle of wine and poured a glass for each of us.
"Mmm." I was impressed by the quality of the wine.
"I promise to continue to please you," he said.
"Good," I said, looking at him with sexy eyes, finding I loved my newfound freedom to use them. "Let me just call my husband and let him know everything is alright."
"Please," he said.
I dialed and let Gary know that I was with Jared and that I was thus far comfortable and pleased with the situation.
"I think I'll be a couple hours," I said. "But I'll let you know when I'm coming home."
"Take your time, sweetheart. I can't wait to hear about it."
His voice was so full of arousal — I wondered if he was already stroking himself on our bed at home.
"Let me talk to Jared for a minute," he asked.
I handed the phone over.
"Don't worry," I heard my stud for the evening say to my husband, "I'll take excellent care of her needs. She'll be returned to you a satisfied mess."
I felt my pussy contract. 'A satisfied mess' — I liked the sound of that.
Jared hung up the phone and set it down on the table. I finished the rest of my wine in one sip and set it down beside my phone.
Then Jared picked me up in strong arms and carried me to his bedroom.
---
What followed in Jared's bedroom was delicious in its naughtiness. Knowing my married body was being attended to by another man, and that all the while, my husband was sitting at home imagining it, was unbelievably hot.
I tried to memorize every detail so that I could bring it home to Gary: the way Jared ate me out until I came twice, the way I got on my knees to service him, the way his cock felt filling me as he changed positions every five minutes, the way he asked me where I wanted him to cum and I begged him to cum inside me.
When we'd both finished — sticky with sweat, my pussy dripping — he asked me if I wanted a shower.
"I think my husband would be disappointed if I came home clean," I said.
"You guys are kinky," he said. "I like it."
He got up to get me water while I relaxed and eventually redressed, and then he called me an Uber, which was quite the gentlemanly move.
"I'd love to do this again sometime," Jared said.
"I quite enjoyed it myself." I batted my eyelashes at him. "I'll let you know."
---
The car ride home went quickly, and Gary was waiting for me at the door when I got home. He took me into his arms and held me tight, kissing my neck and my mouth.
"You smell like another man," he said, pulling back to look at me with a jokingly raised eyebrow. "Where have you been all night?"
"If you really must know…I was out letting another man fuck me senseless," I said, figuring out the banter as I went.
"And you are senseless, yes?" he asked.
"Perfectly."
"Good. Now," he said, pressing his body into me as he held me against our front door. "I want the play-by-play."
I liked this a lot — this version of my husband.
"Well," I said. "First, he picked me up and carried me to the bed."
Gary lifted me up and started toward our bedroom, looking down at me with sex in his eyes.
"Like this?" he asked.
"Mhm."
"What next?"
"He stripped off my dress."
"Oh good," Gary said. "I was hoping to get to do that."
Gary dropped me onto the bed and crawled on top of me. My mind flashed to Jared and his ultra-masculine body climbing over me in much the same way. I felt myself getting hot again.
Gary nipped at one side of my neck as he pulled my dress down off my shoulders, exposing my breasts first.
"Mmm," he said, slipping a tongue under one cup of my bra.
He pulled the rest of my dress down and off, tossing it aside.
"I can't wait to fuck you," he said.
"Funny, the other guy said the same thing." I bit my lip.
"What did he do to you?" Gary asked.
"First, he kissed my pussy over my panties," I said, really getting into this.
I felt myself getting wetter — the image of both men overlaid in my mind.
"Then he took them off and licked my pussy, making me cum all over his mouth."
"Don't mind if I do…" Gary said, moving down between my legs and lifting my knees over his shoulders.
"Are you sure you want to — right now? 'Cause I let him…" I didn't want to finish that sentence.
"Are you telling me that my hot wife let another man cum inside her beautiful pussy?"
I nodded.
He maintained eye contact with me as he kissed me over my panties and then pulled them down to trace his tongue up my slit. I moaned a little, feeling my juices mixed with Jared's cum start to seep out of me.
"You are a dirty girl," he said. "But I am happy to clean you right up."
I closed my eyes, throwing my head back, sinking into the sensation of my husband's very capable mouth on my pussy, knowing that he was pressing his tongue into where another man's cock had just been.
God, I loved him.
He didn't let up on licking, kissing, and sucking on my pussy as I'd started to shake, moan, and lose control, cumming for him three separate times.
Gary proceeded to fuck me over the next two hours as I gave him the play-by-play, adding some improvisation of his own. As I told him in every dirty detail what I'd done and how it had felt, his desire for me only grew along with my arousal which remained through every single orgasm.
When he'd finally finished, Gary held my naked body close, both of us sweaty, sticky, exhausted — arguably, me more than him.
"I love you," he whispered in my ear.
"I love you too."
"I'd really like to do this again, if you're up for it," he said.
I turned to smile at him.
"I love how happy it makes you. I want to do it again too."
"Good," he said. "I can't wait to see what comes next."
I wondered what he meant by that.
But then he picked me up and carried me to the shower where we washed off the sins of the day, leaving only us and our happiness.
---
If you enjoyed this story, you should subscribe to my profile for the newest stories.
I also write and publish longer work, which you can find links to on my website.
About the Creator
Elle A. Wild is a city girl who loves writing character-centric sexy stories that surprise even herself.
Elle writes from a perspective of female empowerment and pleasure, and if you're not into that, well, she's probably not for you.
Reader insights
Be the first to share your insights about this piece.
Add your insights