BDSM Erotica: Strung up and Whacked
Impact and Rope Play Scene with a Dominant Male and a Submissive Female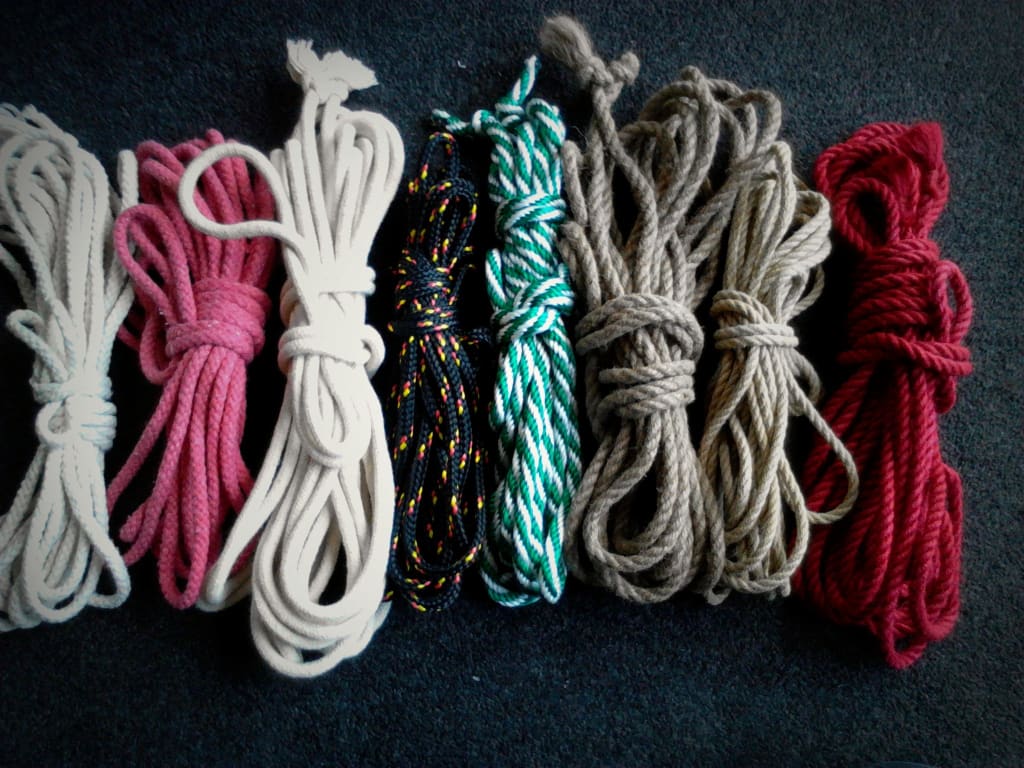 Sitting in the corner of Sir's room always gets my head going. He's in the next room banging around, I can hear Him, but He told me to sit where I normally do in my corner in my waiting position—naked with my hands on my thighs palms facing down, head lowered, eyes to the floor, sitting on my feet with my legs slightly apart, of course with His collar on. I'm facing a wall. Why is it that I'm always facing a wall?
I can feel the hardwood underneath my legs, and I can tell that this position is going to hurt in about fifteen minutes if Sir doesn't hurry to help me up—sore knees and asleep toes doesn't really make for a good beginning of a scene, but then again I am suffering for Him, so what can I say really?
I'm trying to calm myself down by telling myself that I need to stop wondering what the hell Sir's doing in the next room, instead of asking myself when the fuck He's going to come in here. I can hear his feet padding the floor just outside the door, and the faint clink of chain. I can't even see under the door so I can't tell when He's coming in my direction.
I try to stop thinking and start counting seconds. At second 153, I hear Sir finally walking towards the play room. He takes two steps into the room and then I hear the large door creak closed. I don't dare move.
"Hi, Kitten. Thank you for waiting for Me," he says in his husky voice. I shiver.
"Of course, Sir," I say, unmoving from my kneeling position on the floor, not daring to move a muscle besides the ones that help me breathe, blink and speak. He does not move for twenty seconds, and I'm guessing that meant that He was surveying me, watching to see I move or get up without expressed permission.
He begins to walk towards me, and I count His steps. At 2, I hear some more clinging of chain, some rope fall down into a pile, and three more implements (I think?) that also fall into the pile. He continues walking towards me. At step eleven he reaches my backside, He stops and pauses, then I feel His hand through my hair, reaching from the crown of my head and running his gentle fingers down to the very ends.
"Time to tie up your hair," He says, and proceeds to French braid my hair so only my straight bangs are hanging in my face. He kneels down to finish the plait, which now falls to the middle of my back. He stands up, and admires His work. "You always look so stunning on the floor waiting for Me." I couldn't help but to grin a little bit at His remark.
"Thank you, Sir," I respond.
"You may stand up now, love," He says, and I obey, placing my hands on the hardwood floor first and propping my feet up onto the floor after. As I suspected, I didn't have any feeling from the ankles down, and my knees were an awful colour of pink. As usual with the beginning of a scene, I turn around to face Him.
I stand before Him naked, with my hands together behind my back, legs shoulder width apart, and eyes meeting His. I see His face for what it really is when we begin a scene. He is so handsome, with sandy blonde hair falling around His face, dark brown eyes, shaggy dirty blonde bears and full lips. I can see his muscular torso which is uncovered by a shirt and my goodness do I want to just touch Him and love Him all over.
He smirks. God I love that smirk.
"You've been such a good girl today already, I thought W/we would do something that W/we both like, does that sound okay?" He explained.
"Yes, Sir," I smiled back at Him. He half-slapped my face with his left hand and turned to His right to grab a toy.
Turning back around, I can see the chain that He brought from the other room. He walks across the room to get the two-step ladder and continues to bring it back across the room to where the hook is, then hangs the chain off of it.
He gets off the ladder, puts it away, and walks back to pick up my wrist and ankle cuffs.
A sharp inhale as he picks it up, I can tell He's excited. He walks back to me and grabs one hand from around my back, glaring into my eyes, and places it onto His chest to tie the cuff. He repeats Himself with the other wrist, and then bends down to place the two other cuffs around my ankles.
"Come," He says, and I follow Him across the room to where the hanging chain is. He grabs one cuff from my wrist and tugs it above my head to secure it to the chain, and follows suit with the other one.
My feet are still shoulder width apart, my hands above my head, my hair out of my face. Unfortunately for me, that means that my line of vision is away from His toys so I won't be able to see what He's picking up next. I guessed that that was strategic on His part.
I stand there, naked before Him, ready to receive the pain that He gives me. He said that I was good today, so that probably means that I won't come out with crazy lashes on my ass like last time. I wasn't so good that day, and Sir had decided that the appropriate punishment was fifty lashes across my ass with a whip in the course of an hour. To say it stung me would be a complete understatement.
"Ready, kitten?" He says, taking one step to be near my left side.
"Yes, Sir," I say almost immediately with a small grin.
I prepare myself seeing as I don't know what's coming. It could be the sting of a whip again, or the hard smack of a paddle. Goodness I hope He doesn't choose His favourite oak board.
Smack
A small leather paddle made contact with my left ass cheek. I took a breath in. This paddle hurt, and I knew it could hurt so much more.
I braced for a second blow.
Smack
This was a flogger that made contact with the same spot on my ass, and Sir was being extremely gentle with it.
Paddle. Flogger. Paddle. Flogger.
Each time the paddle hit I let out a small gasp from the pain, then it cooled down with the flogger.
I counted up to thirty between both implements. Before twenty hard hits from the flogger. I threw my head back for the last ten hits, completely out of breath, and arched my back to present my ass to Him.
"Good girl," He said, coming up behind me.
He pressed his pelvis into my ass, grabbing and massaging my breasts with both hands. I was panting with complete pain and pleasure. "Thank you… Sir," I managed to spit out. His hands roamed my body from top to bottom, smoothing out the pain and making the hairs on my arms and legs stand up from the most gentle of touches.
I could almost hear the wicked grin that must have spread across His face in that moment. "Your ass is so red, I could probably fry an egg on it right now, love." He backed away and moved His hands to cup my ass.
I smiled, feeling a little bratty, "that would be egg-citing" I giggled to myself.
"Oh, you can still make puns. Might want to take it up a notch," He said, and took his hands off me. He took two steps backwards and picked up something else.
Egg-citing? Of course I would say something so bratty at this moment when He's already extremely hyped up over causing me pain.
He came back to stand in front of me with rope. He placed the rope between His legs and stretched up to remove the cuffs from their place in the chain above my head, moving them lower so that my hands were at hip-height.
He picked up the rope again and moved behind me. He grabbed my arms and linked my cuffs together behind my back. Putting His face close to my ear, I heard "bend over for Me."
"Yes, Sir." I obliged, arching my back and letting the top half of my body fall forward.
He reached up again to secure the cuffs to a place in the chain so my arms were raised in the air at a 45 degree angle from my ass.
As professionally as only my Sir could, He began to work with the rope to secure my hips, leaving my ass and cunt open for His using. The rope looped around both hips, and ended in a knot near the small of my back. He then secured that to my cuffs and to the chain above my head.
"I will need you to try this out for me. Your weight should be distributed between your harness and your hands. Please rock forward and backwards for Me," He explained.
I tried to shift my weight forwards and backwards using my toes, and found the motion to be surprisingly comfortable. With ease I was able to use my hips to rock forward and backwards, my arms being of absolutely no use to me.
"Try to pick your feet up off the ground," said Sir, and I obliged. Picking up one foot hurt on my hips, but picking up both made me shudder in pain of the rope biting my wrists and hips.
"Okay, so try not to pick your feet up then, kitten." He said with a faint laugh. I rolled my eyes and then thanked the gods that He couldn't see.
Returning to his platform of toys, He chose to grab the flogger again. I could feel
one, two, three, four, five, six, seven, eight, nine, ten
more light hits across my ass and pussy, then
one, two, three, four, five, six, seven, eight, nine, ten
terribly hard ones across my ass.
"Riding crop," He stated, producing a crop from His pile. I breathed in slowly. I absolutely hated that damn thing, but I prepared for contact.
I burst into a scream of pain as a hard
SMACK
with the riding crop came into contact with my pussy.
I automatically lifted both feet up off the ground and exclaimed in pain again since it pulled the rope achingly tight across my hips and stomach.
"Don't pick your feet up," He said in his most monstrous Dom-voice.
"Yes, Sir," I responded as tears began to well up in my eyes.
He came up behind me and put a hand across my pussy and ass, massaging the pain away. "A little tender?" He asked.
"Yes, Sir," I responded once more.
"Five more," He said.
One, two, three
my weight had shifted forward, putting intense pressure on my hips, but I couldn't move it back.
FOUR, FIVE HOLY SHIT OUCH
"AH FUCK," I yelled. Panting terribly hard, I raised my face to stare at the wall. I was proud that I didn't lift my feet off the ground, but my hips were so so sore. I felt His hand on my red pussy again. "There you go, kitten, shhhh." He tried to calm me while I smiled a wicked grin.
He began massaging my clit with one hand, to which I started moaning in pleasure. "You are so wet, little girl. What could have possibly happened to make you this wet?"
A finger slipped inside me. Then two more. I screamed in pleasure, having all of the blood rush to the surface of my sex with His crop was absolutely amazing for this purpose. I felt close to climax, and I knew I would if He kept going like this. I knew He could feel me getting tighter and tighter.
"Nono, don't come yet. You're not allowed," He explained, and took His hands away from me. I sighed, hanging my head.
Panting, I kept my hand hanging low. He reached for another toy and suddenly the flogger was back.
One, two, three, four, five, six, seven, eight, nine, ten
hits across my ass.
One, two, three, four, five, six, seven, eight, nine, ten
more hits, harder. He switched to the paddle again for
One, two, three, four, five, six, seven, eight, nine, ten
more hits. Then
One, two, three, four, five, six, seven, eight, nine, ten
HARDER hits with the flogger, bringing tears to my eyes again from pain.
He paused and began to walk around me to survey His work.
I kept my head down, trying to regain my breath and stop the tears. I rocked back and forth on my heels to make sure blood was still flowing. My hands were numb, why is it that my hands are always numb?
Sir reached up to grab the top from the chain, letting it and my cuffs down and standing my up straight. My hips were afire with red, hot pain and discomfort. It was beautiful.
I placed my hands on my head even though they were asleep while Sir undid the rest of the rope and took His cuffs off my ankles.
Sir looked at me dead in the face, and smiled. "God you're beautiful when you cry for Me. Thank you." He put my hands, cuffs still on, on His shoulders and kissed me.
I smiled. "Thank you, Sir."