BDSM Erotica: Caged and Confined
Letting slave out after 8 hours.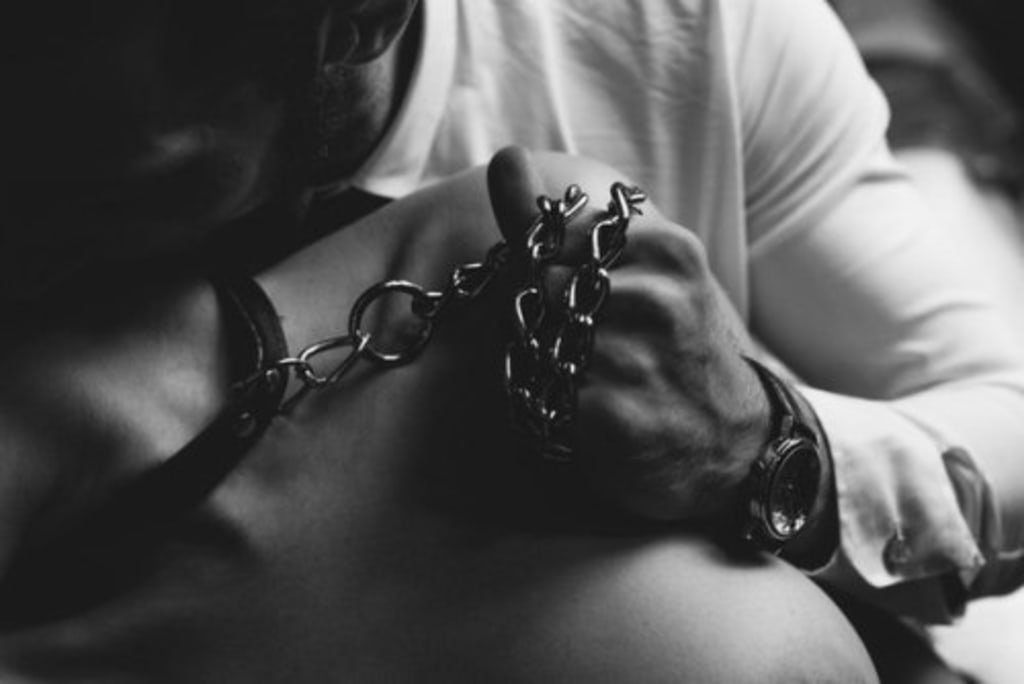 I must have been in here for at least eight hours by now. I lay flat on my stomach in Master's cage, feeling the cool wood underneath my naked body. With my hands folded, I rest my head on them, turning my neck to look to the left. Nothing's there, the room's completely black still – Master had even blacked out the only window in the room. I manage to see small outlines of different shapes and the outline of the window itself, but other that that, I'm just a fuck toy stuck in His cage for His use.
I try to meditate when I'm locked in Master's cage and know that I'll be in here for a while. I find it extremely peaceful to be by myself but still in His possession, it gives me so much time to reflect on how to serve Him and spend some quality time in subspace, my own personal heaven. As an added bonus, there's confinement, which of course is one of my top kinks.
A deep breath in, and I note how His thick metal slave collar sits on my neck as it expands with the incoming air.
An exhale, and I touch it with my left hand, my head resting on my right, and feel the smooth, cool steel with my fingertips, then grasp the large O ring attached to its front. Pulling on it lightly, I'm reminded of the chain linking the collar to the floor of the cage, with about 30 inches of chain so I'm (kind of) free to move about.
I stop moving the chain as I hear a footstep in the hallway. SHIT did He hear me? I'm under protocol to remain as quiet as possible while in the cage in His playroom. As quietly as I possibly could, I rest my left hand on the floor of the cage and keep my head's weight on my right arm, not daring to move the rest of my body.
Two more steps and the doorknob slowly turns behind me. I try to calm my heart, hastily beating at the fact that I will be seeing Master again after so long by myself. A single stream of light enters the room, and leaves just as quickly as the door shuts behind Him.
My heart skips a beat, I can feel it pumping in my chest.
Three more steps and the lamp in the corner of the room turns on, filling the room with dull, yellow light. I can hear Him rubbing His hands together, and I dared peek behind me to see His bare feet pointed towards the cage, unmoving.
Master approaches the cage, putting His right hand on the padding on the top and making His way around the entirety of the cage. I listen intently at the sound His hand makes against the fabric. Master stops to my left beside my head, and begins to crouch down to look at me.
I eagerly peered in His direction, I longed to see His face after so long, to feel His hands on me, even a simple kiss.
Then there He was in all His glory, like my guardian and savior. Not being able to look Him in the eyes, i gaze at Him in my peripherals, noting his messy dark hair, his shirtless appearance, broad shoulders, old jeans with a black belt, and His strong hands.
My right eye starts to tear up. Master cocks His head to the right, and I could feel the half-smirk that peeled across His face. I have done well.
"Master," i muttered.
"Hi, baby." He cooed, almost growling. He reaching through the bars to pet my hair. I almost recoiled at His touch, flinching a bit since it had been so long that I had been alone.
His touch is like heaven. Master spread His fingers and combed them through my hair, twining them in the base of my low ponytail and holding on firmly. I closed my eyes, feeling every second of His touch.
He let out an audible exhale and brought my head up off the floor by my hair with a single swift pull.
"Look at me," He ordered, and I obeyed instantly. Locking eyes, I could see the hunger expressed in his bright blue eyes. He looked like a God to me, with His salt and pepper hair, small sinister smile and head cocked to the right, gazing at me.
"I'm going to use you, little girl. I hope you've been using the time you had in here to prepare for the scene," He explained.
"Yes, Master," I replied, with a meek grin.
"Good girl. On your knees," He said, and I began to prop myself up onto all fours, then lowered my torso onto the ground in more of a child's pose. He reached through the bars, grabbed the O ring on the front of the steel collar, and let the chain off.
He walked around to behind me where the door of the cage was. Grabbing His keys from His pocket, He fiddled with the lock and with a final clang it came undone.
I heard the squeak of the cage door as it opened, but I didn't dare move.
"Okay, kitten, come out and kneel for Me." He ordered,
"Yes, Master," I responded, slowly beginning to shift my weight backwards, crawling back out of the cage.
My body was full of anticipation for the scene to come. I wish I could just live in His cage forever, being His little slave for use whenever He wants me. This is my ideal life, and I love Him with all my heart.
---
XX LC