Back End
An Online Sneaky Link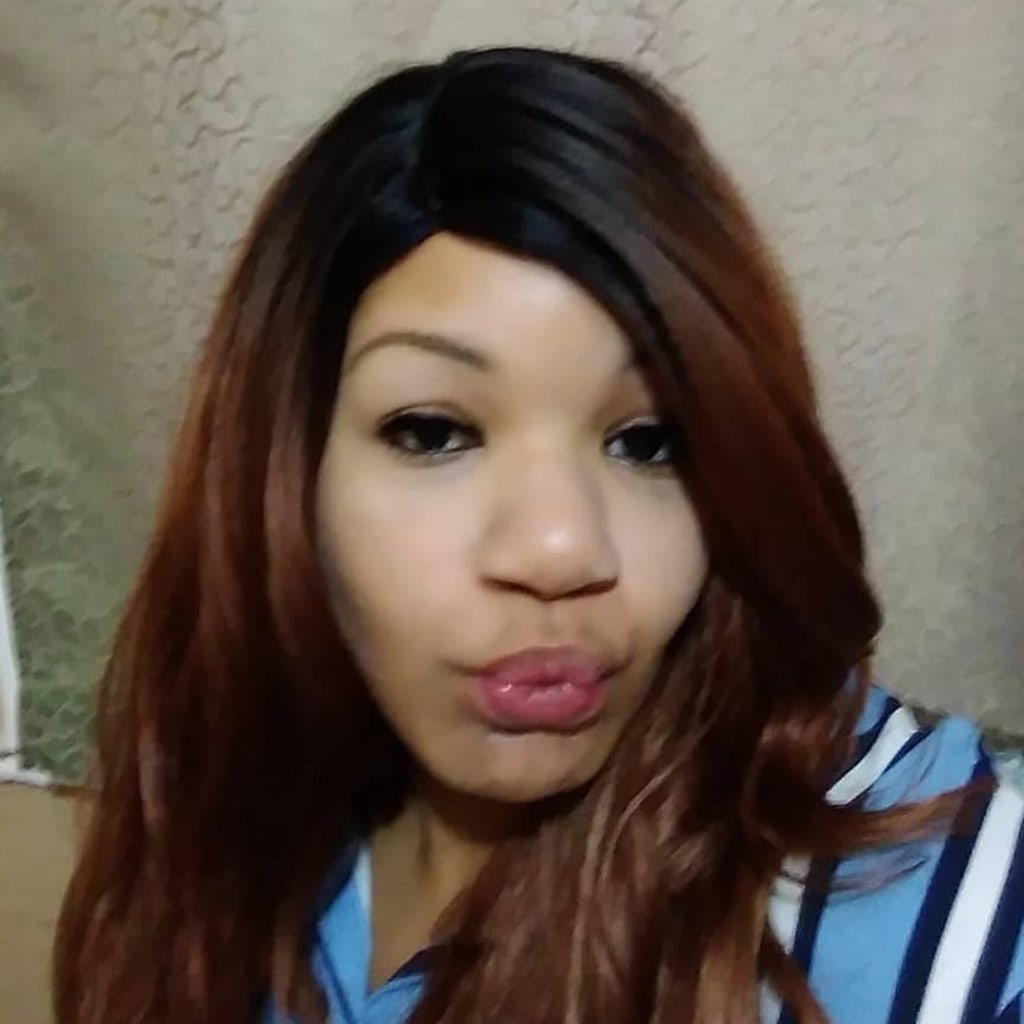 profile pic lol
How does anything start really? Out of boredom? Out of curiosity?
I don't know 100% what it was this particular evening but there I sat in my best friend's living room holding another bottle of cheap red wine while wearing my favorite yoga pants that "flattered my butt". Yup another evening of wine drinking and acting as if I were okay with this single shit. My home girl Kelly was married but had way too much free time because we were always together. Her #1 goal lately seemed to be finding me a husband or something just as good.
Kelly meant well I'm sure and lord knows I loved her for all her efforts but I knew my crazy ass would be single for awhile longer. I just really need my back blown out properly and discreetly. A sneaky link without the spooning afterwards. I knew if I told Kelly this she would try to convince me to simply wait and stay with coochie cob webs. Nah sis, I need my pipes bust baby!!! I always felt sexually liberated and felt free to explore my body as I see fit and with whoever I want. My pussy has power and it needs to be charged as well. I enjoy sharing my sexual allure with the lucky men I choose.
As I stood up from the cozy floor rug I looked at my glass and saw the leftover lipstick stain on the rim and lost it! I couldn't help but think that these pretty lips should be wrapped around a beefy cock instead of a lonely reminder of an empty evening filled with large amounts of alcohol. I had enough. So it began.
"Hey girl you remember how Janet met her boo last month?" I asked Kelly.
"ummmm I think it was....." Kelly stammered while under the influence of that cheap red wine from Walmart.
"they met online right? was it Black People Meet? Tinder?" I coaxed. I wanted to know which app because Janet had a sexy chocolate well educated man of a dating app! I needed that come up real quick myself.
" Girl I don't even know...."Kelly added and trailed off.
I said to hell with it and opened the browser on my phone, went to the app store and searched for the first dating app that popped up. Yahtzee! I created a quick online profile to get started and a sexy profile pic to boost my chances of being bent over tonight. I waited a while and started viewing some of the men's profiles. I found myself swiping left alot! sheesh!
I gave it some time and while Kelly laid peacefully on her comfy sofa dozed off from our wine party I kissed her forehead and headed home.
I continued to sip & scroll. I sipped & scrolled. I got up went to the bathroom, grabbed some popcorn & kept scrolling. I was determined to be scooped up tonight!
BING. BING.
It was a notification that someone like my profile and sent a message. I viewed the message. His name was Brian. We flirted back & forth. I checked his pictures out....tall enough...skin on melanin, full beard, and it said he was employed as a pharmacist. I could dance on that. His pictures showed a bare chest while playing basketball, another depicted him well groomed in his car and flashing a big watch, and another photo had him at the gym flexing, but my favorite picture was him on the pretty sands of Puerto Rico. I was turned on. I decided to answer his message and send my alternate phone #.
We went back & forth for awhile. The conversation was juicy, steamy, flirty and real. I knew I was just looking for sex and passion but He sounded so charming. We both felt like we should meet ASAP.
"Say less beautiful" Brian said.
Holy shit! I had a sneaky link on his way!
I hurried my thick ass into the shower, I brushed my teeth and applied my favorite perfume. I used some sexy lotion on my thighs and butt. I brushed my hair and applied some juicy lip gloss. I took advantage of the darkness and skipped the heavy foundation and cat eye look. I kept it simple and give freshly kept vibes. I couldn't wait to be devoured. I prayed he knew how to fuck properly and handle all these curves I was serving up. I prayed that I was on my A game and was prepared to drop it like it's hot. I prayed he was just as clean, just as cute as he appeared online, just as funny and just had a big ass dick!
Brian called just as I was slipping into my lavender colored spaghetti strap nightgown and robe set. I was looking like a whole meal fuck a snack. He was alerting me that he was 5 min. away and pulling into my gate shortly.
Listen, I know some of ya'll woman are already bashing me for hooking up with ol' boy, for wanting straight dick and no relationship, for bringing a man over to my house, for not dating and all that corny TV shit. Well I'm not apologizing for how I live my life. I'm not a role model for your daughter and I'm a grown ass woman who does whatever she chooses to do when she sees fit to do it. Even during a pandemic! I make my own rules so I make sure To follow them.
Brian arrived. He smelled like money and power. He took one look at me and literally scooped my thick ass up off my feet! He was strong! I was excited, turned on, and open for the fun we were about to have. He started at my feet, kissing and rubbing all my toes. he began to caress my calves, kissing them also, slightly sniffing my skin. I sat with my head tilted upward in ecstasy and sheer happiness. I needed this hit! this dopamine hit felt electric. seeing how much Brian was into me sent my pussy into overdrive. I was slippery and very erect. I forced Brian to speed up and enter my oral palace. I pulled my panties to the side and guided his chin toward my clit. I pulled on his ears to help him latch on to my juicy pearl. His full head of hair was now buried between my cornbread thick thighs and I was realeasing all my juices inside his mouth. I kept cumming as he mouthed how he felt. He too became super erect and decided to stand up, unbuckle his pants, strap on a condom he had and by grabbing my pelvis thrusts me closer toward his groin where his heavy dick is waiting. He taps his dick on top of my clit. Chills.
Brian leans over on top of me. I grab him closer while we kiss passionately. We begin to kiss like porn stars. I'm aroused to the max. His dick is like concrete. He taps my clit with his heavy dick. I moaned again, He slides that monster inside me. "Oh shit!" I softly cry out. Delighted he's big enough. Excited to be getting dicked down. Happy to have my titties in his mouth and he's sucking on them so erotically, so sexually. I love how sexy this session is. As I get out of my head and into this great fuck buddy I stumbled upon, I open up and switch positions.
I end up on top and ride out the rest of my orgasm winding my hips and rocking back & forth on his cock. Brian is grabbing my waist and holding back his orgasm. He is moaning and gasping when I bring my pussy walls tighter and rise to the tip of his dick before I drop down completely. Brian pulls me in closer to suck on my full breasts. He sucks on my nipples as i slowly grind on hid cock. He pulls on my nipples and sucks, sucks and pulls while I grind on hid dick. I manage to hold in my screams long enough for us to cum together. Brian was fantastic. He was a bit softer than I expected but definitely hit the spot.
I'm not a rude person so I offered Brian a drink and some popcorn. We ate the stale popcorn while we stole glances at each other. There was a sweet innocence in our energies after our sex session. I felt calm. Brian left in the morning after we shared a quickie in the shower. I was satisfied with his efforts. He made sure I came. We hugged at the door and I watched him as he drove off from my security camera by my gated driveway. I couldn't help but think to myself....That was a delicious little Sneaky Link.
erotic
About the author
secret spy, experienced chef, sarcastic author. I have been all things but yet to cross your mind.
Reader insights
Be the first to share your insights about this piece.
Add your insights