Another Top 10 Hilarious Movie Sex Scenes
They may be more funny than sexy, but these hilarious movie sex scenes have us coming back to their films time and time again.
A comedy of sexual errors. Welcome to WatchMojo.com, and today we're counting down our picks for "Another Top 10 Hilarious Movie Sex Scenes."
For this list, we're choosing big screen sex scenes that include hilarious attempts at seduction. Please be advised, the following video contains explicit content, and is intended for mature audiences only. If you didn't see a scene you thought should be on this list, be sure to check out our first video of the "Top 10 Hilarious Movie Sex Scenes."
The fire burned hot and heavy in Ronny Yu's 1998 film, as the notorious doll covered in horrific scars gently caressed his precious and made love to her like only he could. With a sensual bass line score, and open dialogue, Chucky proposes to his beautiful Tiffany and the two souls lose themselves in sweet emotion. Given the dolls' physical makeup, the question of safe sex is answered with the poetic musings of the Chuckster. Just a couple dolls in love.
After a mischievous squirrel alters the fate of a bet, two best friends are forced to attempt a time-traveling BJ. Rob Corddry's Lou is dressed in all leather for the occasion, and is surprised—yet curious—by the physique of Craig Robinson's Nick, dressed in his favorite Cosby sweater. Unfortunately for Lou, he doesn't get a Jell-O pudding pop but something much much different, and time moves on slowly and never fast enough. However, viewers cherished every moment of this.
Heather Locklear chose an aquatic monster with whom to join in gentle intercourse in this 1989 sci-fi comedy. Although Swamp Thing doesn't necessarily have GQ looks, or perhaps even a penis, he does offer mind-altering sap that cleanses the doors of perception and allows his blonde-haired beauty to see the infinite. With a soothing score that would make Enya weep, and sparkling dialogue, this jaw-dropping sex scene should be put on repeat at the Smithsonian. Swamp Thing Forever.
The Farrelly Brothers produced one of the most unique love scenes in 1996 by making audiences gag without showing the dirty, dirty sex. After a faux-robbery gone wrong, Woody Harrelson's Roy Munson ends up bumping uglies with his veiny and elderly landlord. Her brown-toothed smile matches the color of Roy's vomit, thus solidifying the moment as the anti-Roy G. Biv of disturbingly hilarious sex scenes. Hey, at least the old landlady knows what she wants.
#6: Sex Off "Forgetting Sarah Marshall" (2008)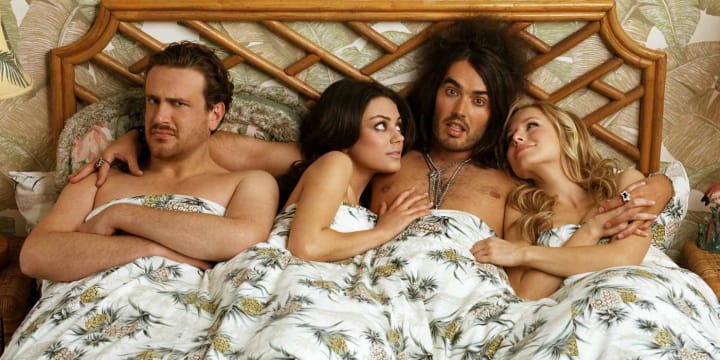 It was a battle of carnal knowledge in Nicholas Stoller's 2008 rom-com, as two separated lovers moaned to the Gods of Fake Orgasms. Jason Segel's character was ultimately the unofficial victor, but Kristen Bell's "titular" character gave it her all with extended screams and impressive flexibility. Unfortunately for both, Russell Brand's Aldous Snow stole the show with cutting one-liners and a detached demeanor of well-timed snark. All in all, this vocal performance of sexual thrills produced laughs and demonstrated that creativity goes a long way.
After numerous seasons of watching the gentlemanly ways of Don Draper, Paul Feig offered up the anti-Draper in 2011 as Jon Hamm's rhythm-challenged character made us weep from laughter. Equally hilarious was Kristen Wiig's acrobatic Annie Walker with legs flailing in the air like a human Ferris wheel. Together, the hilarious hornballs produced a comedic gem, proving that it takes two to tango—even if the steps are out of place and mildly disturbing.
With five simple words, two self-obsessed broadcasters were briefly transported to a magical land of unicorns and rainbows. Adam McKay's 2004 film offered endless laughs but it was a colorful trip to Pleasure Town that provided a psychedelic stoner's delight. With sensational lines and glorious visuals, this fantastical sex romp gave viewers of all ages a temporary mind boner and led all to cinema's pearly gates of ecstasy. Let the angels sing!
#3: Tree Foreplay "Superstar" (1999)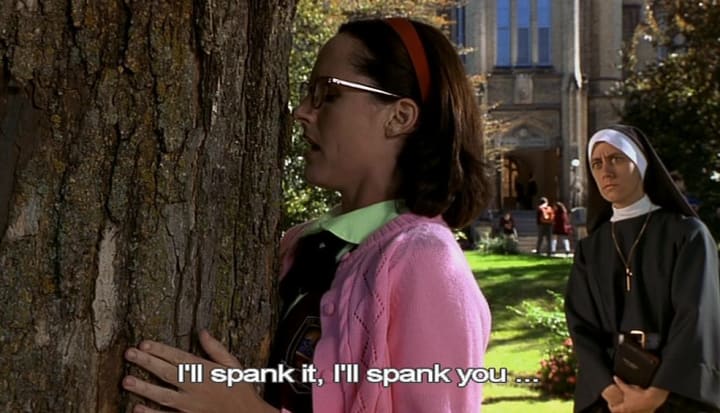 It's not often that you'll see a woman French Kiss a hard piece of wood, at least not in a public setting with chirping birds and roaming nuns. This was indeed a real thing that happened in the 1999 Saturday Night Live spin-off that had Molly Shannon talking dirty to an innocent tree. She petted the trunk tenderly and teasingly laughed before the first smooch, only to be interrupted by a snoopy sister. Mary Katherine Gallagher didn't necessarily save the rain forest, but she brought the house down with this most awkward love scene.
While most normal people connect scatting with jazz music, the 2013 anthology Movie 43 offered up something known as coprophilia. There was little doo-bopping in this wacky scene of bowel movements and sexual tension, but plenty of poo… plenty of poo indeed. The real life couple of Chris Pratt and Anna Faris starred, with the husband loading up on food in order to fulfill the unique desires of his loving wife. This tragedy ended with a windshield of fast food excrement and had audiences retching with laughter.
Before we unveil our top pick, here are a few honorable mentions.
Pie Sex, American Pie (1999)
Animal Magnetism, Howard the Duck (1986)
Almost Foursome, Harold & Kumar Go to White Castle (2004)
Limo Scene, Hot Shots! Part Deux (1993)
Popcorn Scene, Troll 2 (1990)
#1: Fat Bastard "Austin Powers: The Spy Who Shagged Me" (1999)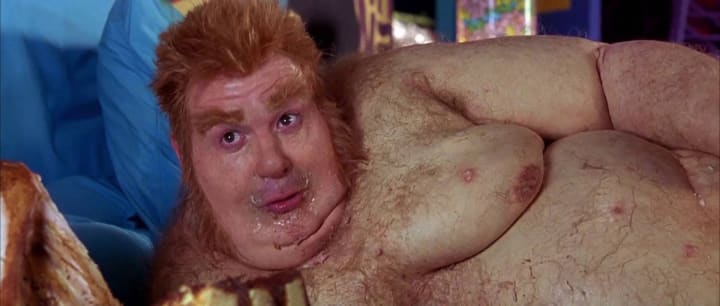 His breasts are larger than most women's and his appetite is unmatched by all. Jay Roach's 1999 film introduced Fat Bastard, a self-proclaimed "dead sexy" Scottish Guard played by Mike Myers, and Heather Graham's character was assigned to plant a tracking device right up into his rear. After seducing the man with the Triple Ds, she distracted him with chicken and gravy as he celebrated his sexual conquest in his own special way. This fat bastard confused espionage with foreplay and his reaction was priceless.
Do you agree with our list? What is your favorite hilarious movie sex scene? For more mind-blowing Top 10s published daily, be sure to subscribe to WatchMojo.com.